Here it is, my friends – the ultimate skillet meal for those crisp, cool days of Fall when you're craving something colorful, savory, and hearty: Roast Pork Tenderloin with Bacon Cran-Apple Sauerkraut. Your family will love this easy one-skillet meal.
Roast Pork Tenderloin with Bacon Cran-Apple Sauerkraut Recipe

Howdy! Chef Alli here. Let's Get You Cookin'….Shall We?? 🙂
Are you a fan of pork tenderloin? It's my favorite cut of pork! Easy to cook, juicy and tender, we make lots of pork tenderloin meals at our house. Because there are no bones, you can enjoy the entire tenderloin, making this piece of meat a great value within my food budget.
And what about skillet meals? Anytime I can make a meal that's done up in just one, single skillet, I just want to happy dance all around my kitchen. This Roast Pork Tenderloin with Bacon Cran-Apple Sauerkraut meal is a definite winner that your family will flip over.
It's also why I believe that every kitchen deserves to have at least one nice, heavy-bottomed, BIG skillet – you can make so many one-pan meals, it's almost unbelievable. (I love a good cast iron skillet!)
What Ingredients Will You to Make This Easy Roast Pork Tenderloin Skillet Meal?
Pork tenderloin is typically sold two per package, though when you look at this package in the meat case at your local grocer, it's almost impossible to see that there are two pork tenderloins inside! They lie side by side within the packaging, making it look like there's just a single piece of pork in there.
Each pork tenderloin will weight close a pound and there are only two pork tenderloins found on the entire pig; the tenderloin is cut form the back of the pig, which gets very little use and makes the pork tenderloin super tender.
Again, keep in mind that pork tenderloin and pork loin are NOT the same thing so if your recipe calls for tenderloin, don't make the mistake of purchasing a pork loin, instead. (More on this below.)
Olive oil is great for searing off pork tenderloins, but if you've got vegetable or canola oil on hand, you can also use either one of those.
Searing your pork tenderloins before roasting them in the oven is what gives them tons of extra flavor, and in my humble opinion, that's what makes it worth taking that extra step.
Get the oil nice and hot in the skillet, then add the pork tenderloin and brown it off on all sides.
White wine, dried cranberries, chopped apples, sauerkraut
These ingredients are what make up the Cran-Apple part of this recipe. I prefer using a sweeter white wine in this recipe, but you can truly use whatever you happen to have on hand.
Heating the dried cranberries and the wine together in the microwave lets the cranberries absorb the wine, rehydrating them again. Just like the wine, I also prefer using a sweeter apple, such as Fuji or Gala apples, in this recipe.
And then there's the SAUERKRAUT! I used to believe I didn't like sauerkraut. This was before I was introduced to Hoganville Family Farms Sauerkraut, which is life-changing.
Most canned or bottled sauerkraut that you find at the grocer is packed in vinegar to help preserve the sauerkraut, extending its shelf life, which is also what makes it rather over-powering in flavor.
This is NOT the case with Hoganville Sauerkraut – their product is packed with salt and water only, making it the superior sauerkraut. I also love how mild and crunchy Hoganville Sauerkraut is. You will know when you are officially hooked: you eat it straight from the jar with a fork!
Bacon, leeks, sweet potatoes, white wine, dark brown sugar, caraway seeds
Two of my all-time favorite ingredients, especially when you combine them, are bacon and leeks. They go together like bread and butter, creating a very delicious foundation for this pork tenderloin skillet.
They also pair very well with the sauerkraut and sweet potatoes in this recipe. White wine and brown sugar add sweetness to this skillet meal, and caraway seeds are known to be found wherever there's a pile of sauerkraut.
Cooking Tips for Making this Easy Pork Tenderloin Recipe
Is pork tenderloin the same thing as pork loin?
This is the million $$$ question and I'm so glad you asked! Here's my answer: NO! NO! NO!
Pork loin is not the same thing as pork tenderloin. Though they may sound similar, pork loin and pork tenderloin come from completely different locations of the hog.
I've noticed lots of recipes using the two cuts of pork interchangeably, which is a terrible idea.
So what's the difference between a pork tenderloin and pork loin, then? And why does it matter?
The easiest way to tell a pork loin from a pork tenderloin is by SIZE. If you laid a pork loin and a pork tenderloin side by side, you'd see that a pork loin is a wide and thick cut of pork, while the pork tenderloin is long and slender.
Pork loin (which is where pork loin roasts and pork chops are cut from) is the larger loin muscle that runs from the pig's shoulder to the rear, and typically weighs in between 4-5 lbs.
Pork tenderloin, on the other hand, is the narrow, elongated muscle that runs right along the spine of the hog, an area that gets very little use, making it a super-tender hunk of protein weighing about 1 – 1 1/2 lbs. (See the chart below to locate the pork loin and the pork tenderloin.)
Understanding that these cuts are very different pieces of pork is going to enable you to cook each one in a much more specific and delicious way to each one.

How long does it take to cook pork tenderloin and pork loin?
Every recipe is unique, but typically a pork loin (the wide, thick cut of pork, remember?) is going to take longer to cook than the pork tenderloin because it's a much bigger piece of meat.
I typically cook my pork loin roast about 15 minutes per pound, or until the finished internal temperature is 145 degrees F. Just as when you're cooking any roast, the key here is more of a "low and slow" method.
Pork tenderloin, on the other hand, can be cooked in a much quicker fashion at a much higher temperature, say about 400 degrees F. for 15 -20 minutes total, again going for that same 145 degrees F. internally as a finished temperature.
This is why I love cooking pork tenderloins – you can have them on the table for dinner in a flash….and they are so stinking tender, juicy and delish! #WinWin
This recipe calls for leeks. What are those and how do I clean them?
Leeks are a vegetable, in the same family (the allium family) as garlic, onions, shallots, scallions, and chives. The green part of the leek is too tough to eat, so slice that part off, trimming the leek to the part where the color is more of a pale green.
Remove the root end, then slice the leek in half lengthwise. Hold each leek half under running water, separating the the layers a bit with your fingers to remove any sandy grit that may be within. Pat dry and then slice as needed for your recipe.
Is there something I can substitute for the white wine in this recipe?
Yes. Feel free to substitute apple juice or even orange juice in place of the white wine.

More Favorite Pork Recipes to Enjoy –
Printable Recipe Directions for Making Roast Pork Tenderloin with Bacon Cran-Apple Sauerkraut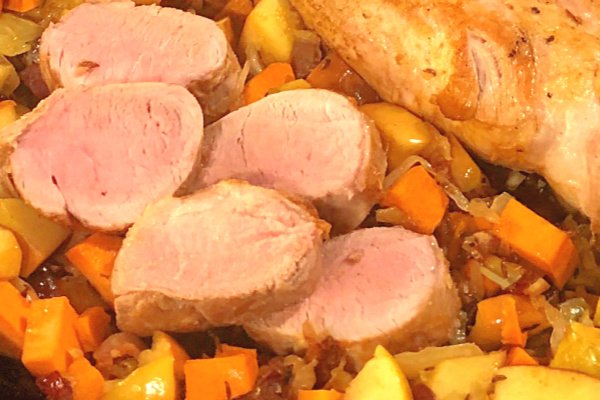 Roast Pork Tenderloin with Bacon Cran-Apple Sauerkraut
Here it is, my friends - the ultimate skillet meal for those crisp, cool days of Fall when you're craving something colorful, savory, and hearty: Roast Pork Tenderloin with Bacon Cran-Apple Sauerkraut. Your family will love this easy one-skillet meal almost as much as you love the quick clean up following dinner!
Print
Pin
Rate
Ingredients
1

pork tenderloin, approx 1 lb., seasoned to taste with kosher salt and freshly ground pepper

1-2

Tbs.

olive oil

1/4

cup

white wine

1/3

cup

dried cranberries

2

apples, skin-on, cored and cut into 1/2" cubes

2

cups

sauerkraut, drained (we love Hogan Family Farms Sauerkraut!)

8

strips center-cut bacon, chopped

2

cups

sliced leeks, white portion only

1

medium or 2 small sweet potatoes, peeled and cut into 1/2" cubes

1/2

cup

white wine

1/3

cup

packed dark brown sugar

1

tsp.

caraway seeds
Instructions
In a medium mixing bowl, combine the dried cranberries with 1/4 cup white wine; cook in the microwave for 1 minute on full power to let the cranberries plump in the wine; remove from the microwave and stir in the chopped apples and sauerkraut; reserve.

Preheat the oven to 400 degrees F.

In a large heavy-bottomed skillet over medium-high heat, add 1-2 Tbs. olive oil; when the oil is hot, add the seasoned pork tenderloin to the skillet, browning nicely on all sides. Remove the pork tenderloin to a platter and reserve.

In the same skillet, cook the chopped bacon with the leeks over medium heat for 8-10 minutes or until the bacon is browned and beginning to crisp, stirring occasionally. Stir the sweet potato cubes into this mixture during the last 5 minutes of cooking time.

Add the reserved cran-apple mixture, 1/2 cup white wine, brown sugar, and caraway seeds to the bacon/sweet potato mixture in the skillet; gently toss to combine.

Make a shallow well in the center of the sauerkraut mixture, placing the seared pork tenderloin there.

Place the skillet into the preheated oven and cook for 15-20 minutes, or until the pork tenderloin is 140-145 degrees at the center when tested with an instant-read meat thermometer, and the sweet potatoes are fully tender.

Remove the skillet from the oven and tent loosely with foil to rest for 5-10 minutes.

Transfer the pork tenderloin onto a cutting board, slicing it into medallions. To serve, place a bed of the warm sauerkraut mixture onto serving plates, then top with pork medallions. Enjoy!
Nutrition
Calories:
1032
kcal
|
Carbohydrates:
61
g
|
Protein:
102
g
|
Fat:
38
g
|
Saturated Fat:
12
g
|
Cholesterol:
324
mg
|
Sodium:
582
mg
|
Potassium:
2370
mg
|
Fiber:
7
g
|
Sugar:
39
g
|
Vitamin A:
8857
IU
|
Vitamin C:
24
mg
|
Calcium:
116
mg
|
Iron:
7
mg
We love hearing from our readers and followers, so leave us a comment if you'd like. And, if you don't hear back from us shortly, know that we may not have seen your comment. Feel free to reach out to us by email: [email protected].
Let's Get You Cookin',
Chef Alli
This is a sponsored recipe post, paid for by From the Land of Kansas, the state trademark program that promotes and celebrates agricultural experiences and products grown, raised, or produced in Kansas. Visit their website for more information! Our featured From the Land of Kansas guest and member for this televised KAKE television segment and recipe post is Hoganville Family Farms Sauerkraut. All opinions expressed are my own.