When I'm in a time crunch, I always turn to my Instant Pot to help me get dinner done in hurry. Instant Pot 5-Minute Italian Pasta is one of our favorite meals and it can be on the table in minutes. Your family will go absolutely crazy over it!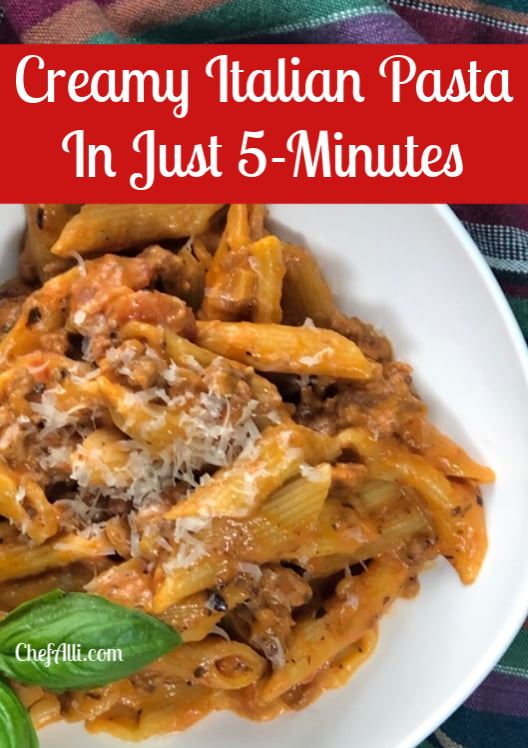 PLEASE NOTE: WE DO USE REFERRAL AND AFFILIATE LINKS FOR ITEMS CHEF ALLI LOVES AND RECOMMENDS.
Howdy! Chef Alli Here. Let's Get You Cookin'…..Shall We? 🙂
As I've grown in my practice of Instant Pot cooking, I've learned some tricks that help me get my recipes, like this Instant Pot 5-Minute Italian Pasta, right almost every time. You see, electric pressure cooking is mainly about two things:
LIQUID
You may be asking why? First of all, to create the steam that makes the Instant Pot pressurize, you've got to have liquid in the bottom of the pot. If there's no liquid to circulate inside the pot, the Instant Pot cannot create the pressure needed to cook the food. The pressure is what cooks foods so quickly, and also what makes them so flavorful.

Nearly everything you cook in the Instant Pot requires 1/2 – 1 cup of liquid in the bottom of the pot – it should be covered by about 1/2-inch of water. There are 3 exceptions to this rule: When you are cooking pasta, grains, or beans, they need to be completely covered in liquid that goes one-inch above the top of them.
2. LAYERS
This Instant Pot 5-minute Italian Pasta recipe is a perfect example of layering. As you add the ingredients to the pot, they will be layer up on layer.

The first layer will be the cooked Italian sausage on the bottom, next is the layer of uncooked pasta, then the marinara poured over the pasta, and lastly, the chicken broth is poured over the top of all the ingredients.

Here's the catch: DO NOT STIR!!!! Leave the layers alone. And just be forewarned, you are going to look into the pot and your immediate knee-jerk reaction will be that you want to stir it all up! (It just looks WRONG in there.) Hold yourself back and don't stir those ingredients to save your soul.

Here's why: If you stir those ingredients, you will incorporate the chicken broth (that's the liquid you want to circulate to create the steam, remember?) into the middle where it can't do it's job. The next thing you know, your Instant Pot will shut right down and you'll get the dreaded BURN signal on the display.
Why This Recipe is a Keeper
It's easy on the purse strings.
Most of the ingredients needed will be on-hand ingredients.
It's family-friendly yet also great for company – everybody loves a good pot of comfort food, right?
Thanks to your Instant Pot – it's fast!
If you want to make it a meatless meal, you can certainly do so.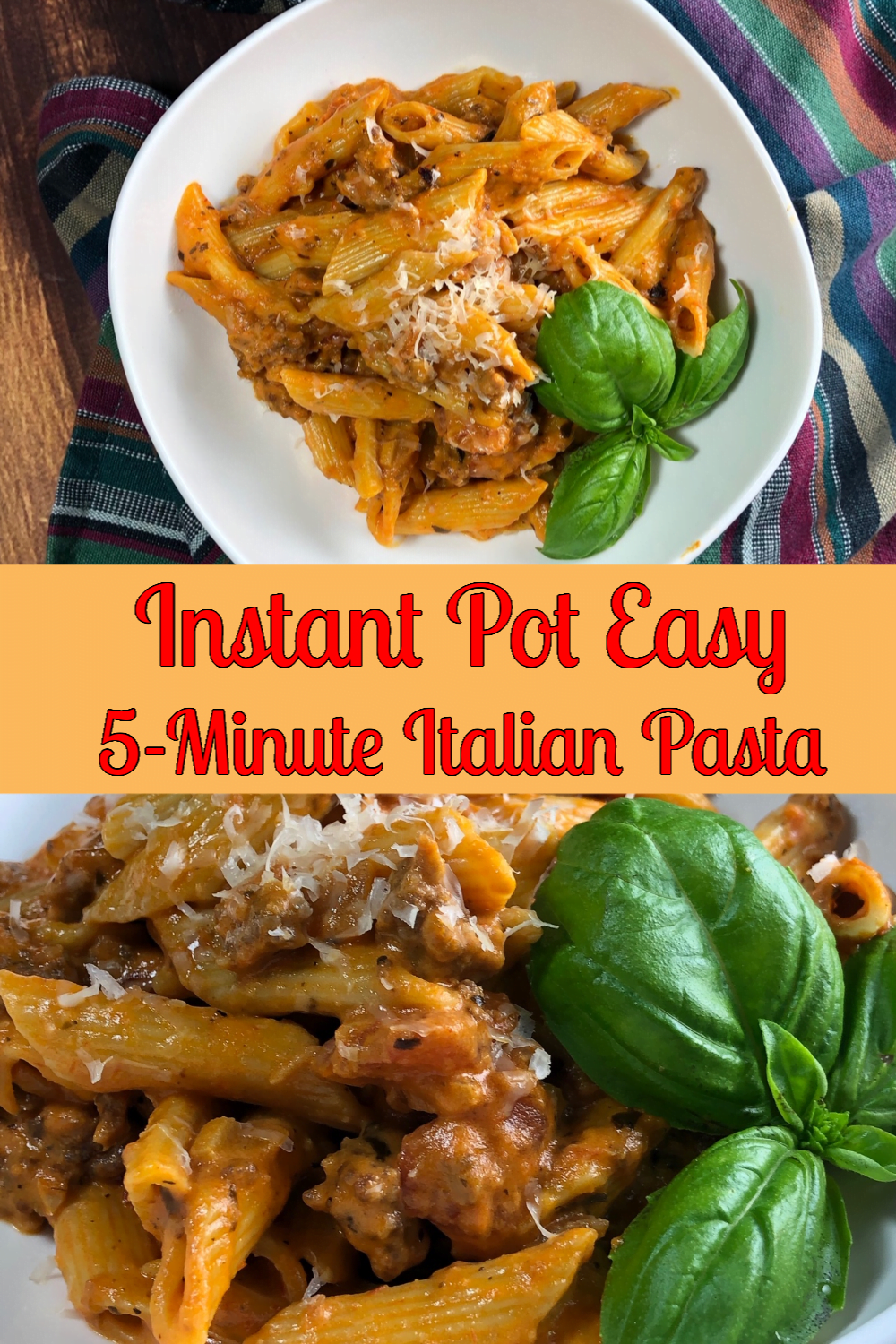 Easy and Helpful Recipe Tips for Making Instant Pot Creamy Pasta
If I don't have penne pasta on hand, can I substitute another shape of pasta in place of the penne?
Yep, and I've done that many times – it works fine. I've even substituted spaghetti in this recipe. Just remember if you use a smaller size of pasta (or thinner like spaghetti noodles), you'll want to reduce the cooking time by a minute or two.
Can I use whole wheat pasta in this recipe? What about low-carb pasta options available at the grocer, will they work?
I know you can use whole wheat pasta in this dish, but keep in mind that the texture of the pasta will likely be more chewy and also heavier. It can be done, but I personally don't recommend it. As for the low-carb options, I'm not familiar with how those cook, especially under pressure, so I can't give any feed-back there. (Sorry!)
If I want this to be a meatless meal, can I leave out the sausage and also change the broth from chicken broth to vegetable broth?
Yes, this will work just fine, and this pasta dish will definitely still be delicious.
What about meat substitutions? Can I use ground beef instead of the ground Italian sausage? What other meats will work?
Instant Pot Italian Pasta works great any ground meat – sausage, beef, turkey, chicken, venison, or bison….or a combination of any of them. (We always have alot of ground venison in the freezer, which can be rather dry so I usually add some ground pork or ground beef, as well.)
What Tools are Helpful for Making this Simple Instant Pot Pasta Dish Recipe?
I use a 6-quart Instant Pot, though any brand of electric pressure cooker will work just fine. (I cook for 4 men and myself using the 6-quart Instant Pot, fyi.)
If you are cooking for just two, you may be interested to learn that there is now a 3-quart Instant Pot available!
And, if you're cooking for a very large family, large groups of people, or the summer hay crew, you'll like using the 8-quart Instant Pot.
Ready for a few more of our favorite Instant Pot Recipes? Here you go:
Printable Directions for Making Instant Pot 5-Minute Italian Pasta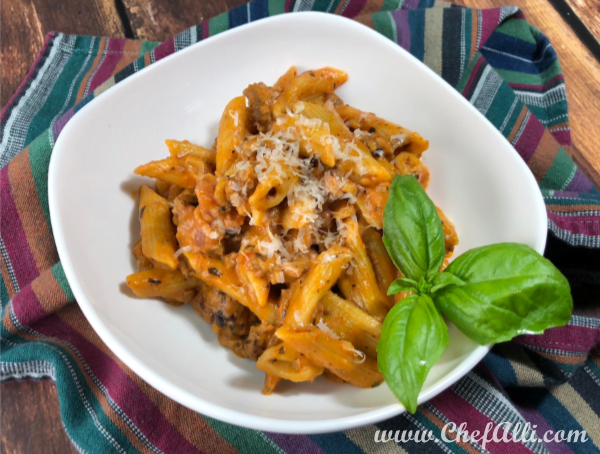 Instant Pot 5-Minute Italian Pasta
Your family will flip over this classic Italian Pasta dish made in only 5-minutes!
Print
Pin
Rate
Ingredients
1

lb.

Italian Sausage, may substitute any ground meat, as desired

1

lb.

penne pasta

1

tsp.

Italian seasoning

24

oz.

jar of your favorite marinara, I use Bertolli brand

2

cups

chicken or vegetable broth

1

splash

heavy cream, to taste, for making the marinara nice and creamy

freshly shredded Parmesan, to taste, as a garnish
Instructions
Using the sauté setting on the Instant Pot, cook the sausage until it is fully cooked throughout and no pink remains; drain any fats that accumulate from the cooked sausage.

Spread the cooked sausage evenly over the bottom of the Instant Pot, then add the pasta over the sausage as the next layer, evenly spreading the pasta out a bit. Next, sprinkle in the seasonings, then pour in the marinara. Lastly, pour the broth over all the ingredients in the pot. No matter how you are tempted, DO NOT STIR!!

Lock the Instant Pot lid into place. Using the manual button, choose the high pressure setting for 5 minutes, bringing the Instant Pot to full pressure, making sure the Instant Pot valve is set to the sealing position.

When the timer sounds, perform a quick release to remove all the pressure from the Instant Pot. Carefully unlock and remove the Instant Pot lid; stir in the desired amount of whipping cream to make the pasta creamy Serve the pasta at once, topped with Parmesan, as desired.
Notes
**Please note: the cooking time stated for this recipe does not include the time required to bring the Instant Pot up to pressure since this can vary. This recipe was made using a 6-quart Instant Pot.
Nutrition
Calories:
311
kcal
|
Carbohydrates:
24
g
|
Protein:
13
g
|
Fat:
19
g
|
Saturated Fat:
7
g
|
Cholesterol:
43
mg
|
Sodium:
1096
mg
|
Potassium:
458
mg
|
Fiber:
3
g
|
Sugar:
4
g
|
Vitamin A:
504
IU
|
Vitamin C:
7
mg
|
Calcium:
35
mg
|
Iron:
2
mg
---
Ack! My Instant Pot Won't Pressurize!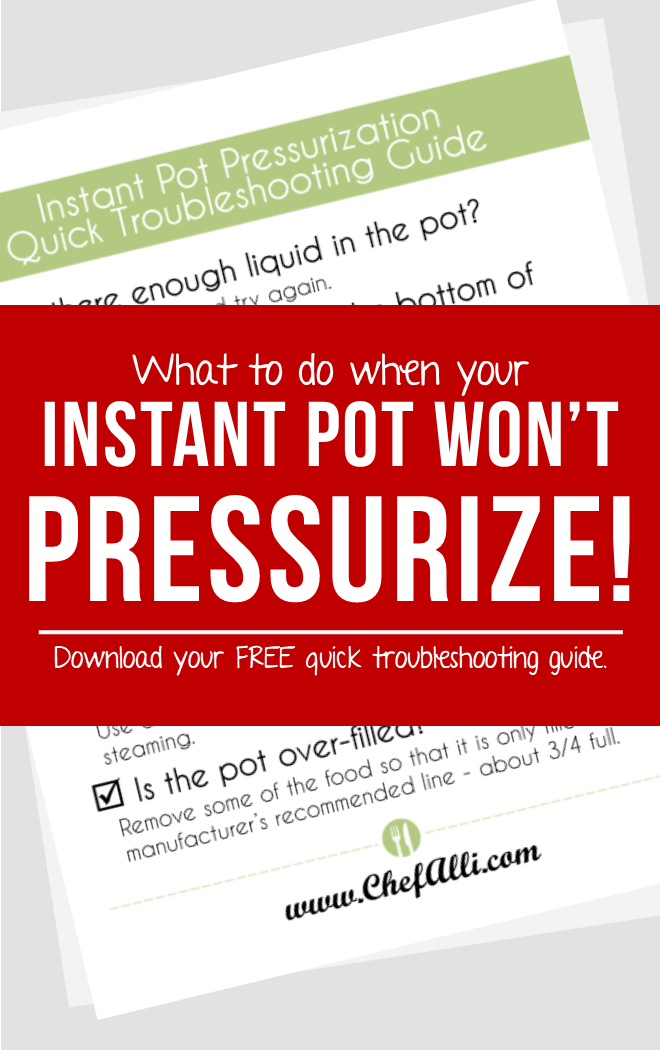 Are you having trouble getting your Instant Pot to work? Download my FREE Instant Pot Quick Troubleshooting Guide (above), then check out 6 Reasons Your Instant Pot Won'ts Pressurize for a more in-depth look at what's ailing your Instant Pot.
We love hearing from our readers and followers, so leave us a comment if you'd like. If you don't hear back from us shortly, know that we may not have seen your comment. Feel free to reach out to us by email: [email protected].
Let's Get You Cookin',
Chef Alli