Are you wondering if you've made a mistake in purchasing that Instant Pot that's taking up a prime spot of real estate on your kitchen counter? If you're second-guessing that decision, you can stop right now and rest assured. Here are 12 Ways an Instant Pot Saves Time in the Kitchen.
The Instant Pot Saves Our Most Precious Resource in Life: Time!

Please Note: We do use referral and affiliate links for products and services that Chef Alli loves and recommends.
Howdy! Chef Alli here. Let's Get You Cookin'…. Shall We? 🙂
The Instant Pot saves SO MUCH TIME in the kitchen – it's way faster than using your cook top, your slow cooker, or your oven.
After cooking for 6+ years with an Instant Pot (almost on an every day basis) I know I could never live without it – it's a dinner time game-changer, not to mention a total life-saver.
This small appliance work-horse is the multi-cooker of my dreams, proving itself to me time and time again. I've been redeemed!
So How Much Time Will an Instant Pot REALLY Save Me?
Cooking foods under pressure can cut the cooking time by one-third and in lots of cases by half. Who doesn't love THAT when you've got a hungry family to feed?
At first, I was pretty skeptical, I admit. However, after cooking with an Instant Pot almost every day over the past several years, I have seen for myself the incredible amount of time it actually does save over using traditional methods of cooking. I've never looked back!
Yep, the Instant Pot is the Best-Ever Small Appliance for Saving Time In Your Kitchen.
Here's how:
1. Instant Pot cooking frees us up to do other things…both in and out of the kitchen.
I have discovered that this is one of my absolute favorite features of using the Instant Pot: Set-It and Forget-It!
I love it that once my Instant Pot has fully come up to pressure, I can walk away – no babysitting required! Definitely not something you can do if you're having to tend a pot of Tex Mex Corn Chowder, or a pan of Country Fried Steak Fingers on the stove, eh?
Plus, when I need to, I can work on other tasks right in my kitchen since the Instant Pot is also HANDS-FREE cooking.
2. Instant Pot cooking is the best cooking style for me.
For whatever reason, I've never had a good slow-cooker system for feeding my family. I think this because when my family leaves home, we tend not to return for very extended periods of time – usually 10 or even 12 hours later.
And even when my slow cooker automatically moves over from the Low-Cooking Temperature setting to the Keep-Warm setting, our food is still over cooked and pretty mushy. Never a good thing at my house.
This is not fault of the slow cooker, mind you, but rather a logistical problem on our part – it's just how our lifestyle works, and that does not include the Crock Pot!
We have made the conversion to primarily using the Instant Pot for cooking meals and WOW! does this ever save me a ton of time. This was my biggest hope when purchasing my first Instant Pot (I now have four electric pressure cookers, all different sizes, all different brands) so I feel pretty dang good about this method of cooking – yippee!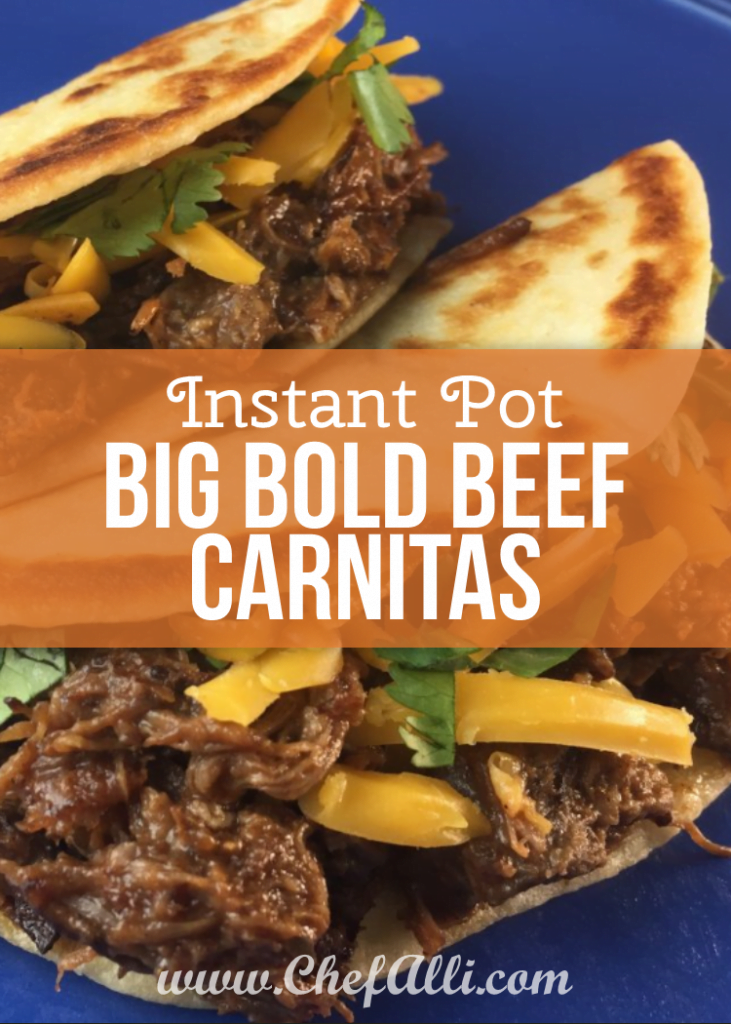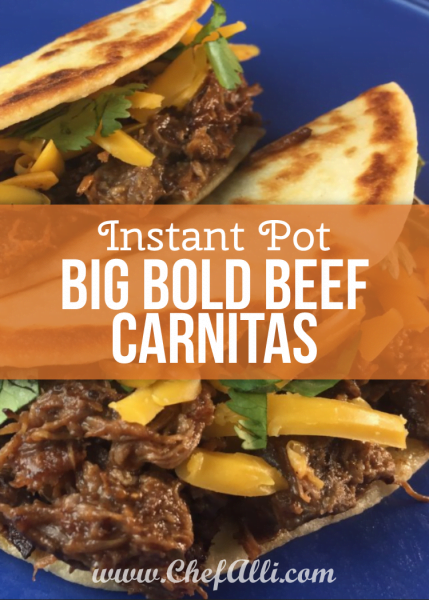 3. Pressure cooking in the Instant Pot is the fastest option for getting my family fed.
Once I got past the learning curve that comes with using an Instant Pot at first, I discovered there are tons of meals that I can cook in 30 minutes or less after I arrive back at home to make dinner.
Talk about life-saving and a game-changer for me and feeding my family! Once I began to see how many recipes could be cooked so quickly and were meals my family loved, I felt so relieved.
Not only was I feeding my family in a quicker (and healthier) way, I no longer felt like a failure because the slow cooker system I was trying to implement just didn't work for me.
4. My lunch is already cooked and ready for reheating the next day.
I primarily use the 6-quart Instant Pot for cooking for my family of 4, which includes 2 big sons, plus my husband…and they can eat a lot in just one setting. But, we usually have one or two servings leftover and I always store these in a microwaveable container so I can pop it into the micro the next day at lunch, instead of having to stop to make a sandwich or a salad.
5. I have come to realize how many different foods I can cook faster in my Instant Pot!
For Instance: Yes, I can cook the mashed potatoes I need for my fried chicken dinner on my stove-top (20-25 minutes boiling in a pot) OR I can opt to cook those potatoes much more quickly in my Instant Pot….say in 8-10 minutes, if they are cut into 3″- 4″ chunks.
Once you've begun to cook with your Instant Pot a lot, this will become a no-brainer, but it does take a bit of time to automatically remember to use it. You've got to create a brand new habit – which sometimes is not as easy as it should be, right?
It's the same thing with cooking macaroni for my favorite BLT Pasta Salad or hard-boiled eggs for making Bacon Jalapeno Deviled Eggs or Sarah Jane's Spicy Deviled Eggs – these ingredients are made much more quickly and efficiently under pressure in my Instant Pot.
6. Using the Instant Pot sauté setting is fast, fast, fast and much less messy, too.
When I'm using the saute setting on my Instant Pot to brown meats in a bit of hot oil or butter, I love how quickly it gets nice and hot. And, because the pot is deep, it definitely prevents grease splatters….unlike a skillet on my stove. Yay – less clean up!
Or, let's say I'm making Sausage and Bacon Potato Soup that calls for ground sausage. I love it that I can first cook the sausage right in my Instant Pot using the sauté setting, add the remaining ingredients for the chowder, then pressurize the pot, then quickly cook my chowder….and for just 5 minutes, mind you. Dinner's done!
7. The Instant Pot is definitely a multi-cooker.
There are a multitude of things you can use an Instant Pot for in the kitchen! Big hunks of meat (like pork butt and chuck roasts) are cooked in minutes instead of hours. Soups and pastas are often ready in 5 minutes or less….with no draining required.
Did you know you can even bake a cake in an Instant Pot? It's true. And what about beans? I love how I can cook dry beans without having to soak them first.
An Instant Pot can also whip out the most tender, perfect rice and quinoa, steam vegetables, brown meats (using the saute setting), as well as cook and ferment yogurt! The options are endless.
Here's a list of helpful Instant Pot Tools and Accessories to have on hand in your kitchen as you learn to cook lots of different foods with it.
8. Most Instant Pot recipes are cooked all in one pot. Yay! Less clean up!
As you progress with cooking in your Instant Pot, you'll see that there are oodles of meals where all the ingredients are added at once and cooked together in a few minutes. Only having one pot to wash after supper is definitely a bonus in my book! For some of my favorite one-pot easy recipes, try out this Instant Pot Pepperoni Pizza Pasta or Instant Pot Broccoli Cheese Soup.
9. Grocery shopping is quicker and easier – you'll become a full-fledged speed shopper in no time.
Since the only foods (mainly) that can be cooked in the Instant Pot are whole foods (meats, grains, beans, pastas, and vegetables) I can shop the perimeter of the grocery store instead of having to peruse the center aisles as much. I love this! I can be in and out of the grocery store in record speed, spending way less money, too.
Also, feeding my family the whole foods I cook in my Instant Pot really makes me feel good about the meals I'm serving them. 🙂
10. I can cook ahead on the weekends, making week night meal time prep go much quicker.
I like to cook at least two proteins every weekend, usually a big beef roast (say a chuck roast or an arm roast, etc) or a big pork shoulder roast. Both of these cuts yield a lot of cooked meat which is exactly what we need when we are facing another hectic week.
When a Mom can start the work week with cooked meat already in the fridge, such as beef roast, shredded pork or chopped chicken, it is so empowering! We are both physically and mentally more prepared for making meals.
After all, if you've got pre-cooked meats on hand in the fridge, think of how many easy meals you can make – skillet meals, pasta, wraps, soups, quesadillas, grilled sandwiches, or salads. All you have to do is add the cooked meat to whatever meal you need to get on the table! Easy peasy.
My family loves Big Bold Beef Carnitas and Spiced and Tender Pork Butt, plus some good ole Buffalo Chicken Sliders. Did you know you can even cook a FROZEN turkey breast in your Instant Pot? I love how much meat there a turkey breast provides.

11. I keep my Instant Pot right on my kitchen counter for quick access.
If you have to constantly pull your Instant Pot out of a cupboard or your pantry, it can easily become a chore and something you just don't feel like doing. And pretty soon, you won't – guaranteed.
Know right from the get-go that if you really want to cook consistently with your Instant Pot, it MUST have a spot on your counter. Otherwise, your Instant Pot is out-of-sight, so it's out-of-mind. And what does this do for us?? It means we are very likely to revert right back to what our go-to methods of cooking are: on the stove top and in the oven. Bad move!
Keep your Instant Pot easily within reach on your counter so that electric pressure cooking becomes a HABIT. Depending on your age, this will take from 30 – 90 days!
I once had someone share with me that for the first two weeks after she purchased her Instant Pot, she made a commitment: if she couldn't make dinner in the Instant Pot, it didn't happen! What a brilliant idea.
12. Utilizing the natural release setting after cooking meats in the Instant Pot makes shredding and slicing a breeze.
When you pressurize meats in the Instant Pot, always be sure to use the natural release setting once the timer sounds.
This allows for two things – your meats can fully finish cooking from the residual heat inside the pot, but even more importantly, the meats can REST during the natural release process, ensuring the protein fibers can relax.
When the protein fibers are nicely relaxed, they will also be super tender….allow you to shred and slice in no time at all.
Other Instant Pot Resources You May Find Helpful –
Here are a few of our favorite really fast Instant Pot meals:
Browse All of My Favorite Instant Pot Recipes Here.
We love hearing from our readers and followers, so leave us a comment if you'd like. And, if you don't hear back from us shortly, know that we may not have seen your comment. Feel free to reach out to us by email: [email protected].
Let's Get You Pressure Cookin',
Chef Alli