My family went totally bonkers over these Marshmallow-Surprise Baked Sweet Potato Balls with Crunchy Cornflakes for Thanksgiving Dinner. This casserole is super fun and easy to make – always a hit.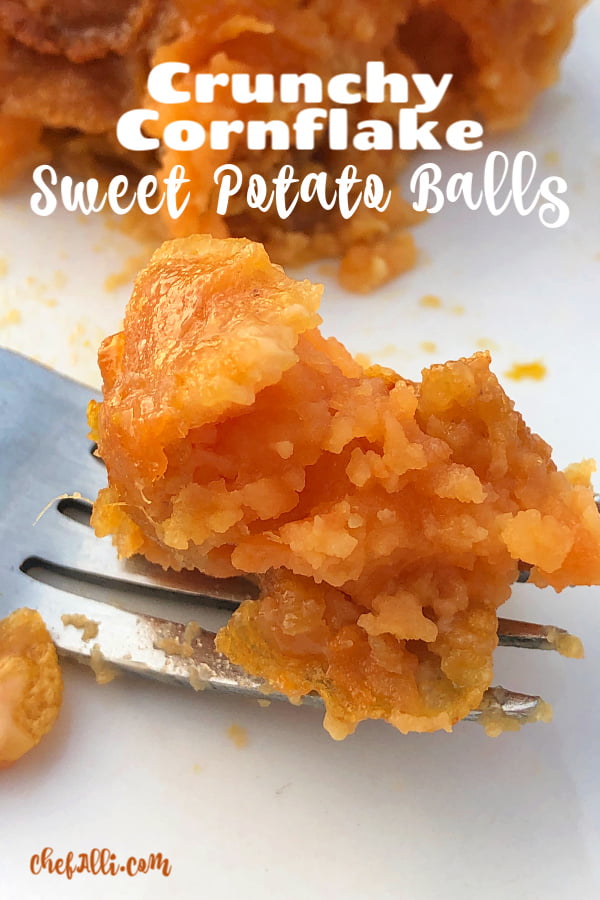 Please Note: We do use referral links and affiliate links here for products and services that Chef Alli loves and recommends.
Howdy! Chef Alli Here. Let's Get You Cookin'….Shall We?? 🙂
For years, my family has been split over sweet potatoes for Thanksgiving Dinner. Some of my peeps absolutely adore them, and some of my peeps absolutely detest them. I'm on the side of adoration and can't get enough!
I can honestly say I don't like sweet potato casseroles so sweet and candied that they make ya cringe, but if one can get just the right amount of savory combined with some sweetness and a bit of salt, they are outstanding!
Sweet potatoes are a classic and traditional holiday side dish, and this recipe comes together quickly with just a few on-hand ingredients. Plus this casserole is a bit unusual, not just your same ole candied sweet potatoes!
What Ingredients Will You Need to Make These Oven-Baked Crunchy Cornflake Sweet Potato Balls?
Using canned sweet potatoes makes this recipe so easy and fast since the potatoes are fully cooked. However, if you want to bake your own sweet potatoes and then use the cooked flesh, you certainly can.
The egg in this recipe is the binder that holds the sweet potatoes together so they will form and hold around the large marshmallow that's in the center.
Adding this to the sweet potatoes is key since they are wrapped around a big fat (sweet!) marshmallow. The salt offsets the bitterness of the sugar, balancing out all the flavors.
This is the surprise in the center of each sweet potato ball!
Crunch! Crunch! Crunch! Cornflakes give great texture, which enhances the eating experience.
Heavy Cream, Brown Sugar, Orange Marmalade, Kosher Salt
These ingredients come together to make a sweet cream sauce that's poured over the sweet potato balls half way through the baking time. This bakes up into lovely, thick and wonderful-ness that surrounds the sweet potato balls – heavenly!

Easy and Helpful Recipe Tips for Making Baked Sweet Potato Casserole
If I have fresh sweet potatoes on hand that I need to use up, can I bake those in the oven and then use the pulp to make these sweet potato balls?
Surely. I'd bake 4-5 large sweet potatoes until they are fork tender, then let them cool a bit; scoop out the cooked flesh and proceed with the recipe as directed.
What's the best way to bake sweet potatoes in the oven?
I like to rub my scrubbed sweet potatoes (skin-on) with a bit of vegetable oil; place them right onto the center oven rack in a preheated 450 degree F. oven. Bake the sweet potatoes until they are very fork tender and soft to the touch when squeezed (using a hot pad in your hand, of course).
If I decide to use fresh sweet potatoes for this recipe instead of canned, can I cook my sweet potatoes in my Instant Pot instead of baking them in the oven?
These are great questions! The beauty of the Instant Pot (or any electric pressure cooker) is how FAST it cooks.
Sweet potatoes come out wonderfully when cooked in the Instant Pot and it's super easy: Place 1 cup of water into the Instant Pot insert, then add your trivet. Using a paring knife, make an incision in each of 5-6 scrubbed sweet potatoes, then place them onto the trivet, one on the top of the other, kind of turning them at different angles. (Make sure the Instant Pot isn't more than two-thirds full or it may not pressurize, fyi.)
Using high pressure, choose 15 minutes, bringing the Instant Pot to full pressure. When the timer sounds, use a natural release, allowing the Instant Pot to release the pressure slowly and naturally on it's own – this will take about 10 minutes or so.
This natural release ensures that your sweet potatoes get fully tender and relaxed providing a super delicious eating experience!
I can't find canned sweet potatoes, only canned yams. Are they the same thing?
In the U.S., sweet potatoes and yams are similar in so many ways, they are widely confused with each other and most main-stream grocery stores don't carry true yams, anyway. Yams and sweet potatoes are interchangeable in most recipes, and canned yams are most likely sweet potatoes.
Is there a different jam I can substitute for the orange marmalade?
Sometimes I substitute apricot or peach jam for the orange marmalade, then add a bit of orange zest – this is delicious!
Can I make this dish ahead and bake it later?
You could sure make this dish in the morning and bake it that afternoon or evening, but I don't think the sweet potato balls would hold up much longer than that without falling apart before baking them.
When I made this sweet potato casserole, I thought it was way too sweet. Did I do something wrong?
That happened to me, too, the first time I made this recipe and I was really disappointed since the person who gave me the recipe loved it so very much.
Soooo, I made this sweet potato dish a second time, making sure to add a bit of kosher salt to the sweet potatoes, the cream sauce, and then even a little sprinkle of salt over all.
The salt made all the difference in the world! I was surprised at how different the two batches were, but super pleased that the second sweet potato casserole was so delicious. Success!
Can I make a half batch of this recipe if I'm cooking for just two or three people?
Yes, you can and I've done that once or twice, actually. Use one 40 oz. can of sweet potatoes and the whole egg – it works just fine. and you'll need half as much cornflakes and half as many marshmallows. Don't halve your cream sauce. though – you'll need all of it, even for a half batch.

More Yummy Recipes to Enjoy for Holiday Dinners and Family Gatherings –
Printable Directions for Making Marshmallow-Surprise Baked Sweet Potato Balls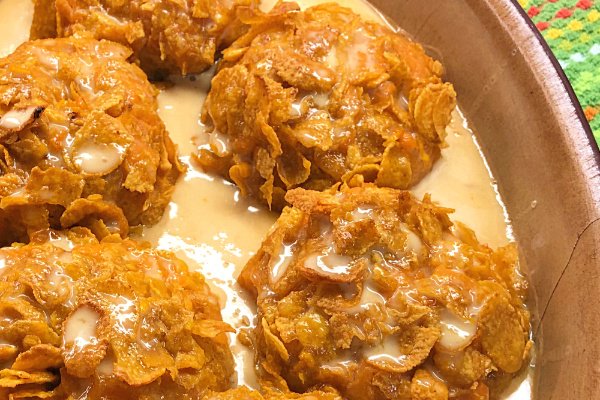 Baked Sweet Potato Balls with Crunchy Cornflakes
My family went totally bonkers over these Marshmallow-Surprise Baked Sweet Potato Balls with Crunchy Cornflakes for Thanksgiving Dinner! This casserole is super fun to make, not to mention easy! Now, are they healthy? Nope! But calories and fat don't count when it's Thanksgiving, right??? #SweetPotatoes #Casserole #ForThanksgiving #Mashed #Easy #Candied
Print
Pin
Rate
Servings:
12
sweet potato balls
Ingredients
2

large cans

sweet potatoes or yams in syrup, 40 oz. each, drained well

1

egg

3/4

tsp

kosher salt

12

large marshmallows

12

oz box

corn flakes, crushed just a bit

1

cup

Hildebrand Dairy heavy whipping cream

2

Tbs.

packed dark brown sugar

1/2

tsp

kosher salt

2

tbs

your favorite orange marmalade, I used Grandma Hoerner's Orange Marmalade

kosher salt, for sprinkling
Instructions
Preheat the oven to 375 degrees F. Place the drained sweet potatoes into a large mixing bowl; mash well, add the egg and 3/4 tsp. of salt, mashing again until the sweet potato mixture is well combined and rather "fluffy" in texture. (Feel free to use an electric mixer.) 

Using your hands, place some of the prepared sweet potato mixture into your palm, then add a marshmallow into the center; top with a bit more sweet potato mixture, forming it around the marshmallow, making each sweet potato ball slightly smaller than a tennis ball in size. (I like to divide my sweet potato mixture in half, then divide each half into 6 portions or so, which helps to make the 12 sweet potato balls more even in size.)

Place the crushed corn flakes into a shallow dish. Gently roll each sweet potato ball in the corn flakes, packing them lightly with your hands so they stick. Place te balls side-by-side, but not touching, into a greased 9 x 13 baking dish. Lightly spray the top of of the sweet potato balls with nonstick spray.

Bake the sweet potato balls, uncovered, on the center rack for 15 minutes.

Meanwhile, in a large mixing bowl, whisk the whipping cream, brown sugar, salt, and orange marmalade together until the brown sugar is dissolved; set aside.

When the timer sounds, remove the sweet potato balls from the oven; gently pour the prepared whipping cream mixture around the sweet potato balls, slightly drizzling it over the sweet potato balls a bit, too. Sprinkle the sweet potato balls with a light sprinkle of kosher salt.

Reduce oven temperature to 350 degrees F.; bake balls an additional 15 minutes or until hot and bubbly throughout, and the whipping cream mixture has thickened nicely. Serve at once.
Nutrition
Calories:
213
kcal
|
Carbohydrates:
34
g
|
Protein:
3
g
|
Fat:
8
g
|
Saturated Fat:
5
g
|
Cholesterol:
41
mg
|
Sodium:
470
mg
|
Potassium:
68
mg
|
Fiber:
1
g
|
Sugar:
11
g
|
Vitamin A:
841
IU
|
Vitamin C:
6
mg
|
Calcium:
20
mg
|
Iron:
8
mg
We love hearing from our readers and followers, so leave us a comment if you'd like. If you don't hear back from us shortly, know that we may not have seen your comment. Feel free to reach out to us by email anytime: [email protected]
Let's Get You Cookin',
Chef Alli