Start Your Day with Dessert First – Bring French Toast Back to Your Brunch and Breakfast Gatherings!
This is the best Sheet Pan French Toast Bake to make for a group of people. We love how simple and easy this breakfast recipe is to just pop into the oven for any breakfast or brunch gathering…..and its really sticks with you both in both memory, and in your belly!
Sheet Pan French Toast Bake Recipe


Howdy! Chef Alli Here. Let's get You Cookin'…..Shall We?? 🙂
So this Sheet Pan French Toast Bake seems quite basic and simple, because it IS quite basic and simple…..and it makes the most delicious French toast bake that you will ever put into your mouth!
If you've ever tried to make French toast for a group of people using a griddle, you already know it's a chore that can be rather difficult to keep up with when your guests are hungry and waiting. No fun for anybody…..grrrr.
That's why this oven-method of making French toast makes things so easy. No more French toast made on your cook top!
Let's Talk Ingredients and Tools for Making Sheet Pan French Toast Bake
Butter and brown sugar. You just made your own syrup by combining these two ingredients! I like to use unsalted butter when I cook (so I can add salt only as needed for flavor) and I always use dark brown sugar because I like that nice, deep molasses flavor.
Pecans. This gives your French toast some delicious crunch! I like to use whole pecans, but you can also used chopped pecans, too.
Bread. This recipe calls for a loaf of Italian bread. Feel free to substitute a loaf of French bread, or sour dough bread, or even brioche! Any bread that's soft and dense works in this Sheet Pan French Toast Bake. I've even used nice thick slices of Texas toast and it works just great.
Eggs, milk, vanilla, cinnamon, nutmeg. These ingredients make your "custard" which is what you'll dip the bread into. This is what gives your French toast the moist, creamy texture it needs.
Pure maple syrup and powdered sugar. Just in case you need a little more sweetness!
Tools. The main tool you're gonna need for making this Sheet Pan French Toast Bake is a good, heavy-duty rimmed baking sheet. These are the rimmed sheet pans that I enjoy using for this recipe.
Easy Recipe Tips for Making Sheet Pan French Toast Bake
Can I substitute walnuts for the pecans in this recipe? Yes. Either one will work fine. The only nut I wouldn't use in this recipe is black walnuts – the flavor of black walnuts is really strong, almost over-powering, in my opinion.
What should I serve with Sheet Pan French Toast Bake? Fresh fruit on the side is really yummy with this dish and we also like crispy bacon, ham, or sausage along side our French toast. Here's how to make crispy bacon the easy way – right in your oven!
Can I assemble this French toast the night before and leave it in the fridge until morning when I bake it? Yes, and the longer you let sit in the fridge, the softer the texture of the French toast. However, you don't HAVE to make this French toast way in advance.
If I don't have a rimmed baking sheet, can I use a baking dish instead? Yes, and a 9 x 13 baking dish is ideal. You'll need to overlap the sliced bread in the baking dish in order to get all of the bread to fit, but it works well.
Should I bake this French toast baked covered or uncovered? Definitely uncovered because this helps the French toast caramelize, giving it that nice crispy texture. Everyone will definitely want seconds.

More Breakfast Recipes Your Family to Enjoy –
Honey Bun Cake – A wonderful, moist coffee cake your peeps will BEG you to make.
Baked Cinnamon-Sugar Donuts – Make your house smell like a bakery!
Cherry Cream Cheese Danish – A Danish filled with sweet cream cheese and topped with cherry pie filling.
Instant Pot Cheesy Bacon and Egg Bites – Let your Instant Pot come to the rescue to make you some delicious protein breakfast treats.
Mini Pumpkin Muffin Bites – Mini homemade muffins with lots of pumpkin flavor in bite-size form….just perfect for popping into your mouth, one after the other.
Deep Dish Ham and Broccoli Quiche – This quiche is incredibly delicious and such an easy recipe to whip up.
How to Make Super-Moist Chocolate Chocolate-Chip Muffins – These baked treats are all that one longs for in a muffin – super chocolate-y, dense, and moist.
Country-Style Cinnamon Roll Bake – A super easy breakfast casserole recipe made with canned cinnamon rolls and a cinnamon/nutmeg custard.
Printable Sheet Pan French Toast Bake Recipe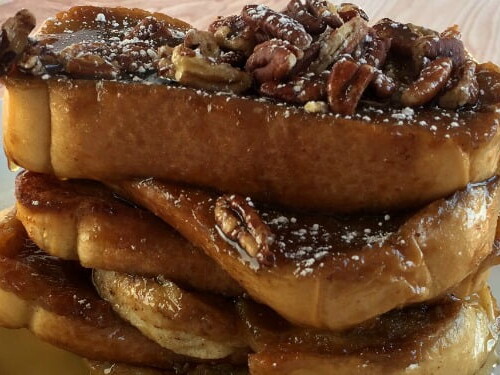 Sheet Pan French Toast Bake
This is the most wonderful, easy Sheet Pan French Toast Bake to make for a group of people. We love how simple this breakfast recipe is to just pop into the oven for any breakfast or brunch gathering.
Print
Pin
Rate
Ingredients
1

cup

unsalted butter

1/2

cup

packed dark brown sugar

1

cup

toasted pecan halves

1

loaf

Italian bread, sliced into nice, thick slices (about 11/4 inch thickness)

5

eggs, beaten

2

cups

milk

1

tsp.

pure vanilla extract

1

tsp.

ground cinnamon

pinch of ground nutmeg

pure maple syrup, warmed

powdered sugar, for garnishing
Instructions
Preheat oven to 350 degrees F.

Place butter, brown sugar and pecans onto a large rimmed baking sheet, then place the baking sheet into the preheated oven for 5 minutes or until butter is melted; use a whisk to combine the melted butter with the brown sugar and pecans, spreading the mixture evenly over the baking sheet.  

Meanwhile, in a large mixing bowl, combine the eggs with the milk, vanilla, cinnamon and nutmeg; dip the sliced bread into the egg mixture and place on top of the prepared brown sugar mixture on the baking sheet. 

Bake, uncovered, on center rack of the oven for 15 minutes; turn slices over and bake an additional 15 minutes, or until the bread is slightly crisped on the edges.  

To serve, place warm French toast slices onto serving plates, then drizzle with additional warm maple syrup and a sprinkle of powdered sugar. 
Let's Get You Cookin',
Chef Alli
We love hearing from our readers and followers, so leave us a comment here if you'd like. If you don't hear right back from us, know that we may not have seen your comment. Feel free to reach us by email: [email protected].
Please Note: We do use referral and affiliate links here for products and services that Chef Alli loves and recommends.