Who loves a good hair-of-the-dog Bloody Mary??? Talk about a delicious classic! This signature cocktail takes on a South of the Border twist by adding salsa to the mix. Salsa Bloody Mary Cocktails are sure to be a hit at your next gathering.
Salsa Bloody Mary Cocktails Recipe


Please Note: We do use referral and affiliate links here for products and services that Chef Alli loves and recommends.
Howdy –
If you're looking for the perfect Bloody Mary mix, look no further! We have completely fallen in love with this Salsa Bloody Mary Cocktail, likely because we enjoy Mexican flavors so much and we appreciate a nice, simple Bloody Mary recipe. We consider this a 5 star Bloody Mary recipe, as a matter of fact!
Lets Talk Ingredients for Making Salsa Bloody Mary Cocktails
Tomato juice. This is the foundation of the cocktail and I use just a basic, plain tomato juice. However, I've noticed that many folks really like specific tomato juice brands for their Bloody Marys, such as Zing Zang or V8. Do what you prefer! You will be adding several other ingredients to the tomato juice, so it takes on a whole new life once these dressed Bloody Mary cocktails are complete.
Salsa. Use your favorite salsa, hot or mild! I always opt for a mild salsa, and if someone in our gang wants more spice, they can stir in some nice smoky chipotle sauce or add more horseradish to kick it up. You can always make Bloody Mary cocktails more spicy and hot, but you can't go back!
Lime juice. This gives some good tang and vibrant freshness to your Bloody Mary. Opt for freshly squeezed lime juice – it just takes a minute if you've got a good hand-held juicer available.
Horseradish. The secret ingredient for an over-the-top-delicious Bloody Mary cocktail! I adore a good Bloody Mary with horseradish, don't you? Gosh, even just a glass of tomato juice with horseradish stirred in is quite delicious when you need a little pick-me-up. Use prepared or grated horseradish that you'll find in the refrigerated section of your grocer, not the creamy-style type that's in the condiment aisle. (I know you knew that.)
Worcestershire sauce. This ingredient brings tangy, salty, and savory flavors to your cocktail, making it an important condiment in the recipe because it adds a lot of depth.
Celery salt. You'll be surprised how a little celery salt rounds out a good Bloody Mary cocktail. I'm always surprised at how the addition of a tiny bit of celery salt really adds just the right flavor to the mix.
Vodka. A Bloody Mary cocktail wouldn't be a Bloody Mary cocktail without vodka, right? And lots of folks are pretty dang particular about which vodka they use – Tito's Vodka, Reyka, Snow Leopard, you name it. I think the best vodka to use (and my favorite) is Milo Vodka, distilled out in Southwest Kansas.


Easy Recipe Tips for Making Salsa Bloody Mary Cocktails
Is this considered a spicy Bloody Mary? Well, that totally depends on YOU and how to create this recipe. If you use a spicy salsa, then yep, it's gonna be spicy. I chose to go with a mild salsa when making these cocktails as we wanted a little spiciness, but not anything over powering.
Are the Bloody Mary ingredients in this recipe typical of most Bloody Mary recipes? They sure are, with the exception of the salsa. This is the key ingredient that makes them a South-of-the-border version.
What are the best Bloody Mary garnishes? Oh my goodness! The options are endless and wonderful. Olives, pickles, cheeses, salami, Slim Jim's, celery, pickled veggies such as green beans or asparagus….the list goes on and on. Use what you have on hand!
What type of glass is best for serving a Bloody Mary cocktail? I prefer something on the taller side, a more slender vessel, but you can truly use just about anything – I love using mason jars for Bloody Mary cocktails, too! Something about that nostalgic feel is just so fun.
Will I need any special tools to make Bloody Mary Cocktails? To make the Bloody Mary mix and get all the ingredients emulsified well, it's handy to use a food processor or blender. Do you HAVE to do that? Nope. You can do it the old-fashioned way of just stirring the ingredients together – no problem. Just know going in that your Bloody Mary mix might be a bit more on the chunky side due to the salsa.
More "Beverage" Recipes to Enjoy –
Other Favorite Recipes to Enjoy –
Printable Directions for Making Salsa Bloody Mary Cocktails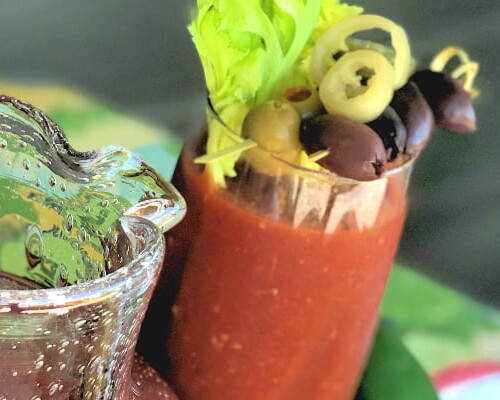 Salsa Bloody Mary Cocktails
Who loves a good hair-of-the-dog Bloody Mary??? Talk about a delicious classic! This signature cocktail takes on a South of the Border twist by adding salsa to the mix.  Salsa Bloody Mary Cocktails are sure to be a hit at your next gathering.
Print
Pin
Rate
Ingredients
2

cups

tomato juice

1

cup

your favorite salsa, I really like Holmes-Made Green Chili Salsa, made in Wichita, KS

2

Tbs.

fresh lime juice

2

tsp.

prepared horseradish

1

Tbs.

Worcestershire sauce

¼

teaspoon

celery salt

vodka, I really like Milo Vodka, made in Kinsley, KS

dill pickles, for garnish, I relaly like Holmes-Made Dad's Spicy Garlic Dill Pickles

tall, leafy celery sticks, for garnish

summer sausage, beef jerky, meat sticks, crispy bacon strips, or chilled shrimp, as desired, for garnish

Green olives, for garnish
Instructions
In a blender container or food processor bowl, make the Bloody Mary mix by combining tomato juice, salsa, lime juice, horseradish, Worcestershire sauce and celery salt; cover and blend to desired consistency. Chill well.

To serve, divide the Bloody Mary mix between 4 glasses; add a generous splash of vodka to each one. Into each cocktail, insert a celery stick or two, giving a gentle stir. Add skewered meat and/or shrimp, skewered pickles and olives as garnish. Enjoy!
Nutrition
Calories:
46
kcal
|
Carbohydrates:
11
g
|
Protein:
2
g
|
Fat:
1
g
|
Saturated Fat:
1
g
|
Sodium:
668
mg
|
Potassium:
497
mg
|
Fiber:
2
g
|
Sugar:
8
g
|
Vitamin A:
859
IU
|
Vitamin C:
27
mg
|
Calcium:
36
mg
|
Iron:
1
mg
We love hearing from our readers and followers, so leave us a comment if you'd like. And, if you don't hear back from us shortly, know that we may not have seen your comment. Feel free to reach out to us by email: [email protected].
Let's Get You Cookin',
Chef Alli
This is a sponsored recipe post, paid for by From the Land of Kansas, the state trademark program that promotes and celebrates agricultural experiences and products grown, raised or produced in Kansas. Visit their website for more information! Our featured guest and member for this televised KAKE segment and recipe post is Tricia Holmes, of Holmes-Made Salsa, Wichita, KS. All opinions expressed are my own.