Pulled Pork Oven Quesadillas Recipe
The quesadilla. So simple and humble, the perfect vehicle for using up leftover pulled pork! And did you know you can make quesadillas in your OVEN?? Sure makes them fast and easy. Your family will fall in love with Pulled Pork Oven Quesadillas. #LodgeCast Iron #pulledpork #quesadillas #tortillas #cheesy #ovenbaked #sheetpanmeal

Please Note: We do use referral and affiliate links here for products and services that Chef Alli loves and recommends.
Howdy! Chef Alli Here. Let's Get You Cookin'….Shall We?? 🙂
You may be asking why in the world you'd want to make quesadillas in the oven since they are typically made on a griddle or large skillet on your stove top.
Making quesadillas in the oven is a super slick way to make several quesadillas at one time so you don't have to stand at the stove, babysitting those suckers. We love oven quesadillas. They are life changing!
I often cook up a big pork butt on the weekend so I have cooked meat to begin the week. Leftover pulled pork is delicious when you throw it into a hot skillet and get it a bit browned and a little crusty.
Next you can throw that pulled pork into a flour tortilla with some cheese and you've got the most delicious quesadillas in the land….quick and easy like. What's better than that? Especially since you get to put several onto a baking sheet and cook them all at one time.
What ingredients will you need for making Pulled Pork Quesadillas?
Pulled pork typically comes from a pork butt, also know as a pork shoulder (seems crazy, right?) at the meat case. This cut of meat does have a lot of marbling (fat) but it makes superior pulled pork – very tender and juicy. I like to make my pulled pork in the Instant Pot since I can get it done so much quicker than cooking it in the oven. Here's my recipe for Spiced and Slathered Pulled Pork – super easy to make and almost fool-proof, too.
Salsa, scallions, cumin, oregano, salt and pepper
These ingredients are what season your pulled pork to give it the flavors of a Mexican quesadilla. I prefer a fresh salsa, but you can certainly use your favorite jarred salsa, as well. The scallions give some nice texture to the quesadilla while the spices bring additional flavor. Salt and pepper round out everthing!
Use super fresh flour tortillas when making quesadillas so they are easy to work with, especially if you're making fold-over quesadillas. We find that 6″ are a bit small for quesadillas, so we opt for 8″ flour tortillas typically. Use what you have on hand!
Monterey Jack or Colby Jack cheese
Both of these cheeses are good melting cheeses, as is cheddar or Colby cheese. You can use what your taste buds prefer.
Butter is what you'll use to get the good browning on your oven quesadillas as they bake in the oven.
Easy Recipe Tips for Making Quesadillas
What other meats can I use to make oven quesadillas?
You can use any fully cooked meat, such as shredded beef from that pot roast you cooked over the weekend, cooked pork sausage, shredded rotisserie chicken, grilled shrimp etc. Did you know you can even make a mean quesadilla using leftover grilled salmon? It's delicious!
If I choose to make these pulled pork quesadillas on the stove top, what kind of skillet or griddle is best?
I love using my 12″ Lodge cast iron skillet or my Lodge 10 1/2″ cast iron griddle for superior browning on my quesadillas. Also, if you don't happen to have a baking sheet on hand for baking the quesadillas, you can use the cast iron for baking instead – works great, you just can't cook as many quesadillas in the oven at once that way.
Does it matter what order I layer the ingredients into the flour tortillas to make the quesadillas?
Great question – so glad you asked! Yep, it DOES make a difference on how you layer the ingredients into the flour tortillas. Melted cheese in a quesadilla acts as a "glue" for holding the quesadilla together, so you want to add this as your very first ingredient and your very last ingredient.
Next will come the pulled pork and the salsa and seasonings. You can place all these ingredients (be careful not to use too much) on just one side of the tortilla, then fold over the other side of the tortilla.
What are the best cheeses to use for making quesadillas?
Because melted cheese acts as the "glue" that holds you quesadillas together, you want to use a good melting cheese that's flavorful. You can even blend cheeses within your quesadilla! We like a Mexican cheese blend or a good sharp cheddar or a Colby jack.
If you want to use pepper cheese for extra kick, go for it! We make basic cheese quesadillas all the time since they are quick and easy to make for a snack or light meal. What could possibly be better than a crispy flour tortilla filled with oozing, melted cheese????
The big debate: Should oven-baked quesadillas be fold or stacked???
We prefer folded quesadillas for two main reasons: They are easier to flip and they are easier to eat. End of story! However, if you do choose to make the stacked type of quesadillas using large tortillas, you can cut them into several wedges for eating.
What happens if I over-fill my quesadilla with too many toppings?
You get a big oozing mess, that's what! You'll get the hang of this pretty quickly, and a good quesadilla doesn't need tons of topping, just FLAVORFUL ones.
What's the best tool for cutting a quesadilla?
A pizza cutter works so slick for this! Place the cooked quesadillas onto a cutting board and roll your pizza cutter right here you want it sliced. We like wedges because they are easily stacked onto a platter for serving.
What garnishes are good for serving with quesadillas?
We like guacamole, sour cream, fresh salsa, cilantro, sliced black olives and green chilies….the sky is the limit!
Can I customize my quesadilla by adding additional ingredients to the inside?
Absolutely! Sometimes we add corn and black bean salsa and cooked rice or quinoa. This also helps your fillings go further, along with adding more flavor combinations. Use your imagination – there's no right or wrong way of adding fillings to a quesadilla. Do some taste-testing to discover what your taste buds like best…you might just be surprised.
How should I reheat leftover quesadillas?
If you reheat them in the microwave, they come out steamed instead of crispy. We find that heating them a bit in the microwave (to get the interior a bit warm) works well, right before you plop them into a nice hot skillet with a tiny bit of melted butter. This will crisp up the flour tortilla and once again, your quesadilla is a delicious masterpiece!
Is there a fun way to serve quesadillas for a group of people?
Yes!!! Set up a quesadilla bar with all the toppings/garnishes laid out. When the quesadillas come out of the oven, your guests love plating a warm quesadilla and adding the toppings themselves – this is fun for them and it's also a great icebreaker for your party. And, it saves you from having to ask all your guests what they want on their quesadillas – they can do the work themselves!
Other sheet pan recipes to enjoy –

More Favorite Recipes to Enjoy –
Printable Directions for Making Easy Pulled Pork Oven Quesadillas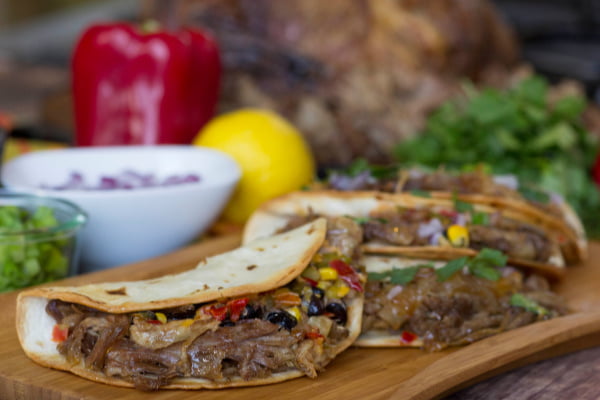 Pulled Pork Oven Quesadillas
The quesadilla.  So simple and humble, the perfect vehicle for using up leftover pulled pork!  And did you know you can make quesadillas in your OVEN?? Sure makes them fast and easy. Your family will fall in love with Pulled Pork Oven Quesadillas. #LodgeCast Iron #pulledpork #quesadillas #tortillas #cheesy #ovenbaked #sheetpanmeal
Print
Pin
Rate
Ingredients
2 ½ - 3

cups

cooked pulled pork, chopped into bite-size pieces

1

cup

corn and black bean salsa

1/3

cup

chopped scallions

1

tsp.

ground cumin

½

tsp.

kosher salt

½

tsp.

oregano flakes

6

flour tortillas, 8-inch

¼

cup

melted unsalted butter

2

cups

8 oz. shredded Monterey Jack or Colby Jack Cheese

Sour cream, guacamole, salsa, chopped cilantro, for garnishing
Instructions
Preheat the oven to 425 degrees F.

In a large skillet, combine the cooked, pulled pork with the salsa, scallions, cumin, salt, and oregano flakes, cooking uncovered, over medium heat for a couple of minutes, just until the pork is hot throughout. (Or you can warm these ingredients in the microwave in a bowl.0

Brush one side of each tortilla with melted butter, placing it buttered side down onto a large rimmed baking sheet.

Sprinkle 1/3 cup of cheese onto half of a tortilla; top with approx. 1/3 cup of the warm pork mixture. Fold the tortilla over the filing, then repeat with the remaining tortillas, pulled pork filling, and cheese, placing all the quesadillas into the baking sheet.

Bake the quesadillas, uncovered, for 15-20 minutes, or until the quesadillas are golden brown on each side, turning each of them half way through the baking time.

To serve, cut the quesadillas into wedges and top with sour cream, guacamole, salsa, and cilantro, as desired.
Nutrition
Calories:
635
kcal
|
Carbohydrates:
20
g
|
Protein:
45
g
|
Fat:
41
g
|
Saturated Fat:
20
g
|
Cholesterol:
174
mg
|
Sodium:
1032
mg
|
Potassium:
683
mg
|
Fiber:
2
g
|
Sugar:
3
g
|
Vitamin A:
956
IU
|
Vitamin C:
3
mg
|
Calcium:
389
mg
|
Iron:
4
mg
We love hearing from our readers and followers, so leave us a comment if you'd like. And, if you don't hear back from us shortly, know that we may not have seen your comment. Feel free to reach out to us by email: [email protected].
Let's Get You Cookin',
Chef Alli