Are you a fan of pork and sauerkraut? It's a delicious combination of sweet and savory flavors…..classic comfort food that's tasty and tender, easy to make, super economical, and all made in one single skillet. Yay!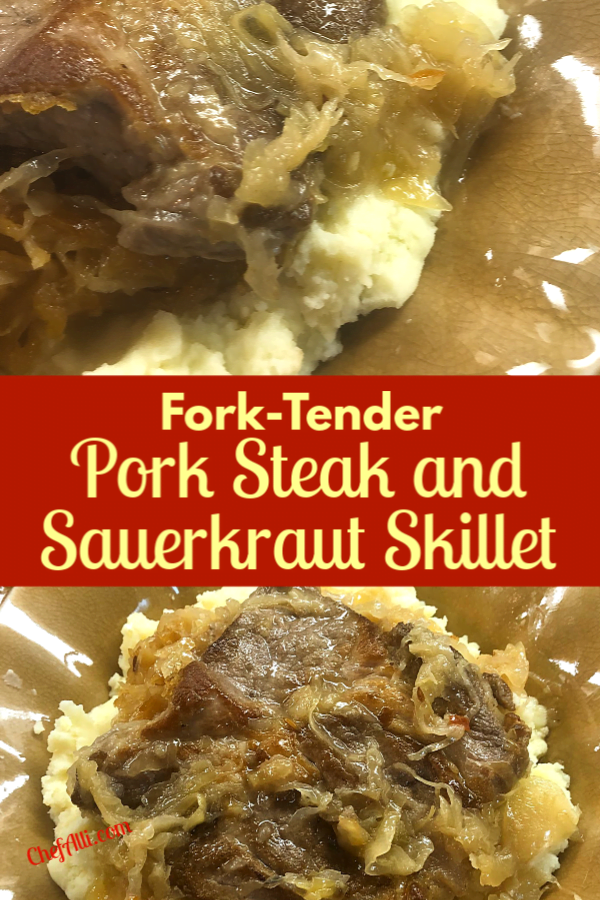 Please Note: We do use referral and affiliate links here for products and services that Chef Alli loves and recommends.
Howdy! Chef Alli Here. Let's Get You Cookin'….Shall We? ?
Things to Love About This Recipe –
It's cheap and easy…..thank you, pork steaks!
It's comfort food like no other.
It requires one. single. pan.
I remember how gross I thought sauerkraut was when I was a kid. As an adult, I've come to realize that there are two feelings when it comes to sauerkraut – you either love it, or you hate it!
Our good friend, Jan, a fabulous southern cook, introduced us to this recipe and we've been making it ever since! I love skillet meals and this one is no exception. It's soooo easy and all you have to do is let the ingredients simmer together on the stove so all the flavors can co-mingle.
Jan is a fan of cast iron cooking, too, so we both make this recipe in our 12-inch cast iron skillets. I love how cast iron is so versatile – it can go from stove top to oven to grill (and back again!) with ease. Plus, cast iron really holds in the heat and I like how even that makes it cook.
If you are a fan of skillet meals like Jan and I are, I'm betting your family will enjoy some of the same recipes, such as Chunky Chicken Burrito Skillet Meal, One-Skillet Cheesy Enchilada Orzo Pasta, and a ground-beef favorite – Fiesta Ground Beef and Noodle Skillet. (Can you tell we love Mexican???)
How to Make a Pork Steak and Sauerkraut in Just 3 Easy Steps
Brown off all of the pork steak pieces in some hot oil.
Place the pork steak, sauerkraut, and apples into a large skillet to simmer until the pork is very tender.
Serve the pork steak mixture over big bowls of mashed potatoes.
Easy Recipe Tips for Making a Pork Steak and Sauerkraut Skillet Meal
Why is it important to brown the pork steaks in hot oil?
This is an important step for one big reason: FLAVOR. Anytime we brown meat or vegetables in a bit of hot oil, we are adding an additional layer of flavor. Yes, this step adds extra time to the dish, but it's so worth it!
Are pork steaks the same thing as pork chops?
Pork steaks are cut from the shoulder of the pig, while pork chops are cut from the loin of the pig.
Are pork steaks better than pork chops?
We like pork steaks because they are so flavorful! Because pork chops are cut from the loin of the pig, they are very lean and can end up pretty dry and flavor-less when over cooked, which is not the case for pork steaks! Pork steaks are also very economical which is important around here since I have big-eaters.
Do pork steaks have other names in the meat case?
They sure do and this is a great question! You will see them labeled as shoulder chops, blade steaks, blade chops, blade-end pork loin chops, pork shoulder steaks or pork shoulder blade steaks.
Do pork steaks have to be cooked a certain way or can they be used in most any recipe?
Pork steaks have a fair amount of gristle and bone since they come from the shoulder of the pig (also where pork butts and pork shoulder roasts come from) so they are perfect for recipes like this one where low and slow braising or simmering is required.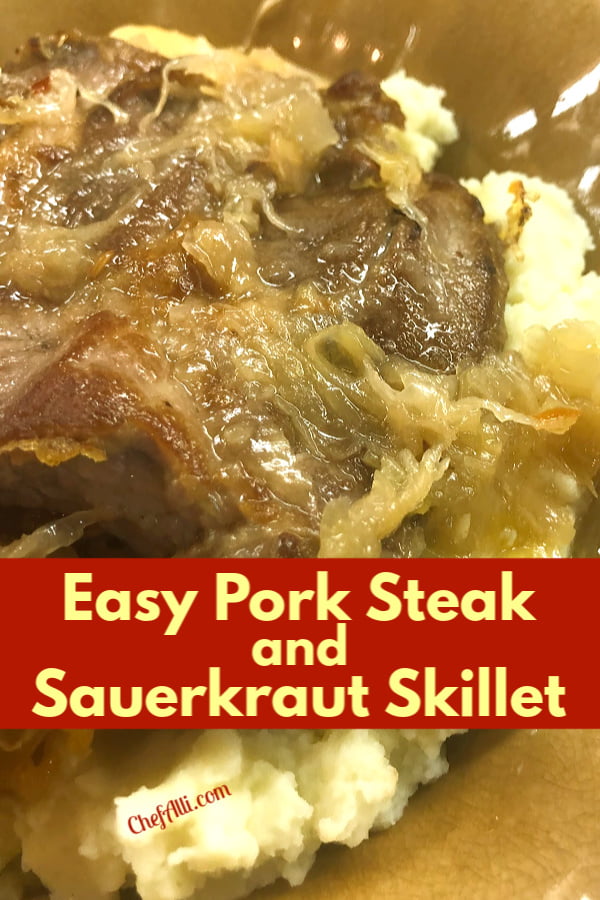 Other Skillet Meals Your Family Will Dig –
Printable Directions for Making Pork Steak and Sauerkraut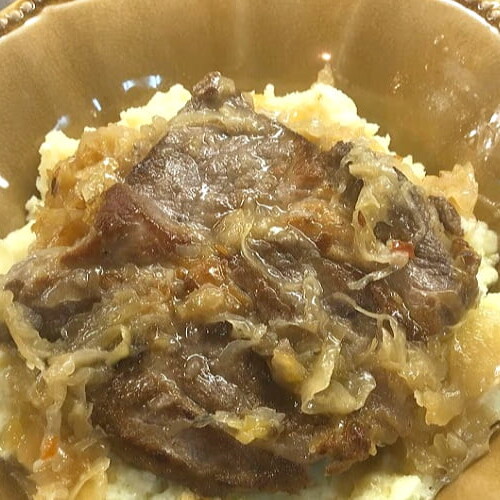 Pork Steak and Sauerkraut Skillet Meal
Are you a fan of pork and sauerkraut? It's a delicious combination of sweet and savory flavors.....classic German fare that's tasty and tender, easy to make, super economical, and all in one single skillet. 
Print
Pin
Rate
Ingredients
4 - 6

bone-in pork steaks or 1/2" sirloin chops, approx. 3 lbs., seasoned with salt and pepper

vegetable or canola oil, for browning pork

32

oz.

jar of sauerkraut with caraway seeds, rinsed and drained well

1/2

tsp.

red pepper flakes

1

Tbs.

brown sugar

1/2

cup

your favorite beer

3

Granny Smith apples, peeled and cored, each one cut into 8 wedges

1

batch

of your favorite mashed potatoes
Instructions
To a large skillet, add 1 - 2 Tbs. oil over medium high heat.  When the oil is hot, add the pork to the skillet, working in batches, browning off the pork on all sides; remove the pork from skillet and set aside, repeating the process with the remaining pork steak pieces. When all the pork steaks are nicely browned, return them to the skillet.

Top the pork steaks with sauerkraut, red pepper flakes and brown sugar; pour the beer over all, then place the apple wedges around the outer edge of the ingredients in the skillet; cover and simmer "low and slow" for approx. 1 hour, or until the pork is very fork-tender.

To serve, place the warm mashed potatoes onto plates or into bowls, topping them with the cooked sauerkraut, apple and pork mixture.
Nutrition
Calories:
449
kcal
|
Carbohydrates:
24
g
|
Protein:
50
g
|
Fat:
16
g
|
Saturated Fat:
6
g
|
Cholesterol:
150
mg
|
Sodium:
143
mg
|
Potassium:
1195
mg
|
Fiber:
6
g
|
Sugar:
16
g
|
Vitamin A:
328
IU
|
Vitamin C:
60
mg
|
Calcium:
82
mg
|
Iron:
2
mg
Thanks for visiting! I hope you return soon for more yummy recipes for your family.
We love hearing from our readers and followers, so leave us a comment if you'd like. If you don't hear back from us shortly, know that we may not have seen your comment. Feel free to reach out to us by email: [email protected].
Let's Get You Cookin',
Chef Alli