This One-Pan Meat Lovers Pizza Gnocchi sports all the flavors of a loaded meat and cheese pizza! Tender gnocchi (potato dumplings) are sautéed in a bit of butter, then smothered in pizza sauce with pepperoni, sausage, and ground beef nestled in. Such a quick and easy dinner all in one pan.
Meat-Lovers Pizza Gnocchi Skillet Recipe

Howdy! Chef Alli Here. Let's Get You Cookin'…..Shall We??? 🙂
With this one-pan skillet meal, you're going to impress everyone in the house. Kiddos love pizza anything, and your men will love all the meat. And as a busy home-cook, you will be thrilled that there's only one pan to clean up!
No matter how you scoop it, this meal is family-friendly and ready to whip up for any weeknight pizza craving!
What to love about this recipe –
It involves only one single pan, so the clean-up is a breeze.
Pizza! Pizza! Pizza! All your favorite flavors in a skillet.
Gnocchi….puffy little potato dumpling pillows. (Your kids will probably think it's pasta)
Which Ingredients Will You Need for Making Pizza Gnocchi?
Gnocchi
Pronounced NOH-kee, these plump little pillows of dough are potato dumplings. I like the shelf-stable type that can be found in the pasta aisle. I've never made homemade gnocchi, though I know that a lot of folks enjoying doing that…I just don't have the time or patience.
I prefer to leave that work to someone else and put my focus on the actual cooking of the gnocchi, as in this recipe for Meat-Lovers Pizza Gnocchi Skillet. Gnocchi are mild in flavor, so they can really take on the flavors of your dish, including heavy sauces and strong herbs.
Butter and garlic
Go for the real thing here; no margarine or garlic from a jar. Unsalted butter is my choice (over salted butter) because I like to be able to add my own desired amount of salt to the dish I'm creating and I also believe that margarine is not ideal for our bodies.
I also love to crush my own garlic, straight from the clove, because I feel that's going to gain the best flavor profiles for your recipe.
Pizza sauce
My favorite store-purchased pizza sauce is Contadina Pizza Sauce though I will admit it's getting harder and harder to find here in Kansas. It's a zesty pizza sauce made from tomato puree, onion, garlic, sweet basil and oregano.
Mini pepperoni, Italian sausage, ground beef
It wouldn't be a Meat-Lovers skillet if it weren't for these three proteins as the centerpiece of our recipe. I've come to love using the mini pepperoni because they are so cute and they are also a big thicker than the standard pepperoni.
I prefer to use a nice, mild Italian sausage in this gnocchi skillet, along with lean ground beef since the pepperoni and Italian sausage have a lot of fat.
Mozzarella cheese
An easy-melting cheese, mozzarella has a delicate flavor and smooth texture, making it the perfect compliment to the flavors of pizza in this recipe.
If you really want to have the wonderful stringy-cheese experience as you enjoy this meal, always purchase mozzarella cheese in a block and take a couple of minutes to shred it fresh with your favorite cheese grater.
Italian parsley
This herb gives a nice peppery flavor as a garnish, and a good sprinkle over the top makes this skillet meal so gorgeous as a finishing touch.

Easy and Helpful Recipe Tips for Making This Gnocchi Recipe
What type of skillet should I use for making this gnocchi dish?
My favorite is always going to be my trusty cast-iron. (Pictured is THIS BEAUTY) Since you're putting this dish under the broiler, I would highly recommend cast iron or at least stainless steel to avoiding ruining your pan, your oven, or heaven forbid… your dinner! Cast iron is a great oven-safe skillet and it can go right from your stove top to the oven and back – super versatile!
It doesn't take much to brown off these little pillows for your pizza skillet. Once browned in a bit of sizzling butter, they crisp right up and that crispy-ness adds a delightful texture to your skillet meal, so nice along with the zesty pizza flavors and ingredients.
Can I make this skillet meal ahead of when I want to serve it?
Yes, and I do it ALL the time! I usually make this gnocchi skillet ahead of time, going through step 3 of the recipe, but without adding the cheese and pepperoni yet. Then, when my family is ready for dinner I remove the skillet meal from the fridge and reheat it on low on my stove top; top with cheese and pepperoni and place it under the broiler to finish it up real quickly.
Are there any other kitchen hacks that help when I make this recipe?
If you've got time on a weekend, brown up some sausage and ground beef in bulk and store it in an airtight container in your refrigerator. When the week gets rolling, you've got your meats for this dish already cooked so dinner is practically done. Serve this One-Pan Meat Lovers Pizza Gnocchi Skillet with my Oh-So-Cheesy Pull-Apart Pesto Bread for a complete meal!
Can I cut this recipe in half? It seems like it feeds a lot.
Sure thing! This recipe can easily be cut in half if you're only serving 5-6 people. The recipe, as it is here, makes a HUGE batch which is great if you're needing to feed an army or a couple of teenage sons.

Other Recipe Favorites to Enjoy –
Printable Directions for Making One-Pan Meat Lovers Pizza Gnocchi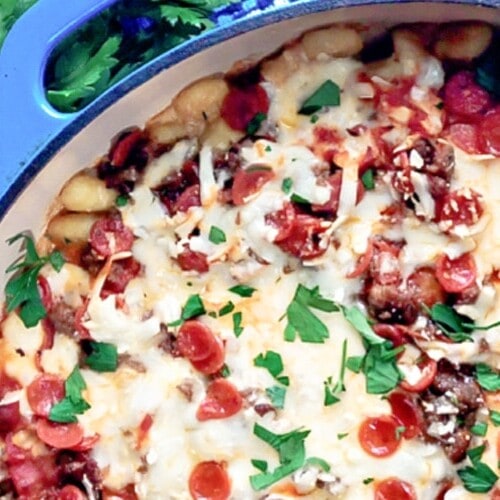 One-Pan Meat Lovers Pizza Gnocchi
This One-Pan Meat Lovers Pizza Gnocchi sports all the flavors of a loaded meat and cheese pizza. Tender gnocchi (potato dumplings) are sautéed in a bit of butter, then smothered in pizza sauce, with pepperoni, sausage, and ground beef.  Top that off with a layer of melted mozzarella - wow.
Print
Pin
Rate
Ingredients
3

Tbs.

unsalted butter

3

cloves

garlic, minced

2

lbs.

gnocchi, cooked according to package directions, but just a bit underdone, well drained

2

cups

of your favorite pizza sauce

1/3

cup

water

2

oz.

mini pepperoni plus a few more for garnishing the dish

½

lb.

Italian sausage, browned and fats drained

½

lb.

ground beef, browned and fats drained

1

lb.

block mozzarella cheese, grated

fresh Italian parsley, chopped
Instructions
Melt the butter over medium heat in an large oven-safe skillet; stir the garlic into the butter and cook for a few seconds, just until fragrant.

Raise the heat to medium high and add the cooked gnocchi all at one time. Don't stir for a bit, allowing the bottom of the gnocchi to turn golden brown. Turn the gnocchi and sauté one more minute.

Top the gnocchi with pizza sauce, water, pepperoni, sausage, and ground beef, stirring to combine evenly. Bring to a gentle simmer, then top everything with grated mozzarella cheese, as desired. Scatter some pepperoni over the top.

Turn your broiler to the High setting. Transfer the prepared skillet of gnocchi to the oven, placing it about 6" under the broiler. Broil just until the cheese is melted, bubbly, and golden brown on top. Garnish with parsley. Let skillet meal stand for approx. 5 minutes before serving.
Nutrition
Calories:
387
kcal
|
Carbohydrates:
30
g
|
Protein:
20
g
|
Fat:
21
g
|
Saturated Fat:
10
g
|
Cholesterol:
68
mg
|
Sodium:
942
mg
|
Potassium:
293
mg
|
Fiber:
2
g
|
Sugar:
2
g
|
Vitamin A:
520
IU
|
Vitamin C:
3
mg
|
Calcium:
220
mg
|
Iron:
4
mg
Thanks for visiting! I hope you return soon for more yummy recipes for your family.
We love hearing from our readers and followers, so leave us a comment if you'd like. If you don't hear back from us shortly, know that we may not have seen your comment. Feel free to reach out to us by email: [email protected].
Let's Get You Cookin',
Chef Alli
Please Note: We do use referral and affiliate links here for products and services that Chef Alli loves and recommends. I may receive a small compensation when you use these links. This really helps me keep my recipe blog moving forward. Thank you so much!