Yep. This recipe is the bomb! You are in for a special treat – Bacon Wrapped Pork Tenderloin with Peach Glaze. Pork tenderloin is always quick and easy dinner idea since they cook so quickly due to being a very lean, yet super tender, cut of pork.
Bacon Wrapped Pork Tenderloin with Peach Glaze Recipe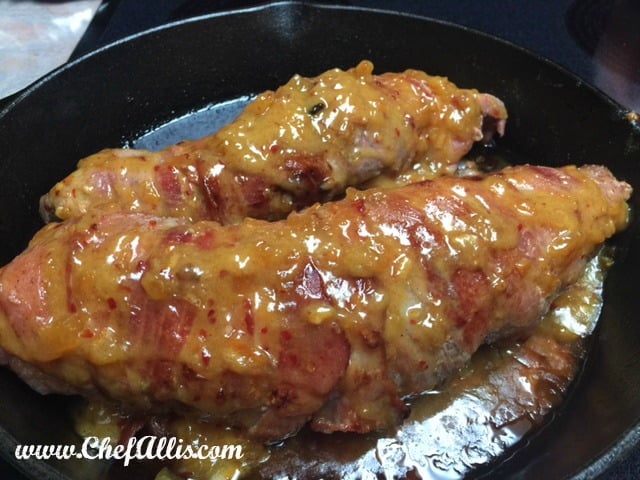 Howdy! Chef Alli Here. Let's Get You Cookin'….Shall We?? 🙂
This recipe features two of my favorite things – pork tenderloin and cast iron cooking! I break out my trusty cast iron skillet as often as I can because my family really enjoys skillet meals. This recipe is no exception.
You will find quite a few good pork recipes here on my site. We do eat a lot of beef since we raise cattle here in NE Kansas, but we can't eat that every night. I must put some pork and chicken into our dinner rotation just to keep things interesting.
We are big fans of Southwest Cutlets with Calico Rice (yep, another great skillet meal!), as well as a new recipe I've just added to my collection: Pepper Jelly Glazed Pork Loin Roast. It's a super gorgeous meal that can be served for Sunday dinner or during the holidays…and guess what? It's very, very easy to make!
If you happen to be looking for an easy recipe for making pulled pork, you can check out my post on 4 Easy Methods to Make Delicious Pulled Pork. These methods include: oven, stove top, Instant Pot (or any brand of electric pressure cooker), and slow cooker.
What to love about this glazed pork tenderloin recipe –
Pork tenderloin is a very lean and tender cut of pork.
Because there are no bones, it's a great value because the entire piece of pork can be eaten.
Peach and pork is a fabulous flavor combination.
You only need 6 ingredients.
Cast Iron Cookware is So Versatile – You Need Some!
I love how versatile cast iron is! It's so handy for browning meats on my stove top since cast iron transfers heat and even cooking so well.
Plus, all cast iron cookware can go from stove top to oven and back again – no sweat. And, once you remove it from the oven, cast iron pans can go right into the center of the dinner table so your family can serve themselves. The cast iron will keep the food nice and warm for a long while.
Which ingredients do I need to make bacon-wrapped pork tenderloin?
Pork tenderloins (not the same as pork loins!)
Creole seasoning (I prefer Tony Chachere's brand)
Dark brown sugar
Center-cut bacon
Peach preserves or jam
Spicy brown mustard


What is the perfect internal temperature for pork? Is it still 160 degrees F. at the center?
NOOOO!! The USDA says we can now safely cook all pork just until it's 140-145 degrees F. at the center. Pork cooked to this temperature will have a slight pink tinge to the meat and that is perfect! No more gray, overcooked, funky pork – hallelujah!
To be sure your pork is cooked to that perfect 140-145 degree temperature, you'll need to remove it from the cooking source (grill, oven, grill pan, etc) when the pork has an internal temperature of 130-135 degrees. Then, tent the pork with foil and let it rest.
During this resting time, the pork will raise 5-10 more degrees in internal temperature, finishing out at that perfect 140-145 degrees F.
Is pork tenderloin the same thing as pork loin? If not, what's the difference?
NOPE…. and I'm so very glad you asked this important question! Pork tenderloin and pork loin are cut from totally different parts of the pig. Because their shape and size is quite different, they typically aren't well suited for being substituted for each other.
Pork tenderloin is the narrow, long muscle that goes down the back of the pig, right along the back bone; because that muscle doesn't get much use on a pig, it's super super tender. There are only 2 pork tenderloins on each pig, too.
Pork loin is a large muscle on the pig that is from the back. You can buy an entire pork loin but because it's really big, it's usually cut into roasts that are 3-5 lbs. in size.
Once you understand the important difference and characteristics between pork tenderloin and pork loin, you'll easily be able to tell them apart at a glance! Pork tenderloins are always long and very skinny, only weighing about 1 lb. each. (Though they are typically sold as a pair in a 2 lb. package)
Pork loin on the other hand will be short and chunky in appearance, weighing in anywhere from 3-5 lbs. Also, pork loins are usually a lighter pink in color whereas pork tenderloins are dark red.
As far as cooking goes, pork tenderloin is best suited for cooking at high temperatures more quickly (a whole tenderloin can be roasted to 130-135 degrees F internal temperature in 15-20 minutes) and a pork loin is best seared off on the outside and then cooked low and slow.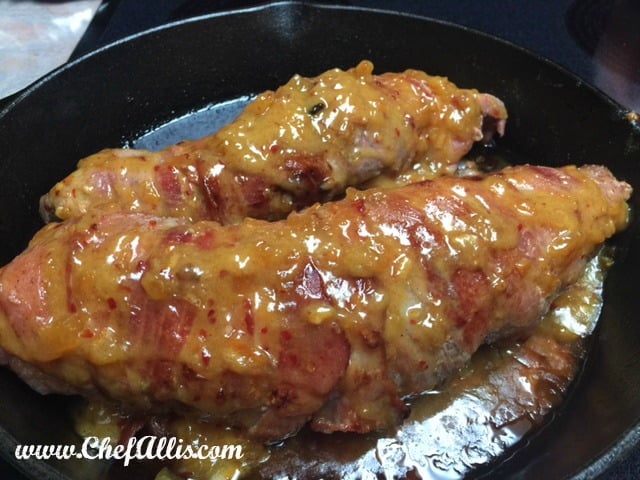 More Recipes to Enjoy –
Printable Bacon-Wrapped Pork Tenderloin Recipe –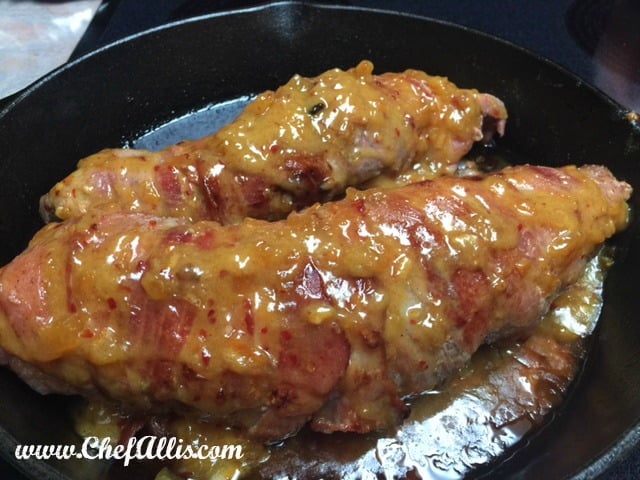 Bacon-Wrapped Pork Tenderloin with Peach Glaze
Yep. This recipe is the bomb! You are in for a special treat - Bacon Wrapped Pork Tenderloin with Peach Glaze. Pork tenderloin is always quick and easy dinner idea since they cook so quickly due to being a very lean, yet super tender, cut of pork.
Print
Pin
Rate
Ingredients
2

pork tenderloins, about 1 lb. each

1 1/2

Tbs.

Tony Chachere's Creole Seasoning

3

Tbs.

dark brown sugar

1

lb.

sliced center-cut bacon

1/2

cup

peach preserves or jam

2

Tbs.

spicy brown mustard
Instructions
Preheat oven to 400 degrees F. In a small saucepan, combine peach preserves with brown mustard; reserve.

In another small bowl, combine creole seasoning with brown sugar. Using your fingers, rub the prepared mixture evenly over each tenderloin, then use 6-7 strips of the bacon to wrap each tenderloin, gently stretching each bacon strip a bit as you wrap it around the tenderloin; over lap the bacon just a bit to hold it in place. (Can use toothpicks to hold the bacon in place, if needed.)

Preheat a large cast iron skillet (love my traditional 12" Lodge Cast Iron Skillet for this recipe, btw) over medium high heat; when skillet is nicely hot, add the wrapped tenderloins and brown each one on all sides, using a pair of long-handled tongs to turn.

Place the skillet of tenderloins (make sure they aren't touching each other) into the preheated oven on the center rack. Roast the tenderloins, uncovered, until the internal temperature at the center of each one is 145 degrees F, 15-20 minutes, checking the internal temperature at 15 minutes. Use an instant-read meat thermometer to check the temperature for the best results.

Remove the tenderloins from the oven; cover the skillet with foil, letting tenderloins rest for 5 minutes covered.

Meanwhile, warm the peach preserves mixture over low heat until warm.

Remove the foil and slather each tenderloin with the preserved peach preserve mixture. Slice tenderloins into medallions and serve at once.
Nutrition
Calories:
576
kcal
|
Carbohydrates:
21
g
|
Protein:
45
g
|
Fat:
34
g
|
Saturated Fat:
11
g
|
Polyunsaturated Fat:
6
g
|
Monounsaturated Fat:
15
g
|
Trans Fat:
1
g
|
Cholesterol:
159
mg
|
Sodium:
656
mg
|
Potassium:
875
mg
|
Fiber:
1
g
|
Sugar:
15
g
|
Vitamin A:
592
IU
|
Vitamin C:
3
mg
|
Calcium:
26
mg
|
Iron:
2
mg
Thanks for visiting! I hope you return soon for more yummy recipes for your family.
We love hearing from our readers and followers, so leave us a comment if you'd like. If you don't hear back from us shortly, know that we may not have seen your comment. Feel free to reach out to us by email: [email protected].
Let's Get You Cookin',
Chef Alli
Please Note: We do use referral and affiliate links here for products and services that Chef Alli loves and recommends. I may receive a small compensation when you use these links. This really helps me keep my recipe blog moving forward. Thank you so much!