Is there anybody in this life who doesn't adore a big, cheesy pot of homemade macaroni and cheese? I doubt it. Skillet-Style Mac and Cheese is the ultimate macaroni and cheese recipe that's comfort food like no other – creamy, rich, and totally decadent with a buttery, crispy topping.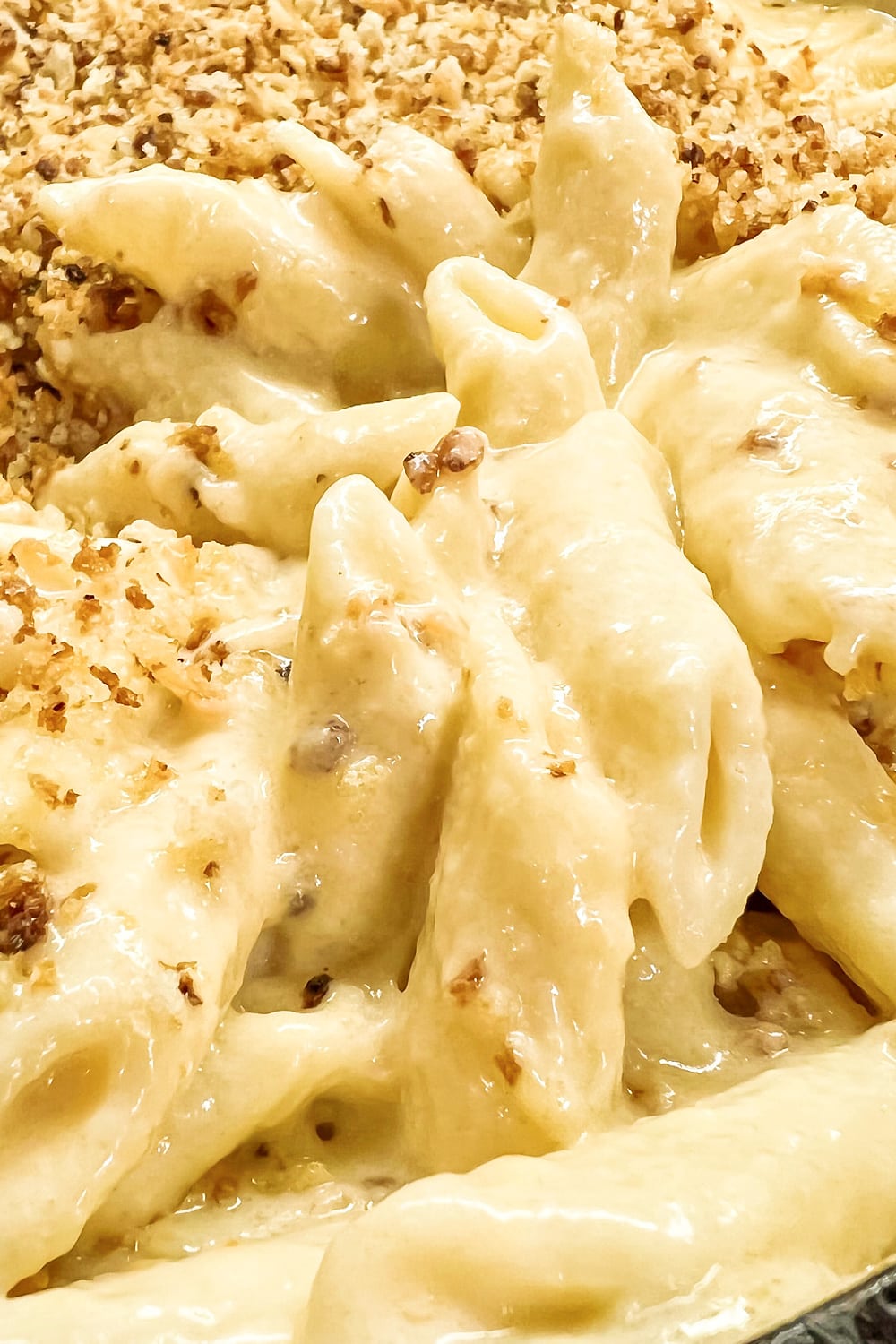 Skillet-Style Mac and Cheese Recipe
If my family had it their way, we'd eat macaroni and cheese for dinner every single night of the week, that's just the way it is around here.
And back in the day, we definitely ate our fair of of "blue box" mac and cheese since it was so fast and easy to make when the boys were little. But as they got older and learned about homemade mac and cheese, they sure began to get much more choosy.
I think we can all agree that boxed mac and cheese (complete with the magic orange powder!) just can't hold a candle to the real deal….am I right? Rest assured that this mac and cheese recipe is one your family will enjoy and it does not disappoint!
For another mac and cheese favorite, try my Mac and Cheese Spaghetti!
What to love about this easy macaroni and cheese casserole recipe –
You can make it in your favorite skillet – I love my old-fashioned cast iron skillet for mac and cheese.
Make this a complete meal by adding cooked meats (such as Italian sausage, little smokie sausages, etc) and/or vegetables.
Experiment by using different types of cheeses – use what you like and have on hand.
Here are the ingredients you need to make skillet mac and cheese
Penne pasta (or your favorite shape/type)
Butter and olive oil
Flour
Milk
Heavy cream
Mustard powder
Cheddar cheese
Parmesan cheese
Fresh garlic
Panko bread crumbs
Salt and pepper to taste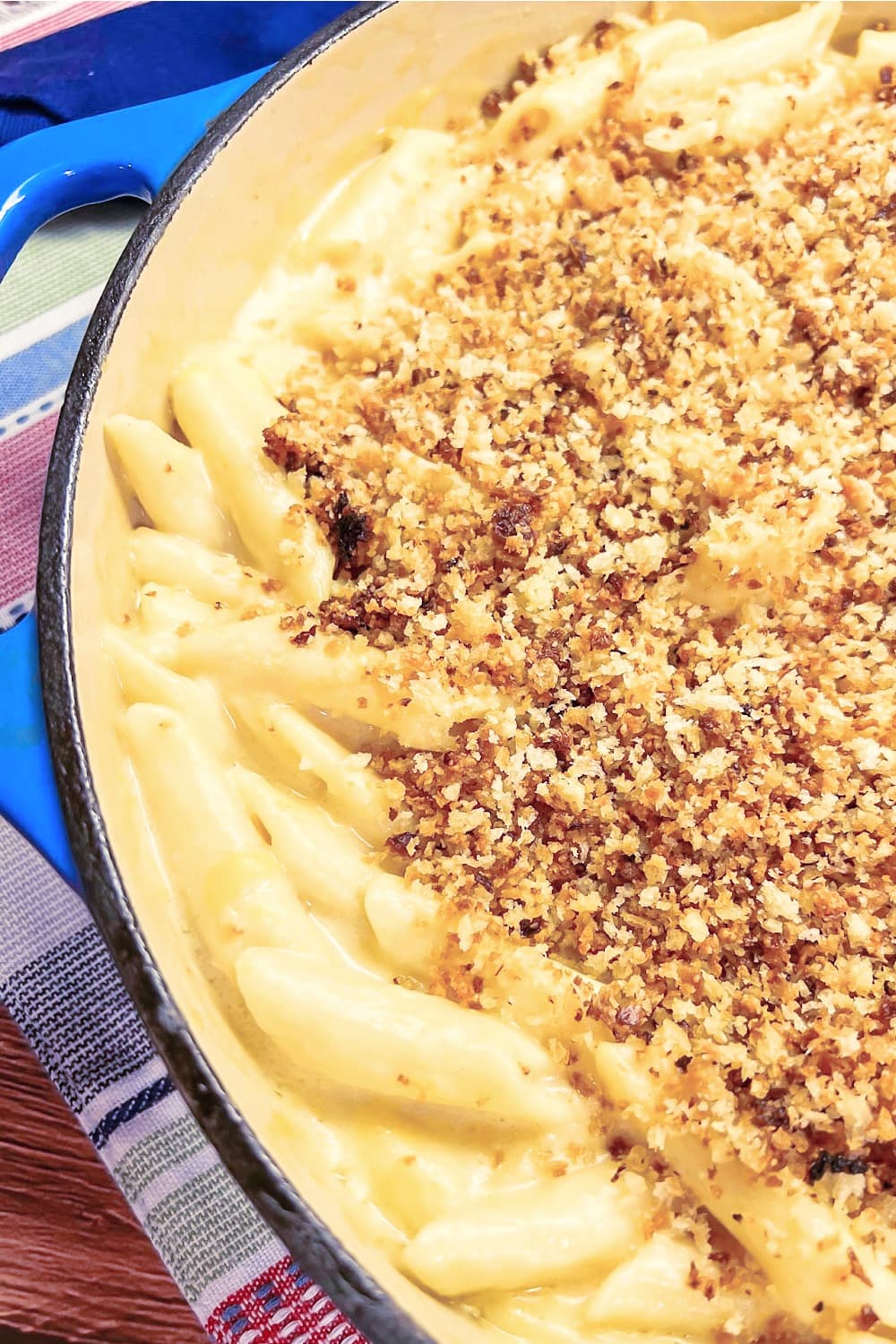 What you'll learn from this cheesy pasta recipe –
When and how to add vegetables to macaroni and cheese for the best results
Which meats are good to add to mac and cheese to make it a complete meal
What a roux is and why it's important for a smooth and creamy cheese sauce
Ideas for using different cheeses to make your mac and cheese sauce more complex
How to make mac and cheese a complete one-pot meal for your family
Answers to Common Questions Asked About This Recipe
Which tools are helpful for making skillet mac and cheese?
Skillet – Because macaroni and cheese is a very "saucy" dish, I like to create it in an enamel-lined (nonstick) Lodge cast iron skillet so that clean up is easier. I also often use my nonstick Lodge casserole-skillet that has a lid.
Silicone-Coated Flat Whisk – A flat whisk is an essential kitchen tool for making lump-free sauces and gravies. Be sure you get one that is silicone-coated so the surface of your non-stick pans doesn't get battered too much.
Silicone Spatula Spoons – Of all the tools in my kitchen, silicone spatula spoons are what I use the most. They make stirring and sauteing a breeze and I love all the pretty silicone colors available. Silicone spatula spoons are completely heat-proof so they won't melt, even when used over high temperatures. I like to have different sizes on hand for different kitchen tasks – soooo handy!
How can I make macaroni and cheese a complete meal for my family?
At my house, my sons are always looking for the MEAT. They will eat mac and cheese as a side dish if there's no meat included, but I often want to serve them a one-skillet meal where everything is all in one, single pot.
To do that, I add sliced Kielbasa sausage coins, Italian sauce crumbles, little smokie sausages, leftover grilled salmon or steak, smoked chicken, or even pulled pork. This gives added protein and also makes the mac and cheese stretch further, too.
What does it mean to cook pasta until it's al dente?
Al dente pasta is pasta that's cooked to the point where it feels best as you chew it. Al dente pasta is still a bit firm so it holds it's shape well when stirred into a sauce.
How do you know when pasta has reached the al dente stage?
The best way is to simply chew it! Remove a piece of pasta from the cooking liquid and let it cool a bit; if the pasta is tender enough to chew, but still has a bit of firmness and bite, it's perfectly al dente..
What is a roux and why is it important for homemade mac and cheese sauce?
In formal terms, a roux (pronounced "roo") is a blend of equal parts flour and fat, cooked together over medium heat, commonly used as the foundation for sauces, soups, and stews…and definitely for cheese sauce!
Because roux is a thickening agent, it is an essential building block used to thicken and flavor sauces (such as cheese sauce in this recipe), providing a very rich and creamy texture.
Which types of cooked meats are good in mac and cheese?
Well, we like to add Kielbasa sausage, little smokies, Italian sausage crumbles, leftover grilled steak or beef pot roast, smoked salmon, pulled pork….heck even diced meatloaf! Any meat that is already fully cooked can be added to mac and cheese.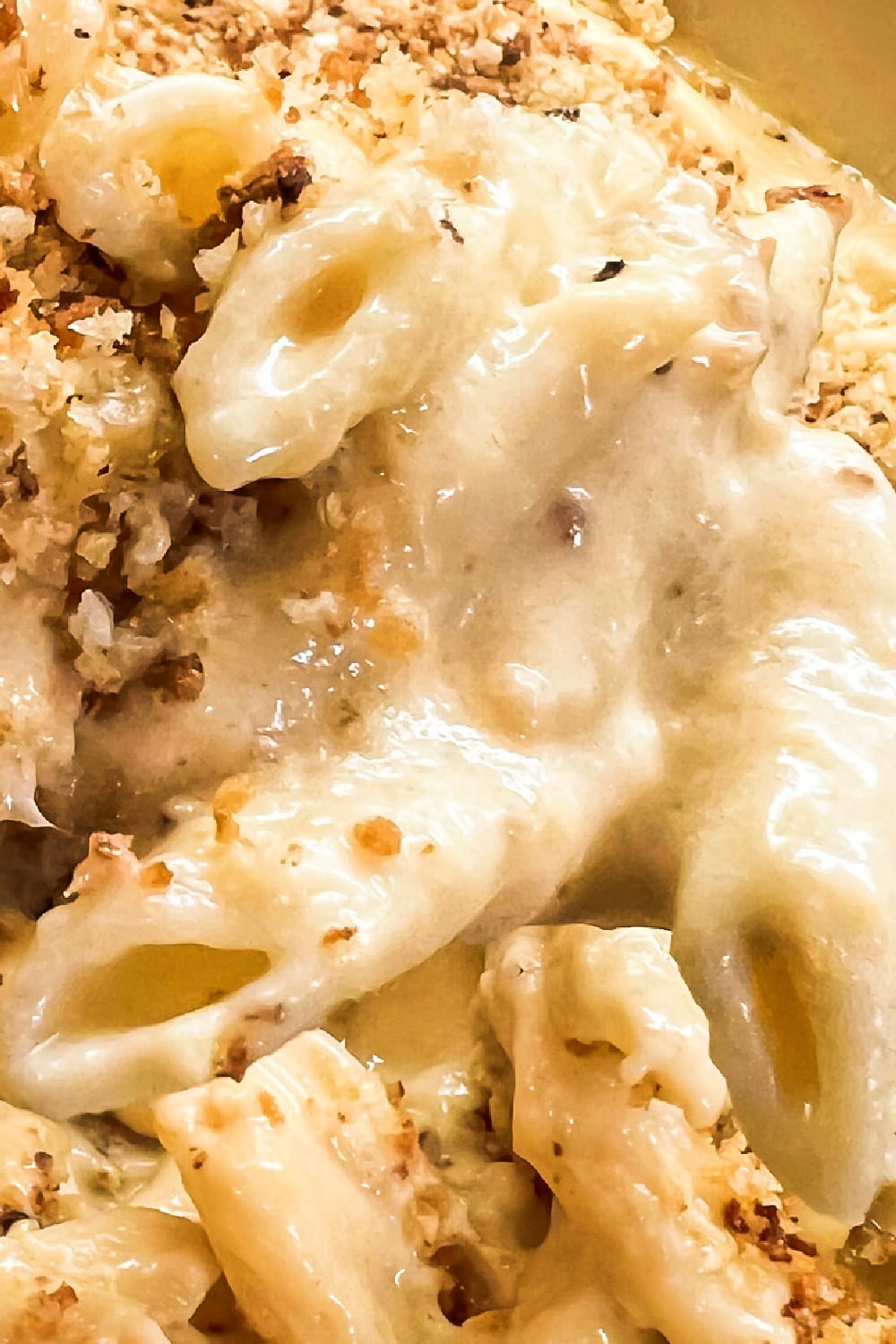 Can I add seafood to mac and cheese?
Heck yes! Stir in fully cooked seafood just before serving the macaroni and cheese. We often add shrimp, lobster, and crab – it makes mac and cheese seem soooo fancy!
Which types of vegetables are good in mac and cheese?
Any type of veggie that your family likes is perfect in mac and cheese. The trick is to saute the veggies in a separate skillet until they are just tender (al dente), then gently fold them in to the pasta when you combine it with the sauce.
Some of our favorite veggies for mac and cheese include roasted sweet potatoes, baby peas, asparagus, broccoli, spinach, diced tomatoes, baby kale, red bell pepper, matchstick carrots, and butternut squash.
Which types of cheeses should be used for creamy pasta dishes like this one?
Cheddar cheese melts really well and gets super rich and creamy, so that's why it's considered the foundational go-to cheese for making any type of cheesy pasta dishes. I love to use Alma Creamery cheeses – they offer such a wide variety of delicious Kansas-made cheeses.
Gruyere cheese melts really well and has a lovely nutty flavor. Other classic mac and cheese favorites include Gouda, Fontina, Havarti, Muenster, and Monterey Jack.
Use a single cheese or a couple of your favorites to make a blend, making your cheese sauce more complex in flavor.
How can I spice up my mac and cheese?
Great question! I like to add some red pepper flakes to my sauce, or even better, stir in a little bit of minced chipotle peppers to give the mac and cheese some smoky heat – so delicious. If you like the flavors of buffalo sauce, use that to add a kick to your cheese sauce.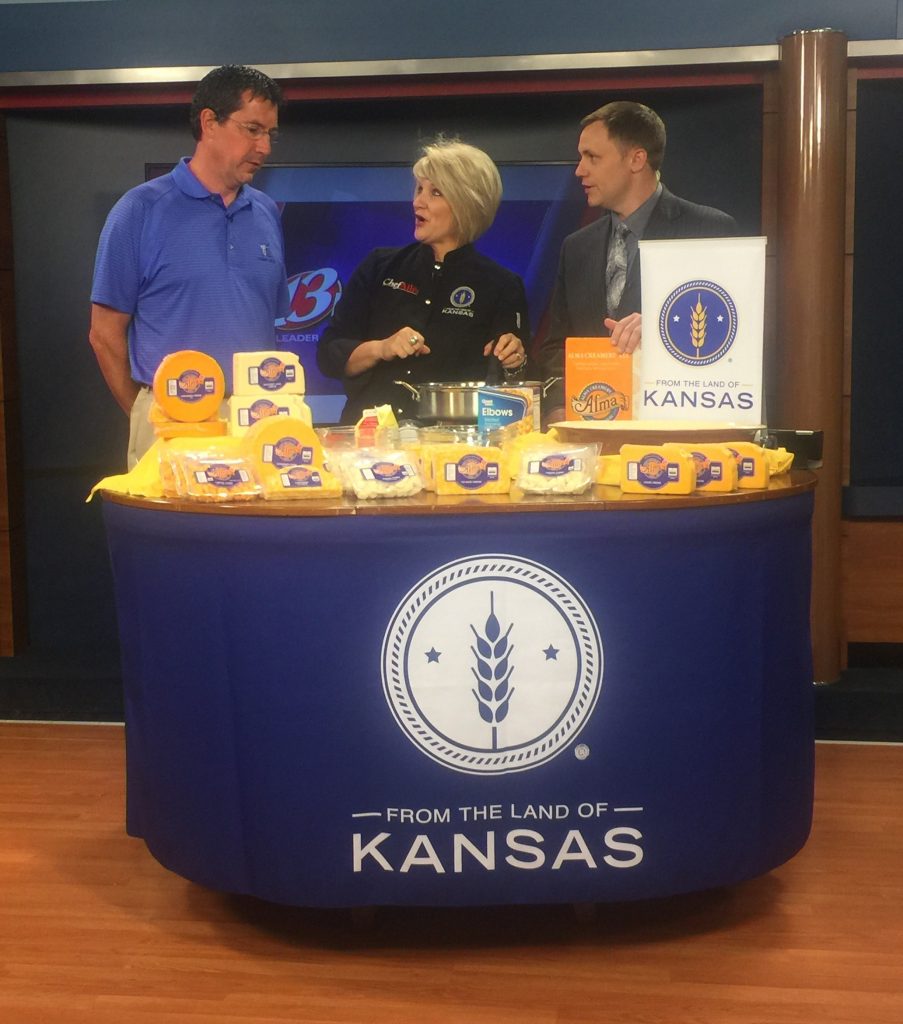 More Favorite Recipes to Enjoy –
Printable Skillet-Style Mac and Cheese Recipe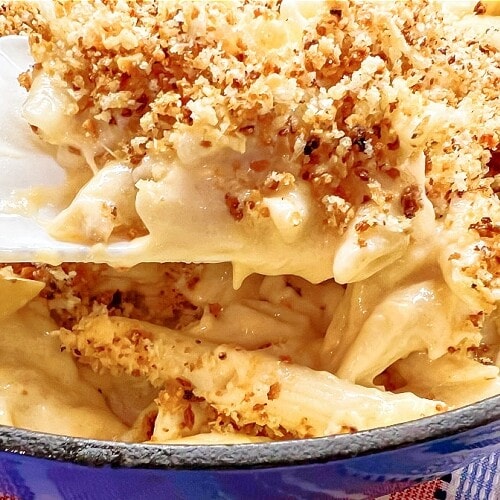 Skillet-Style Mac and Cheese
Skillet-Style Mac and Cheese is the ultimate mac and cheese recipe that's comfort food like no other - creamy, rich, and totally decadent...with a buttery, crispy topping.
Print
Pin
Rate
Ingredients
1

lb.

penne pasta, may substitute your favorite pasta shape, cooked until al dente

1/2

cup

unsalted butter

6

Tbs.

all purpose flour

4

cups

whole milk

3/4

cup

heavy cream

1 1/2

tsp.

kosher salt

1

Tbs.

mustard powder

1/2

tsp.

ground white pepper

16

oz.

coarsely-grated cheddar cheese, we prefer Alma Creamery cheddar cheese - a great Kansas product

1/2

cup

grated Parmesan cheese
Topping
2

Tbs.

unsalted butter

1

Tbs.

olive oil

2

cups

Panko bread crumbs

1/2

cup

grated Parmesan cheese

3

garlic cloves, minced

kosher salt and pepper, to taste
Instructions
Cook the pasta according to package directions, until al dente doneness; reserve.

Meanwhile, to prepare the crumb topping, melt the butter with the olive oil in a skillet over medium heat; add the panko, stirring to coat. Cook and stir this mixture for a few minutes until nicely golden brown; add the parmesan and garlic and cook 30 seconds longer.

Remove the skillet from the heat; set aside to let the crumb topping cool.

In a very large, deep skillet, melt 1/2 cup butter over medium heat; add the flour to the butter and whisk to incorporate, creating a roux. (This is the foundation of your cheese sauce.)

Cook the roux, whisking constantly, until it is nicely golden brown, approx. 3-4 minutes; remove the roux from the heat.

Once the roux is off the heat, slowly pour in the milk and cream, whisking constantly until the liquids are fully incorporated.

Return the skillet to the burner, raising the heat to medium to bring the sauce to a nice, high simmer - never stop whisking! Cook until the sauce is nicely thickened.

To make the cheese sauce, stir the mustard into the roux; add the cheeses in small batches, making sure each batch is completely melted before stirring in more. Fold in the drained pasta, tossing gently to coat with the sauce; remove the skillet from the heat.

When all the ingredients are fully incorporated, top the mac and cheese with the crumb topping. Let the pasta rest in the skillet for 5 minutes before serving.

*If preferred, you can make the crumb topping a bit more crispy/crunchy in texture by popping the mac and cheese beneath the oven broiler for a few seconds.
Notes
**Be sure to check the blog post for tips and tricks, specific instructions, recommended tools, and FAQ's for making this recipe.
Nutrition
Calories:
441
kcal
|
Carbohydrates:
17
g
|
Protein:
16
g
|
Fat:
35
g
|
Saturated Fat:
20
g
|
Polyunsaturated Fat:
2
g
|
Monounsaturated Fat:
9
g
|
Trans Fat:
1
g
|
Cholesterol:
97
mg
|
Sodium:
742
mg
|
Potassium:
215
mg
|
Fiber:
1
g
|
Sugar:
5
g
|
Vitamin A:
1096
IU
|
Vitamin C:
1
mg
|
Calcium:
476
mg
|
Iron:
1
mg
We love hearing from our readers and followers, so leave us a comment if you'd like. If you don't hear back from us shortly, know that we may not have seen your comment. Feel free to reach out to us by email: [email protected].
Let's Get You Cookin',
Chef Alli
Please Note: We do use referral and affiliate links here for products and services that Chef Alli loves and recommends. If you click on a link and make a purchase, I may receive a small commission at no extra cost to you. For more information, please read my disclaimer here.
**This recipe was featured on Chef Alli's Farm Fresh Kitchen with From the Land of Kansas, as part of WIBW 13 News This Morning, June 2015. For more info about Alma Creamery cheeses, visit here.
Disclosure of Material Connection: This is a "sponsored post." The company who sponsored it compensated me via a cash payment, gift, or something else of value to write it. It may also contain "affiliate links". This means if you click on the link and purchase the item, I will receive an affiliate commission. Regardless, I only recommend products or services I use personally and believe will add value to my readers. I am disclosing this in accordance with the Federal Trade Commission's 16 CFR, Part 255: "Guides Concerning the Use of Endorsements and Testimonials in Advertising."