Ricotta Creamed Corn with Bacon – talk about a fabulous side dish that's a real crowd pleaser! Sweet tender corn in a velvety cream sauce, then topped with crispy bacon.
Make this side dish with any kind of corn you prefer – canned corn, frozen corn, or even corn cut directly from the cob. Pair this easy corn casserole with any meal.


Please Note: We do use referral and affiliate links here for products and services that Chef Alli loves and recommends.
Howdy. Chef Alli here. Let's Get You Cookin'!
This Southern creamed corn casserole is a tasty side dish to any meal, holiday or otherwise. I wondered how my family would react to the slight tangy-ness the ricotta adds. Turns out, it was nothing to worry about at all – they devoured it! This easy corn bake comes together quickly, all creamy and rich, making for the ultimate sweet corn comfort food.
What Ingredients Do I Need to Make Old Fashioned Creamed Corn?
Feel free to use any type of sweet corn – canned, frozen, or even corn cut right from the cob in the summer months. Sometimes I even use a combination of sweet corn mixed with shoe peg corn – whatever you have on hand works just fine.
Heavy Cream, Cream Cheese, Ricotta Cheese
These ingredients are make up the creamy sauce that surrounds the corn.
Sugar, flour, salt, garlic, thyme, paprika
Here are the seasonings that you'll add to the cream sauce to give it flavor. Adjust these to taste.
I love to bake my bacon in the oven on a lined baking sheet or in my air fryer. Bake it until nicely browned and slightly crisp; as the bacon cools, it will get even more crispy. Add as much bacon as you prefer for the topping.
The scallions are optional as a topping for this old fashioned cream corn. I think the green color makes a pretty contrast on top against the corn and bacon.


Easy and Helpful Tips for Making Creamy Corn Casserole
Is heavy cream the same as whipping cream?
I use heavy cream and whipping cream interchangeably – they both work in the same fashion for any recipe. I've even substituted half-and-half in the recipe but you'll need to cook the corn a bit longer so the half-and-half can cook down and thicken.
Can I use low-fat cream cheese in this recipe?
Sure can – it works great. Just make sure the cream cheese is room temperature so it incorporates in the whipping cream and ricotta easily.
I'm not a fan of ricotta cheese. Can I leave this out of the recipe?
You can, but I think you will actually like the ricotta in this corn casserole since it's just a small amount and only adds a slight amount of tangy-ness – it's delicious combined with the cream cheese and whipping cream, then added to the corn. I really hope you'll give it a try!
Can I make this corn casserole ahead and bake it just before serving the meal?
Yep, and I do it all the time. You can make this casserole up to two days ahead and still have great results.
How about leftovers? Does this creamed corn reheat well?
Yes, it does. We usually re-heat it in the microwave, adding a bit more cream, if needed.
Does this corn bake freeze well?
I've never done it, but I'm betting that due to the amount of fat in the recipe (a lot!) this would freezer perfectly. I wouldn't add the bacon until after baking the casserole, as the recipe directs. You could place the cooked bacon in a freezer bag and place it on top of the corn before wrapping it up for the freezer; that way it will be right there when you pull the corn casserole from the oven to bake it – super handy!
Can I make this corn casserole and bake it in a cast iron skillet?
Yes, and I think this recipe lends itself well to baking in a cast iron skillet – I love how rustic it is. I always use my 10″ cast iron skillet. To speed up the process, get the corn hot and bubbly on the stove top, then transfer it to the oven to finish baking. Cast iron is so versatile – it can go from stove top, to oven, to grill with no problem. The down side of cast iron? It's soooo heavy! (However, this is what makes it provide superior browning.)


Other Recipes to Enjoy –
Printable Directions for Making Ricotta Creamed Corn with Bacon and Scallions: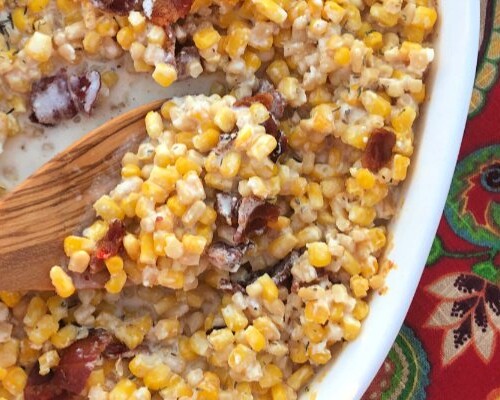 Ricotta Creamed Corn with Bacon and Scallions
Ricotta Creamed Corn with Bacon – talk about a fabulous side dish that's a real crowd pleaser! Sweet tender corn in a velvety cream sauce, then topped with crispy bacon. What's not to love???


Print
Pin
Rate
Ingredients
1

lb.

frozen sweet corn, thawed

thawed

1/4

cup

Highland Dairy heavy cream

2

oz.

Highland Dairy cream cheese, cubed and softened

1/2

cup

ricotta cheese

2

tsp.

granulated sugar

2

tsp.

all-purpose flour

1/2

tsp.

kosher salt

1/4

tsp.

granulated garlic

1/8

tsp.

dried thyme leaves

1/8

tsp.

paprika

2-3

strips bacon, cooked and crumbled

1

scallion, green parts only, chopped, optional as a garnish
Instructions
Preheat the oven to 350 degrees.

In a large mixing bowl, using an electric mixer, combine the whipping cream and cream cheese with the ricotta until smooth. Using a spatula, stir in the sugar, flour, salt, garlic, thyme, and paprika and combine well; stir in the corn.

Transfer the prepared corn mixture to a greased casserole dish, gently spreading it out evenly. Bake the corn casserole, uncovered, on the center rack of the preheated oven for 25 minutes.

Remove the creamed corn from oven and top with bacon and scallions; bake an additional 10 minutes. Let the creamed corn rest for 5 minutes before serving.
Nutrition
Calories:
164
kcal
|
Carbohydrates:
15
g
|
Protein:
5
g
|
Fat:
10
g
|
Saturated Fat:
5
g
|
Cholesterol:
29
mg
|
Sodium:
195
mg
|
Potassium:
166
mg
|
Fiber:
1
g
|
Sugar:
4
g
|
Vitamin A:
437
IU
|
Vitamin C:
3
mg
|
Calcium:
47
mg
|
Iron:
1
mg
We love hearing from our readers and followers, so leave us a comment if you'd like. And, if you don't hear back from us shortly, know that we may not have seen your comment. Feel free to reach out to us by email: [email protected]
Let's Get You Cookin',
Chef Alli