If you love beef, like my family does, then you will adore these cheesy roast beef puff pastry pies, better known as Roast Beef Wellington Packets with Creamy Horseradish Sauce.
To satisfy the hard-working appetites in my house, these meat-filled (and portable) "hand pies" hit the spot every time.
Roast Beef Puff Pastry Pies Recipe – A Quick and Easy Meal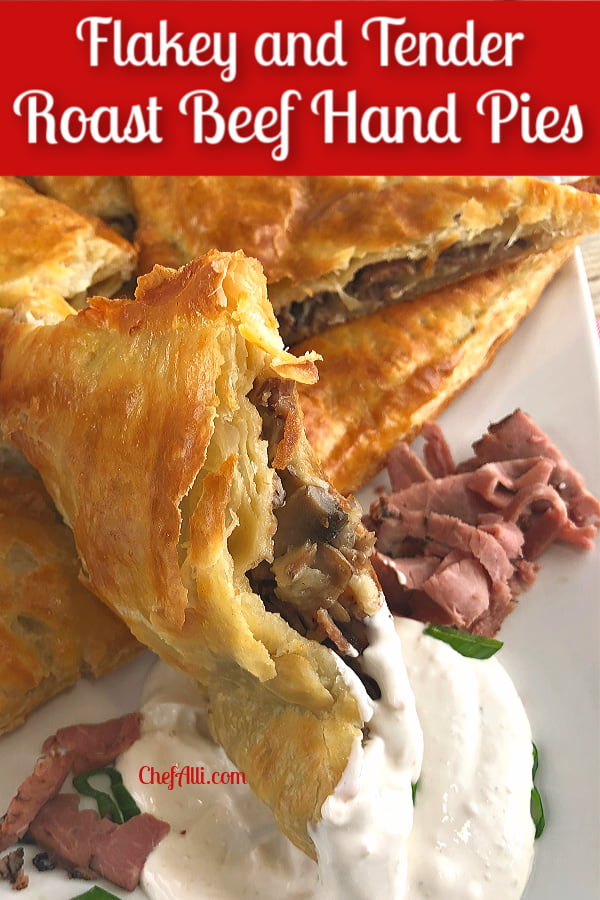 Howdy! Chef Alli Here. Let's Get You Cookin'…. Shall We?? 🙂
You will not be able to get enough of these amazing, meat-filled hand pies. Better known as "Beef Wellington", roast beef is combined with mushrooms and Swiss cheese then baked in a puff pastry crust. We really enjoy this hand-held pastry over traditional (and fancy ) Roast Beef Wellington. And boy is this recipe a keeper!
To make it even easier, I use thinly sliced roast beef from my local grocery deli. All I have to do is chop up the roast beef, then combine it with sauteed mushrooms and Swiss cheese. You could easily use chopped roast beef leftovers from Sunday dinner. THAT is even more heavenly!
We are big on all things beef around here, since we raise cattle for a living. Some of our other favorite beef meals include Fiesta Ground Beef and Noodle Skillet as well as Beef Barbacoa (made in my Instant Pot!) and Lazy-Butt Beef Subs….my favorite 2-ingredient roast recipe.
What to love about this recipe –
What's not to love about flakey pie crusts stuffed with shredded roast beef and melted cheese??
These hand pies travel well – they make great meals on the go.
Double the recipe and make a batch for the freezer to bake fresh later.
Ingredients you'll need to make this recipe –
Button mushrooms
Butter
Garlic
Deli roast beef
Swiss cheese
Puff pastry sheets, found in the freezer section at your favorite grocery store
Egg (for making the egg wash)
Sour cream
Mayo
Prepared horseradish
Worcestershire sauce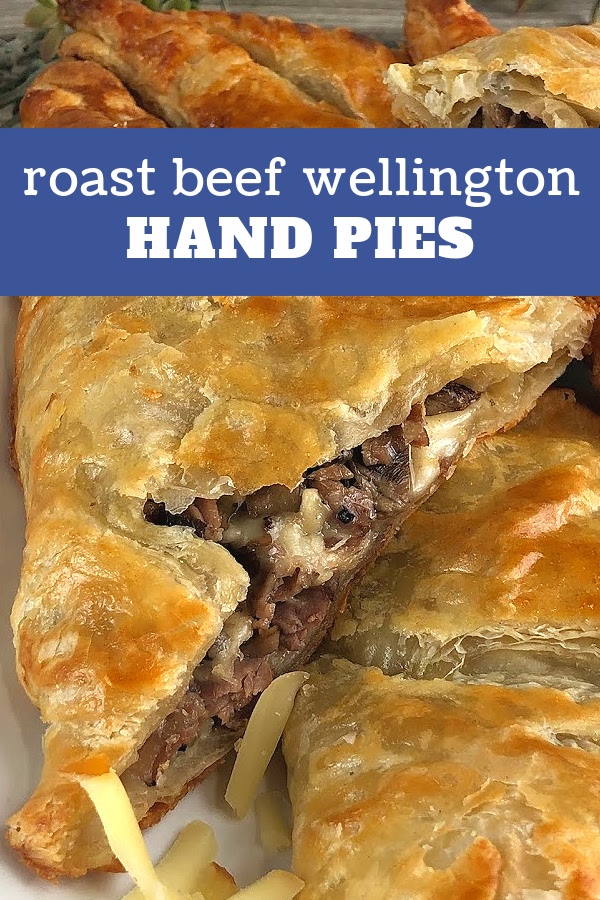 Tips for working with puff pastry –
Due to its high fat content, puff pastry thaws very quickly. Pull that box out of the freezer and unwrap the pastry sheets (there's 2 individual sheets per 1 lb. box), placing them on your counter to rest at room temperature. In about 20 minutes, the puff pastry sheets should be thawed and ready to use.
So what makes puff pastry "puffy"? Butter! Puff pastry is loaded with butter and as it bakes, all the little pockets of butter create steam, causing the pastry to puff, becoming super delicate layers of goodness.
Bake puff pastry delicacies at a high temperature (375 – 400 degrees F) for a quick, golden brown experience.
Whether sweet or savory, you can have a puff pastry appetizer, hand pie, or dessert ready in as little as 30 minutes, start to finish. I like to keep a box of puff pastry in my freezer at all times.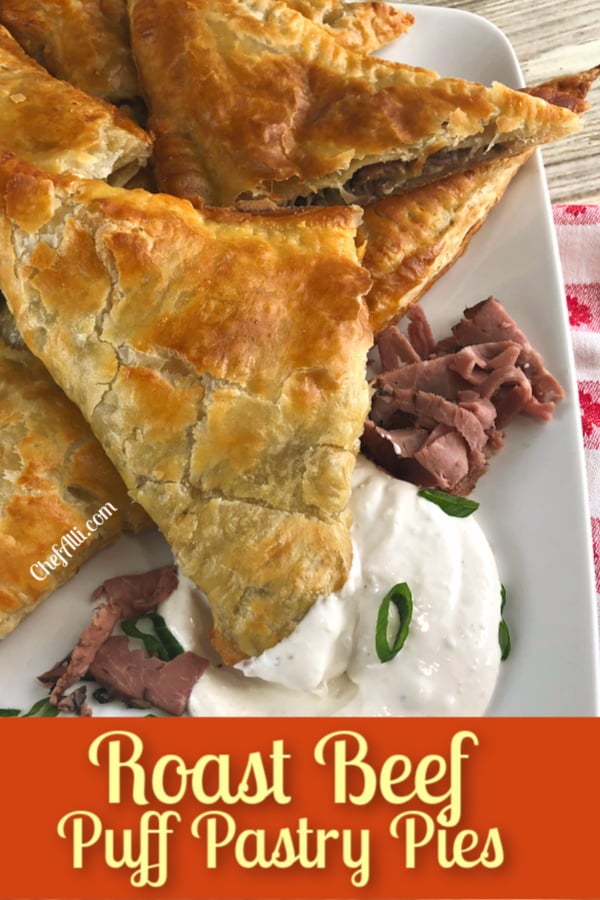 Tips for Making Roast Beef Wellington Puff Pastry Packets
Can puff pastry packets be frozen and baked fresh later?
Yes, and I do it all the time. I often double the recipe, serving 4 of the roast beef pies to my family for dinner. The second batch I freezer to bake fresh at a later meal.
How should I freeze these roast beef puff pastry pies?
Place the packets onto a large greased baking sheet, then pop them into the freezer as is. Later, when the packets are frozen solid, remove them from the baking sheet and place all 4 of them into a large freezer bag. (FYI, you can only fit 2 packets into a gallon freezer bag.) Or, you can wrap the frozen pies tightly in foil to freeze them.
How do you bake the beef wellington puff pastry packets from frozen? Should I thaw them first?
Do not thaw the puff pastry packets before baking. Preheat the oven to 375 degrees F. Place the frozen beef wellington packets in a single layer onto a baking sheet, leaving a bit of space around each one. Bake, uncovered, for 20-25 minutes or until hot throughout and golden brown on top and bottom.
To make the sauce, where will I find prepared horseradish at the grocery store?
This is a great question! Don't choose the creamy horseradish sauce that's in the condiment aisle – that's not the one you want. Instead, go to the refrigerated area near the meat department or the cold-cut department to find the prepared horseradish.
Is prepared horseradish the same thing as fresh horseradish?
Yes. Prepared horseradish is fresh grated horseradish that is typically packed in water. It is not the same thing as creamy horseradish that is made with mayonnaise and found in the condiment aisle.
Does the Creamy Horseradish Sauce really make a difference for serving with roast beef wellington?
Don't you dare skip it!!!! (How's that for an answer?) Something about the cool, creamy horseradish sauce alongside the warm and flakey pastries is just absolutely wonderful. Plus, the horseradish sauce really compliments the savory flavors of the roast beef, too.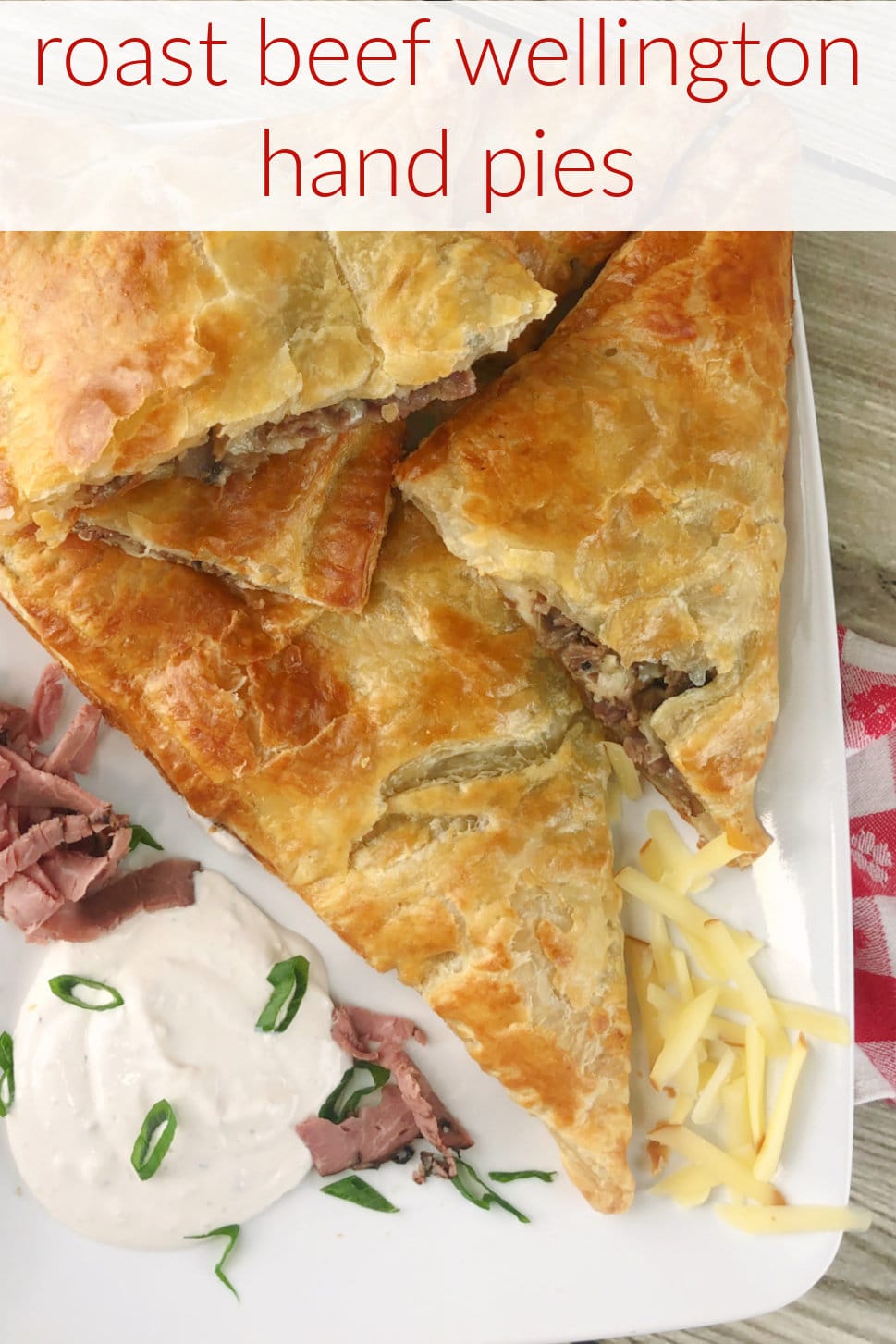 Can I use other types of deli meats and shredded cheeses to make puff pastry packets?
Yes! Black Forest Ham is really good when combined with sharp cheddar and we also liked to make a Reuben Puff Pastry Pie using corned beef and Swiss cheese with a little bit of sauerkraut tucked inside; serve with a Thousand Island dipping sauce!
Do I need special tools for making Roast Beef Wellington Hand Pies?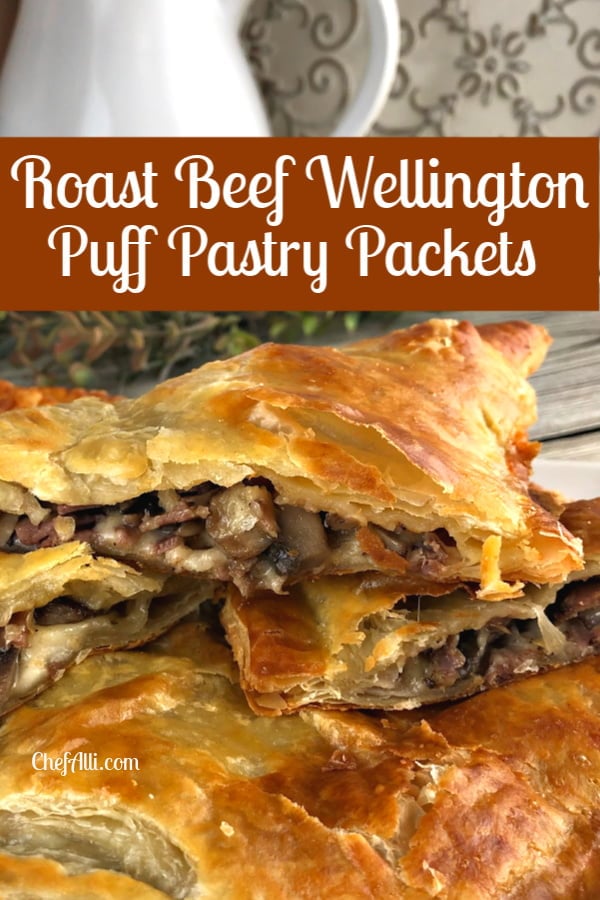 More Family Favorites –
Printable Roast Beef Wellington Packets Recipe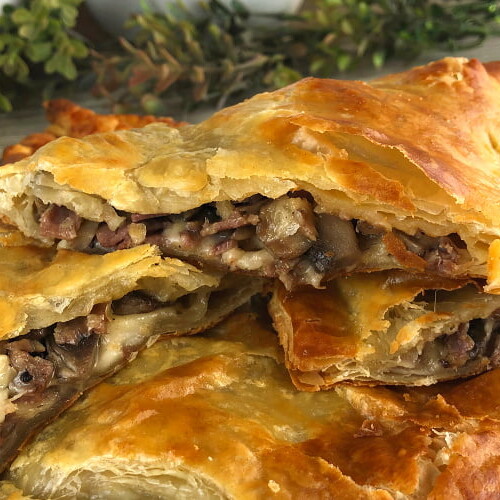 Roast Beef Wellington Packets with Creamy Horseradish Sauce
If you love beef, like my family does, then you will adore these cheesy Roast Beef pies in puff pastry, better known as Roast Beef Wellington Packets. To satisfy the hard-working appetites in my house, these meat-filled (and portable,) "hand pies" hit the spot every time.
Print
Pin
Rate
Servings:
4
large hand pies
Ingredients
8

oz.

sliced button or baby bella mushrooms

1-2

Tbs.

unsalted butter

2-3

cloves

garlic, crushed

1/2

lb.

deli roast beef, thinly sliced, chopped (may substitute shredded leftover roast beef in place of the deli roast beef, if desired)

8

oz.

Swiss cheese, shredded

1

lb.

box Pepperidge Farms frozen puff pastry sheets, thawed (there are 2 puff pastry sheets in a box)

1

egg beaten with 1/2 Tbs. water to create an egg wash
Horseradish Sauce
3/4

cup

sour cream

3

Tbs.

mayonnaise

1-2

tsp.

freshly grated horseradish, or more if desired

dash of Worcestershire sauce
Instructions
Preheat the oven to 375 degrees F.

In a large saute pan or skillet over medium high heat, melt the butter. When the butter is sizzling a bit, add the mushrooms and garlic, cooking for 2-3 minutes or until the mushrooms are softened slightly and the garlic is fragrant; remove from heat and let the mushroom mixture cool slightly.

Meanwhile, in a large mixing bowl, gently toss the chopped roast beef and cheese together, then add the semi-cooled mushroom mixture and toss once more.

Unwrap the puff pastry and lay one sheet out onto a very lightly floured work surface. Using a rolling pin, roll out the puff pastry to about 12" x 12" in size, then cut the puff pastry sheet in half diagonally to create two triangles.

Mound one quarter of the prepared roast beef filling onto one side of a puff pastry triangle, leaving about 1/2" of space around the outer edge of the triangle; fold the dough over the filling. to create a smaller triangular packet.

Using a fork, press the edges of the dough together to seal the packet tightly; place the packet on a greased baking sheet, then lightly brush the packet with egg wash. Repeat with the remaining puff pastry dough and filling to create a total of 4 large beef packets.

Bake the roast beef packets, uncovered, on the center rack of the preheated oven for 15-20 minutes, or until the packets are nicely golden brown, puffy and hot throughout.

Serve warm, with the prepared horseradish sauce on the side for dipping.
Notes
**Be sure to check the blog post for lots of my favorite tips and tricks, specific instructions, recommended tools and FAQ's for making this recipe.


We love hearing from our readers and followers, so leave us a comment if you'd like. If you don't hear back from us shortly, know that we may not have seen your comment. Feel free to reach out to us by email: [email protected].
Let's Get You Cookin',
Chef Alli
Please Note: We do use referral and affiliate links here for products and services that Chef Alli loves and recommends. If you click on a link and make a purchase, we may receive a small commission at no extra cost to you.