Wouldn't you agree that every summer gathering needs a good pasta salad on the menu? Chipotle Pasta Salad with Shredded Chicken and Smoked Gouda is an easy crowd pleaser that is sure to be the star of your next cookout! #pasta #pastasalad #summer #cookout #potluck


Please Note: We do use referral and affiliate links here for products and services that Chef Alli loves and recommends.
Howdy! Chef Alli Here. Let's Get You Cookin'….Shall We? ?
Well, if you've searched the world over for a pasta salad that is slightly tangy, a teeny bit spicy, and ultra creamy…..look no further – you've just found it! I can't remember where I came across this recipe, but I've been making it for years and it's STILL my all-time favorite pasta salad.
While I tend to make this Chipotle Pasta Salad with Shredded Chicken and Smoked Gouda more often in the summer, it's truly a pasta salad you could make any time of year. It's perfect for when you need something quick and refreshing on a hot summer day, but also good as a side dish. When you take it to a potluck or family gathering, be prepared to be hounded for the recipe! I also like the fact that's just a few ingredients, too.
Let's Talk Ingredients and Tools!
Pasta. This recipe calls for penne pasta, but you could truly use ANY pasta that's on hand in your cupboard for this recipe. I actually like using the MINI penne pasta in this salad, but have a hard time finding that pasta locally, for some reason. I always cook my pastas in my Instant Pot since it only takes 5 minutes and there's no draining of pasta required….huge time saver!
Broth. This ingredient isn't listed in the recipe since you don't HAVE to use broth to cook your pasta, but I recommend it. I use broth to cook so many things in order to boost the flavor a bit more – grains, pastas, potatoes, beans….you name it. I typically use chicken broth, but vegetable broth works great, too.
Mayonnaise. A major player in your dressing. Use real mayonnaise, not Miracle Whip. I love Hellman's mayonnaise because that's the brand that both my Grandmas and my Mom always used.
White wine vinegar. Here's where your dressing gets it's TANG. Feel free to substitute any mild vinegar in this recipe, even rice vinegar would work just fine….or red wine vinegar if you don't mind that your dressing has a tinge of pink color.
Whipping cream. I don't know the science behind it, but anytime that I add a bit of whipping cream to a mayo-based dressing, I find that it stays creamier longer – the pasta SEEM to absorb as much of the dressing and get dried out when there's whipping cream added to the mayo! If anybody knows the answer to to WHY this is the case (or maybe it's my imagination??), DOOOOO let me know!
Adobo sauce. A very important ingredient in this recipe, so don't you dare skip it! This is where your salad/dressing gets a bit of spicy-ness and smokiness – super yummy. I like to buy chipotle chilies packed in adobo sauce, then I throw them into my food processor and puree them until they become a nice, thick paste. I store this chipotle/adobo paste in a mason jar as a condiment in my fridge, using it for all the great recipes out there that call for chipotle sauce or adobo sauce. Yep, because a chipotle is actually a smoked jalapeno, this ingredient is very hot and spicy so a little goes a long way – take care! (You can always add more, if you need it, right?)
Cooked, shredded chicken. I think this recipe is especially yummy when you've got a moist, smoky rotisserie chicken to pull the meat from. I usually use breast meat, but that's not set in stone. If I don't have a rotisserie chicken handy, I cook up a couple of chicken breasts in my Instant Pot and then use that meat for this salad. Once you've dressed this salad, nobody is really going to be able to tell which part of the chicken you've use – white or dark meat and either one is delish in this salad.
Smoked Gouda cheese. If you're not already a smoked Gouda fan, you will be soon! The smoked Gouda lends itself well to both the chipotle dressing and the chicken. Don't blame me when you're addicted and want to keep smoked Gouda on hand at all times from now on – I sure do….it's wonderful with a glass of red wine.
Grape tomatoes. Feel free to substitute cherry tomatoes. Or, if all you've got on hand is a couple of Roma tomatoes, feel free to dice them up in place of the smaller tomatoes – they will work just fine. My first choice is the grape tomatoes because I like their size, but again, I always say use what ya got!
Fresh basil. I hope you're growing your own herbs and using them in all of your cooking – such a game changer! This salad is good without the fresh basil, but if you want it to be over-the-top-phenomenal, add the sliced basil. Every cut you make in that basil is going to bring out that intense basil flavor and it just MAKES this salad…..please don't skip it. And, NO, dried basil just doesn't work as a substitution.
What are the tools you'll need to make this Chipotle Pasta Salad with Shredded Chicken and Smoked Gouda? Pretty much your basic kitchen tools – cutting board, chef's knife, mixing bowl, mixing spoons or spoonulas, an Instant pot or large pot to cook the pasta in, measuring cups and spoons – that's it!
Easy Recipe Tips for Making Super Delicious Chipotle Pasta Salad –
Why does the pasta salad I make always seem to absorb all my dressing and get sticky and dry? I've had this problem a lot, too, and sometimes still do. I don't know the exact science behind it, but because pasta is a starch, it's JOB is to absorb moisture….so it does! I've begun adding a bit of whipping cream to all my mayo-based salad dressings, and for whatever reason this addition seems to help keep my pasta salads much more creamy and moist. Also, before adding your cooked pasta to the dressing and other ingredients in this salad, be sure it's fully cooled and tossed in a tiny bit of olive oil first.
How far in advance should I make this pasta salad? Great question. If I'm taking this salad to a special gathering or event, I usually get all the components ready in advance, but wait to combine everything until I'm ready to leave for the event. This way, the salad is nice and creamy at the time it's served. Also, I often take a bit of extra dressing in a mason jar that I can add to the salad if it happens to have absorbed
How long will this pasta salad keep in the fridge? 2-3 days, but good luck with THAT. When I make this salad, it's always devoured within HOURS. Everybody loves this salad!
Can I substitute other cooked meats in place of the shredded chicken in this salad? I've never done that with this salad, but as long as what you're substituting is fully cooked, go for it. I think leftover grilled steak or salmon would be super yummy in this salad, personally.
What can I substitute for the adobo sauce in this recipe if I don't want to process the chipotles as directed above? Look for chipotle sauce at your favorite grocer – you'll find it in the Hispanic section and is usually quite inexpensive and super convenient to keep as a condiment in your fridge. You'll find that you use it in LOTS of recipes, and it works for any recipe that calls for chipotle sauce or adobo sauce.
What's the easiest way to cut the fresh basil for this recipe? Lay all the basil leaves on top of each other, then start at one end and roll them up into a fat cigar. Take your kitchen shears and cut across the cigar, making thin cuts. When you unroll each cut, you'll find thin little strips of basil that are perfect for this salad. Also, cutting the basil is what brings out it's essence; the more cuts you make, the more flavorful the basil will be!


Other Summer Salad Recipes to Enjoy –
Printable Directions for Making Chipotle Pasta Salad with Shredded Chicken and Smoked Gouda –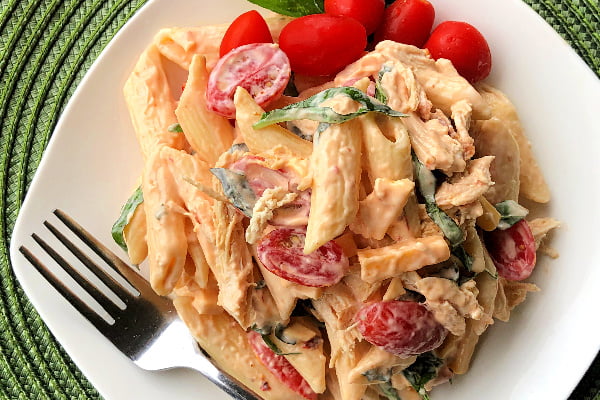 Chipotle Pasta Salad with Shredded Chicken and Smoked Gouda 
Wouldn't you agree that every summer gathering needs a good pasta salad on the menu?  Chipotle Pasta Salad with Shredded Chicken and Smoked Gouda is an easy crowd pleaser that is sure to be the star of your next cookout!  #pasta #pastasalad #summer #cookout #potluck 
Print
Pin
Rate
Ingredients
3/4

cup

mayonnaise, I love Hellman's mayo

4

Tbs.

white wine vinegar

2

Tbs.

whipping cream

2-3

tsp.

adobo sauce from a can of chipotle chilies, or chipotle sauce

kosher salt and freshly ground black pepper, to taste

2

cups

shredded, cooked chicken

3

cups

penne pasta, cooked until al denta, according to package directions, cooled

6

oz.

smoked Gouda cheese, cut into 1/2" pieces

10-12

oz.

grape tomatoes, halved lengthwise

12-15

whole basil leaves, cut into thin strips
Instructions
In a large mixing bowl, combine mayo with vinegar, whipping cream, and adobo sauce; whisk until smooth then season with salt and pepper. Add chicken, pasta, cheese, tomatoes and basil; toss gently to combine with dressing. Refrigerate until ready to serve.

Add the shredded chicken, cooked pasta, tomatoes, cheese and most of the basil; toss gently to combine with the dressing. Refrigerate until ready to serve.
Nutrition
Calories:
256
kcal
|
Carbohydrates:
14
g
|
Protein:
16
g
|
Fat:
15
g
|
Saturated Fat:
6
g
|
Cholesterol:
59
mg
|
Sodium:
379
mg
|
Potassium:
204
mg
|
Fiber:
1
g
|
Sugar:
2
g
|
Vitamin A:
470
IU
|
Vitamin C:
8
mg
|
Calcium:
163
mg
|
Iron:
1
mg
We love hearing from our readers and followers, so leave us a comment if you'd like. And, if you don't hear back from us shortly, know that we may not have seen your comment. Feel free to reach out to us by email: [email protected]
Let's Get You Cookin',
Chef Alli