These Open-Face Italian Beef Sandwiches are a ground beef version of an Italian roast beef classic that is flavorful and fast – my guys gave them a giant thumbs-up.

Open-Face Italian Beef Sandwiches Recipe
Hey! Hey! Since we always have tons of ground beef to use up, I'm super excited to have another ground beef recipe for my dinner rotation – it just makes my life tons easier.
Ground beef meals cook up quickly so I'm always in need of recipes to help me get dinner on the table in a speedy manner.
My fam really enjoys these Italian Beef Sandwiches and I've made them several times now.
The classic Italian Beef sandwiches (super popular in the Chicago area, I noticed when there) typically include shredded beef instead of ground beef.
So if you've got cooked shredded roast beef on hand, you can substitute that meat for the ground beef in this recipe.
I do that with this recipe when I've got leftover roast to use up – works great, and my guys scarf it right down no matter which way I make these oven sandwiches.
What Ingredients Do You Need to Make Italian Beef Sandwiches?
Ground Beef
You can use any ground beef you've got on hand.
We always have a freezer full of ground beef and it's pretty lean, so there's not much fat to drain before adding the remaining ingredients as the recipe tells you.
Just make sure your skillet is nicely preheated before you add the ground beef – you want to hear some good SIZZLE when the ground beef hits that pan!
That sizzle is telling you that there's good heat there and it will definitely make your ground beef cook up with some good browning that provides extra flavor.
I always say, if you're gonna COOK, make sure you get the MOST FLAVOR from your efforts, right?!
A good, hot skillet (love me some cast iron) is worth so much when we've gotta get some serious cooking done!
Green bell pepper, onion, and garlic
Yep. In my book, bell peppers, onion, and garlic are like the Holy Trinity because they provide the foundation for so many great dishes!
In Southern cooking, there's hardly ANY recipe that doesn't begin with bell peppers, onions and garlic, it's just a fact.
If you prefer to substitute a red bell pepper for the green one in this recipe, you can do so, but it does change the flavors, I've noticed. (Again – use what you have on hand!)
Red wine
In this recipe, I'm featuring a dry red wine from my friends at Crooked Post Winery, a Pinot Noir made from good Kansas grapes.
Did you know that before Prohibition, Kansas was the second leading state in grapes grown in the Midwest? It's true and I had no idea! Just a fun fact for you.
This lends a lot of flavor to the sauce in this yummy beef recipe, but you can also opt to use beef broth in it's place if you must.
Diced tomatoes and tomato paste
Make sure you don't drain your tomatoes – you're going to need the juices to cook down when making the meat mixture and sauce.
If you really want to add depth with your tomato sauce, brown it in a skillet first, over medium low heat.
Once it turns from bright red in color to a brownish-red, you've caramelized it and that adds a TON of extra flavor!
Garlic Toast
My guys really liked it that these open-face sandwiches are made with big, fat Texas Toast Garlic Bread instead of regular buns.
And, the crispiness of the garlic toast adds a nice element to the whole eating experience here, too…..always a good thing, right?
You'll find the Texas Toast Garlic Bread in a box of 8 in the freezer section of your local grocer. (Terribly fattening and full of carbs, but oh, so yummy.)
Mozzarella Cheese
This recipe calls for sliced mozzarella cheese, but if all you have shredded mozzarella, no worries.
I've done that PLENTY of times and it works just fine. It's just easier to get a SLICE of cheese to stay put on a pile of saucy ground beef than it is the shredded cheeses….make sense?
Also, don't tell anyone but I have been known to use sliced cheddar or sliced provolone in a pinch!
My guys have never one said "Well now we can't eat those ITALIAN beef sandwiches because you forgot the MOZZARELLA cheese.
They just snarf the dang things right down without batting nary an eyelash, trust me. 🙂

Can I make this recipe in a slow cooker?
Yep. You just need to cook the ground beef in a skillet first, along with the bell pepper, onions, and garlic. Then ,drain the fats before adding the ground beef mixture to the slower cooker.
From there, you're going to add in the red wine, tomatoes, and tomato paste, stirring to combine. Cook this mixture on low for 3-4 hours to allow the sauce to cook down and thicken.
To serve, cook the garlic toast as directed in the recipe and top with the beef mixture from the slow cooker, then pop the sandwiches into the oven to melt the cheese.
Can I use buns to make these Italian Beef Sandwiches if I don't have garlic toast on hand in my freezer?
Certainly. I've even served these sandwiches on slider buns when I need an appetizer recently.
They flew out the door!
You can butter the buns, then toast them in the oven first to get them a bit crispy, before topping them with the Italian beef and the cheese.
What are pepperoncini?
Pepperoncini are peppers, usually pickled and sold in a jar at the grocer, located close to where pickles are sold (at least at the grocers in NE Kansas anyway).
Are pepperoncini's spicy and the same as banana peppers?
Pepperoncini and pickled banana peppers DO look similar, but pepperoncini are typically have an added touch of heat while the banana peppers are more sweet than spicy.
Can I substitute ground chicken or turkey?
Yep, easily….such a good question, by the way.
Just keep in mind that both of these options tend to be super lean so you may have to add extra wine, diced tomatoes, and tomato paste to help these proteins be a little more "saucy".
Other Beef Recipe Favorites to Enjoy –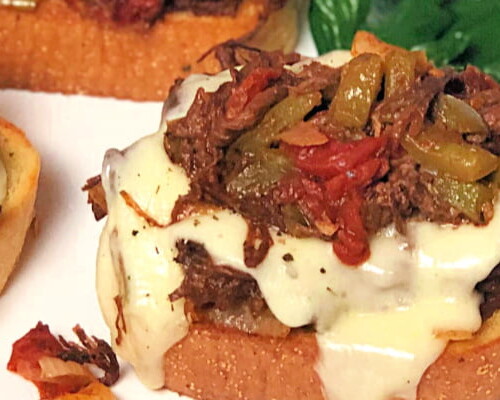 Open-Face Italian Beef Sandwiches
Yay! Here's another easy weeknight dinner your family will go crazy for: Open-Face Italian Beef Sandwiches. This ground beef version of an Italian Classic is flavorful and fast – my guys gave them a big "thumbs up".


Print
Pin
Rate
Ingredients
1

lb.

lean ground beef

1

green bell pepper, seeds and membranes removed, diced

1

small yellow onion, diced

3-4

garlic cloves, crushed (may substitute 1 tsp. granulated garlic, if preferred)

1/2

cup

dry red wine, such as Crooked Post Winery's Pinot Noir

14

oz.

can diced tomatoes, undrained

1/4

cup

tomato paste

kosher salt and black pepper, to taste

8

slices

frozen garlic Texas Toast

8

slices

mozzarella cheese
Instructions
Preheat the oven to 400 degrees F.

In a large skillet over medium heat, cook the ground beef with the green pepper, onion, and garlic until the meat is no longer pink, 8-10 minutes, crumbling the meat as it cooks; drain all fats.

Stir in the red wine, bringing the meat mixture to a high simmer over medium high heat; cook until the wine is reduced by half, 2-3 minutes. Stir in the tomatoes and tomato paste, returning the mixture to a high simmer once more. Reduce the heat and simmer, uncovered, until the meat mixture is nicely thickened, stirring occasionally; season to taste with salt and pepper, as desired.

Meanwhile, place the Texas toast slices onto a foil-lined baking sheet; bake until lightly golden brown, 8-10 minutes.

To serve, spoon the prepared warm beef mixture onto the toast, then top with a slice of cheese. Bake 2-3 minutes longer or until the cheese is nicely melted. Serve at once.
Notes
*If you prefer to make this recipe without the wine included as an ingredient, you may substitute beef broth.
*These sandwiches would also be delicious using leftover cooked shredded beef (such as a cooked and shredded chuck roast or arm roasin place of the ground beef.
**If you want to make these Italian Beef sandwiches truly authentic, top them with pepperoncini and sliced green olives before serving!
www.ChefAlli.com
Nutrition
Calories:
341
kcal
|
Carbohydrates:
24
g
|
Protein:
23
g
|
Fat:
16
g
|
Saturated Fat:
7
g
|
Cholesterol:
58
mg
|
Sodium:
562
mg
|
Potassium:
464
mg
|
Fiber:
2
g
|
Sugar:
6
g
|
Vitamin A:
429
IU
|
Vitamin C:
20
mg
|
Calcium:
173
mg
|
Iron:
8
mg