WOW. I love how easy it is to cook beans in my Instant Pot – no soaking of the beans is involved! Instant Pot Tuscan Bean Soup with Bacon makes a hot and satisfying meal that really fills you up. Made in any electric pressure cooker, this soup takes just minutes!
Instant Pot Tuscan Bean Soup with Bacon Recipe

Howdy! Chef Alli Here. Let's Get You Cookin….Shall We? 🙂
I've never used dry beans much in my cooking…..until NOW. My Instant Pot has completely changed all that.
Once I figured out how to cook dry beans under pressure in my Instant Pot, I've never looked back. I've also been surprised at the difference between the consistency of cooked dry beans vs. cooked beans from a can – they are completely different in flavor and texture. You don't believe me until you try it for yo-self, so please do it!
What Ingredients Will I Need for Making Instant Great Northern Bean Soup?
Because I typically can't find dry Cannellini beans in my area of the country, I use Great Norther white beans when I make this dried bean soup recipe. Cannellini beans are often referred to as white kidney beans. They are a large, kidney-shaped bean with a meatier flesh than Navy or Great Northern beans. You have probably seen Cannellini beans in minestrone soup.
I like to use center cut bacon, but you can use any type that you prefer. I've always got bacon on hand in my freezer since it freezes so well and also thaws super quickly.
These are the aromatics of this soup, providing the flavor foundation to build on. If you don't have an onion and garlic on hand, you can substitute 1 Tbs. dehydrated onion flakes and 1 tsp. granulated garlic in their place.
Thyme, Basil and Rosemary
These dried leaves are the spices that define this Tuscan bean soup – traditional Italian seasonings and flavors.
A key ingredient in this soup, tomato paste can provide a nice rich-ness to this soup if you take the time to brown it a bit along with the other ingredients before adding the liquid and pressurizing in the Instant Pot.
Chicken Broth (May Substitute Vegetable Broth)
You will use chicken broth for cooking the beans in the first step of this recipe, and also as the base of this bacon and white bean soup. Feel free to use vegetable broth or beef broth, if you so desire.
Whole or Diced Tomatoes with Juice
Tuscan bean soup wouldn't be traditional if it didn't include tomatoes. If using the whole tomatoes, place them into a bowl and crush them with your fingertips before adding them to the Instant Pot to cook.
Fresh Baby Spinach or Baby Kale
Be sure to stir in the spinach in at the very end of the cooking time. It will cook VERY quickly.
This is an optional ingredient. I like to stir just a splash of cream into this soup to give it added creaminess. Also, if using kale, be sure to use BABY kale so it's nicely tender. Fully matured kale can be very tough and fibrous unless minced very finely.
Helpful Tips for Making Instant Pot Tuscan Bean Soup with Bacon
Why does the recipe instruct to bring the bean soup to a boil before locking the Instant Pot lid into place to pressurize?
This little insider tip really helps your Instant Pot pressurize much more quickly, especially when your pot is very full of ingredients such as when you make a soup like this one. Using the saute setting on the Instant Pot will allow you to bring the contents to a boil in just a minute or two, before you lock the lid into place to pressurize the contents.
If I don't have an onion or garlic cloves on hand, what can I substitute?
Great question. For the onion, substitute 1 Tbs. dehydrated onion flakes and for the garlic, substitute 1 tsp. granulated garlic (or garlic powder). I often do this in a pinch and it works just fine. You could actually add these ingredients when you stir the spices into the bacon.
If I do a quick release instead of a natural release when cooking dry beans in my Instant Pot, what will happen?
You will likely have chewy beans, or even beans that have a rather crunchy interior – yuck.
Using the natural release whenever you cook animal proteins (meat) or vegetable proteins (beans) in your Instant Pot is a very key step, since this allows the ingredients to finish cooking a bit from the residual heat in the pot, but also to let the fibers of the ingredients relax so the eating experience provides a nice and tender one. Nobody wants to eat beans that are crunchy or meat that is tough!
The recipe says a substitution of pancetta for the bacon is okay. What is pancetta, anyway? I'm not familiar with this ingredient.
Pancetta is traditional Italian bacon. Unlike our American bacon, it is cured but not smoked, so the flavor and texture are quite different.

Are there any special tools I'll need for making Instant Pot bean soup?
Obviously, an Instant Pot! I prefer the 6-quart Instant Pot for my cooking, but if you have a large family, you may want to consider the 8-quart Instant Pot.
For cutting the bacon and spinach, I love using a pair of kitchen shears to make short work out of this task.
When dicing the onions and slicing the carrots, I prefer a large wooden cutting board (so I've got lots of room for chopping, dicing and slicing) and a nice sharp 8-inch chef's knife. (Yes, this is a pricey kitchen tool, but it's a life-time tool – if you always hand wash it, keeping it out of the dishwasher, it will last for years and years to come.)
I use this knife straightener every time I get ready to use my knife – a straight blade definitely makes a difference in how well your knife slices and chops.
Other Instant Pot Recipes to Enjoy:
Printable Instant Pot Tuscan Bean Soup with Bacon Recipe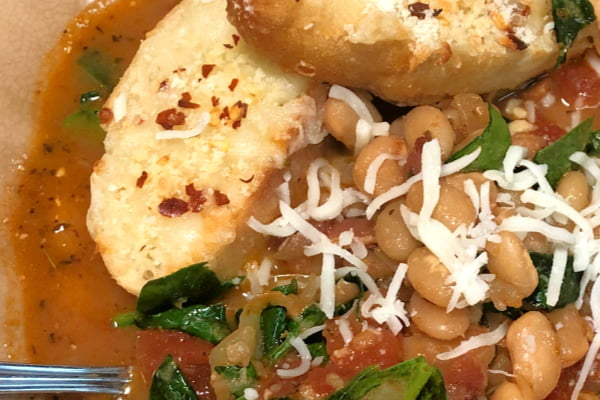 Instant Pot Tuscan Bean Soup with Bacon
I love how easy it is to cook beans in my Instant Pot - no soaking of the beans is involved! As long as you use the Instant Pot's natural release once the beans have cooked under pressure, you will have perfectly tender beans every time. #InstantPot #Soup
Print
Pin
Rate
Ingredients
2

cups

dry beans, I love cannellini benas, but usually use Great Northern

enough chicken broth to cover the beans in the Instant Pot by 1 inch, 2-3 cups

6

strips center cut bacon chopped, may substitute pancetta, if desired (cured Italian bacon)

1

small onion, diced

3

cloves

garlic, crushed

2

carrots, sliced

1

tsp. each

dried thyme, dried basil, dried rosemary

2

Tbs.

tomato paste

3

cups

chicken stock, warmed ahead, if possible

28

oz.

can whole or diced tomatoes with juice

2

handfuls fresh baby spinach or baby kale, roughly chopped

splash of heavy cream, if desired

1

par-baked baguette, sliced into thick slices

8

oz.

block Parmesan of Asiago cheese (you will have some leftover)
Instructions
Place the beans and broth in the Instant Pot, making sure the beans are covered with the broth by 1". Lock the Instant Pot lid into place.  Choose the high pressure setting for 20 minutes, bringing the Instant Pot to full pressure.  (The cooking time can vary depending on your Instant Pot.)

When the timer sounds, use a natural release, letting the pressure in the Instant Pot drop naturally.  Carefully remove the Instant Pot lid; drain the beans and reserve.

Using the sauté setting on the Instant Pot; when the pot is nicely hot, add the chopped bacon, cooking the bacon until a bit of fat is rendered.  Add the onion, garlic, carrots, spices and tomato paste, stirring to blend well; cook for 2 minutes, stirring often, adding a bit of broth of the ingredients begin to stick to the bottom of the pot. 

Add the chicken broth and tomatoes to the pot, along with the reserved cooked beans, continuing to use the sauté setting; bring the soup to a high simmer.

Once the soup is simmering nicely, lock the Instant Pot lid into place; choose the high pressure setting for 15 minutes, bringing the Instant Pot to full pressure.  When the timer sounds, perform a quick release, allowing the pressure from the Instant Pot to escape quickly from the pot. 

When all the pressure is removed from the pot, carefully remove the lid. Season the soup with salt and pepper; stir in the fresh spinach, along with a good splash of cream.

While the bean soup ingredients are cooking in the Instant Pot, slice the par-baked baguette, brushing the slices with a bit of olive oil.  Place the baguette slices in a single layer on a baking sheet; place the baking sheet into a preheated 375 degree F. oven for 8-10 minutes until the baguette slices are nicely golden brown and beginning to get a bit crispy. 

Remove the baguettes from the oven and sprinkle each one with a bit of the shredded Parmesan.

To serve the bean soup, place a couple of the prepared baguette slices into each bowl, ladling the bean soup over the top.  Garnish with additional Parmesan, as desired.
Notes
**Please note:  the cooking time stated for this recipe does not include the time required to bring the Instant Pot up to pressure since this can vary. This recipe was made using a 6-quart Instant Pot. 
Nutrition
Calories:
368
kcal
|
Carbohydrates:
38
g
|
Protein:
20
g
|
Fat:
15
g
|
Saturated Fat:
7
g
|
Cholesterol:
30
mg
|
Sodium:
1293
mg
|
Potassium:
576
mg
|
Fiber:
8
g
|
Sugar:
6
g
|
Vitamin A:
3181
IU
|
Vitamin C:
13
mg
|
Calcium:
446
mg
|
Iron:
4
mg
Thanks for visiting! I hope you return soon for more yummy recipes for your family.
We love hearing from our readers and followers, so leave us a comment if you'd like. And, if you don't hear back from us shortly, know that we may not have seen your comment. Feel free to reach out to us by email: [email protected].
Let's Get You Cookin',
Chef Alli
Please Note: We do use referral links for products and services that Chef Alli loves and recommends.