Savory-Sweet Bacon Cheeseburger Sliders. So unbelievably good, you won't want to share them. Sliders recipes are all the rage, and everybody loves these little bombs of savory, sweet flavor.
Whether you're hosting the watch party or bringing a tailgate dish, these Hawaiian roll sliders are all wrapped up in the delicious flavors of bacon cheeseburgers – sure to be a hit with every guest and game-day great.
Savory Sweet Bacon Cheeseburger Sliders Recipe

Howdy! Chef Alli Here. Let's Get You Cookin'……Shall We?? 🙂
These sliders these are loaded with bacon cheeseburger flavors….right down to the pickles. When that cheese melts, it wraps up all of the flavors of ground beef, spicy mustard, smoky bacon, and fresh dill pickles in one little bite that explodes in your mouth. They are soooo good!
Ham and Cheese Sliders – Did They Start the Craze?
I'm betting the very first original slider recipe was probably for Ham and Cheese sliders. These sliders will be forever popular, and no wonder! Nearly everyone on the planet loves the combination of ham and cheese on a tender, Hawaiian roll that's been drizzled with butter and baked to perfection. Who can resist that?
To add a little variety to my slider recipes, I created a new addition: Cheeseburger Sliders. This is a delicious slider recipe that calls for ground beef. I don't know about you, but I'm always on the lookout for a good ground beef recipe, and these beef sliders are very well received at my house.
When we need some sliders in a hurry, I regularly turn to Instant Pot Buffalo Chicken Sliders. These sliders are made with chicken breasts that I sometimes have to cook from frozen in my Instant Pot when dinner is an absolute emergency. (I bet you can relate!)
And, because we do love those ground beef recipes as I mentioned above, we have fallen in love with this easy slider recipe – Beef Patty Melt Sliders with Secret Sauce. If your family doesn't care for caramelized onions, you can leave those out but I sure hope you don't have to since it adds such a great flavor profile.
What to Love About Savory Sweet Bacon Cheeseburger Sliders –
Sliders are easy to make and so easy to eat….perfect for any gathering.
Sliders are food budget friendly.
Sliders are customizable – load them with the flavors your family enjoys most.
What Ingredients Do You Need to Make Bacon Cheeseburger Sliders?
Ingredients For the Sliders
Ground beef
Bacon
Cheddar cheese
Hawaiian buns or your favorite slider buns
Onion
Diced tomatoes and green chilies
Ketchup
Spicy brown mustard (We love Holmes Made Smoky Cowboy Mustard in this recipe!)
Worcestershire sauce
Sliced hamburger pickles (sliced dill pickles)
Ingredients for the Glaze
Melted butter
Brown sugar
Worcestershire sauce
Spicy brown mustard
Sesame seeds for garnish, optional


What Tools Do You Need to Make Easy Oven-Baked Sliders?
Most slider recipes, just like this one, call for using a 9×13 glass baking dish. I also love to make sliders in my cast iron skillet.
Cast iron has a fantastic way of cooking those bottoms evenly and perfectly. Cast iron also retains its heat for longer, keeping my sliders warm and delicious long enough for them to be devoured.
How to Make Bacon Cheeseburger Sliders in 5 Easy Steps
Make the ground beef cheeseburger mixture in a skillet, cooking until it's fully done throughout.
Meanwhile, slice the slider buns in half, placing the bottom halves across the bottom of a greased 9 x 13 baking dish; top with shredded cheese.
Spread the cooked cheeseburger mixture over the slider bottoms in the baking dish, then top with shredded cheese, chopped bacon and sliced pickles. Lastly, add the top slider buns.
Combine the glaze ingredients, then drizzle the glaze over the top of the sliders in the baking dish.
Bake the sliders, uncovered, in a preheated 350 degree F. oven for approx. 25 minutes or until hot throughout. Serve at once.
Common Questions Asked About This Slider Recipe –
I have trouble finding slider buns at my local grocer. Can I use regular hamburger buns to make sliders?
This is a great question, and I have encountered the same thing. You can definitely use just plain hamburger buns, they just won't be the nice small size of slider buns.
When I do find slider buns at my local grocer, can I purchase extras and freeze them?
Yes! That is exactly what I do and freezing the buns works well. They can stay in the freezer for up to 3 months.
What is the best way to thaw slider buns when I'm ready to use them?
I learned a great kitchen tip from my Grandma Lucille for thawing bread and buns: never lay them on the counter to thaw since this can cause any moisture from thawing to make it's way to the area that's flat against the counter. This can cause both sogginess and also an area that's no longer soft and tender like we want bread and buns to be.
Instead, hand the package of buns or bread while thawing. I hang mine to a handle on my cupboard or sometimes I place the end of the plastic bag beneath the edge of a plate that's in my cupboard, leaving the cupboard door open until the bag of bread or buns are thawed. It works great!
Can I make sliders ahead and freeze them until I'm ready to bake?
You sure can. It's super easy to double this recipe for these sliders and make 4 pans at once. To make it even easier, use foil pans for the sliders you are freezing so your glass baking dishes aren't all tied up in the freezer.
To bake the frozen sliders, don't thaw them first since this can cause sogginess. Instead, place the foil pan of frozen sliders into a 325 degree F. oven, covered, and bake for 30 minutes. Remove the foil covering and continue to bake an additional 20-25 minutes or until the sliders are hot throughout. (165 degrees F. at the center)
How do I know when the sliders are hot at the center and safe to eat?
Super great question. When you feel the sliders should be fully cooked (at the end of the baking time), use an instant-read thermometer to test them. Insert the thermometer into the center of the pan of sliders (coming in at an angle more from the side than the top); watch the dial to see when the temperature stops (it only takes a few seconds). This will be the internal temperature and it needs to be at least 165 degrees. This tells you the sliders are fully hot throughout and also safe to eat.
Can I use other ground meats to make sliders?
Yep. Since we nearly always have ground venison in our freezer, I like to use half venison and half ground beef (or even half ground pork) to make these sliders. You can also use any type of ground turkey, ground chicken, or even ground bison, too.
The recipe says to drain the fats from the ground beef after it cooks. What is the best way to do this?
Everybody seems to have a personal preference here. My Mom showed me how to move the ground beef to one side of the skillet, then elevate that side of the skillet with a folded hot pad or towel. This lets any fats that have accumulated from the cooking process to trickle down to the other side of the skillet where they can all gather together. Then, I crumple up a couple of paper towels and place them into the grease to absorb it, continuing on with my recipe. (And the greasy paper towels can right into the trash!)

Other Recipes to Enjoy –
Printable Savory Sweet Bacon Cheeseburger Sliders Recipe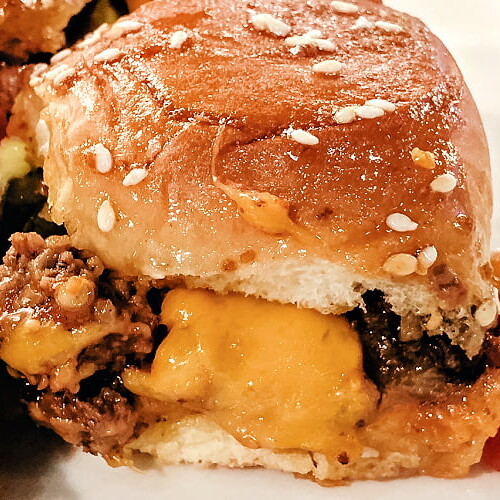 Savory Sweet Bacon Cheeseburger Sliders
Savory Sweet Bacon Cheeseburger Sliders are SO unbelievably good that you won't want to share them! Whether you're hosting the Big Game or bringing a dish, the flavors of bacon cheeseburgers all wrapped up in these little sweet slider buns are going to be a HUGE distraction. Bring it on!
Print
Pin
Rate
Ingredients
2

pkgs. Hawaiian sweet rolls, 12 oz. each

2

cups

shredded cheddar cheese

divided use

2

lbs.

lean ground beef

1

medium yellow onion, diced

may substitute 1 Tbs. dehydrated onion flakes

14

oz.

can diced tomatoes and green chilies

well drained

1/3

cup

ketchup

2

Tbs.

spicy brown mustard

We love Holme's Made Smoked Cowboy Mustard

1

Tbs.

Worcestershire sauce

Sliced hamburger dill pickles

1

lb.

center-cut smoked bacon

cooked, drained, and chopped
Glaze
1/2

cup

unsalted butter, melted

1/4

cup

packed dark brown sugar

1

Tbs.

Worcestershire sauce

2

Tbs.

spicy brown mustard

1-2

Tbs.

toasted sesame seeds, as garnish

optional
Instructions
Preheat oven to 350°

Spray two 9 x 13 pans with non-stick spray.

Leaving the sheets of slider buns intact, cut each one horizontally in half, then arrange each sheet of bottom halves across the bottom of each 9 x 13 pan. (Reserve the top sheets of rolls for later in the recipe.)

Sprinkle each pan of slider buns with 1/2 cup shredded cheese.

Meanwhile, in a large skillet over medium heat, cook and crumble the ground beef with the diced onion (or onion flakes) until the  beef is fully cooked throughout (no longer pink and 165 degrees F internal temperature).

Remove the skillet from the heat and drain all fats from the beef mixture.

Return the skillet to the burner over medium heat, stirring in the tomatoes, ketchup, mustard and Worcestershire sauce; stir until well combined and heated throughout, 2-3 minutes. Season with salt and pepper, if desired.

Spoon the prepared beef mixture evenly over the cheese and the rolls in each baking dish, then top the beef mixture with the remaining 1/2 cup of shredded cheese over each pan. Sprinkle the cooked, chopped bacon over the cheese; top the bacon layer with sliced pickles.

Lastly, add the reserved sheets of slider buns as the top and final layer of the sliders.

In a small bowl, combine the melted butter, brown sugar, Worcestershire sauce and mustard; drizzle the butter mixture over the sliders, then sprinkle the sliders with sesame seeds, if using.

Bake the sliders, uncovered, until golden brown and heated throughout , 23-25 minutes. To serve, slice the sliders apart into 12 servings per pan and enjoy at once.
Nutrition
Calories:
438
kcal
|
Carbohydrates:
13
g
|
Protein:
23
g
|
Fat:
33
g
|
Saturated Fat:
15
g
|
Cholesterol:
102
mg
|
Sodium:
773
mg
|
Potassium:
425
mg
|
Fiber:
1
g
|
Sugar:
8
g
|
Vitamin A:
512
IU
|
Vitamin C:
4
mg
|
Calcium:
176
mg
|
Iron:
2
mg
Thanks for visiting! I hope you return soon for more yummy recipes for your family.
We love hearing from our readers and followers, so leave us a comment if you'd like. If you don't hear back from us shortly, know that we may not have seen your comment. Feel free to reach out to us by email: [email protected].
Let's Get You Cookin',
Chef Alli
Please Note: We do use referral and affiliate links here for products and services that are recommended.