These might be the most unusual sugar cookie you'll ever experience! Grandma's Old Fashioned Sugar Cookies are similar to sweet, soft biscuits that super addictive and have been a family favorite for over 100 years.
Grandma Lucille's Old Fashioned Sugar Cookies Recipe: The Most Unusual Sugar Cookie Ever!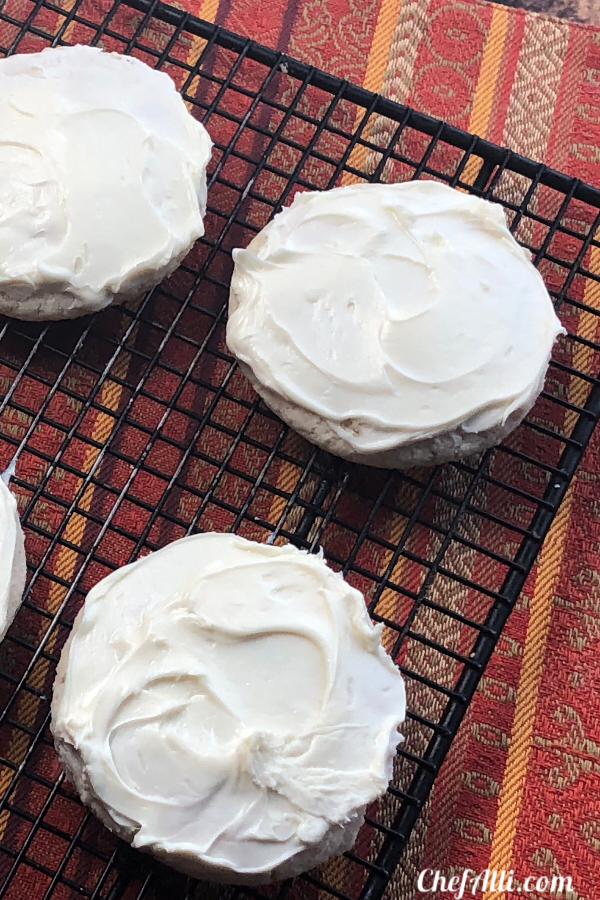 Howdy! Chef Alli Here. Let's Get You Cookin'…..Shall We?? 🙂
So I grew up eating and loving these old-fashioned cookies. My Grandma Lucille made them all the time because everybody (and I do mean EVERYBODY) loved them. She told me once that these are depression-era cookies because they don't call for eggs like most sugar cookies do. I think that's also what gives them the very-tender "biscuit-y" texture that makes them so unique.
I can remember how Grandma Lucille would always give the mixing bowl and a huge spoon to my Grandpa Roy when she needed the shortening, sugar, and nutmeg creamed really well. He would do it while he sat in his recliner and watched baseball games on TV- he was a baseball fanatic.
I'm not actually sure when we began putting frosting on these cookies as a family. My Grandma Lucille may not approve – she NEVER frosted these cookies when she made them, but I must admit that I do like a bit of butter cream frosting added when I eat these cookies, and so do my boys.
We actually have a family joke that if you don't like these cookies, then you can't marry into the family. So far, all but one or two of our "out-laws" love these cookies as much as the rest of us do…..fortunately for them. 🙂
So far, my little sister, Lori Belle, seems to have the best knack for making them, although my Mom made them really well, too. I will say that these cookies do have a bit of a learning curve, but once you've conquered them, it's super exciting because they are SO DANG GOOD.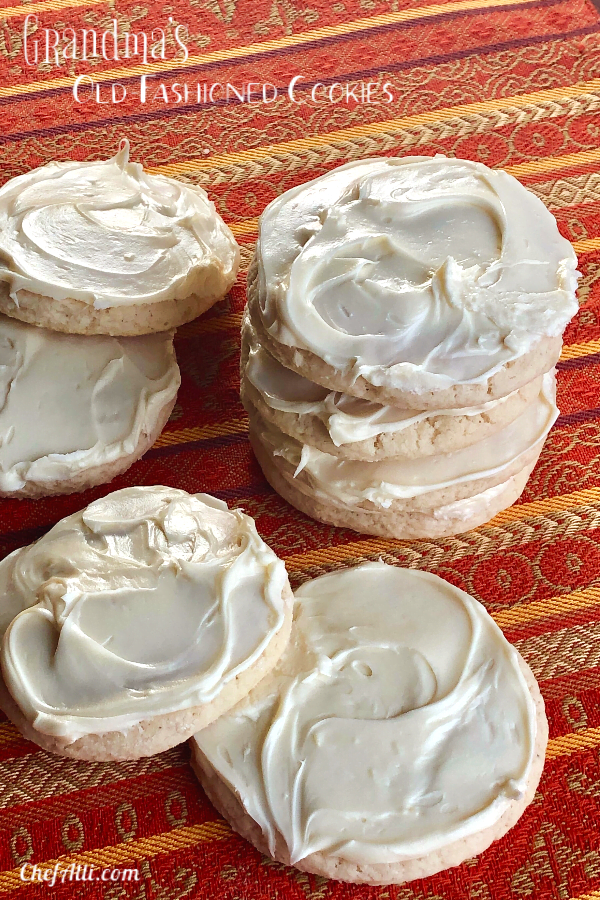 Easy Recipes Tips for Making The Best Old-Fashioned Sugar Cookies – Steps to Success!
So What's the Secret to Making These Cookies Successfully?? You gotta (gotta!) cream the devil out of the shortening, sugar, and nutmeg as the very first step of this recipe. Also, be sure to understand that creaming is not the same thing as beating.If you are making the cookie dough in the bowl of a stand mixer, be sure you don't use the wire whisk attachment, but rather the paddle to blend the sugar, shortening and nutmeg.And when you think you've creamed it enough, DO IT SOME MORE. The shortening/sugar mixture has got to be super soft and pliable BEFORE you add the dry ingredients. My Grandma Lucille always did the creaming by hand, using a large spoon.

Creaming the shortening/sugar mixture until it's super soft is the secret to making these cookies very tender and moist.

Does it Matter Which Brand of Shortening I use? My Grandma Lucille always used Crisco, so that's what I stick with. I don't want to risk it!
Do these Cookies Freeze Well? Yes, they totally do. You can freeze the dough to thaw and bake later, or the actual baked cookies. Either way works great.
Other Sweet Treats to Enjoy –
Printable Old-Fashioned Sugar Cookies Recipe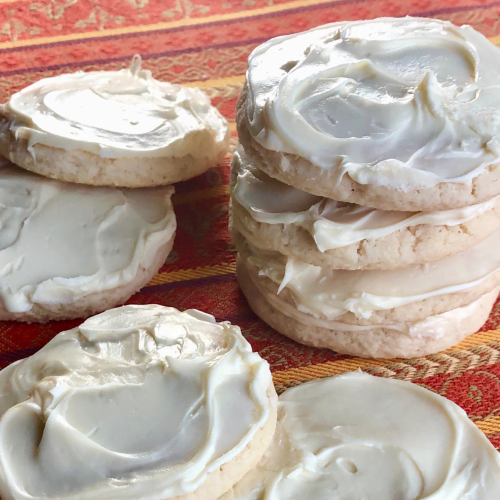 Granny-Grandma's Old Fashioned Cookies
These might be the most unusual sugar cookie you'll ever experience! Kind of like a sweet, soft biscuit, these cookies are super addictive and have been a family favorite for over 100 years.
Print
Pin
Rate
Ingredients
3/4

cup

Crisco shortening

1 1/2

cups

granulated sugar

1/2

tsp.

ground nutmeg

1/4

tsp.

salt

3 1/2

cups

all-purpose flour

1

tsp.

baking powder

½

tsp.

soda

1

cup

sour milk (1 cup milk + 2 Tbs. cider vinegar)

may substitute buttermilk, if desired
Instructions
In a large mixing bowl, cream the shortening, sugar, and nutmeg together very, very, well , until the mixture is very soft and pliable to the touch. **My Grandma Lucille always did this step by hand with a large spoon, but it can also be done in a stand mixer using the paddle, not the wire whisk.

The shortening/sugar mixture should be very, very soft to the touch and once you believe it's creamed together very well, cream it a bit longer - this step is critical to these cookies.

**Note: f you make these cookies and the texture of the baked cookies isn't soft and tender, it either means you didn't cream the shortening, sugar, and nutmeg good enough, or you've added too much flour to your dough.

In a separate mixing bowl, combine the salt, flour, baking powder and soda together.

Next, alternately add the flour mixture and the sour milk to the creamed shortening mixture, approx. one-third at a time, stirring between each addition.

Preheat the oven to 350 degrees F. Lightly flour a work surface, then place about a third the dough out onto the prepared work surface; lightly flour the top of the dough, then use a rolling pin to roll the dough out to about 1/4-inch thickness. If you prefer a very thick cookie, roll the dough to 1/2-inch thickness.

Use a floured cookie cutter to cut out the dough, placing the cookies onto a greased baking sheet. Repeat with the remaining dough.

Bake the cookies for 8-12 minutes, doing a finger-test at 8 minutes, then again at 10 minutes. When the cookies are done, they will spring back after being gently touched with your finger at the center.

**If you test-touch the cookies at the center and the indention remains, the cookies aren't quite done yet; bake just a minute or two longer, then test again.

Remove the baked cookies to a cooling rack to cool. When the cookies are fully cooled, store them in an air-tight container.

Cookies may be frosted with butter cream frosting, if desired, though the original cookies that my Grandma Lucille made were never frosted.
Nutrition
Calories:
169
kcal
|
Carbohydrates:
25
g
|
Protein:
2
g
|
Fat:
7
g
|
Saturated Fat:
2
g
|
Cholesterol:
1
mg
|
Sodium:
90
mg
|
Potassium:
30
mg
|
Fiber:
1
g
|
Sugar:
13
g
|
Vitamin A:
16
IU
|
Calcium:
50
mg
|
Iron:
1
mg
We love hearing from our readers and followers, so leave us a comment if you'd like. If you don't hear back from us shortly, know that we may not have seen your comment. Feel free to reach out to us by email: [email protected].
Let's Get You Cookin',
Chef Alli
Please Note: We do use referral and affiliate links here for products and services that Chef Alli loves and recommends. If you click on a link and make a purchase, I may receive a small commission at no extra cost to you. For more information, please read my disclaimer here.