Yep, it's your lucky day. You've just found THE BEST Chili-Cheese Tater Tot Bake recipe in the land! This cheesy baked casserole is made with ground beef and makes an easy week night dinner and make-ahead meal. When you take this comfort food casserole to your next potluck dinner, be ready to share the recipe!
Chili-Cheese-Dog Tater Tot Bake Recipe

Howdy! Chef Alli Here. Let's Get You Cookin'…..Shall We?? 🙂
Tater Tot Casserole is a classic comfort food, no doubt about it. Chili, cheese, ground beef, hot dogs and tater tots, all piled high in your favorite casserole dish then popped into the oven to make dinner a huge hit with the fam. We love casseroles for easy weeknight meals!
How to Make An Awesome Chili-Cheese-Dog Tater Tot Bake – It's So Quick and Easy
Simmer up the chili in your favorite skillet on the stove while your tater tots get crispy in the oven.
Next, place the tater tots into your favorite casserole dish and pile them high with the chili from your skillet.
Pop the Chili-Cheese Tater Tot Bake it into the oven to get all hot and bubbly in every nook and cranny.
Lastly, top with a good sprinkle of cheese over the top, and let it ooze all over.
Serve it up with sour cream, scallions and salsa. Easy-peasy!
So. What Ingredients Do You Need to Make Chili Cheese Tater Tot Casserole?
We prefer Ball Park All-Beef Hot Dogs, but you can use any type and brand of hot dogs that you prefer. The important thing is that you brown off the hot dogs before you ever add them to the chili. Doing this one, single step will launch the flavor of your chili (and ultimately this entire tater tot bake) right over the moon, all joking aside. Remember when you are cooking, BROWN is never a COLOR, it's a FLAVOR. Please don't skip this step!!!
We use a lean ground beef (90% lean, I think) because that's what we've always got in our freezer since we raise our own beef cattle. You can use any type of ground beef that you prefer. If you use a higher fat ground beef, such as ground chuck, just be sure to really drain the fats well that accumulate when you cook the meat. Otherwise you'll have a rather greasy chili – not a good thing!
Granulated Onion and Chili Powder
These are the spices that will give your chili an added kick. I used a mild chili powder for this tater tot casserole, and you can certainly substitute onion powder for the granulated onion – no worries.
Woozy sauce (much easier to say, right) is kind of a mysterious ingredient, usually added to dishes to give them a deeper, richer experience. Over the years, I've learned that if you taste a savory dish and it just seems to be lacking something that you can't exactly put your finger on, add a splash of woozy and taste again – you might just be surprised to learn that you've just solved the problem. Worcestershire sauce is made from a base of vinegar and flavored with anchovies, molasses, tamarine, onion, garlic and some seasonings, and is considered a fermented condiment. The flavor is savory and sweet with a distinct bit of a tang.
I love to use Hunt's Roasted Garlic Tomato Sauce and always keep it on hand in my pantry. However, if you've only got plain tomato sauce on hand, go for it. Add a touch of granulated garlic and you're good to go.
This condiment gives the chili a bit of tang and added sauciness. Use whatever brand of ketchup you've got tucked into your fridge – any one of them will work just fine.
Frozen tater tots are always in my freezer, especially since we got an air fryer! I'm not kidding, tater tots take on a whole new life when cooked in the air fryer, as do seasoned potato wedges. If you need to substitute potato crowns for the tater tots in the recipe, rest assured. They work just fine. The main thing with tater tots, especially in this recipe, is to make sure you get them nice and golden brown and crispy before adding them to the casserole – super important.
Shredded Cheese, Sour Cream, Salsa, Chopped Scallions
These ingredients are your toppings – customize however you'd like when serving the tater tot bake. There's not wrong or right – it's totally up to you.

Easy and Helpful Recipe Tips for Making the Best Tater Tot Potato Casserole
If I don't have time to MAKE the chili, can I substitute canned chili instead?
affirmative! Go right ahead – sometimes I do that in a pinch and it works fine. You can use chili that comes with or without beans, too…..do whatever makes your fam happy.
Can I make this casserole ahead of time and bake it when it's time for dinner?
Yes! You can bake it from frozen, too. You'll just need to lower your oven temperature to 325 degrees and add 20-30 minutes to the baking time, depending on your oven. Bake it until it's hot throughout (160 degrees at the center) and bubbly on top.
Can I substitute turkey hot dogs in place of the beef hot dogs in this recipe?
You can use ANY kind of hotdogs, truly. We just happen to think the beef hot dogs taste the very best. The important thing in this recipe (in ANY recipe, actually) is to brown off the hotdogs before adding them to this casserole. Remember! Brown is not a COLOR, it's a FLAVOR….always use browning to amp up the flavor!
Can I make this tater tot bake and freeze it for baking later at another time?
Yep. If you want to double the recipe (which is truly just as easy as making a single recipe) and make two tater tot bakes, I strongly advise it! It's so nice to be able to pull a tater tot casserole out of the freezer later on when you're in need of dinner or in need of a meal to take to a friend.
You can bake this Chili-Cheese-Dog Tater Tot Casserole from frozen, too. Just remember that you'll need to reduce the oven temperature to 325 degrees F. and allow for a longer cooking time since it's frozen, probably a good 30 minutes additional cooking time. This longer time in the oven will allow the casserole to get fully hot and bubbly throughout.
How do you know when a baked casserole is hot at the center and ready to eat?
Great question. You certainly don't want to use your fingers, and for a whole host of reasons! Instead, use your instant meat thermometer – it works perfectly for this task. A hot and safe casserole should be 165 degrees F. at the center when tested.
More Yummy Recipes to Enjoy –
Printable Chili-Cheese-Dog Tater Tot Bake Recipe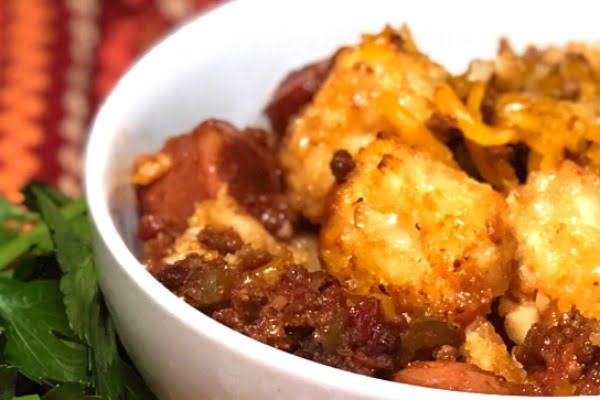 Chili-Cheese-Dog Tater Tot Bake
You've just found THE BEST Chili-Cheese Tater Tot Bake recipe! This cheesy baked casserole is made with ground beef and makes an easy week night dinner and make-ahead meal. When you take this comfort food casserole to your next potluck dinner, be ready to share the recipe! 
Print
Pin
Rate
Ingredients
4

beef hot dogs, sliced into 1/2 inch slices

a bit of canola oil, for browning the sliced hot dogs

1

lb.

lean ground beef

1/2

tsp.

granulated onion

2

tsp.

chili powder

1

Tbs.

Worcestershire sauce

8

oz.

Hunt's Roasted Garlic Tomato Sauce, or use plain tomato sauce and add 1/2 tsp. granulated garlic

1/4

cup

ketchup

1/2

lb.

tater tots

1

cup

shredded sharp cheddar cheese

sour cream, scallions, salsa, for garnish, as desired
Instructions
Preheat the oven to 350 degrees F.

In a large skillet, heat the oil over medium high heat; add the sliced hot dogs, browning them off on all sides; remove the hot dogs from the skillet and reserve.

Add the ground beef to skillet, along with granulated onions and spices; crumble the beef, cooking over medium heat until the beef is no longer pink and is fully cooked throughout; drain fats.

Add Worcestershire sauce, tomato sauce and ketchup to the ground beef mixture, stirring to combine. Add the reserved hot dogs to the skillet; simmer for a few minutes over medium heat.

Meanwhile, brown the tater tots on a baking sheet to get them nice and crispy. Place the crispy tater tots into a greased casserole dish; cover the tater tots with the prepared chili mixture.

Bake, uncovered, on center rack of the oven for 15-20 minutes, or until hot throughout. Sprinkle with cheese during the last 10 minutes of baking time. Serve garnished with toppings, as desired.
Nutrition
Calories:
280
kcal
|
Carbohydrates:
13
g
|
Protein:
19
g
|
Fat:
17
g
|
Saturated Fat:
8
g
|
Cholesterol:
63
mg
|
Sodium:
735
mg
|
Potassium:
473
mg
|
Fiber:
1
g
|
Sugar:
4
g
|
Vitamin A:
668
IU
|
Vitamin C:
5
mg
|
Calcium:
123
mg
|
Iron:
3
mg
We love hearing from our readers and followers, so leave us a comment if you'd like. And, if you don't hear back from us shortly, know that we may not have seen your comment. Feel free to reach out to us by email any time: [email protected]
Let's Get You Cookin',
Chef Alli
Please Note: We do use referral links for products and services that Chef Alli loves and recommends.