This sweet and savory beef tenderloin rub adds the perfect crust and an irresistible flavor to your beef tenderloin.
This easy recipe requires a few on-hand spices and ingredients and includes how to rub a beef tenderloin before cooking.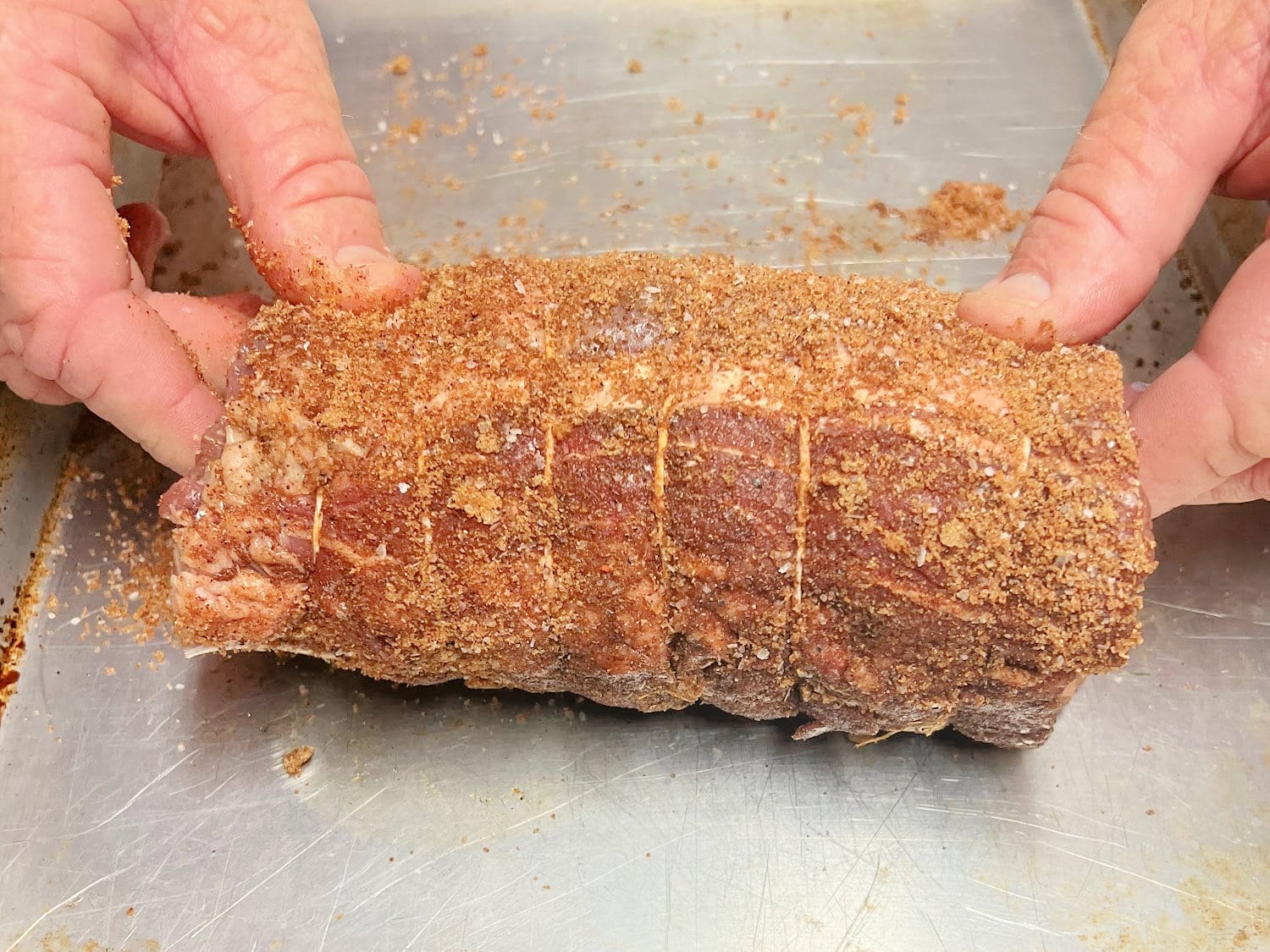 Beef Tenderloin Rub Recipe
WHAT TO LOVE
Beef tenderloin is a juicy, succulent cut of beef that makes the perfect main course entree whether it's a summertime bbq or a holiday dinner.
Using the right rub (this one!) for your beef tenderloin takes it next level since it compliments the savory flavors of the meat…every single time!
With a touch of smokiness and a hint of heat, this sweet and savory beef tenderloin rub elevates the succulent meat to new heights, making it an irresistible centerpiece for any special occasion or gathering.
You will love this easy rub recipe. Adding a rub is a simple and effective step that enhances the beef tenderloin experience and takes only minutes. Your taste buds will thank you!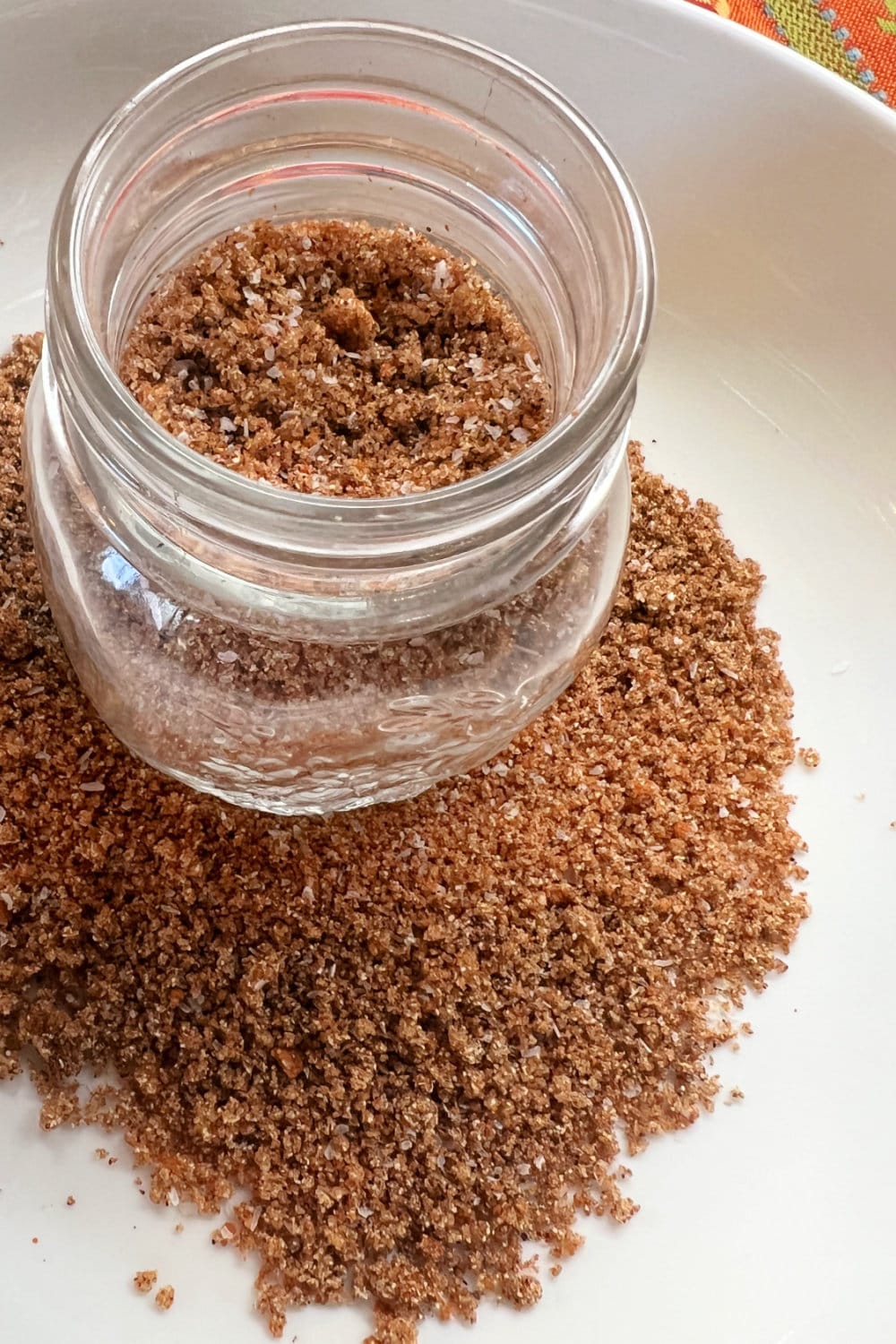 INGREDIENTS NEEDED
Dark brown sugar – Substitute light brown sugar if you don't care for the deeper molasses flavor of dark brown sugar
Granulated garlic – Substitute garlic powder, if needed
Kosher salt – Don't use table salt!
Black pepper – Freshly ground black pepper is best
Smoked paprika – May substitute sweet paprika
Mild chili powder – If you prefer spicy, use a spicier chili powder or add a bit of cayenne pepper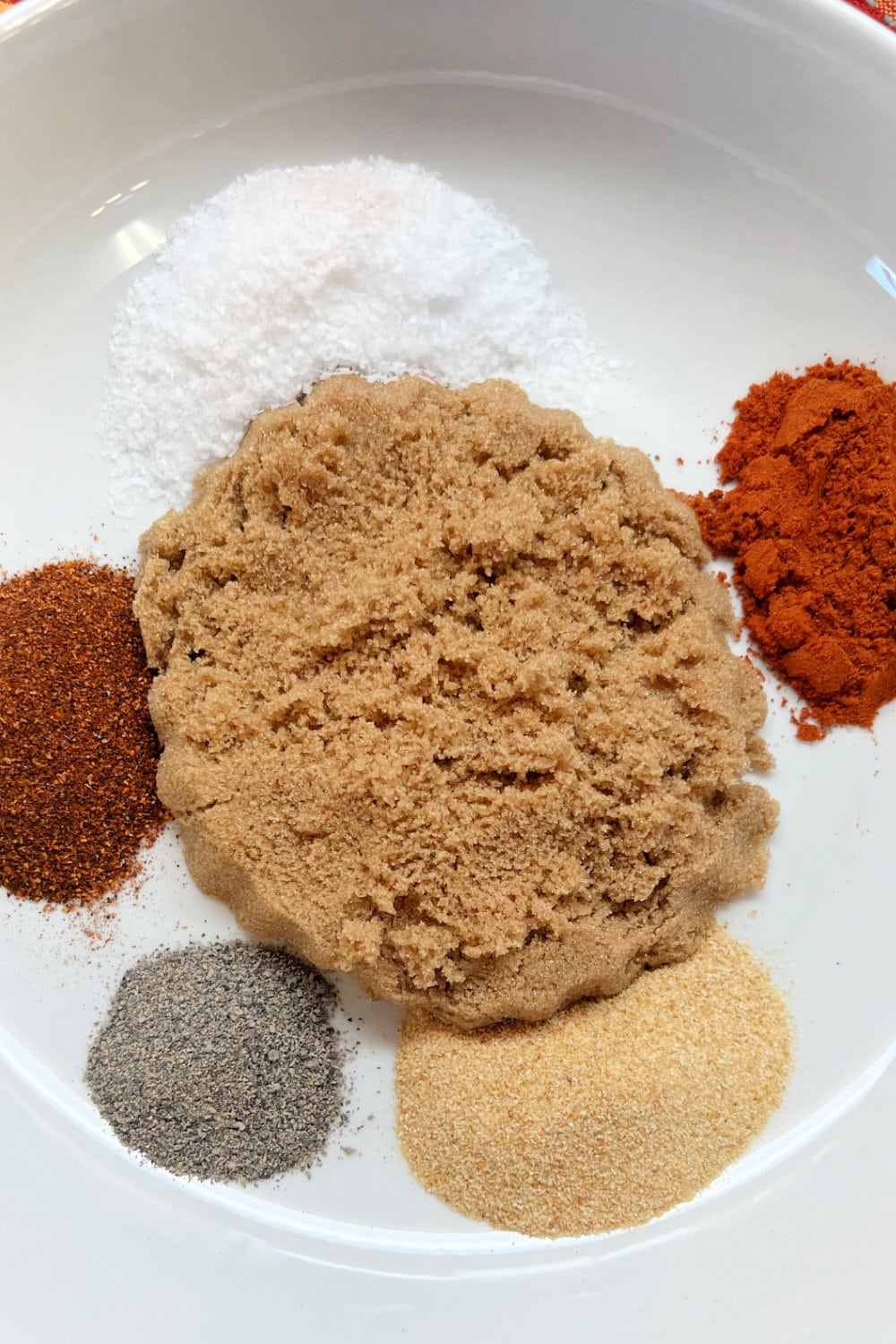 HOW TO RUB A BEEF TENDERLOIN
Remove the beef tenderloin from refrigeration and unpackaged; place the meat onto a baking sheet or platter.
Drizzle the exterior of the tenderloin with a good slather of olive oil; use your fingertips to massage it in.
Place a small amount of the prepared rub into a work bowl; sprinkle the rub on all sides of the beef tenderloin, then use your fingers to massage the rub into the meat's exterior.
You can also pour some dry rub onto a cookie sheet or platter and then roll the tenderloin in the rub. Don't forget to invert the tenderloin and do each end, too.
If you plan to cook the tenderloin right away, allow it to rest on the counter, uncovered, for at least an hour to continue to allow the chill from refrigeration to remove itself from the meat.
If you plan to cook the tenderloin later, place the seasoned beef tenderloin into a plastic bag and seal. Place the beef tenderloin into refrigeration.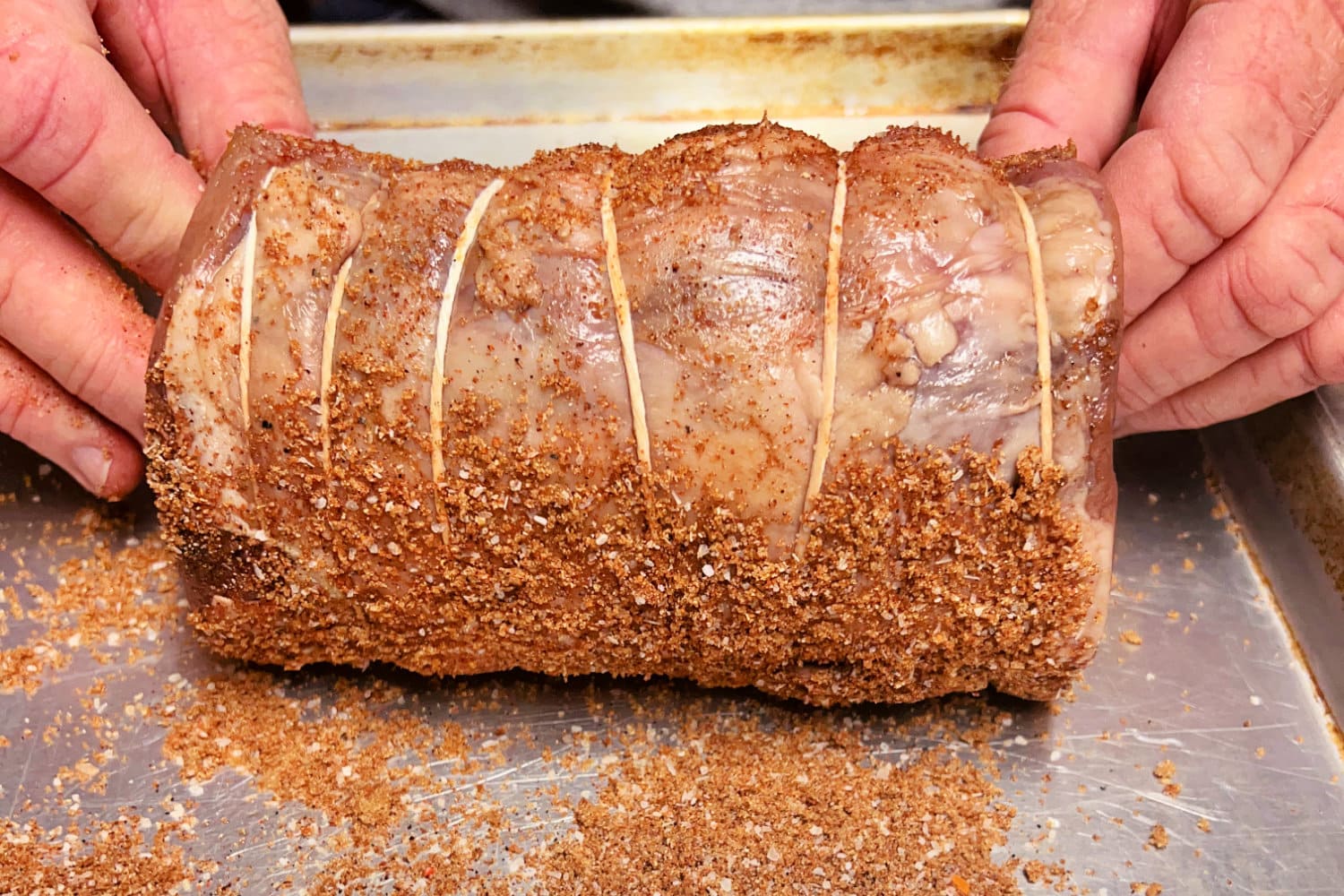 WHAT IS A GOOD RUB FOR BEEF TENDERLOIN?
There are lots of variations for dry rubs for seasoning beef tenderloin. My recipe includes dark brown sugar, granulated, kosher salt, black pepper, smoked paprika, and mild chili powder.
I love how well this blend complements beef tenderloin.
HOW SOON BEFORE GRILLING SHOULD YOU RUB A BEEF TENDERLOIN?
I prefer to give the beef tenderloin rub time to work once it has been applied to the meat. Allow at least 4-6 hours after applying the rub to the meat before you grill the meat.
Letting the rub season the meat overnight (8-10 hours) is even better.
HOW DO YOU USE DRY RUB TO MAKE A GOOD "BARK" ON THE BEEF TENDERLOIN?
After you've applied the dry rub to the meat, place it onto a rimmed baking sheet or platter and into the refrigerator UNCOVERED.
Letting the rubbed meat be exposed to oxygen while uncovered in the refrigerator allows the salt in the rub to pull moisture away from the meat's exterior.
This helps the cooking process establish the crusty bark on the meat we all desire.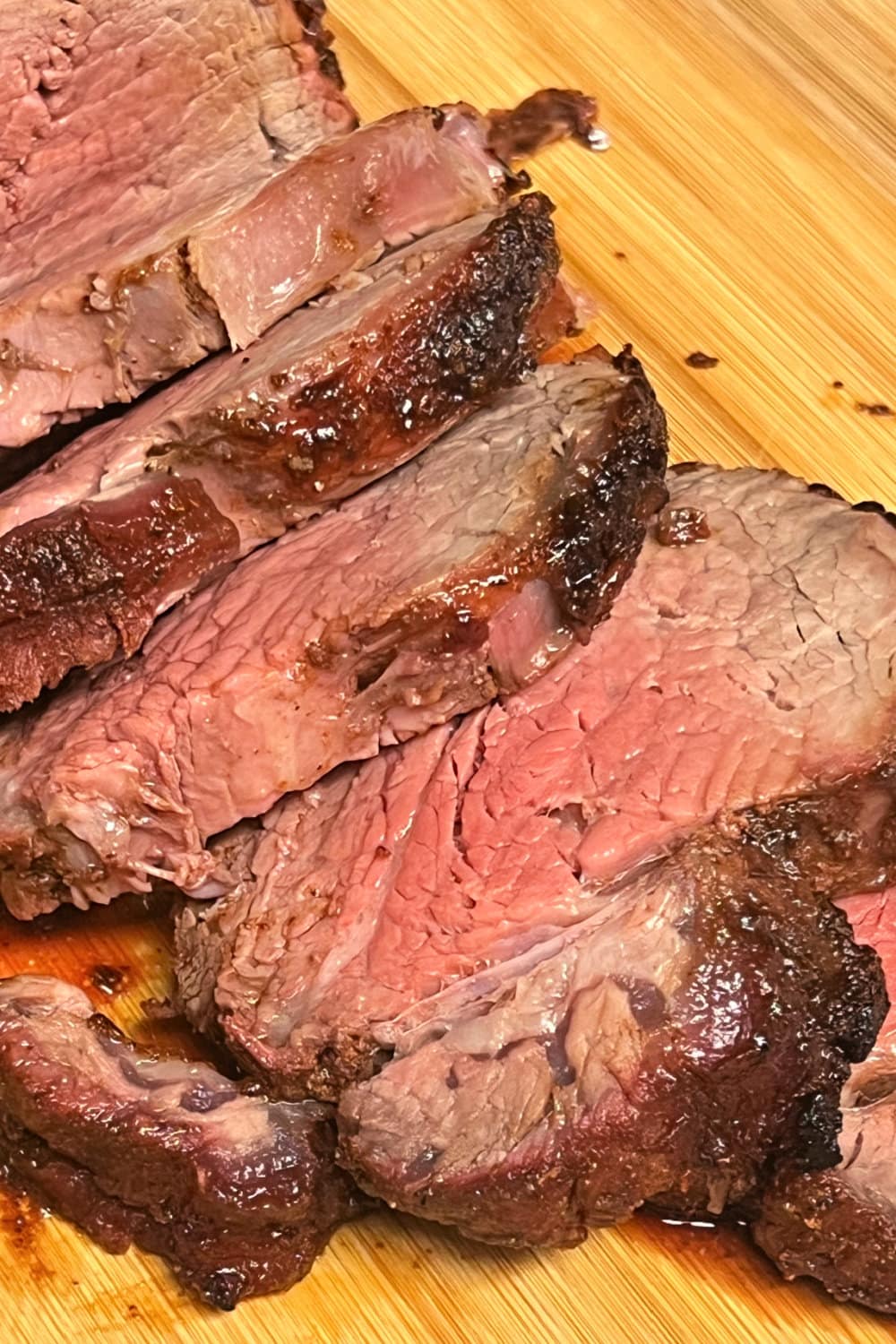 OTHER USES FOR BEEF TENDERLOIN RUB
Beef tenderloin rub is super versatile and pairs well with ground beef when making burgers or sliders. You can use it to season any cut of beef such as ribs and roasts, both beef and pork.
I have used this dry rub to make beef tri tip and cast iron skillet steak. We also enjoy grilled steak avocado toast with this beef tenderloin rub, too.
Or, use a bit of the rub for stirring into sour cream or cream cheese to make a flavorful dip for chips and crackers.
RECIPE TIPS
I like to store homemade dry rubs in pint-glass canning jars so I can easily identify them at a glance in my spice cupboard. Dry rubs in pint-glass canning jars can also be stored in the freezer.
If you want to amp up the flavors of the spices used in this beef tenderloin dry rub, toast them in a dry skillet over medium heat until fragrant.
Cool and prepare the rub as directed. Toasting the spices causes them to release their essence (oils) making them more powerful.
Granulated garlic is more concentrated in flavor, but you can substitute garlic powder if needed.
If you don't prefer the deep molasses flavors of dark brown sugar, you may substitute light brown sugar in the rub.
IS BEEF TENDERLOIN RUB THE SAME AS A MARINADE?
A marinade typically involves liquids, such as vinegar, oil, and acids (such as citrus juice), which break down tough protein fibers in meat.
A rub is made from dry ingredients and spices and is often called a "dry" rub. Marinades and rubs are both used to infuse meats with flavor.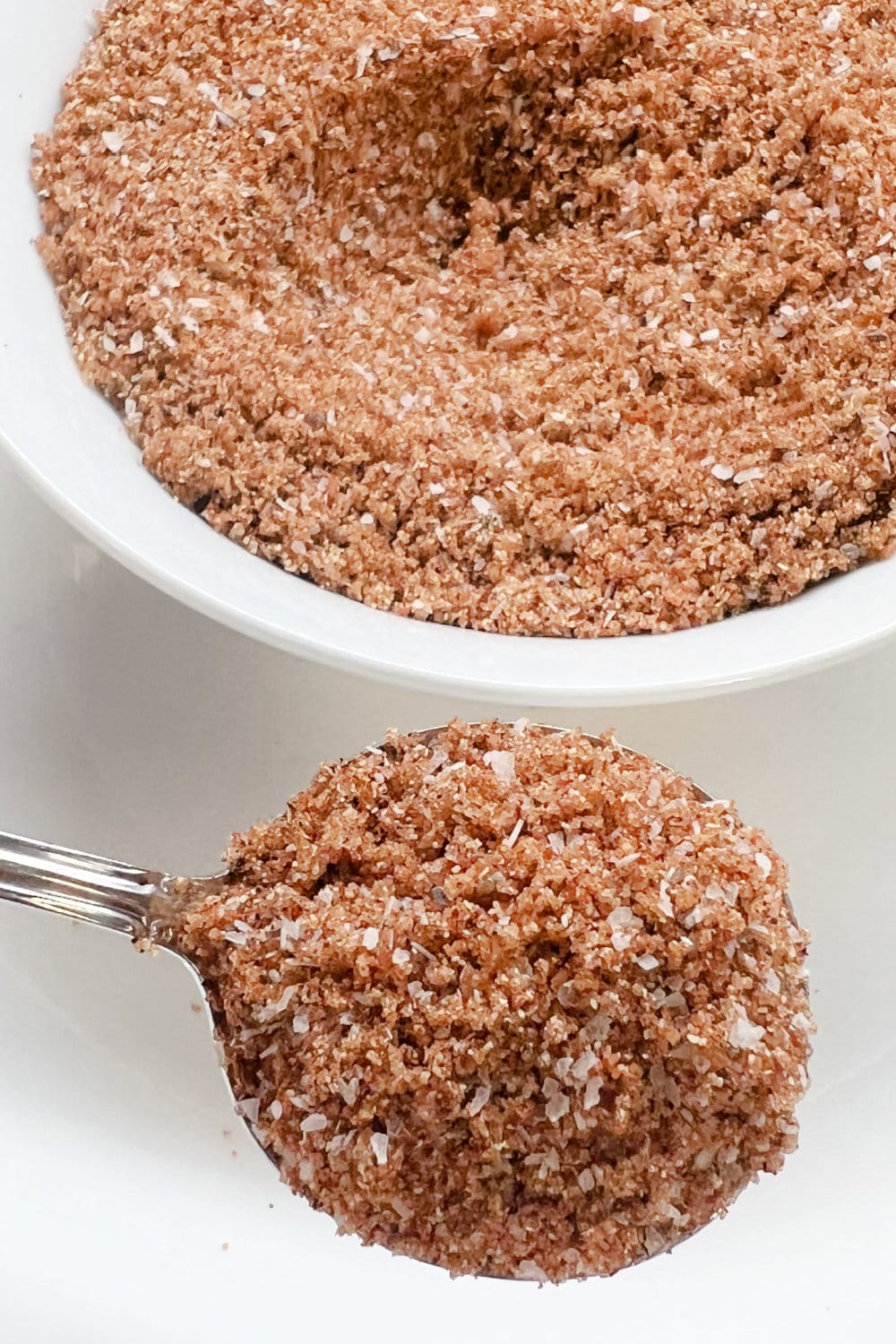 WHAT IS THE DIFFERENCE BETWEEN A SEASONING AND A DRY RUB?
Since seasonings and rubs are dry ingredients, they may seem the same but in actuality, they are not.
Seasonings are a fine blend of dried spices and herbs, used to enhance the flavor of a dish and can be added to that dish both before and after cooking.
On the other hand, dry rubs combine spices, salt, and sugar used to season meats before cooking but not (typically) AFTER.
Dry rubs add flavor to dishes and meats, but they also add TEXTURE and COLOR.
Because a rub's job is to create the base for a good crusty "bark" on the meat to develop as it cooks, you can be pretty liberal in the amount used.
IS DRY RUB EASY TO APPLY TO MEAT?
It sure is. I like to use my fingers so I can easily massage the rub into all the "nooks and crannies" of the exterior of the beef tenderloin. If you prefer, you can wear food safety gloves for this task.
HOW SHOULD YOU STORE A DRY RUB?
Once you've made the dry rub, you can store it in an airtight container for up to 6 months in a cool, dark area of your spice cabinet or pantry. The dry rub can also be stored in the freezer.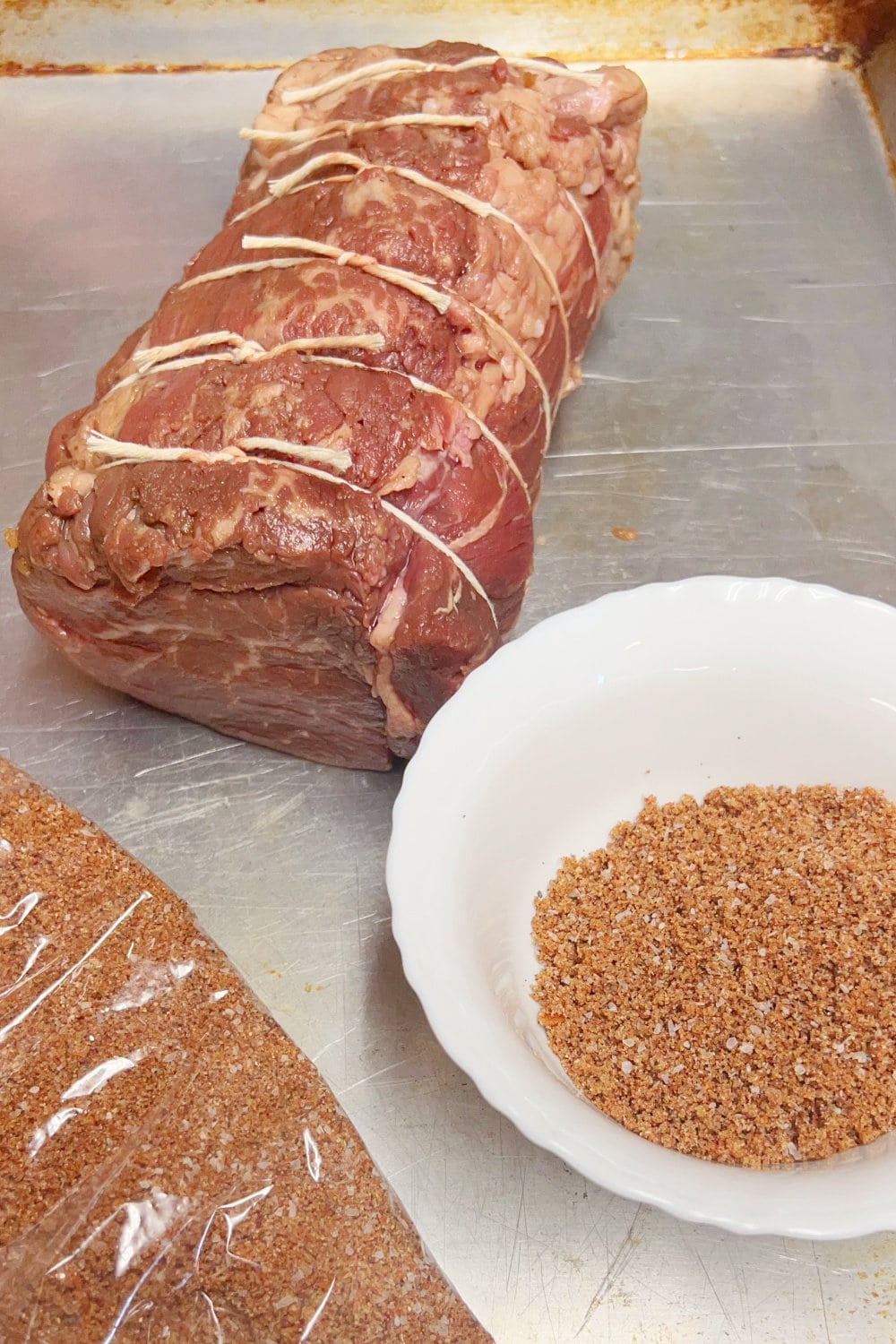 HOW TO PREVENT CROSS-CONTAMINATION OF DRY RUB FOR MEAT
It's essential to prevent cross-contamination of the batch of prepared dry rub to keep it bacteria-free.
I like to place a small amount of the prepared rub into a bowl and work from there, discarding any remaining rub left in the bowl since it is now contaminated from meat juices that could be on my fingers while working.
Or, you can use one hand to sprinkle the rub onto the meat while the other hand is only used to massage the rub into the meat.
The hand touching (massaging) the meat should not touch the rub in the storage container.
HOW TO MAKE BEEF TENDERLOIN RUB
In a small bowl, combine the brown sugar, granulated garlic, salt, pepper, paprika and chili powder.
Stir until blended well.
Store in an airtight container until ready to use.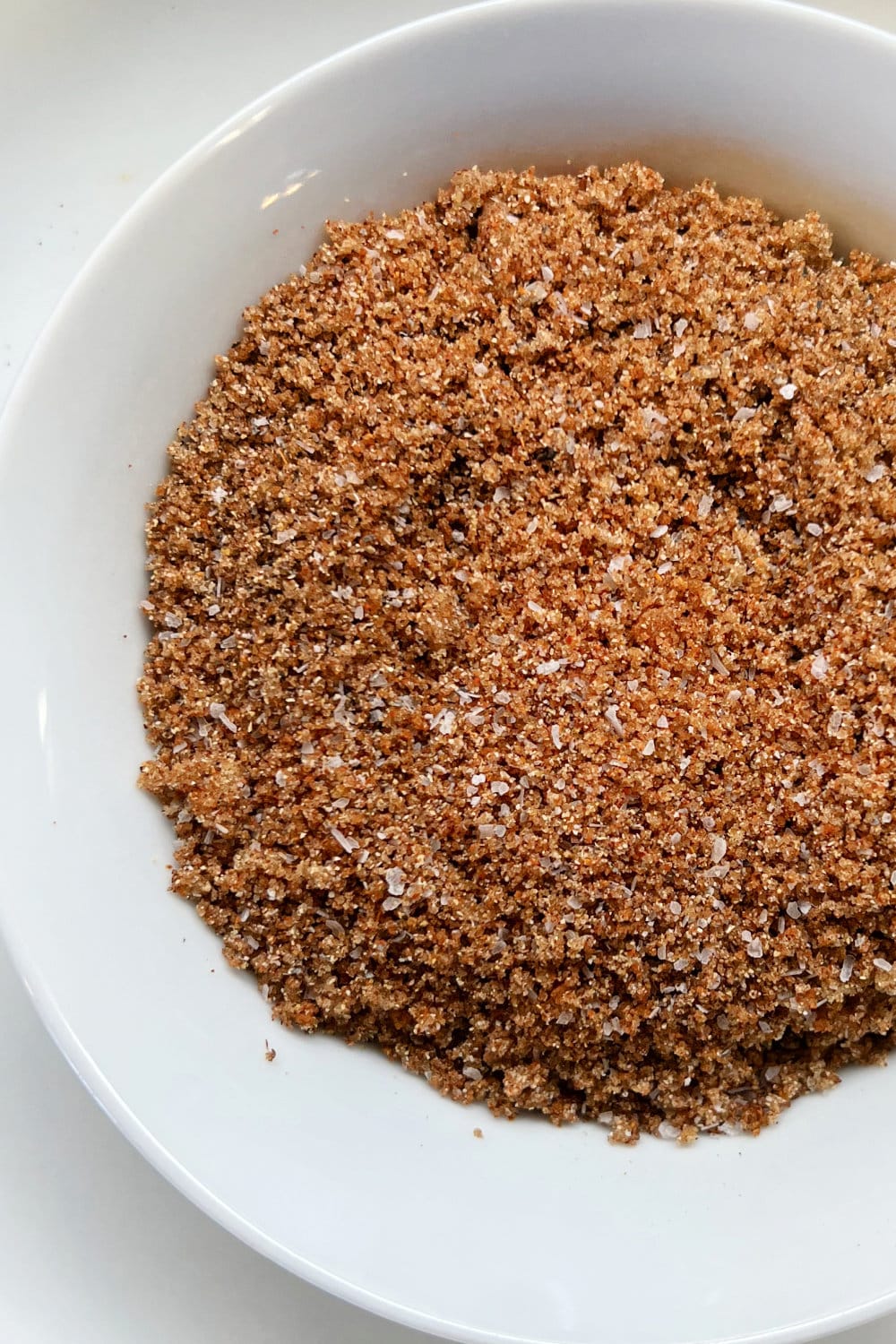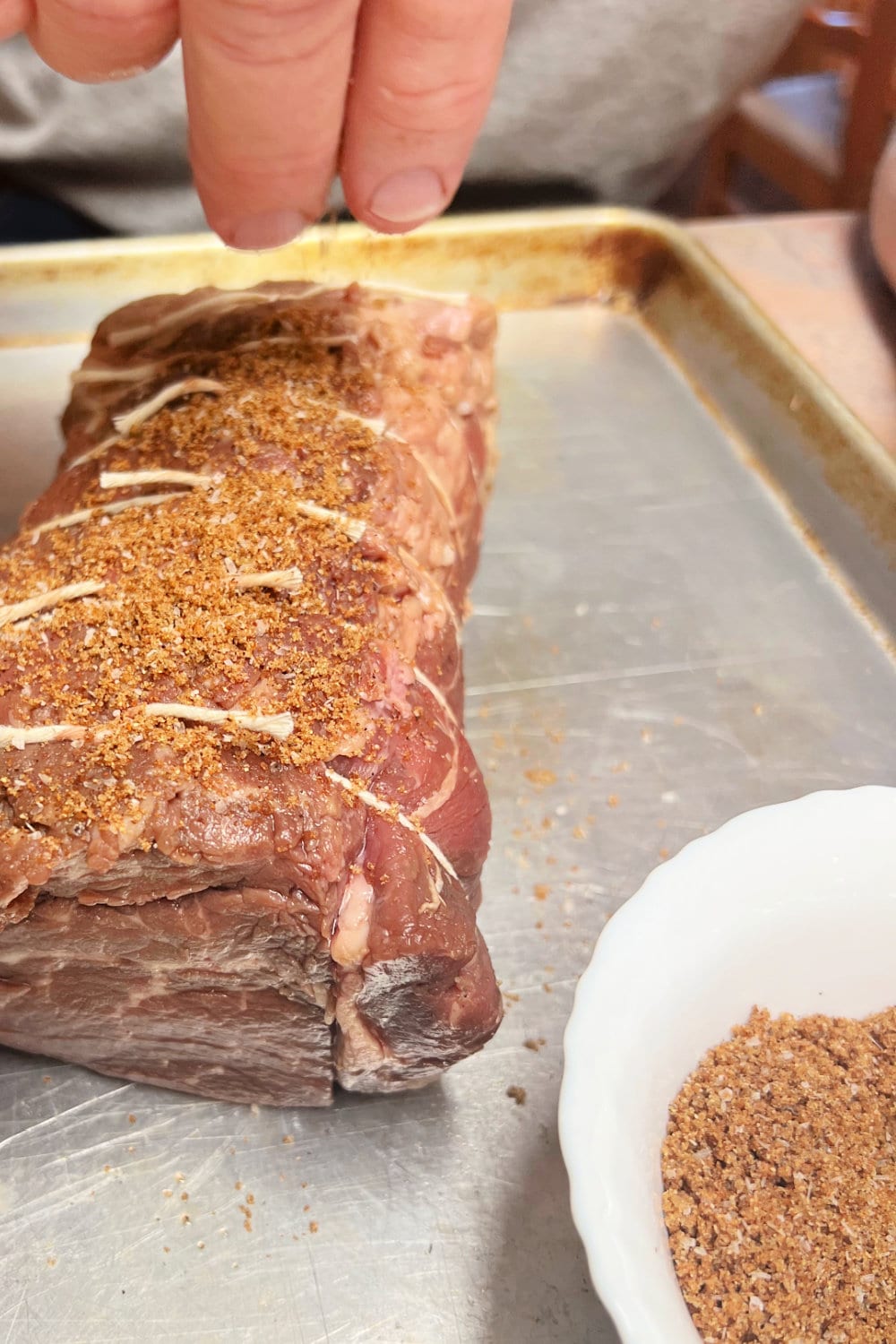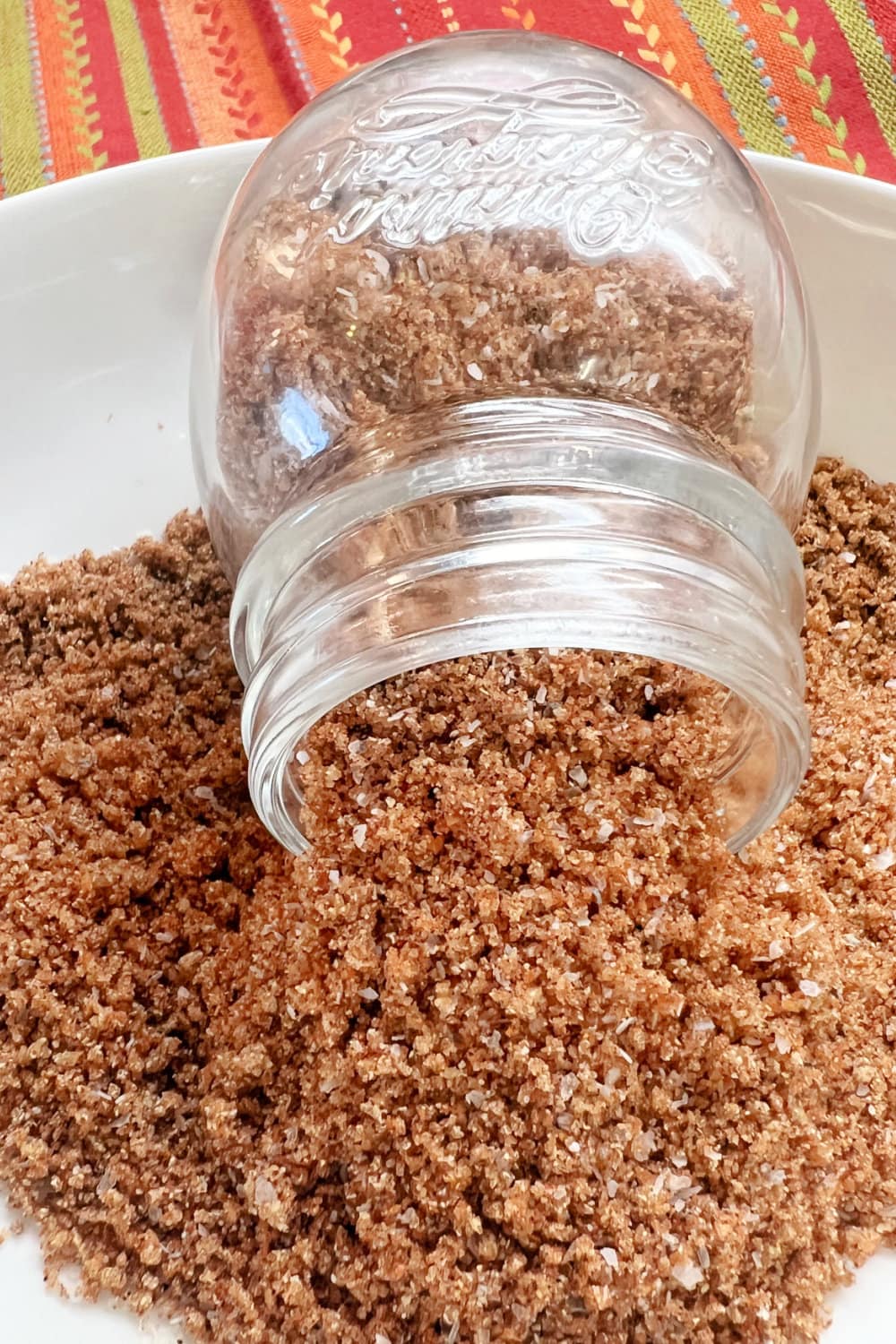 MORE FAVORITE RECIPES –
HOW TO COOK PERFECT FOOL-PROOF PRIME RIB – Making tender and juicy perfect prime rib roast in the oven is easy using the 500 rule. How to Cook Perfect Fool-Proof Prime Rib is the best, most detailed recipe. Just follow my step-by-step directions below….you do not need to be afraid! You can conquer, and I'm here to show you how.
INSTANT POT RUMP ROAST – This mouthwatering Instant Pot Rump Roast with Potatoes recipe delivers tender beef that will satisfy even the most discerning taste buds. Using the Instant Pot is my favorite way to tenderize rump roast, making it melt-in-your-mouth delicious.
HOMEMADE BOTTOM ROUND ROAST BEEF JERKY – Here's the best recipe for making your own oven-baked beef jerky, and you need zero special equipment to do it. Homemade Bottom Round Roast Jerky has just the right flavor combination of savory, smoky, and salty-sweetness…with a bit of kick added, if you prefer.
HOW TO COOK EYE OF ROUND ROAST – Eye of round is a simple boneless beef roast, and is what's called a "whole muscle" cut of beef. It's one of the best roasts sliced and served with gravy or for making Beef Wellington….and for leftovers, too.
BOTTOM ROUND BEEF ROAST – Here's the roast that's likely the best dinnertime value in the entire meat case! Bottom Round Beef Roast is an economical cut of beef that simmers low and slow until it's fall-apart tender and juicy.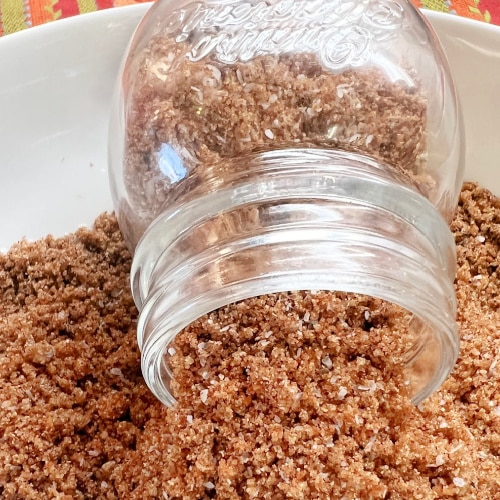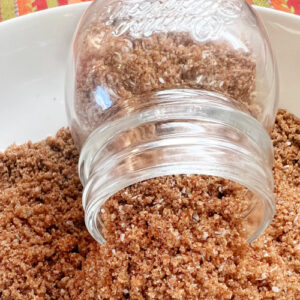 Beef Tenderloin Rub
This sweet and savory beef tenderloin rub adds the perfect crust and an irresistible flavor to your beef tenderloin.
Print
Pin
Rate
Ingredients
1/3

cup

dark brown sugar

1

Tbs.

granulated garlic

1

Tbs.

kosher salt

1

tsp.

freshly ground black pepper

1/2

Tbs.

smoked paprika

2

tsp.

chili powder
Instructions
Combine all the ingredients together in a bowl until well blended. Store the prepared dry rub in an airtight container until ready to use for making beef tenderloin.

**Dry rub can be stored in the cupboard for up to 6 months or int the freezer for up to 1 year.
Nutrition
Calories:
343
kcal
|
Carbohydrates:
85
g
|
Protein:
3
g
|
Fat:
2
g
|
Saturated Fat:
0.3
g
|
Polyunsaturated Fat:
1
g
|
Monounsaturated Fat:
0.4
g
|
Sodium:
7166
mg
|
Potassium:
466
mg
|
Fiber:
5
g
|
Sugar:
72
g
|
Vitamin A:
4647
IU
|
Vitamin C:
0.2
mg
|
Calcium:
112
mg
|
Iron:
3
mg