There is no pastry in the world like Apricot-Pistachio Baklava. This very decadent Greek dessert is layer upon layer of tender and flaky phyllo pastry, filled with finely chopped pistachios and dried apricots….all held together by a sticky-sweet orange cardamom syrup.
This baklava recipe is adapted from Fine Cooking, Issue 92.
Apricot Pistachio Baklava Recipe

Howdy! Chef Alli Here. Let's Get You Cookin'…. Shall We?? 🙂
Oh, baklava. You are so heavenly. There is no pastry more fair and beautiful than you are. If I ate you every single day for the rest of my life, I would never tire of your flakey layers and amazing filling. And then there's that orange-cardamom syrup, holding everything together.
Never in 100 million years did I think for one second that I would be making you, oh dear baklava, in multiple batches each and every Christmas….but I'm so glad I am.
You make the most lovely gift for friends and family. The excitement you bring to my special people is quite wonderful (yes, I love it when they jump with glee) and I am quite glad that you have become our holiday tradition.
What to love about this classic Greek baklava recipe –
1. Each bite is a private little party in your mouth.
2. You will see why homemade baklava is worth making.
3. Once you get the hang of the phyllo dough, you've conquered!
Ingredients needed to make this traditional baklava recipe –
Phyllo (filo) dough
Butter
Pistachios
Dried apricots
Granulated sugar
Orange juice
Zest of an orange
Ground cardamom
Answers to Common Questions Asked About This Recipe
What is phyllo (filo) dough?
Phyllo, which translates "leaf" in Greek, is tissue-thin sheets of pastry dough that contain very little fat. Since the fat content is very low, the phyllo sheets are typically brushed with melted butter (or oil), then layered together so that as the phyllo bakes, the layers get very tender, crisp, and flaky.
Are phyllo dough and puff pastry dough the same thing? Can they be used interchangeably within recipes?
Phyllo dough and puff pastry dough are very different things and cannot be substituted for each other in recipes. Phyllo dough requires that butter or oil be added to the layers, allowing them to get crispy and flaky as they bake.
Puff pastry on the other hand, is loaded with butter that has been folded into the dough. As all these layers of butter within the dough bake, the dough "puffs" into many flaky, airy layers. \
Why do you need a partner when making baklava?
A partner is soooo essential for making baklava. Just like two heads are better than one, four hands are way better than two. Once you begin working with the phyllo dough, you'll see why a partner and their extra set of hands is invaluable for baklava making.
Why is phyllo dough so challenging to work with?
Phyllo dough (aka filo dough) is a very delicate and super thin pastry that dries it out very quickly once you open the package. And when phyllo dough gets dried out, it begins to fall apart, tearing very easily.
BUT, the good thing about baklava is that even if the phyllo dough tears a bit, nobody is going to realize it since there are about 1 jillion phyllo layers in a single pan of baklava….hang with me, ok?
What is the trick for working with phyllo dough to make it easier to handle?
Excellent question and here's the secret to making phyllo dough much, much easier to manage: a rimmed sheet pan, a sheet of plastic wrap, and a very lightly moistened kitchen towel.
The rimmed baking sheet keeps the sheets of phyllo dough contained as your working. The plastic wrap keeps the moistened towel from laying directly onto the pile phyllo dough in the baking sheet. And, lastly, the moistened towel placed on top of the plastic wrap provides just enough moisture inside the rimmed baking sheet for the phyllo dough to slightly absorb some of it, keeping it from drying out as you work.
The trick is to always make sure the moistened towel never directly touches any of the phyllo dough, but just the plastic wrap. A moistened towel laying right on top of the phyllo dough will make it a soggy mess that you'll have to throw out.
How long does baklava keep once it's baked?
Baklava tastes best within the first 24 hours of baking. However, baklava will keep for up to 5 days in an air-tight container and it can also be frozen and eaten at a later time.

Which tools are helpful for making baklava?
Because you'll be adding a lot (and I mean A LOT) of melted butter to each layer of phyllo dough, a silicone pastry/basting brush is absolutely essential!
You'll also need a 9 x 13 baking pan. I prefer a glass 9 x 13 baking dish, but any type should work just fine.
Since the baklava has to be sliced before it can be baked, an electric knife makes this job much, much easier than cutting the baklava by hand.
This baklava recipe sure seems like a lot of steps and work!
I know. However, once you make the baklava, you'll see that it's really not a terrible process….and the outcome is so worthwhile. Grab a partner and you'll find that baklava is a blast to make! And worth it. 🙂
More Favorite Dessert Recipes to Enjoy –
Printable Apricot Pistachio Baklava Recipe –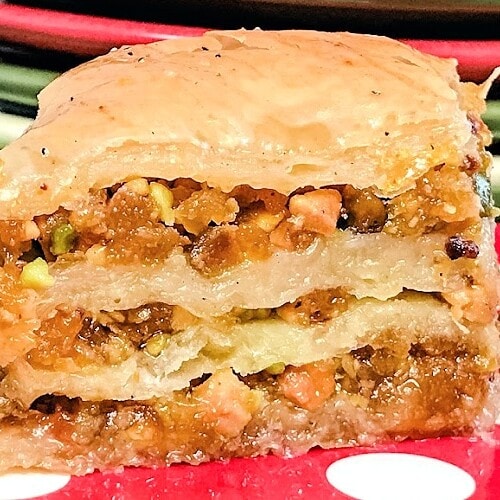 Apricot Pistachio Baklava with Orange-Cardamom Syrup
There is no pastry in the world like Apricot-Pistachio Baklava! This recipe provides step-by-step instructions for making this impressive Greek pastry.
Print
Pin
Rate
Ingredients
Pastry
1

lb.

box phyllo dough (I prefer Athens brand), found in the freezer section of your grocer, thawed

**FYI: 1 lb. of phyllo dough is roughly 40 sheets, each about 9 x 14 inches in size

1 1/2

cups

unsalted butter, melted
Filling
12

oz.

unsalted, shelled raw pistachios

12

oz.

dried apricots

1/2

cup

granulated sugar
Syrup
1 1/2

cups

granulated sugar

2/3

cup

orange juice

zest of 1 orange (be sure you don't skip the orange zest!)

1

tsp.

ground cardamom

tiny pinch of kosher salt
Instructions
Prepare the Filling
Place the pistachios, apricots, and sugar into the bowl of a food processor; pulse the food processor as as needed to process the filling mixture until it is finely chopped, about the size and texture of dried lentils.
Prepare the Phyllo Dough for Assembly
Once you've prepared the filling, remove the box of phyllo sheets from refrigeration, letting them sit on the counter for 20 minutes, still in the box, just to remove some of the chill.  (This will make each sheet of phyllo easier to work with.) 

Open one package of the phyllo dough from the box (Athens phyllo comes with 2 rolls in each box, each one individually wrapped and containing 20 sheets).

Open the roll of phyllo sheet on the rimmed baking sheet, then immediately cover the stack with a big sheet of plastic wrap, making sure none of the phyllo dough is exposed - you may need to two sheets of plastic wrap place side-by-side.

Now place a damp kitchen towel over the top of the plastic wrap and the stack of phyllo sheets, taking care that no part of the damp towel touches any part of the phyllo dough, just the plastic wrap.

Let the phyllo dough rest and relax, covered, on the baking sheet for 10 minutes, allowing to absorb just a bit of moisture from the moistened towel.
Assemble the Baklava
Melt the butter in a small saucepan over low heat; keep just warm enough that the butter stays in a melted state.

Using a pastry brush, liberally brush the bottom and sides of a 9 x 13 glass baking dish with some of the melted butter.  

Uncover the stack of phyllo dough, quickly removing a single sheet of phyllo, placing it into the bottom of the buttered pan; use the silicone brush to dab the sheet of phyllo dough with a bit of butter, here and there.

While you are placing the phyllo into the bottom of the pan and dabbing it with melted butter, your partner should be immediately covering the the stack of phyllo sheets with the plastic wrap and towel again.

Now you can see why you really need 4 hands to manage the phyllo dough and make a pan of baklava!

Also, since you are going to be using 40 sheets of phyllo dough over the course of making a pan of baklava, you really don't need to brush each and every sheet completely with butter. By the time you get to the end of the baklava assembly, you'll have plenty of butter in there, trust me!

Repeat with 9 more sheets of phyllo dough, continuing to lay down each one down, then buttering it. Once you have 10 sheets of phyllo in the pan, sprinkle one-third of the prepared apricot/pistachio filling over the top, spreading it out evenly in a single layer.

Repeat the layering and buttering with 10 more sheets of phyllo dough, then add another one-third of the prepared apricot/pistachio filling; now repeat once more, ending with the final one-third of the filling on top.

Add the last 10 sheets of phyllo dough, continuing to dab melted butter on top of each one, just like you've already done with the previous 30 sheets in the pan of baklava.

**If you run out of melted butter towards the end of the layer process, just melt a bit more, but never use more than 2 cups of melted butter total.

Now, cover the baking pan of baklava loosely with plastic wrap, placing it into the freezer for 20 minutes. **Placing the baklava into the freezer at this point makes scoring the baklava much easier - don't skip this step.
Bake the Baklava
Preheat the oven to 350 degrees F. Position the oven rack in the center of the oven.

After 20 minutes, remove the pan of baklava from the freezer.

Using an electric knife, slice the baklava on the diagonal at 1 1/2-inch intervals, making sure to cut down through all the layers as you go. Now do the same slices going the opposite way on the diagonal in 1 1/2-inch intervals, creating a diamond pattern across the entire pan of baklava.

Bake the baklava, uncovered, for 35-40 minutes or until it is golden brown on the top and the bottom. Transfer the pan of baklava to a cooling rack and let it cool completely.
Prepare the Syrup
As the baklava is baking, prepare the orange-cardamom syrup. Place the sugar, orange juice, orange zest, cardamom, and salt into a medium sauce pan over medium heat, bringing it to a simmer. Stir the syrup occasionally, cooking it just until the sugar is fully dissolved and the syrup is clear, about 5 minutes.
Finish the Baklava
Gently run a sharp knife along the incisions that have been cut into the baklava, making sure that each one is fully sliced all the way to the bottom of the pan.

Now, pour the warm syrup evenly over the entire surface of the baklava, allowing it to run down into the incisions sliced across the baklava, and also along the very edges of the pan.  Let the baklava cool to room temperature before slicing the pieces and removing them from the pan.
Notes
1. When making baklava, you need about 10 hands.....or at least FOUR.  Make baklava when you have a partner available! 
2. Baklava is best about 8-24 hours after it's baked. Don't make the syrup ahead of time - if it simmers too long, it will be the wrong consistency when poured over the baklava and will crystallize, keeping the syrup from running down into the incisions cut into the pastry and around the edge of the pan. 
3. Baklava will keep at room temperature for up to 5 days, though the texture changes over that time.  Store the baklava in an air-tight container. 
www.ChefAlli.com 
Nutrition
Calories:
272
kcal
|
Carbohydrates:
32
g
|
Protein:
4
g
|
Fat:
15
g
|
Saturated Fat:
7
g
|
Polyunsaturated Fat:
2
g
|
Monounsaturated Fat:
6
g
|
Trans Fat:
1
g
|
Cholesterol:
24
mg
|
Sodium:
76
mg
|
Potassium:
275
mg
|
Fiber:
2
g
|
Sugar:
21
g
|
Vitamin A:
750
IU
|
Vitamin C:
4
mg
|
Calcium:
24
mg
|
Iron:
1
mg
We love hearing from our readers and followers, so leave us a comment if you'd like. If you don't hear back from us shortly, know that we may not have seen your comment. Feel free to reach out to us by email: [email protected].
Let's Get You Cookin',
Chef Alli
Please Note: We do use referral and affiliate links here for products and services that Chef Alli loves and recommends. If you click on a link and make a purchase, I may receive a small commission at no extra cost to you. For more information, please read my disclaimer here.