Oh my gosh, my guys LOVED this beefy Tex Mex Cowboy Casserole. It really brought out the Cowboy in them! This easy casserole is packed with Tex Mex flavors and textures, from the smooth sour cream to the crunchy tortilla chips. My family loved it, and I know yours will, too! #casserole #weeknightdinner #texmexrecipe


Tex Mex Cowboy Casserole
I've found that my family loves Tex Mex flavors. I don't know why, exactly. But for some reason these bold, zesty flavors of chili and garlic and BEEF really speak to their cowboy souls. Whatever the reason, this Tex Mex Casserole made the top of our family food list. It's all of those great Tex Mex flavors mixed together and topped with cheese, tomatoes, and peppers. Like a Taco in a bowl. No wonder this casserole dish is practically licked clean!
Please Note: We do use referral and affiliate links here for products and services that Chef Alli loves and recommends.


Weeknight Casserole Winner
I love this recipe because it doesn't need any special occasion. I can whip it up on the weekend, keep it in my fridge or freezer, and pull it out for an easy weeknight dinner. It tastes great every time. Wrapping it up in a large sheet of aluminum foil and then wrapping it in a large sheet of saran wrap keeps it fresh in my freezer (and frees up my casserole dish) until I'm ready to cook. I also love making it this way for neighbors and friends who might need a little extra love. Everyone around here loves Tex Mex, and with the way it holds up in the freezer, they can bake it whenever they need it!
Printable Recipe for Tex Mex Cowboy Casserole: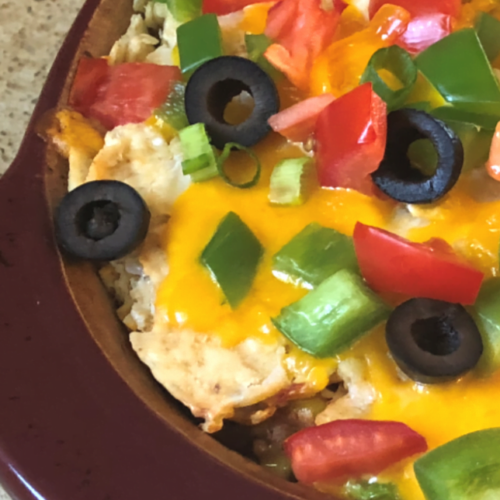 Tex Mex Cowboy Casserole
Oh my gosh, my guys LOVED this beefy Tex Mex Cowboy Casserole. It really brought out the Cowboy in them! This easy casserole is packed with Tex Mex flavors and textures, from the smooth sour cream to the crunchy tortilla chips. 
Print
Pin
Rate
Ingredients
1/2

lb

ground beef

1

15 oz.

can of corn, well drained

1

12 oz.

jar chunky salsa, hot or mild, whichever you prefer

1

2.25 oz.

can sliced black olives, drained (Save out a few of the black olives for garnishing the top of the casserole)

1

cup

cottage cheese

1

cup

sour cream

2 1/2

cups

crushed tortilla chips (about 5 cups of whole chips)

2

cups

sharp cheddar cheese, divided use

1/2

red or green bell pepper, seeds and membranes removed, diced

1

small

tomato, diced

3

green onions, chopped

additional tortilla chips for garnish, as desired
Instructions
Preheat the oven to 350 degrees.

Over medium high heat in a heavy skillet, brown ground beef well until fully cooked and no pink remains; drain fats.

Stir in the corn, chunky salsa and all but 2 tablespoons of the black olives; continue cooking the ground beef mixture for a couple of additional minutes until the mixture it is hot throughout. Remove the skillet from heat and set aside.

In a large mixing bowl, combine the cottage cheese and sour cream. In a 2-quart greased baking dish, place 1/2 of the crushed chips, then 1/2 of the meat mixture, then 3/4 cup cheddar cheese, then 1/2 of the cottage cheese mixture; repeat the layers once more.

Cover the casserole with foil and bake on the center rack for 30 minutes. Remove the foil; top with the remaining cheddar cheese, tomatoes, black olives, and bell pepper.

Return the casserole to the oven, uncovered, for 2 minutes or until the cheese is nicely melted, taking care not to let the chips burn. Remove from oven and allow the casserole to rest for 10 minutes. Garnish with green onions. If desired, line the outer edge of the baking dish with whole tortilla chips before serving.

More Favorite Recipes to Enjoy –
We love hearing from our readers and followers, so leave use a comment if you'd like. And, if you don't hear back from us shortly, know that we many not have seen your comment. Feel free to reach out to us by email: [email protected]
Let's Get You Cookin',
Chef Alli