Get your favorite takeout flavors in this easy Saucy Asian Chicken and Broccoli Sheet Pan Dinner. Made of roasted chicken and veggies with an Asian sauce, this one-pan meal is served over big bowls of rice.
Saucy Asian Chicken and Broccoli Sheet Pan Dinner Recipe

Please Note: We do use referral links for products and services that Chef Alli loves and recommends.
Sheet pan dinners are easy to make and easy to clean up. We love sheet pan dinners at our house!
With just a little understanding of sheet pan dinner dynamics you can treat your family to a healthy, whole food meal any day of the week! I'm a huge fan of sheet pan dinners because they are so fresh and quick. You can customize any sheet pan dinner to your liking by adding the veggies that you family prefers – more more color, the better.
How to Make Saucy Asian Chicken and Broccoli Sheet Pan Dinner Work for You – Such an Easy and Quick Meal!
The Sauce – soy sauce, rice vinegar, sesame oil, olive oil, ginger, garlic, honey. I really love the sauce in this meal – it's actually all that makes this sheet pan dinner Asian! I usually use low-sodium soy sauce and if you don't happen to have rice vinegar, you can substitute white vinegar just fine.
I rarely have ginger root on hand, but I do keep Gourmet Garden's Ginger Paste in a tube in my fridge at all times – super handy and it keeps a long time, I've discovered. If I'm out of garlic cloves, I substitute a bit of granulated garlic for the minced garlic in the sauce – works fine.
Chicken Breast Tenderloins. I love chicken breast tenderloins! They are super handy for sheet pan meals and they cook in a flash. If you're watching your food budget closely, you may want to use boneless, skinless chicken breasts and just cut them into strips – they work fine too and it saves a bunch of $$.
Come to think of it, you could also use boneless, skinless chicken thighs in this recipe – they would probably just need to cook a few minutes longer than the recipe says below. (I cook all my chicken to 160-165 degrees F. internally.)
Fresh Broccoli. This is the broccoli you'll find in the produce section at the grocer. Because it's RAW broccoli, it takes a bit longer to cook which means it's perfect for a sheet pan dinner. You can purchase broccoli florets in a bag, but I tend to purchase a head of broccoli and cut it into florets myself because it's more economical that way, and it only takes a minute to do.
If you only have frozen broccoli florets on hand to make this Saucy Asian Chicken and Broccoli Sheet Pan Dinner, just be sure to add it to the sheet pan towards the very end of the cooking time. Frozen broccoli is par-boiled, so it cooks extremely quickly.
Sweet Red Bell Pepper. I like the color contrast of the red bell pepper with the broccoli, but whatever sweet bell peppers you have on hand will work just fine, truly.
Snow Peas. Known as Chinese pea pods, snow peas are flat with very small peas inside. Snow peas are mildly flavored and can be served raw or cooked. Sometimes I confuse snow peas for sugar snap peas, to be honest. Thankfully, I've discovered they work pretty interchangeably….yay!
Sesame Seeds and Scallions. These are the garnishes for your sheet pan meal and they add some nice texture. Scallions are also known as green onions and you can use both the green and white parts in this recipe. The sesame seeds give some good crunch, too. 🙂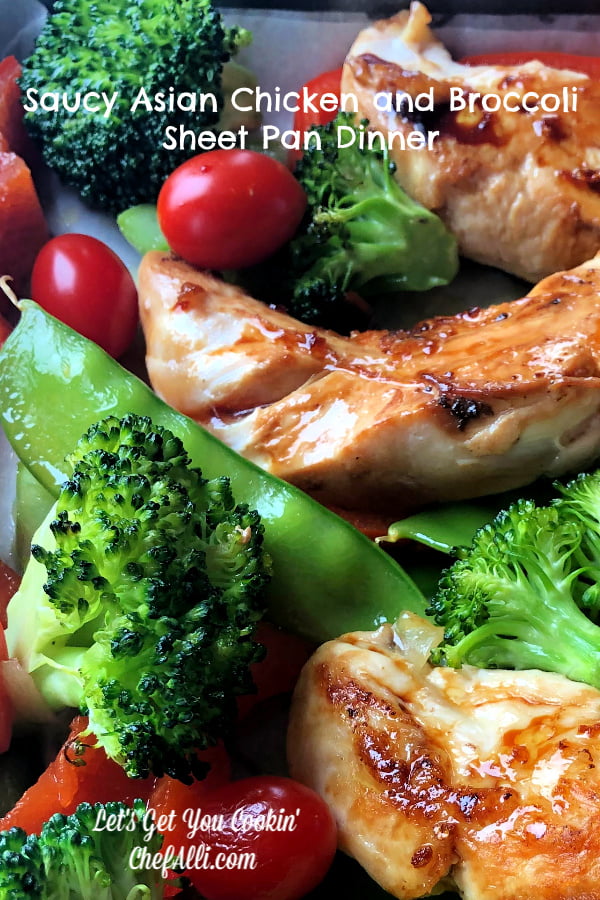 Easy Recipe Tips for Making Saucy Asian Chicken and Broccoli Sheet Pan Dinner
Can I use any sheet pan for making sheet pan meals? Yes, but I'd recommend something large and heavy-duty when it comes to baking sheets. You want to be able to spread your ingredients out into a single layer so that everything can cook evenly. I also like a sheet pan that has a rimmed edge so I can keep my ingredients more easily contained.There's nothing more frustrating when you're in a hurry to get dinner on the table than watching your sheet pan dinner ingredients go flying off the sheet pan when you hurriedly move it from the counter to the oven, or vice versa! That little edge can be a life saver! Here's the baking sheet that I use all the time.
Can I make this dish ahead of time and bake it when we are ready for dinner? TOTALLY! Another great feature of sheet pan meals and I do it all the time.You probably wouldn't want to leave the ingredients on the sheet pan for longer than 8-10 hours or so as they can end up tasting just like that metal pan over a long period of time. Other than that, yes, definitely make your sheet pan meals ahead so you can "pop and go" later.
How do I know when the chicken is done inside and is a safe internal temperature? I always use an instant-read meat thermometer to check my meats and poultry as they cook.This way, you don't have to OVERCOOK them just because you want to make sure they are done and safe to eat – nothing worse than over-cooked, dried out meat and chicken, is there?I like this instant-read meat thermometer because it talks to me, letting me know the internal temperature. I keep it velcro-ed to my fridge so I can grab it in a hurry when I need it.

Ready for some other Sheet Pan Dinner recipes that are super speedy and flavorful? Here you go:
More Recipes for Sheet Pan Meals –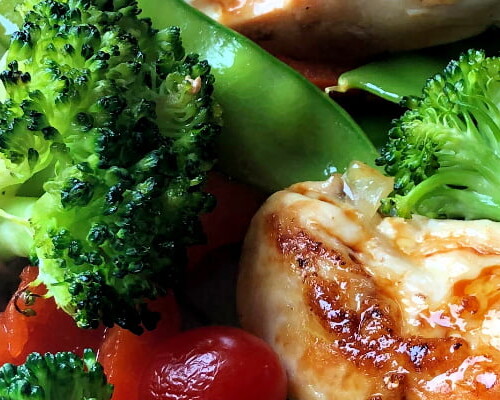 Saucy Asian Chicken & Broccoli Sheet Pan Dinner
Get your favorite takeout flavors in this easy, 20-minute meal - Saucy Asian Chicken and Broccoli Sheet Pan Dinner.  We love the Asian flavors of this dish and my family really enjoys it served over big bowls of rice. #sheetpandinner #Asianfavories


Print
Pin
Rate
Ingredients
Sauce
1/3

cup

low sodium soy sauce

1/4

cup

rice vinegar

1

Tbs.

olive oil

1

Tbs.

sesame oil

1

Tbs.

freshly minced ginger

4

cloves

garlic, minced

2

Tbs.

honey
Chicken and Broccoli
1

lb

boneless skinless chicken breast tenderloins

1

head fresh broccoli, cut into florets

1

red bell pepper, seeds and membranes removed, cut into strips

1

cup

snow peas

1

Tbs.

sesame seeds

4

scallions, chopped
Instructions
Preheat the oven to 400 degrees F. In a saucepan, whisk all sauce ingredients together until smooth; bring to a simmer over medium heat, cooking until the sauce is nicely reduced and thickened, then remove from heat.

Meanwhile, place the chicken, broccoli, red pepper and snow peas onto a sheet pan; drizzle with 1/2 cup of the prepared sauce. Bake, uncovered, for 10-15 minutes, until the chicken tenders are fork-tender and the vegetables are al-dente. (Chicken is done when juices run clear and the internal temperature if 160-165 degrees F. at the center.)

Remove from the oven and finish with a generous sprinkle of sesame seeds and scallions. Enjoy as is or serve over a bowl of rice. Serve with additional sauce on the side, as desired.
Nutrition
Calories:
233
kcal
|
Carbohydrates:
7
g
|
Protein:
26
g
|
Fat:
11
g
|
Saturated Fat:
2
g
|
Cholesterol:
73
mg
|
Sodium:
142
mg
|
Potassium:
586
mg
|
Fiber:
2
g
|
Sugar:
3
g
|
Vitamin A:
1369
IU
|
Vitamin C:
60
mg
|
Calcium:
50
mg
|
Iron:
2
mg