Looking for healthy salad recipes? Baby Kale Salad with Feta and Edamame is just what you need. Baby kale and romaine lettuce are tossed with crumbled feta, edamame, and dried cranberries then dressed with a zesty vinaigrette and served up quick as a wink. A gourmet masterpiece that's easy and effortless to create.
Baby Kale Salad with Feta and Edamame Recipe

Howdy! Chef Alli Here. Let's Get You Cookin'…. Shall We?? 🙂
My family isn't nearly as crazy for salads as I am, that's for sure. But that's ok since myy guys way are more meat-and-potatoes than I am – I guess it evens out in the long run.
If you follow my blog, you can see that I've got quite a few salad recipes here. I'm excited for homegrown tomatoes to be in season soon so I can make Peach and Tomato Salad with Bacon and Goat Cheese – sounds like a kinda weird combination, but it is positively delicious when fresh peaches and tomatoes are plentiful.
If you're a corn salad fan, I hope you'll try Crunchy Corn Salad with Corn Chip Topping and Fresh Summer Corn Salad with a mayo dressing. They are both really refreshing chilled salads for summertime.
I can't forget to mention Grandma Lucille's Warm German Potato Salad – I love the tangy dressing with the creamy potatoes and crunchy bacon. Such a good combination of flavors and textures! I like making this salad in my cast iron skillet.
Oh, and I better tell you about my husband's favorite salad – we call it the family reunion salad since he always requests this salad when we go: Delta Cornbread Salad. This salad is stacked, layer by layer, into a glass trifle dish and looks so pretty!
What to love about this easy salad recipe –
Just that! It's super easy and super fast.
It looks magnificent yet takes just minutes and a few ingredients.
This salad is nutrient dense with great flavors.
Here are the ingredients you need to make this recipe
Salad Ingredients
Baby kale (not to be mistaken for kale greens or mature kale)
Romain lettuce
Feta cheese
Shelled edamame (baby soybeans)
Sliced almonds
Dried cranberries
Vinaigrette Ingredients
Orange marmalade or apple jelly
Olive oil
White wine vinegar
Spicy brown mustard
Kosher salt and freshly ground black pepper

What you'll learn from this recipe –
How baby kale and kale greens are very different and why
What to do if you purchased kale greens for this salad instead of baby kale
All about edamame
Cheeses that could be substituted for the feta cheese used in this recipe
Answers to Common Questions Asked About This Recipe
What is the difference between baby kale and kale greens?
Baby kale is very young and tender. Kale greens have been grown to full maturity and are very tough and chewy, yet full of lots of nutrients. There is a huge difference in texture! Be warned.
If I mistakenly purchased kale greens instead of baby kale for this recipe, what should I do?
First off, destem each leaf of kale to remove the fibrous center; chop the kale greens into very thin strips. Secondly, toss the sliced kale greens really well with the dressing (before adding any other ingredients at all).
Now, and most importantly, and let the dressed kale rest for 15 minutes, then proceed with the recipe.
**Letting the dressed kale sit for a while allows it to absorb the dressing, making the kale much easier (and more pleasant!) to chew. This step really makes a difference.
How do I destem mature kale?
Using your non-dominant hand, firmly hold the stem end.
Using your dominant hand, gather the leaves between your thumb and forefinger; pull back and away along the stem in one motion, apply pressure on both sides of the stem as you strip the leaves away.
Lastly, toss the stems; tear, chop, or slice the kale greens and proceed with your recipe.
If I can't find baby kale, can I use other types of mixed greens to make this recipe?
Totally! Yes, If you don't care for kale, use your favorite greens – baby spinach, romaine, arugula, Spring mix – any mixture of greens is delicious.
Would goat cheese in place of the feta crumbles be good in this recipe?
Yes, and I do it all the time. Sometimes I like a goat cheese crumble that is more mild than tangy like feta. You could also substitute queso fresco cheese (also called queso blanco cheese) for the feta, as well.
What is edamame? I'm not really familiar with it.
Edamame are baby soy beans that are harvested before they can fully ripen. Edamame are available shelled or still in the pod. Larger grocery stores will have them available as fresh produce, or you can always find them in the vegetable section of the freezer case, too.
If you purchase edamame in the pods, you will either want to remove the beans from inside the pods since you cannot (enjoyably) chew the pods at all.
Some people like to salt the edamame pods then steam them in the microwave with the beans inside. To remove the beans, use your fingers to insert the pod (let them cool a bit first) into your mouth, then pull the pod forward, through your front teeth as you kind of "suck" the beans out of the pod to enjoy them. I know, sounds weird, but they are pretty delicious eaten like that.
Why don't I need to cook the edamame?
Shelled edamame are delicious as is. They have just a bit of bite in texture and are a great addition to a mixed greens to give some body to your salad.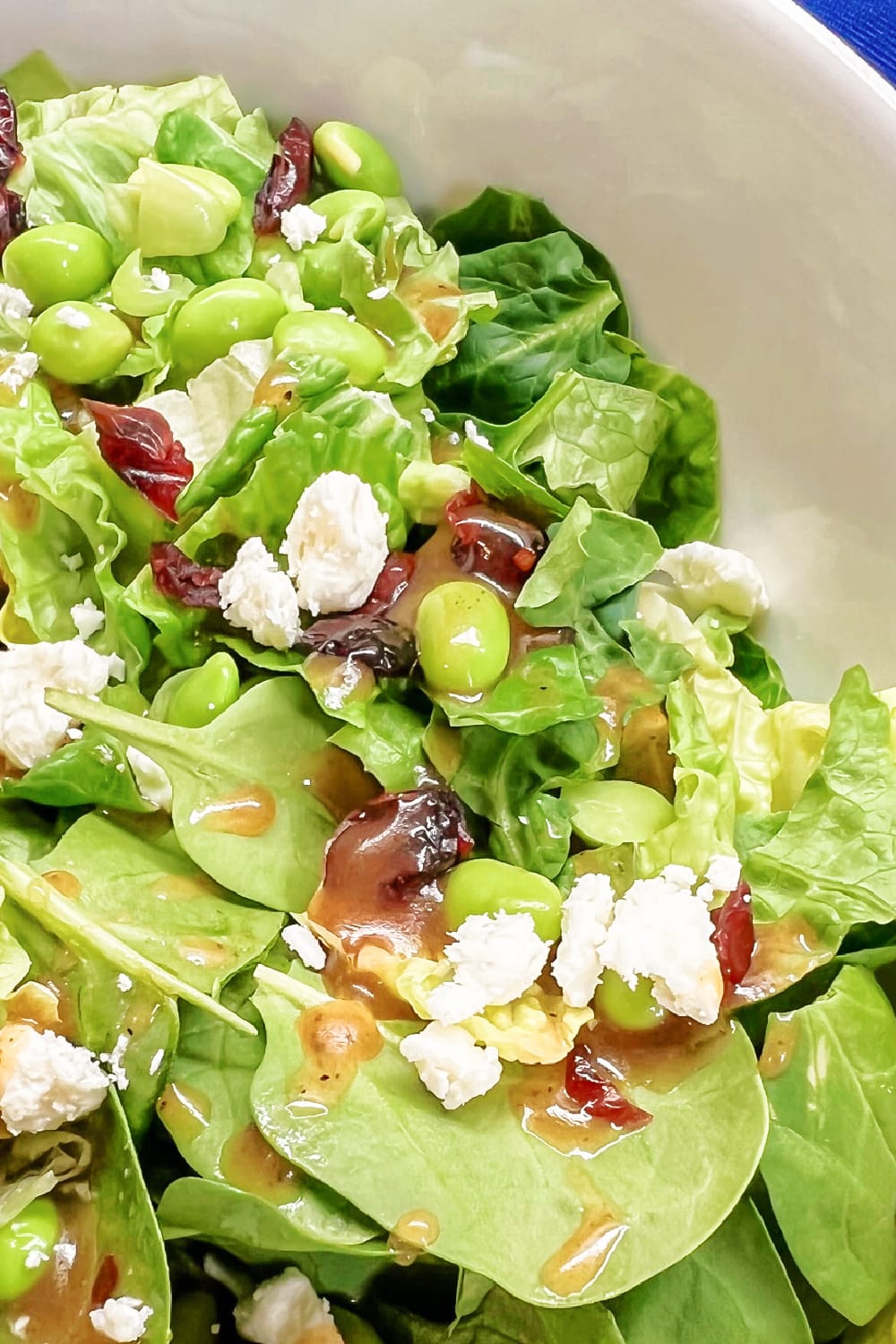 More Favorite Recipes to Enjoy –
Printable Baby Kale Salad with Feta and Edamame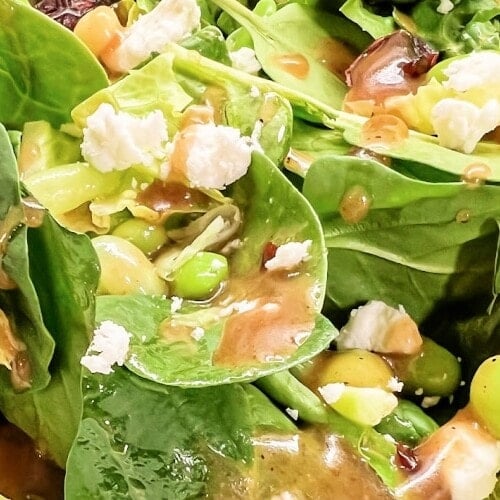 Baby Kale Salad with Feta and Edamame
Looking for healthy salad recipes? Baby Kale Salad with Feta and Edamame is just what you need.  Baby kale, crumbled feta, edamame, and dried cranberries are dressed with a zesty vinaigrette and served up quick as a wink. A gourmet masterpiece that's easy and effortless to create. 
Print
Pin
Rate
Ingredients
Salad
1

head

Romaine lettuce, torn

5

oz.

container baby kale, may substitute mixed greens or baby spinach

1/2

cup

sliced almonds

1/2

cup

dried cranberries

1

cup

shelled frozen edamame, thawed, no need to cook

1/2

cup

crumbled feta
Vinaigrette Dressing
1/3

cup

olive oil

2

Tbs

white wine vinegar

1 1/2

Tbs

spicy brown mustard

3

Tbs

orange marmalade

Kosher salt and freshly ground black pepper, to taste
Instructions
Prepare the Vinaigrette
In a glass jar with a tight fitting lid or a dressing cruet, add the vinaigrette ingredients; shake until emulsified and well combined.
Prepare the Salad
In a large serving bowl, gently toss the romaine with the leaves of baby kale leaves until well combined.

Drizzle the desired amount of the prepared vinaigrette over the mixed greens; toss gently. Top with greens with feta crumbles, dried cranberries, and shelled edamame.

Serve at once.
Nutrition
Calories:
365
kcal
|
Carbohydrates:
27
g
|
Protein:
11
g
|
Fat:
26
g
|
Saturated Fat:
4
g
|
Polyunsaturated Fat:
5
g
|
Monounsaturated Fat:
16
g
|
Trans Fat:
1
g
|
Cholesterol:
11
mg
|
Sodium:
207
mg
|
Potassium:
580
mg
|
Fiber:
7
g
|
Sugar:
16
g
|
Vitamin A:
9418
IU
|
Vitamin C:
12
mg
|
Calcium:
176
mg
|
Iron:
3
mg
We love hearing from our readers and followers, so leave us a comment if you'd like. If you don't hear back from us shortly, know that we may not have seen your comment. Feel free to reach out to us by email: [email protected].
Let's Get You Cookin',
Chef Alli
Please Note: We do use referral and affiliate links here for products and services that Chef Alli loves and recommends. If you click on a link and make a purchase, I may receive a small commission at no extra cost to you. For more information, please read my disclaimer here.