Here's the perfect salad for summer, using all your favorite vegetables and a flavorful homemade vinaigrette dressing that's light and refreshing. Marinated Corn Salad with Fresh Basil is a very flexible recipe that you can customize to your liking.
Marinated Corn Salad with Fresh Basil Recipe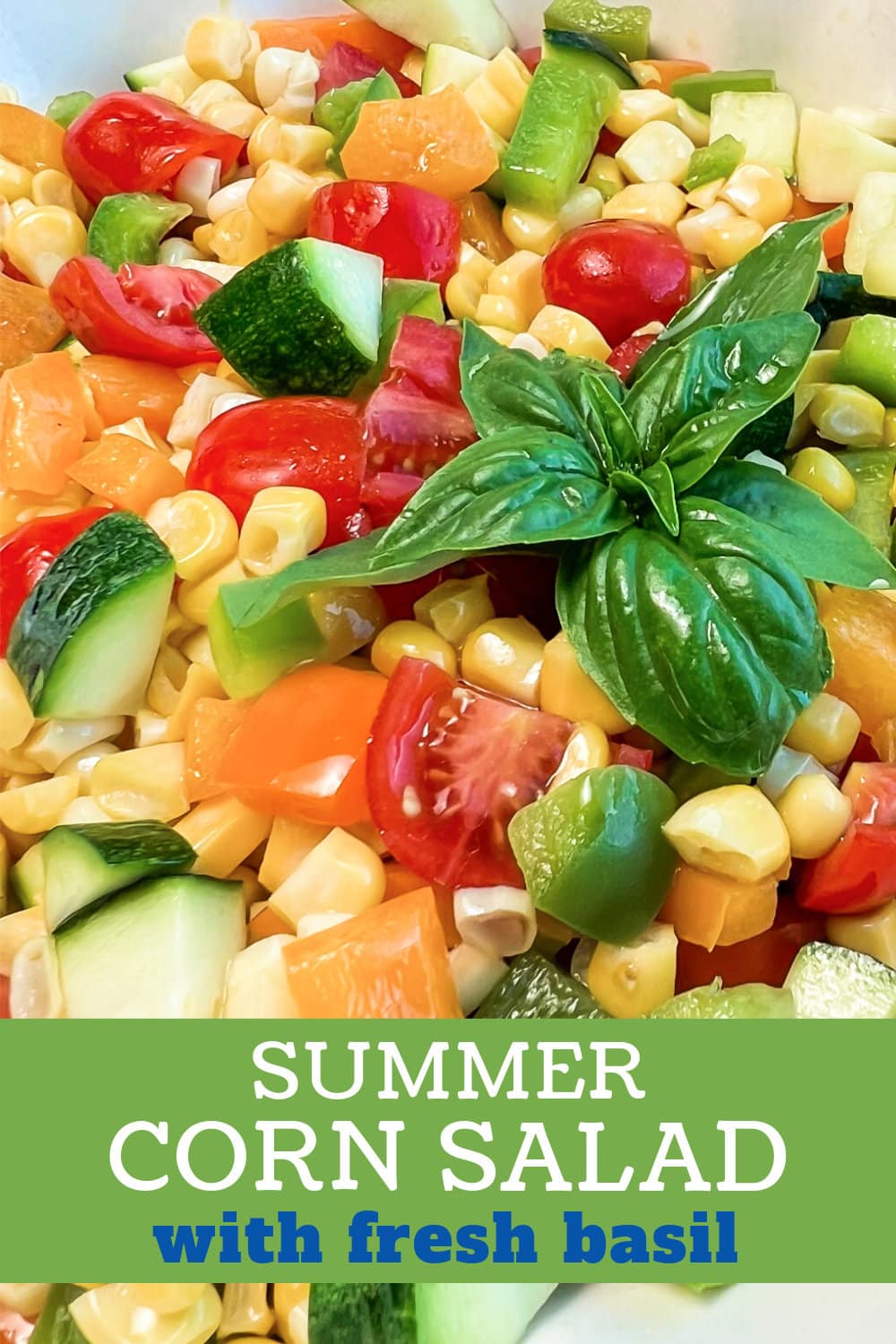 Howdy! Chef Alli Here. Let's Get You Cookin'…. Shall We?? 🙂
I am a soup and salad fanatic. And when I say that, I mean that I'm a SOUP girl all winter long and a SALAD girl all summer long.
I'm a fan of both, depending on the season, because you can make either one of them in a large batch and then all you gotta do is grab some out of the fridge when you need a quick meal or a healthy snack.
Some of my favorite summer salads
Because I'm so summer salad crazy, I'm going to share some of my favs so you can enjoy them too. Corn Salad with Chili Cheese Fritos is creamy and crunchy at the same time. Delta Cornbread Salad is a gorgeous salad because it's layered into a tall trifle dish so you an show it off.
If you've got home grown tomatoes and juicy, ripe peaches on hand, you must try Peach and Tomato Salad with Crispy Bacon. It may sound like a weird combination, but it is totally the bomb!
What to love about this easy recipe
This salad is super refreshing and ready to eat in a flash.
Customize the recipe depending on what veggies you have on hand.
Who doesn't love summer sweet corn???
Ingredients you need to make corn salad –
Salad
Corn on the cob (may substitute frozen corn, if needed )
Zucchini
Bell peppers, any color
Grape or cherry tomatoes
Avocados
Fresh basil
Dressing (aka the marinade)
Red wine vinegar
Olive oil
Garlic, sugar, salt, and pepper
Chicken base paste, optional (such as Better Than Bouillon Concentrate)
How to make marinated corn salad –
**Print the full recipe from the RECIPE CARD at the bottom of this post
Make the vinaigrette dressing (aka the marinade).
Cut the corn off the cob, then char it a bit in a hot skillet; reserve.
Saute the vegetables in the same skillet for just a minute or two – don't overcook or your veggies will be too soft.
Chop the fresh basil.
Place all the salad ingredients into a large serving bowl; drizzle with the desired amount of dressing, then toss gently to combine. Serve at once. Store leftovers in the fridge.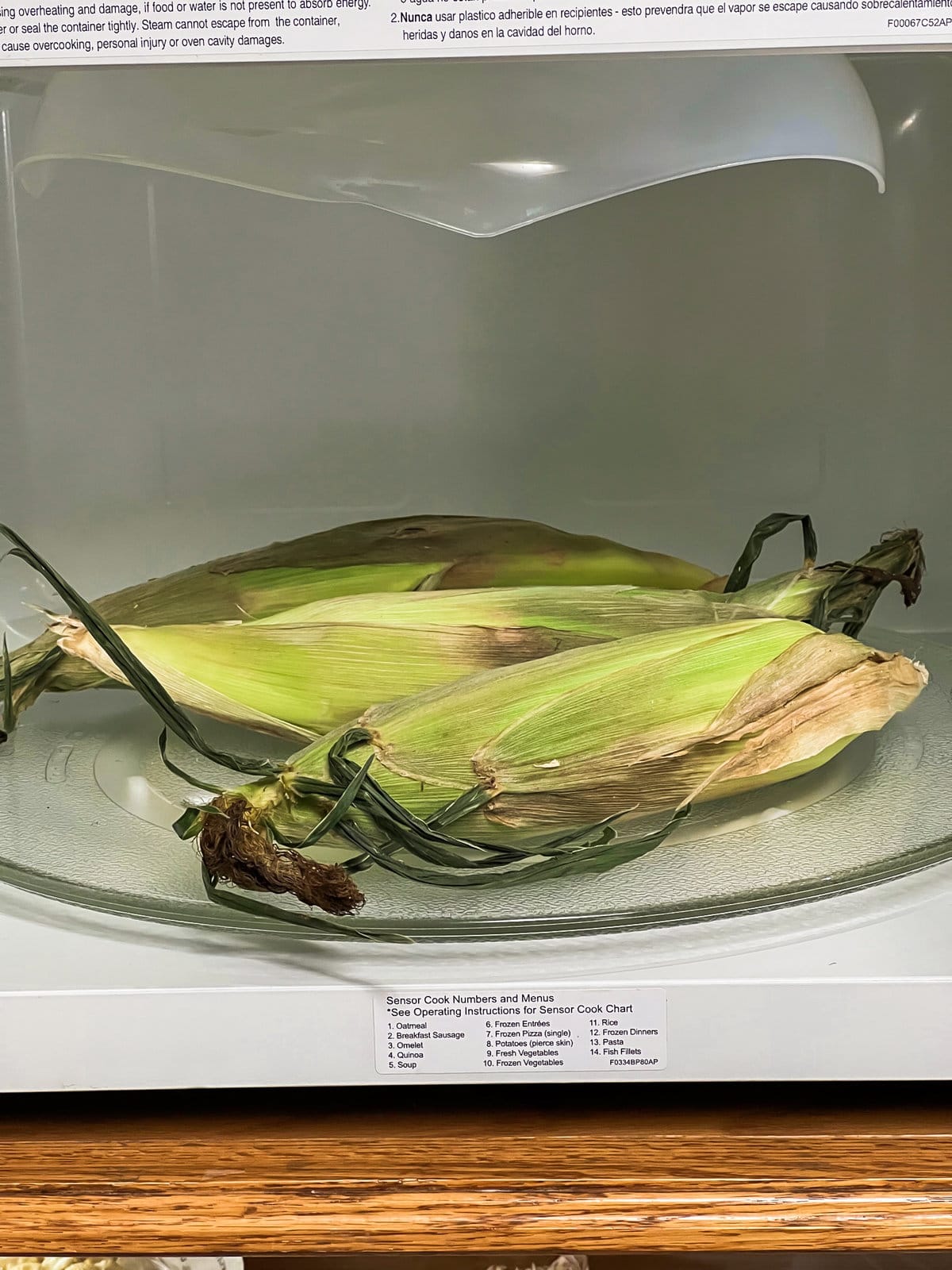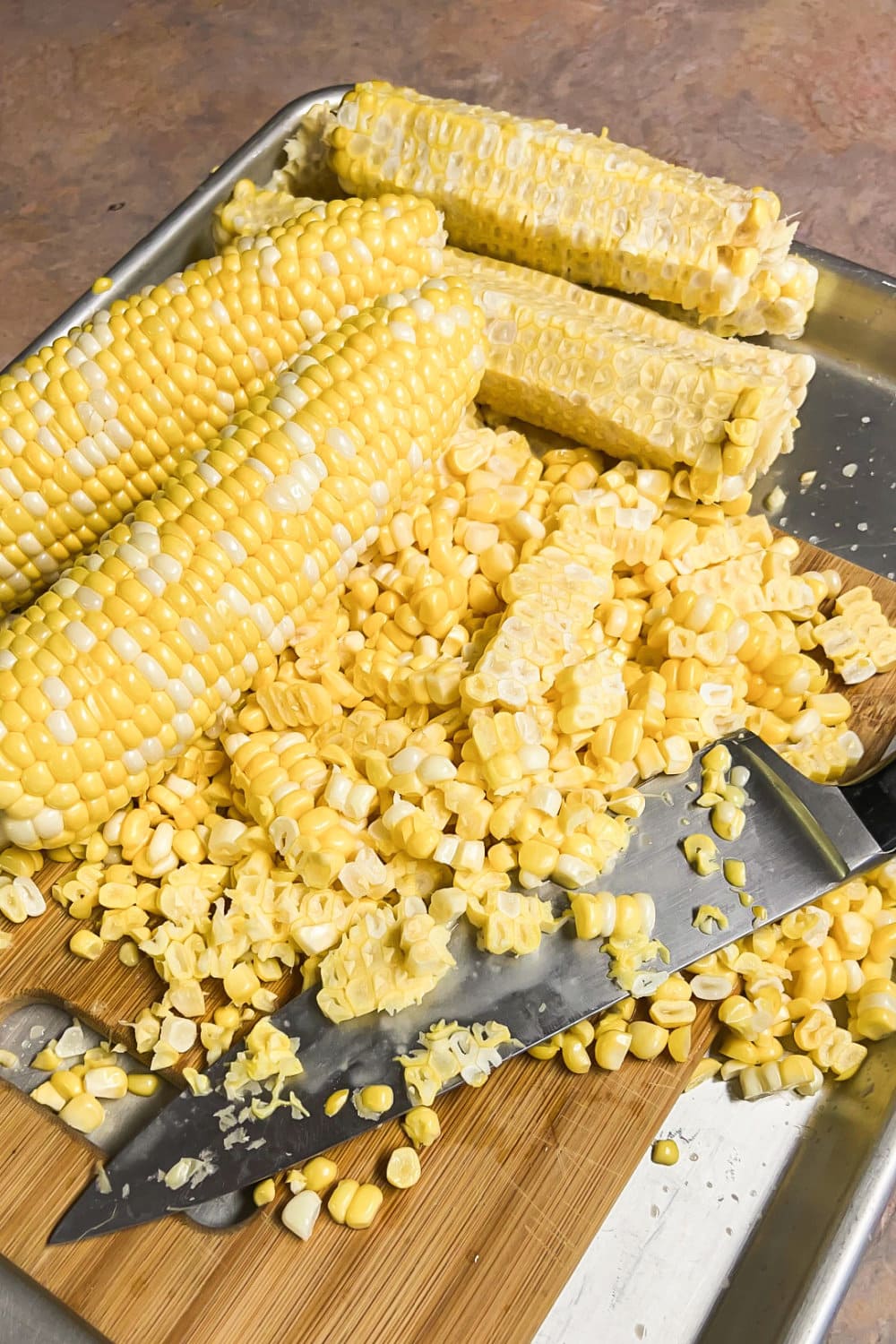 How to Cook Corn on the Cob in the Microwave (Still in the Husks)
Place 2-3 ears in the microwave, shucks completely intact, leaving a little space between each ear.
Cook the corn for 4 minutes on full power. Using hot pads, remove the ears of corn.
To remove the shucks from each ear of corn, grab the corn using a hot pad. With a hot pad in the other hand, pull back the shucks and silk of the corn.
Because the shucks and silk are hot and steamed, they will really stick together, making it easy to pull them away from the ear of corn. Repeat with the remaining ears.
Microwaving the corn in this way is a fantastic way to cook corn on the cob when you're only needing a few ears at a time.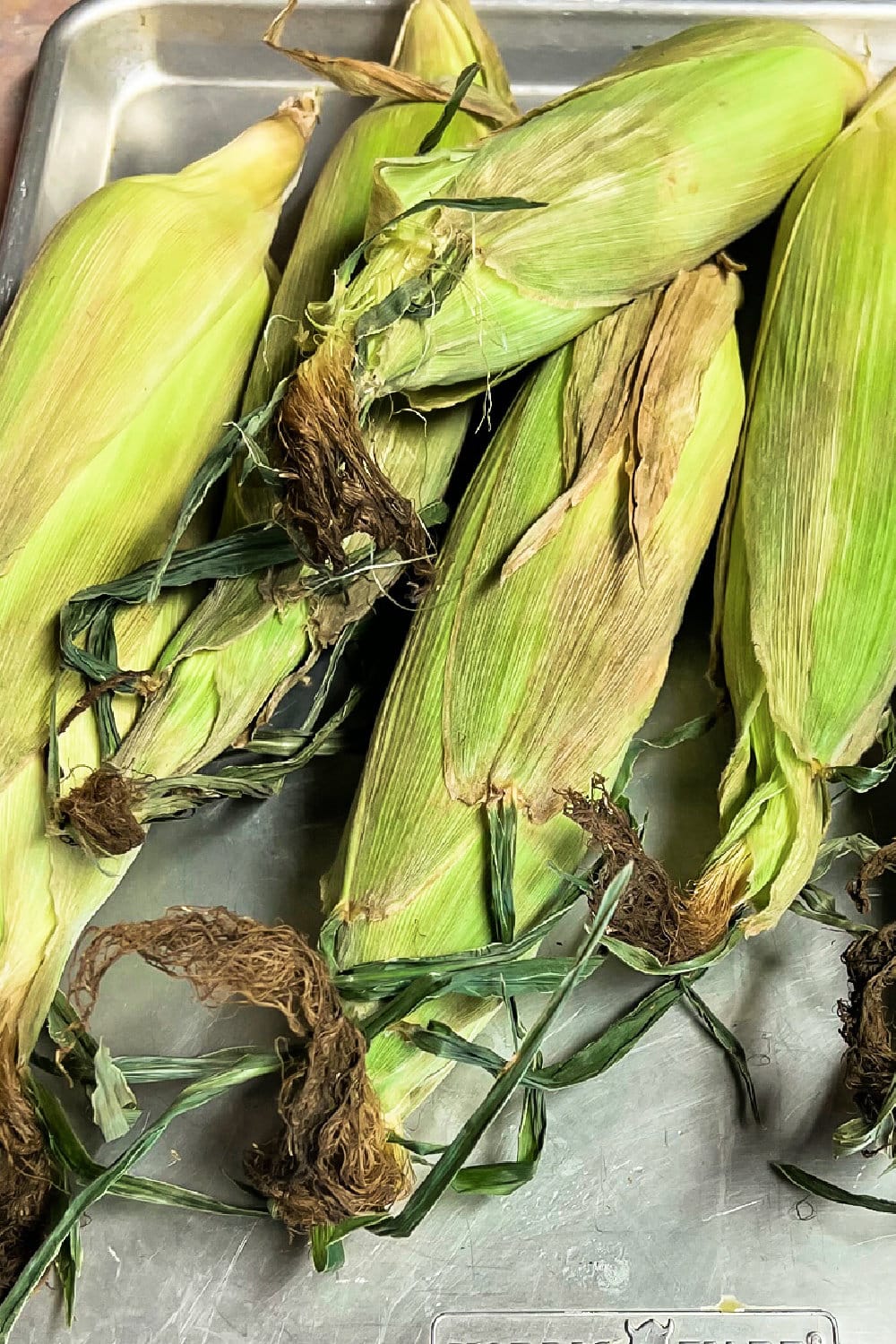 Answers to Common Questions Asked About This Recipe
Which tools are helpful for making this salad?
Wooden cutting board – I prefer wooden cutting boards in my kitchen because they give to the blade edge of my knife, helping to keep them sharper and straighter longer. It's hand to have several different sizes, depending on what you're chopping or dicing.
Rimmed baking sheet – Heavy duty baking sheets with a rimmed edge are essential for so many tasks in the kitchen; I like this standard 13×18-inch size. Be sure to hand-wash your baking sheets, never washing them in the dish washer since this ruins their finish very quickly.
Chef's knife – a good chef's knife is such an essential kitchen tool! In this recipe, you'll need one for slicing the vegetables and also the pork loin into chunks. **If taken care of properly, a good quality chef's knife will last a lifetime, definitely make it worth the initial investment.
Knife straightener – a hand-held knife straightener (often called a knife sharpener) is what keeps your chef's knife blade straight so that it can make a precise, clean cut. Run your knife (never a serrated knife, though) through the straightener 2-3 times each and every time you prepare to use it to keep the blade in good shape.
Silicone Spatula Spoons – Of all the tools in my kitchen, silicone spatula spoons are what I use the most. They make stirring and sautéing a breeze and I love all the pretty silicone colors available. Silicone spatula spoons are completely heat-proof so they won't melt, even when used over high temperatures. I like to have different sizes on hand for different kitchen tasks – soooo handy!
Kitchen shears – I find it super handy to snip fresh herbs using my kitchen shears. I also use my kitchen shears all the time for slicing scallions. I like the pull-apart type of kitchen shears to make cleaning them much more easy.
Deep mixing bowl – I prefer mixing bowls that have a silicone handle grip and also a silicone bottom. The silicone makes it easier to hold onto the bowl and also keeps it in place better on the counter as you're working. I also like how this set nests together for storage.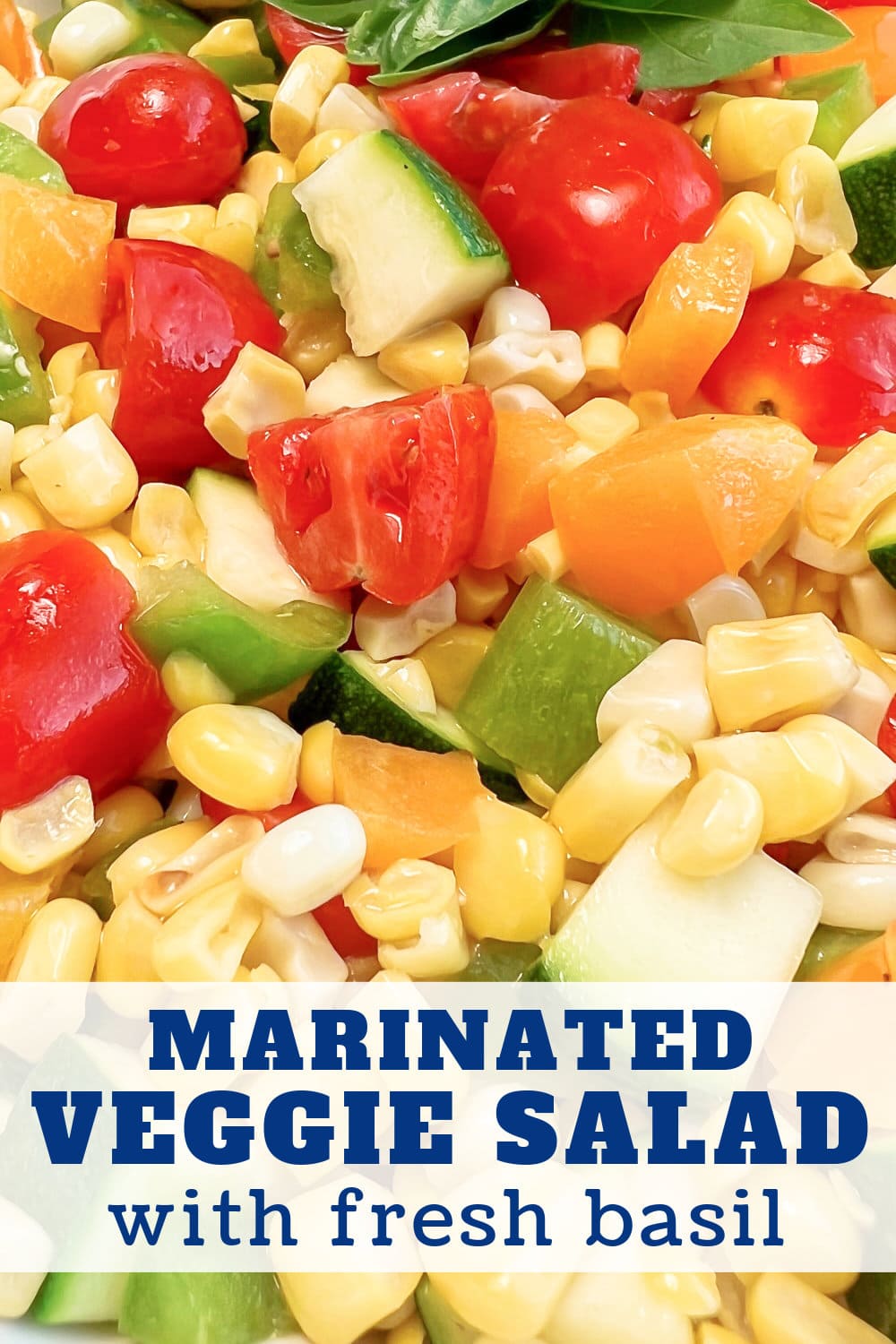 Can I make this salad using frozen corn or canned corn (instead of corn cut right off the cob)?
You sure can and when I don't have access to fresh corn on the cob, that's exactly what I do, too. I like to use a combination of frozen sweet corn and canned white shoe peg corn, but any type of corn works just fine. If using canned corn, be sure to drain it very well before adding to the recipe.
I will say that this salad is ESPECIALLY DELICIOUS when you use corn that's cut off the cob, so if you have time for that, please do so!
What is Better Than Bouillon Concentrate that is listed in this recipe as an optional ingredient? I'm not familiar.
Better Than Bouillon Concentrate is a broth concentrate that I keep in my fridge at all times. It comes in many different varieties/flavors, such as beef, chicken, shrimp, ham, vegetable, etc. When you need some broth for a recipe, you can spoon some of the concentrate right from the jar to make a rich broth in whatever quantity you prefer. In this recipe, I add the concentrate directly to the dressing to give it a more deeper and more robust flavor.
If I don't have fresh basil for this salad, can I use dried basil leaves instead?
You CAN, but you SHOULD NOT. Honestly, fresh basil totally MAKES this salad. It's the perfect compliment to all the vegetables (especially the corn!) and adds a TON of flavor to the salad. Hold off in making this salad until you have fresh basil on hand – it's worth the wait!
Which type of cheese would be good added to this salad?
I've added feta crumbles before – totally delicious! If you're a fan of blue cheese, I think a few crumbles of that would also be yummy. Or, add a bit of fresh Parmesan or Asiago.
What is the best way to cut corn kernels off the cob?
There are lots of handy gadgets for cutting corn off the cob. If you are doing several ears of corn at one time, these gadgets are probably a good investment since they will likely save you time and frustration.
For this recipe, since you only need 4-5 ears of corn, I'm happy to report that it's quick and easy to cut the kernels from the cob using just a sharp knife, cutting board, and a rimmed cookie sheet that keeps the corn kernels contained as you remove them from the cob!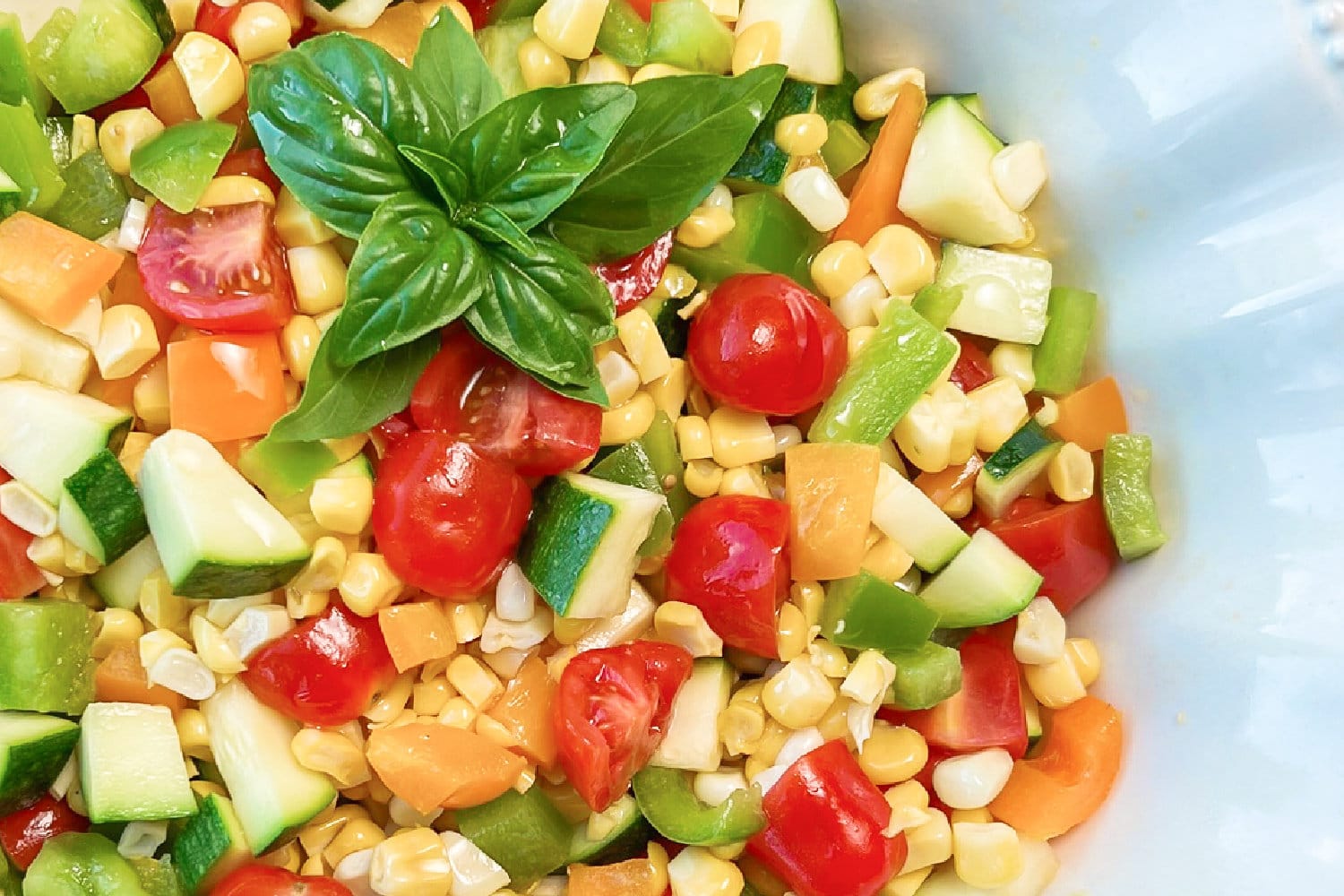 More favorite salad recipes to enjoy –
Printable Marinated Corn Salad with Fresh Basil Recipe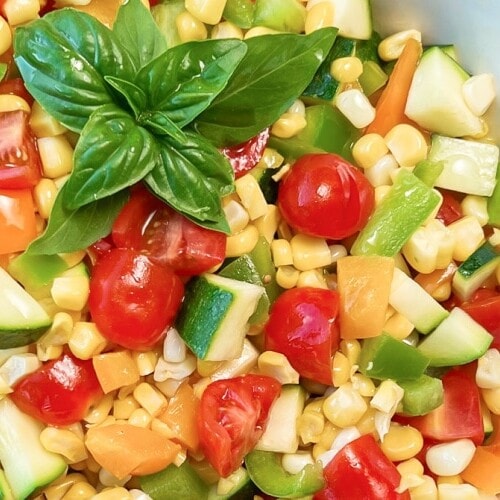 Marinated Corn Salad with Fresh Basil
Here's the perfect salad for summer, using all your favorite vegetables and a flavorful homemade vinaigrette dressing that's light and refreshing. Marinated Corn Salad with Fresh Basil is a very flexible recipe that you can customize to your liking.
Print
Pin
Rate
Ingredients
For the Salad
4-5

ears

fresh corn on the cob, shucked and cleaned (may substitute 2 cups frozen sweet corn or canned corn, if desired)

1

medium

orange sweet bell pepper, seeds and membranes removed, diced

1

medium

green sweet ball pepper, seeds and membranes removed, diced

2

small

zucchini, skin-on, diced

10

oz.

grape tomatoes, halved lengthwise

2

medium

nicely ripened avocados, peeled and diced

2

Tbs.

sliced fresh basil
Vinaigrette Dressing
1/4

cup

olive oil

1/4

cup

red wine vinegar

1/4

cup

good olive oil

1

clove

garlic, crushed

1

tsp.

kosher salt

1

tsp.

granulated sugar

1/2

tsp.

ground pepper

1

tsp.

Better than Bouillon concentrate, I used chicken flavor
Instructions
Make the Vinaigrette Dressing
Prepare the dressing by placing all the ingredients into a jar or dressing cruet with a tight-fitting lid; shake well to combine; reserve.
Prepare the Corn
Place a medium-size cutting board into a large, rimmed baking sheet. Holding the ear of corn vertically on the cutting board, carefully use a knife to slice down along the cob, cutting away the kernels, rotating the cob as you go.

As you work, move the corn kernels from the cutting board onto the baking sheet so they are out of your way. The baking sheet also helps contain corn kernels that have a tendency to "jump" around as you remove them from the cob.

Repeat with the remaining ears of corn.
Char the Corn
Over medium-high heat, preheat a heavy-bottom skillet; add a quick swish of olive oil.

When the oil is nicely hot, add the corn in a single layer. Don't stir the corn so it can char a bit on the bottom, 1-2 minutes. Gently toss the corn, then remove from the skillet and let cool.
Saute the Vegetables
In the same skillet over medium-high heat, preheat the skillet once more. When the skillet is nicely hot, add the peppers and zucchini; cook for just 1 minute, then remove from heat and let cool.
Assemble the Salad
To a large serving bowl, add the cooked and cooled vegetables along with the crushed garlic, tomatoes, avocados, and fresh basil.

Drizzle the prepared vinaigrette over the salad ingredients; gently toss to combine. Serve at once – salad is best served at room temperature. Store leftovers in refrigeration.
Notes
**Be sure to check the blog post for tips and tricks, specific instructions, recommended tools, and FAQ's for making this recipe.
Nutrition
Calories:
264
kcal
|
Carbohydrates:
18
g
|
Protein:
4
g
|
Fat:
22
g
|
Saturated Fat:
3
g
|
Polyunsaturated Fat:
3
g
|
Monounsaturated Fat:
15
g
|
Trans Fat:
0.004
g
|
Cholesterol:
0.1
mg
|
Sodium:
404
mg
|
Potassium:
589
mg
|
Fiber:
5
g
|
Sugar:
6
g
|
Vitamin A:
939
IU
|
Vitamin C:
53
mg
|
Calcium:
23
mg
|
Iron:
1
mg
We love hearing from our readers and followers, so leave us a comment if you'd like. If you don't hear back from us shortly, know that we may not have seen your comment. Feel free to reach out to us by email: [email protected].

Let's Get You Cookin',
Chef Alli
Please Note: We do use referral and affiliate links here for products and services that Chef Alli loves and recommends. We may receive a small compensation when you use these links. This really helps us keep the recipe blog moving forward. Thank you so much!