If you love Instant Pot cooking, then you need to know about Instant Pot Tools and Accessories! They are next-level when it comes to conquering your Instant Pot, and helpful to boot.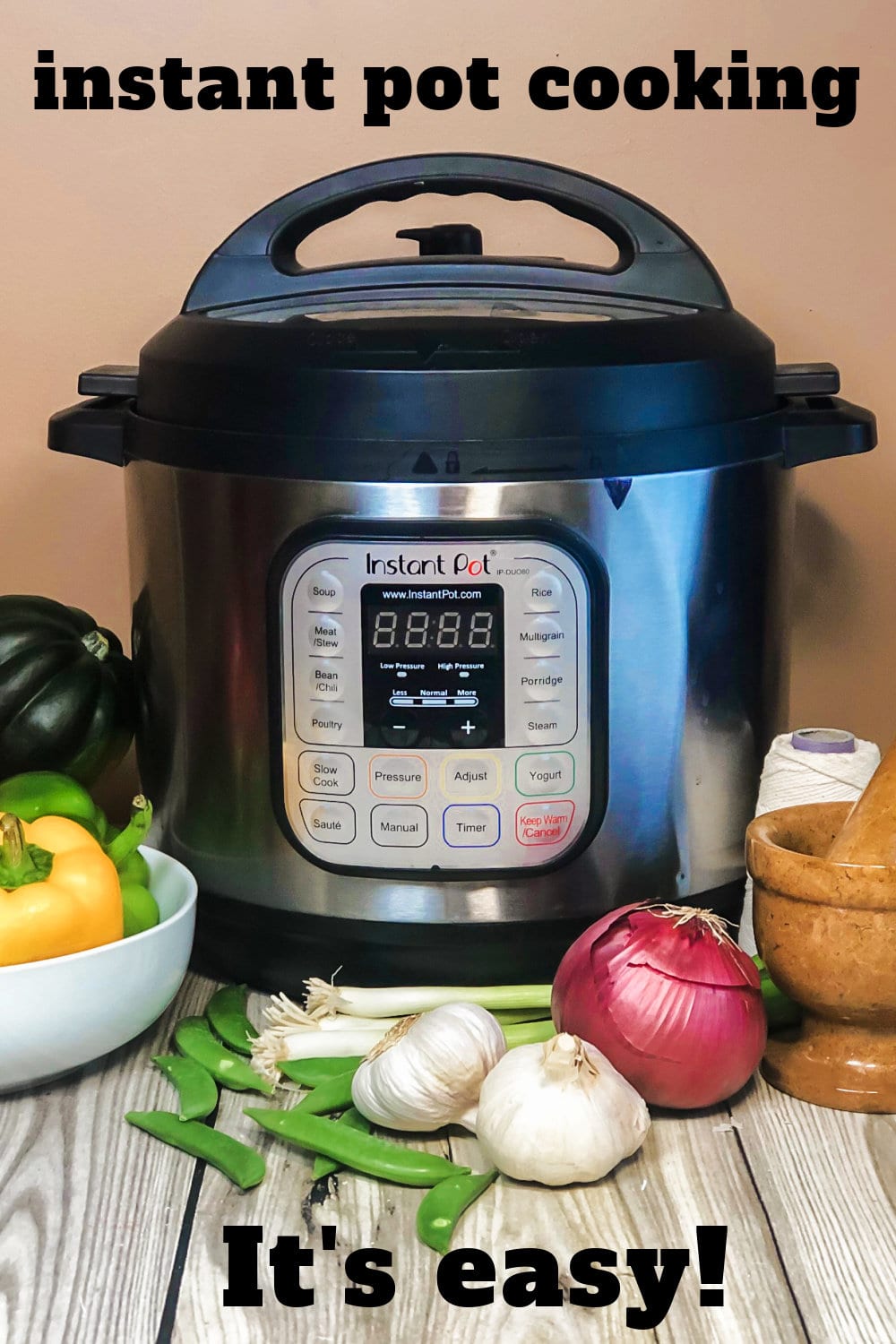 I'm an Instant Pot cooking convert, through and through.
You've heard me RAVE about my Instant Pot. It has literally been life-changing in my kitchen. If you don't have one yet, I would argue that you need to jump on the band wagon and get started. And once you begin Instant Pot cooking, I have a whole collection of resources to help you master it.
Where it really gets fun is when you begin to use other Instant Pot tools and accessories to maximize the presence of this multi-cooker in your kitchen. None of these Instant Pot tools and accessories are absolutely necessary, but they sure are fun and helpful.
Please Note: We do use referral links for products and services that Chef Alli loves and recommends!
Chef Alli's Favorite Instant Pot Tools and Accessories
Trivets
A metal trivet is typically included with your Instant Pot at purchase; it is primarily for the times you want to do pot-in-pot cooking such as when you make a cake, egg casserole, or cheesecake, etc. I also use a trivet for making hard-boiled eggs.
And while the wire trivet works fine, I just love the fat and colorful silicone trivets! Plus, If your electric pressure cooker happens to come with a non-stick pot (like the Cuisinart electric pressure cooker), the silicone is much easier on the non-stick coating.
This tool works like a sling to help with lowering pans into the Instant Pot, and especially for removing them when they are hot from the cooking process.
I make TONS of hard-boiled eggs in my Instant Pot! As a matter of fact, there's absolutely no better way (and I've tried them ALL!) to make hard-boiled eggs.
I usually make hard-boiled eggs a dozen at a time, but you can add as many eggs to your Instant Pot as you'd like, as long as it's not more than two-thirds full.
The silicone egg holder sits in the base of your Instant Pot to keep the eggs stable and so they aren't sitting directly on the bottom of the pot.
**FYI – you can actually use any type of trivet in your IP for hard-boiling eggs….metal, silicone, whatever. Sometimes I've even used mason jar lid rings to keep my eggs up off the bottom of the pot – works great!
If you haven't made a cake in your IP yet, you're missing out on the most rich and decadent experience ever. Anytime you bake a cake in your pot, I've discovered it's essential to use a bundt cake pan since it has a hole in the center; this ensures that the center of the cake gets fully cooked.
I purchased two egg bite molds more out of curiosity than anything else, worried that egg bites might just be a bunch of hype. Not so – we love these little suckers?
If I use my metal trivet (which is thinner than my silicone trivet), I've learned I can stack both of my molds on top of it to cook in the Instant Pot at the same time.
Some people purchase an Instant Pot for the sole purpose of making CHEESECAKE. If that's your gig, you're gonna need a springform pan….or three.
Don't let the size fool you….a 6 cup springform pan doesn't make a very big cheesecake, but because it's so rich and dense, your guests will only need a thin slice.
Another accessory that I was skeptical about, but once again, was proved wrong! I use these all the time for removing my inner pot and I love how flexible these mitts are. Regular hot pads are too bulky when you're trying to pull your pot up and out of the unit while the silicone mitts grip really well.
When you're using the slow-cooking function of the Instant Pot, it's really nice to be able to what's happening with your food inside your pot! Plus, if you're taking your Instant Pot to a potluck or gathering, it's nice for others to be able to see what's in your pot (and not have to fiddle with unlocking the lid).
At some point, but after quite a lot of use, you will need to replace the silicone gasket that is inside the lid of the Instant Pot. You will know when you need to replace it: the silicone ring becomes yellowed and loose-fitting with age and use.
These two-tier stackable insert pans are made of stainless steel and allow you to cook different foods simultaneously. This is often referred to as "Pot-in-Pot" cooking and these insert pans are also great for when you are simply reheating foods in your Instant Pot.
I use these stackable pans for reheating leftovers all the time. I also love it that these inserts can rest in the Instant Pot on the warm setting until my farmers get in the house for supper after chores. Their food is warm, moist and ready when they are and I don't have to do a thing to keep it that way.

Other Instant Pot Resources You May Find Helpful –
**Find ALL of my Instant Pot recipes right here
Printable Instant Pot Creamy Italian Chicken Rotini Recipe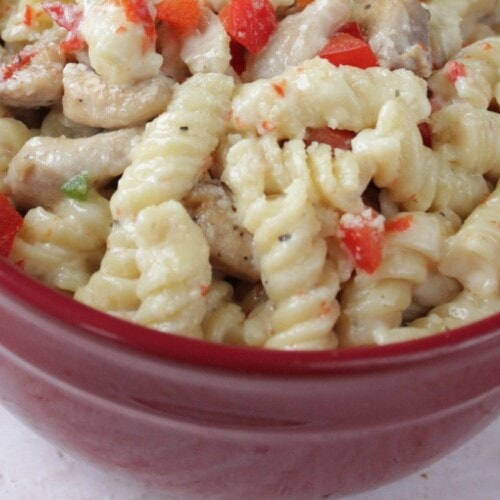 Instant Pot Creamy Italian Chicken Rotini
Here's a delicious Instant Pot pasta meal that that's ready for the dinner table in just minutes. Your family will love the combination of tender rotini pasta, cream sauce, and tender pieces of chicken. Instant Pot Creamy Italian Chicken Rotini is an easy and quick weeknight meal.
Print
Pin
Rate
Ingredients
1-2

Tbs.

olive oil

2

lbs.

boneless skinless chicken breasts or thighs, cubed into 1-inch pieces

2

red bell peppers, seeds and membranes removed, diced

1

tsp.

granulated garlic

1/2

tsp.

black pepper

2

tsp.

Italian seasoning

1

lb.

rotini pasta

2

cups

chicken or vegetable broth

1/2

cup

heavy cream

1/2

cup

shredded Parmesan cheese

1/4

cup

fresh basil, sliced into strips

Kosher salt and freshly ground black pepper, to taste
Instructions
Using the sauté setting on the Instant Pot, add the oil. When the oil is hot, add the cubed chicken, bell pepper, garlic, pepper and Italian seasoning, browning the chicken on all sides, stirring occasionally.

Turn off the saute setting; pour the rotini pasta over the chicken and vegetables in the Instant Pot; add the broth, making sure it covers the pasta, pressing it down gently with a spatula. **DO NOT STIR THE CONTENTS OF THE INSTANT POT AT THIS TIME!!!

**The broth should cover the pasta by about 1-inch.

Lock the Instant Pot lid into place, turning the valve to the sealing position. Choose high pressure, setting the cook time for 5 minutes, bringing the Instant Pot to full pressure.

**Bringing the Instant Pot to full pressure will take 10-15 minutes, depending on how cold the broth is when you add it.

When the timer sounds, perform a quick release until all pressure is removed from the Instant Pot. Carefully unlock and remove the lid, gently stirring the ingredients inside to combine them at this point.

Add the cream and Parmesan, stirring gently once again; the sauce will thicken as the pasta cools. Garnish with fresh basil and additional parmesan as desired, then serve at once.
Nutrition
Calories:
562
kcal
|
Carbohydrates:
47
g
|
Protein:
32
g
|
Fat:
27
g
|
Saturated Fat:
10
g
|
Polyunsaturated Fat:
5
g
|
Monounsaturated Fat:
10
g
|
Trans Fat:
0.1
g
|
Cholesterol:
106
mg
|
Sodium:
424
mg
|
Potassium:
453
mg
|
Fiber:
3
g
|
Sugar:
4
g
|
Vitamin A:
1545
IU
|
Vitamin C:
40
mg
|
Calcium:
133
mg
|
Iron:
3
mg
We love hearing from our readers and followers, so leave us a comment if you'd like. If you don't hear back from us shortly, know that we may not have seen your comment. Feel free to reach out to us by email: [email protected].
Let's Get You Pressure Cookin',
Chef Alli
Please Note: We do use referral and affiliate links here for products and services that Chef Alli loves and recommends. If you click on a link and make a purchase, I may receive a small commission at no extra cost to you. For more information, please read my disclaimer here