You will love this authentic Barbacoa recipe for making the most delicious shredded beef you've ever put into your mouth. If you're wondering what Barbacoa Beef is all about, think South of the Border or Carribean flavors.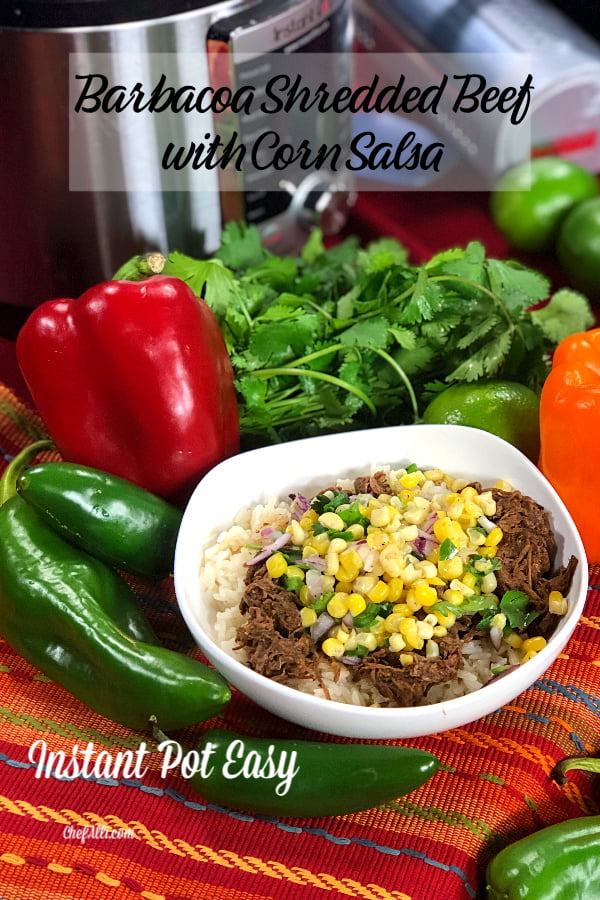 Instant Pot Barbacoa Shredded Beef with Corn Salsa Recipe
Howdy! Chef Alli Here. Let's Get You Cookin'…..Shall We?? 🙂
I simply adore meat recipes that are rich in flavor and easy to make. Barbacoa beef is braised in blend of chipotle adobo, cumin, cloves, garlic, oregano and lime juice.
Serve over warm rice, this tender shredded beef is delicious topped with corn salsa – so many great flavors to meld together in your mouth, and lots of wonderful textures, too.
The key speedy-cooking component in this easy weeknight recipes, is my 6-quart Instant Pot. This small appliance workhorse takes a recipe that usually simmers for hours and cranks it out in just over ONE hour. Can you believe it?
Yep, in just one hour (give or take a few minutes), you've got melt-in-your mouth, Barbacoa Shredded Beef that's like eating a big bowl of heaven.
So what IS Barbacoa Beef….exactly??
Barbacoa beef is often referred to as a slow-roasted beef, with Caribbean (some say Mexican barbacoa) roots. In this recipe we speed up the process by using the Instant Pot, followed by a nice long natural release so the beef can rest and relax – this is the key to cooking any kind of meat in your Instant Pot.
Never cook meat in your Instant Pot followed by a quick release or you will have roast that turns out like a rubber ball….and a huge disappointment.
Traditionally, barbacoa is cooked over an open fire, or in a pit dug in the ground….not exactly something everyone can accomplish. Never fear! You can use your Instant Pot (or even a slow cooker) to make this delicious shredded beef recipe.
What to Love About This Recipe
1. It's fast and flavorful
2. It's fabulously easy
3. Make it low-carb or on buns as sliders
How to Make Shredded Beef Barbacoa in 4 Easy Steps
Make the marinade in your food processor.
Brown the chuck roast, then place the marinade and the meat into the Instant Pot; cook under pressure for 45 minutes, followed by a full natural release.
Meanwhile make the corn salsa and a batch of your favorite rice.
Shred the beef, then serve it over warm bowls of rice, topped with the fresh corn salsa.

Easy Recipe Tips for Making Tender Barbacoa Beef
This recipe calls for chuck roast. Can I substitute another cut of beef roast if I need to?

Yep. Feel free to use any beef roast that you have on hand. My personal favorite is a good, meaty chuck roast because it's got such great marbling and flavor.

Could I substitute a pork roast in place of the beef roast in this recipe?

Totally, and I've done just that many times. This recipe is delicious with either protein, beef or pork. (I've never tried chicken, but I bet it would be fabulous!)

Why does this recipe say to cut the chuck roast into chunks?

2 reasons: First, if you've got chunks of roast, you've got more browning surface and that's definitely going to amp up the flavor….because when we COOK, brown is not a COLOR, it's a FLAVOR – remember?

Secondly, cutting the roast into chunks instead of leaving it in one big piece allows the roast to cook much quicker. If you decide to leave the roast in one big piece, you'll need to increase the cooking time by 25-30 minutes or so.

Why do I need to give this roast a Natural Pressure Release instead of a Quick Pressure Release at the end of the cooking time?

Great question – so glad you asked because this is essential for a nice, fork-tender roast! Allowing the roast to rest during the Natural Pressure Release is key because this is where the protein fibers of the roast can relax and become super tender.

If you opt for a Quick Pressure Release when you cook big beef roast and pork butts, you are likely to gain the "Rubber Ball" experience – never fun! (Nobody wants to eat chewy, tough roast, right??)

Are there other ways to use shredded beef to make meals?

Absolutely. Barbacoa Shredded Beef can be used to make sliders, wraps, tacos, burritos, or even salads. My favorite way is as in this recipe – a Barbacoa Bowl, where the shredded beef is served over warm rice and topped with the corn salsa.
More Favorite Instant Pot Recipes to Enjoy –
Printable Directions for Making Barbacoa Shredded Beef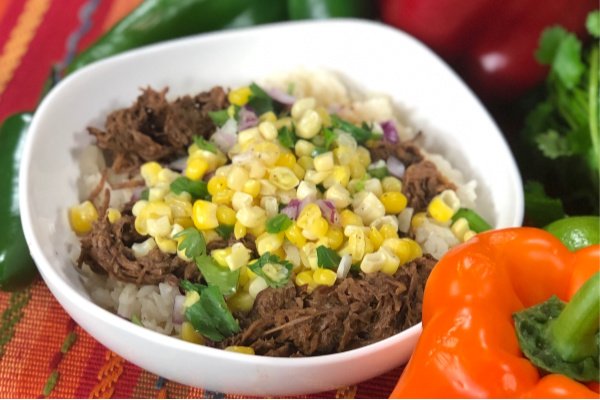 Instant Pot Barbacoa Shredded Beef With Rice and Fresh Corn Salsa
You are gonna love Barbacoa Beef! Spicy beef is braised in a blend of chipotle adobo, cumin, cloves, garlic, oregano and lime juice. Served over rice, this tender shredded beef is delicious topped with corn salsa.
Print
Pin
Rate
Ingredients
Beef
5

cloves

garlic

1

small red onion

Juice and zest of 1 lime

1

Tbs.

minced chipotles in adobo, or to taste

1

Tbs.

ground cumin

1

Tbs.

oregano flakes

1/2

tsp

ground cloves

1

tsp.

kosher salt

1

cup

water

3

lbs.

beef chuck roast, cut into 6 large chunks, trimmed if necessary

1

tsp.

kosher salt combined with 1 tsp. black pepper

1-2

Tbs.

vegetable oil

3

bay leaves

Warm, cooked rice
Corn Salsa
12

oz.

frozen baby gold and white corn, thawed

1/3

cup

minced red onion

1

jalapeno, seeds and membranes removed, minced

1/3

cup

cilantro, chopped

1

lime, zest and juice

1/2

tsp.

kosher salt
Instructions
To Make the Beef
Place garlic, red onion, lime zest and juice, cumin, oregano, chipotles, cloves, salt, and water into a food processor; pulse to process until smooth.

Meanwhile, season beef chunks on all sides with salt and pepper mixture.

Using the sauté setting on your Instant Pot, add the oil. When the oil is nicely hot, add half of the seasoned beef chunks, browning them on all sides. Remove the beef to a plate and repeat with the remaining beef chunks.

Add the prepared sauce from the food processor, along with the bay leaves, to the Instant Pot, returning all of the beef to the pot.

Lock the Instant Pot lid into place. Use the manual setting to choose High Pressure for 45 minutes, bringing the Instant Pot to full pressure.

When the timer sounds, use a natural release for at least 20 minutes, allowing the pressure in the Instant Pot to gradually come down on its own.

Unlock the Instant Pot lid and carefully remove it. Using a fork, test the meat to be sure it is fork-tender. (If the beef isn't nice and tender, re-pressurize the Instant Pot for 10 more minutes and test the beef again following that.)

Using two forks, shred the meat and reserve the cooking liquid; discard the bay leaves.

Place the shredded beef into a hot skillet over medium high heat; add some of the reserved cooking liquid to the meat to make it a nice juicy consistency. Serve the beef over warm rice, topped with Corn Salsa.
To Make the Corn Salsa
Combine all salsa ingredients in a bowl.
Notes
**Please note:  the cooking time stated for this recipe does not include the time required to bring the Instant Pot up to pressure since this can vary. This recipe was made using a 6-quart Instant Pot. 
If you opt to leave the chuck roast in one big piece of meat instead of cutting it into chunks as per the directions here, be sure to increase the pressure cooking time by 25-30 minutes.  Cutting the roast into chunks allows for more browning surface and also helps the roast cook much faster.
We love hearing from our readers and followers, so leave us a comment if you'd like. And, if you don't hear back from us shortly, know that we may not have seen your comment. Feel free to reach out to us by email: [email protected]
Let's Get You Cookin',
Chef Alli