Are you looking for a new Super Bowl appetizer that your men-folk will enjoy?? Here you go! My guys go completely BONKERS over these Saucy Venison Bacon Poppers.
These guys are truly little bombs of heaven, combining bacon, venison, and cream cheese….all nestled and wrapped into a jalapeno.
Saucy Venison Bacon Poppers Recipe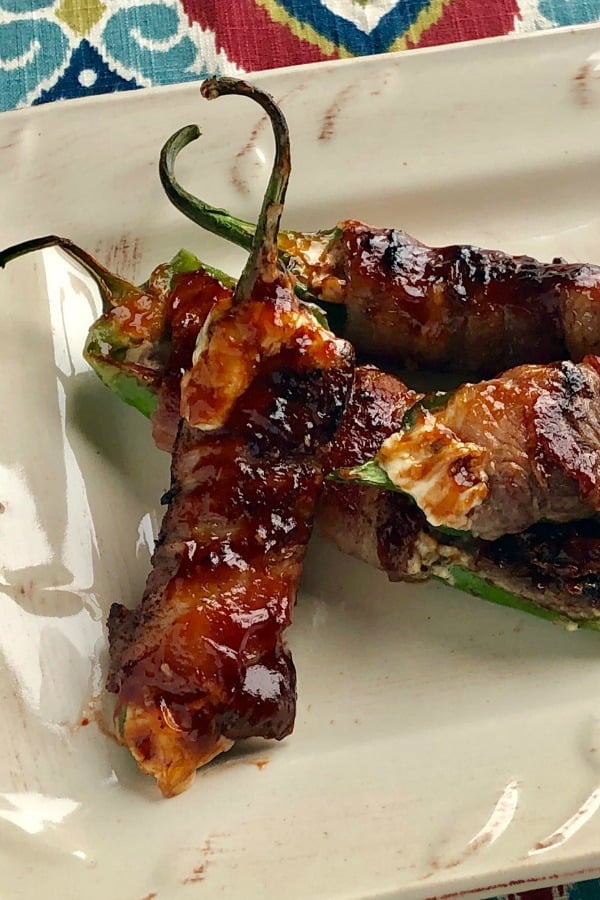 Howdy! Chef Alli Here. Let's Get You Cookin'….Shall We?? 🙂
My guys love to hunt, so we've ALWAYS got wild game stocked in the freezer….typically venison, pheasant, and dove.
And, because we now own a smoker (Happy Father's Day, Dad), we are experimenting more and more with all kinds of wild game recipes. I like it that the boys want to eat all the game they harvest.
I was a little hesitant at cooking wild game at first, afraid it would be all "game-y" and too strong in flavor. What a relief that I've been so very wrong to worry about that!
These Saucy Venison Bacon Poppers are fun to make as an assembly-line process. It's a neat hands-on project for everyone in the family and makes the prep go much, much quicker. If you're not a fan of bbq sauce for slatherin' your cooked poppers, pure maple syrup or honey is a nice, final touch, too.
3 Things to Love About This Venison Steak Recipe –
They are totally worth all the up-front prep, so just do it!
This is a great recipe for wild game – venison, dove, pheasant…whatever!
Bacon. Bacon. Bacon.
What Ingredients Do You Need to Make Saucy Venison Bacon Poppers?
Worcestershire sauce
Limes, for zest and juice
Soy sauce
Venison steaks, or your favorite wild game
Jalapenos
Herb and garlic spreadable cream cheese
Thick-sliced bacon
BBQ sauce

Easy Recipe Tips
Why buy thick bacon if you're going to roll it out THIN anyway? Well, mainly because it just works and tastes better, and a good-quality bacon is essential. I had no idea bacon could be rolled out as easily as it does! And, not only does this hack make WRAPPING and COOKING your poppers easier, it also ensures the EATING experience is wonderful, too.
Do I need to wear gloves when working with jalapenos? YES!!!! Unless you just happen to enjoy the pain of getting jalapeno juice in your nail beds and beneath your skin, you gotta protect yourself with disposable food service gloves when working with any kind of hot pepper. I keep a stash in my utensil drawer for times such as this – always so handy.
Are there other types of hot peppers available for making poppers? Sure. If I can find mild Anaheim peppers that are on the smaller size, sometimes I use those for making poppers since they are so mild. If you're super adventurous and like SPICY, feel free to use any kind of hot peppers to make poppers. Typically, the small the pepper, the hotter it is.
What if I want to spice up my cream cheese filling more? Go ahead, truly. These are YOUR poppers, so mix it up any way you'd like. Sometimes I use plain cream cheese and then add fresh horseradish and shredded sharp cheddar to the mix.
Freeze the Poppers Now, Cook Them Later!
So these poppers freeze well? Yep. Once you've got them all prepped, pop the poppers onto a baking sheet, not touching each other. Once they are frozen solid, remove them from the baking sheet to an air-tight container or heavy freezer bags.Then, when you're ready to pull the poppers out for a party, cook them FROM FROZEN (don't thaw before cooking). You'll need to increase your cooking time by 10-15 minutes or so, since they are going onto the grill or into the oven rock-hard and ice cold, but cooking them from frozen works just great.
Can I cook these poppers in the oven if I don't have a grill or a smoker? You sure can. Place the poppers into a large seasoned cast iron skillet or a foil-lined greased (rimmed) baking sheet. Preheat the oven to 400 degrees F. Cook the poppers, uncovered, for 25-30 minutes, or until the bacon is nicely crisped and the poppers are hot throughout.
More Favorite Recipes to Enjoy –
Printable Saucy Venison Bacon Poppers Recipe –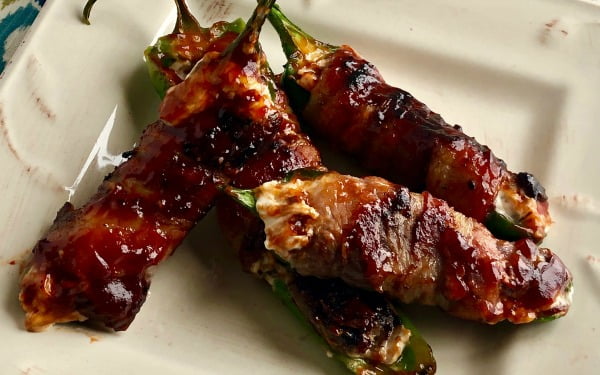 Good and Saucy Venison Bacon Poppers
Are you looking for a MACHO and MANLY kind of appetizer for your upcoming Super Bowl party?? Well, here it is, folks....Good and Saucy Venison Bacon Poppers! My guys go completely BONKERS over them. #Bacon #Venison #Poppers #SuperBowl #PartyFood
Print
Pin
Rate
Ingredients
Marinade
1

cup

Worcestershire sauce

1

cup

freshly squeezed lime juice

zest of 3 limes

1

cup

soy sauce
Poppers
1

lb.

venison steaks, we used sirloin

these poppers are also delicious made with sliced dove breasts

18

large jalapeños, cut in half lengthwise, stems in tact

seeds and membranes removed

16

oz.

herb & garlic spreadable cream cheese

18

strips of thick bacon, rolled thin with a rolling pin, then cut in half lengthwise with kitchen shears

your favorite bbq sauce, for slathering the poppers at the end of the smoking/grilling time
Instructions
Slice the deer steaks into thin, elongated pieces, approx. 2-3" in length.

Meanwhile, combine the marinade ingredients together in a gallon freezer bag. Add deer steak slices, seal bag and place into a large mixing bowl; let steak marinate for 8-10 hours.

Slice the jalapeños in half lengthwise; remove seeds and membranes, placing the halves onto a platter, cut side up. Spoon the cream cheese into the cavities of all jalapeño halves.

On a cutting board, lay out the bacon slices, working in batches; use a rolling pin to roll out each bacon slice until it's elongated and much thinner. Using your kitchen shears, slice each strip of bacon in half lengthwise.

Remove the deer steak slices from the marinade and pat dry. Place a slice of the steak on top of the cream cheese in each jalapeño.

Wrap each jalapeño with a long, thin strip of the prepared bacon, starting at one end of the jalapeno and working to the other, gently stretching the bacon a bit as you go, wrapping the stuffed jalapeno tightly. (May secure bacon with toothpicks, if needed, but we never do.)

Preheat your smoker, grill, or oven to 350 degrees F.

Using tongs, place the wrapped jalapenos onto the preheated smoker or grill, cut-side-up, cooking for 25-30 minutes or until the deer meat is cooked, the jalapeños are softened, and the bacon exterior is nicely charred.

(If you're cooking these poppers in the oven, place into a large, seasoned cast iron skillet or a foil-lined rimmed baking sheet.)

Remove the cooked poppers from the smoker or grill; immediately slather the poppers with warm bbq sauce. Serve at once.
Nutrition
Calories:
110
kcal
|
Carbohydrates:
4
g
|
Protein:
7
g
|
Fat:
7
g
|
Saturated Fat:
3
g
|
Cholesterol:
25
mg
|
Sodium:
574
mg
|
Potassium:
172
mg
|
Fiber:
1
g
|
Sugar:
2
g
|
Vitamin A:
209
IU
|
Vitamin C:
11
mg
|
Calcium:
28
mg
|
Iron:
1
mg
Thanks for visiting! I hope you return soon for more yummy recipes for your family.
We love hearing from our readers and followers, so leave us a comment if you'd like. If you don't hear back from us shortly, know that we may not have seen your comment. Feel free to reach out to us by email: [email protected].
Let's Get You Cookin',
Chef Alli
Please Note: We do use referral and affiliate links here for products and services that Chef Alli loves and recommends. I may receive a small compensation when you use these links. This really helps me keep my recipe blog moving forward. Thank you so much!