If you're looking for the perfect party appetizer, guess what?? You've just located it! Everybody seems to love these little boats of heavenly goodness – crispy skins, cheddar cheese, bacon, scallions and sour cream. When you place a platter of these Crispy Potato Skins on the game day buffet, your people are gonna get flat excited, so loooook out!
Crispy Potato Skins Recipe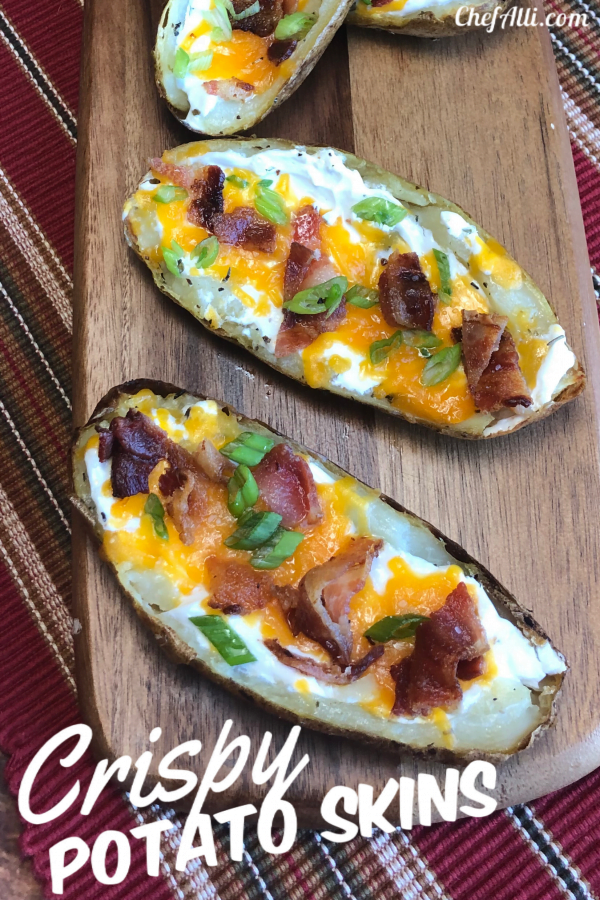 Please Note: We do use referral and affiliate links here for products and services that Chef Alli loves and recommends.
Howdy –
I love me some good potato skins! However, for whatever reason, I don't always think of making them for party appetizers…..possibly because making potato skins on the day of the gathering is too time-consuming??? Probably so.
But since everybody loves Crispy Potato Skins filled to the brim with melted cheddar cheese and bacon, then garnished with sour cream and other toppings, I decided I needed to find a way to set up a system to make it work. Could I possibly make the potato skins ahead of time, popping them into freezer until we wanted to fill and bake them?? I had to check it out to see and learn, and I'm so GLAD I did! (It works like a charm…..)
How to Make Crispy Potato Skins
Choosing and Baking the Potatoes
First things first – I knew I wanted to use russet potatoes. Russet potatoes have a skin that tends to get a little crispier than other potatoes as they bake – such an exceptional quality in a potato, don't you think??
There are a trillion ways to cook a potato and the oven certainly isn't the quickest method, but since we want CRISPY potato skins, I felt like that was definitely the best option….turns out I was exactly right. And, your oven can hold a heck of a lot more potatoes than any microwave or Instant Pot ever thought of, for certain. (Though I do LOVE my Instant Pot, don't get me wrong.)

Do the Majority of the Work for Crispy Potato Skins Ahead of Time!
The most consuming part of making potato skins for a crowd is baking the potatoes, then scooping out the cooked flesh. You have to do this entire process before you can even make the actual potato skins! What to do?
A couple of weeks or a month before your party, go ahead and bake up several potatoes…..just fill up your oven and go for it, getting them all fully baked and beautiful at one time. Once the baked potatoes have cooled a bit, cut them in half lengthwise and use your cookie dough scoop to remove the majority of the cooked potato center, leaving just a thin layer of potato flesh attached to the skins.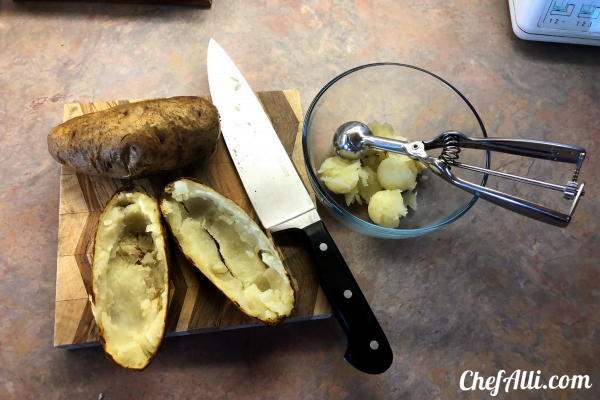 Next, go ahead and let the skins cool completely, then place them into gallon freezer bags and freezer them solid. (I like to put a piece of parchment or wax paper in between the layers if I'm stacking them.)
Then, on the morning of your big party day gathering, pull those bags of tater skins outta the freezer to thaw. Once they are thawed, all you have left to do is place them onto the baking sheets, add your desired toppings, and bake them!
In about 25-30 minutes, you'll have potato skins that are ready to be served to the gang without having to spend tons of time stuck in the kitchen tending to them.
Seasoning the Potato Skins Before You Fill Them
As you know, potato skins are pretty darn un-flavorful, crispy or not! I like to take a little melted butter, add some Italian seasonings to it and then use my silicone pastry brush to brush this seasoned butter ALL OVER each one of the potato skins. Then, before the butter soaks into the potato skins, sprinkle a little kosher salt over each one.
Adding the Toppings
Here's where you creatives can have your way with your potato skins! Anything you can dream up as a topping is likely okay. My peeps are a little on the boring and basic side, so I pretty much stick to sour cream, cheddar cheese, bacon, and scallions, though sometimes I do like to add some pickled jalapeno slices, too.
One of these days, I'm going to make some Crispy Potato Skins that have some leftover grilled or smoked meat, such as Pulled Pork or even salmon, tucked inside. Wouldn't that be good with a little Jalapeno Jelly as a glaze or even some BBQ sauce brushed over the top??? Oh my gosh…..I'm salivating at the very thought of it!
Easy Recipe Tips for Making Perfect Crispy Potato Skins
Do I HAVE to rub my potatoes with oil to bake them? These seems messy. All I can tell you is this….I'm a big believer of rubbing my potatoes with a bit of oil before landing them onto that oven rack. The oil penetrates the skin a bit and seems to help them get crispier as they bake.
Should I bake my oiled potatoes on a baking sheet? Place the oiled potatoes directly onto the oven racks for baking. To be honest, I don't know WHY this actually works so well for making the best Crispy Potato Skins, but it truly does.
How long do I wait after my potatoes are baked before I cut them in half and scoop out the flesh? Once the potatoes are out of the oven, let them cool until you can easily handle them with bare hands. Just keep in mind that you can't wait too long, though. You want the interior flesh of the potatoes to still be tender and warm enough for you to easily scoop that out. As I mentioned earlier, a cookie scoop is the very best tool for this job, really speeding up the whole scooping process.
What should I do with the potato flesh that I scoop out of the potato skins? I like to make Twice Baked Potato Casserole with mine, but you can use them in any recipe that calls for cooked potatoes.
Why do I need to bake the potato skins flesh-side-down first? This helps crisp up the potato skins once more after having been frozen ahead of time. Once you've let the skin-side get crispy on top, flip them over on your baking sheet and THEN add your desired toppings.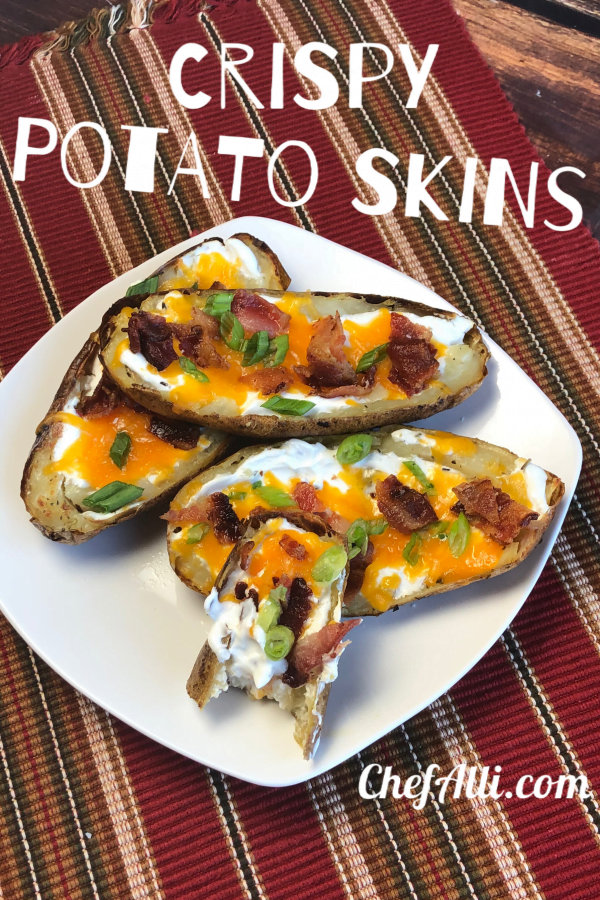 Other Tasty Appetizers Recipes Your Family Will Enjoy –
Printable Crispy Potato Skins Recipe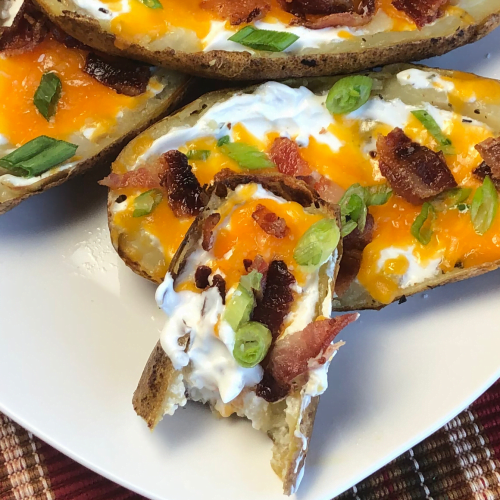 Crispy Potato Skins
If you're looking for the perfect party appetizer, guess what?? You've just located it! Everybody seems to love these little boats of heavenly goodness - crispy skins, cheddar cheese, bacon, scallions and sour cream.
Print
Pin
Rate
Ingredients
10

large Russet potatoes, washed and dried, each one pricked a few good times with a fork

2 -3

Tbs.

vegetable oil

1/4

cup

melted unsalted butter

1

tsp.

Italian seasoning

kosher salt, to taste

2-3

cups

grated sharp cheddar cheese

12

slices

cooked bacon, crumbled

3-4

scallions, sliced

Garnishments, such as sour cream, pickled jalapeños, diced red onions, chopped avocado, etc
Instructions
Preheat the oven to 400 degrees F.

Using your fingers, rub the vegetable oil all over each potato. Place the oiled potatoes onto the oven racks, making sure they are not touching each other. Bake, uncovered, for 45-50 minutes, until the skin is crisped and the potatoes are very fork-tender. Remove the potatoes from the oven and allow to cool until they are able to be handled.

Cut the potatoes in half lengthwise. Use a cookie dough scoop to scoop out the interior of each potato half, leaving approx. 1/4 inch of the potato flesh attached to each skin.

In a small bowl, combine the Italian seasoning with the melted butter, then brush the seasoned butter over both the outside and the inside of the potato skins; sprinkle each one with a bit of kosher salt.

Place the potato skins flesh-side-down on a baking sheet and bake for 5-10 minutes at 400 degrees F., until slightly crispy to the touch. Remove the potato skins from the oven. Add the cheese and bacon to the inside of the potato skins. Return the filled potato skins to the oven and bake 2-3 minutes, or until the cheese is nicely melted. Garnish with desired toppings and serve at once.
Nutrition
Calories:
206
kcal
|
Carbohydrates:
20
g
|
Protein:
7
g
|
Fat:
11
g
|
Saturated Fat:
6
g
|
Cholesterol:
27
mg
|
Sodium:
164
mg
|
Potassium:
489
mg
|
Fiber:
2
g
|
Sugar:
1
g
|
Vitamin A:
211
IU
|
Vitamin C:
6
mg
|
Calcium:
102
mg
|
Iron:
1
mg
We love hearing from our readers and followers, so leave us a comment if you'd like. And, if you don't hear back from us shortly, know that we may not have seen your comment. Feel free to reach out to us by email: [email protected]
Let's Get You Cookin',
Chef Alli
Save