Here's the best Beef Tenderloin Marinade recipe to add flavor, tenderness, and caramelization to any beef tenderloin or beef filet recipe.
The result is a fancy steakhouse beef taste without the big price tag!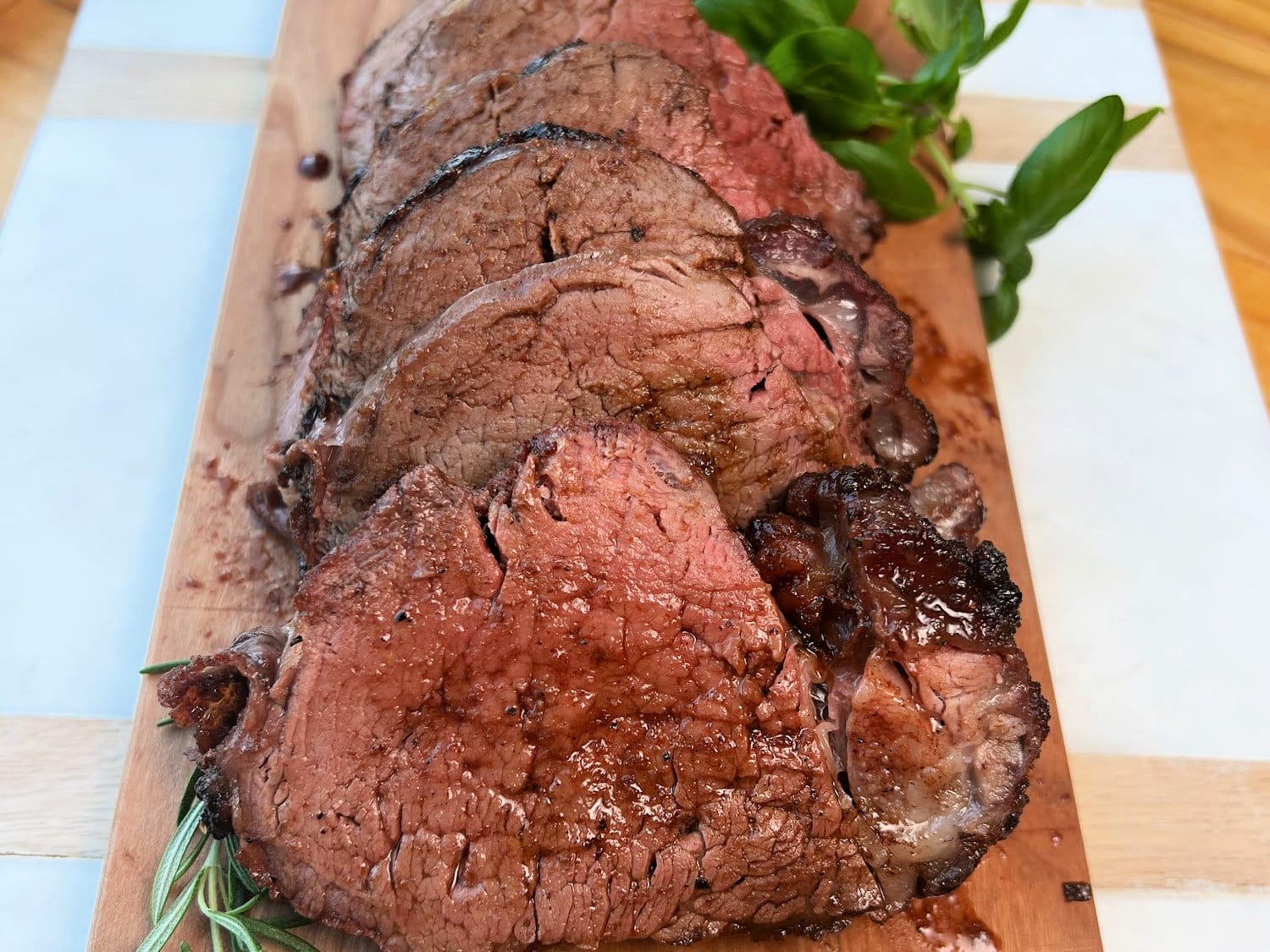 Marinade for Beef Tenderloin
Whether you're grilling, roasting, or searing, this easy beef marinade will transform your beef tenderloin into a mouthwatering masterpiece.
Marinades add flavor, tenderize the meat, and help with that crunch caramelization on the outside of the tenderloin.
Flavor: Marinades give added flavor to beef tenderloin since they contain salt, herbs, spices, and aromatics.
Tenderize: Acidic ingredients in marinades such as vinegar, citrus juice, wine, etc, weaken the surface proteins of the meat helping to tenderize the fibers.
Caramelization: Sugars in the marinade will provide great browning (caramelization) when the beef tenderloin cooks. Yum!
Marinade, Marinate, or Basting?
Before we go further, let's clarify some confusion about the terms used in this article.
A marinade is a sauce in which fish meat or other food is soaked before cooking.
To marinate, or marinating, a beef tenderloin is the act of "bathing" the meat in a flavorful liquid over a period of time.
You may also hear marinating meat, referred to as basting meat.
Basting meat means covering the meat in a liquid. Basting is normally done while the meat is cooking, whereas marinating occurs during cooking.
WHAT TO LOVE
You'll likely already have all the marinade ingredients on hand in your pantry.
Customize the marinade to your personal liking. Prefer a bigger garlic profile? Add more. Want the marinade a bit sweeter? Add extra balsamic vinegar!
Turn the marinade into a flavorful sauce by simmering it in a saucepan until it's reduced and thickened. Serve the sauce drizzled over warm slices of beef tenderloin.
INGREDIENTS NEEDED
Good-quality olive oil or avocado oil – May substitute vegetable or canola oil
Garlic cloves – May substitute granulated garlic, if preferred
Dark brown sugar – May use light brown sugar, if desired
Worcestershire sauce – Don't ask me to pronounce it
Soy sauce – I prefer low-sodium soy sauce
Balsamic vinegar – Use a good quality balsamic vinegar so it's nice and sweet
Spicy brown mustard – May substitute Dijon mustard, if desired
Fresh rosemary – Substitute dried rosemary leaves, if desired. chopped may substitute 2 tsp. dried rosemary leaves, crushed
Black pepper – Freshly ground is always best
HOW TO MARINATE BEEF TENDERLOIN
My favorite way to marinate beef tenderloin has two simple steps.
First, place the marinade into a gallon freezer bag, then add the tenderloin to the marinade in the bag. Press out the air and tightly seal the bag.
Then, place the bag of beef and marinade mixture into a bowl. Make sure the bowl fits the meat and marinade tightly. This helps to hold the marinade directly around the tenderloin at all times.
The bowl is also essential for containing those messy leaks that often happen when a bag fails. Keeping the leaks contained also protects your fridge and its contents from any bacteria in the marinade that might cause cross-contamination.
Keep the bag of tenderloin and marinade on the bottom shelf of your fridge so that if some of the marinade and meat juices escape somehow, they cannot spill down over the entire contents of your fridge.
CAN YOU USE THIS BEEF TENDERLOIN MARINADE ON OTHER CUTS OF BEEF?
This marinade works perfectly with any cut of beef – it would be delicious for fila mignon, oven-roasted beef tenderloin and also tri tip roast. I like to use this marinade for pork tenderloin, as well.
TIPS FOR BEEF TENDERLOIN MARINADE
When using a gallon bag for marinating, use a heavy-duty freezer bag.
Always place the bag of meat and marinade into a bowl so it can't leak all over our refrigerator, exposing it to harmful bacteria and creating a mess.
If you are using a container to marinate, be sure it's a non-reactive container, such as stainless steel, Cambro, glass, or ceramic.
Always marinate beef tenderloin in refrigeration.
When marinating other foods, remember that if you are marinating for an hour or less, the foods can remain in the marinade on the counter at room temperature. If the marinating time is longer than an hour, marinate in the fridge.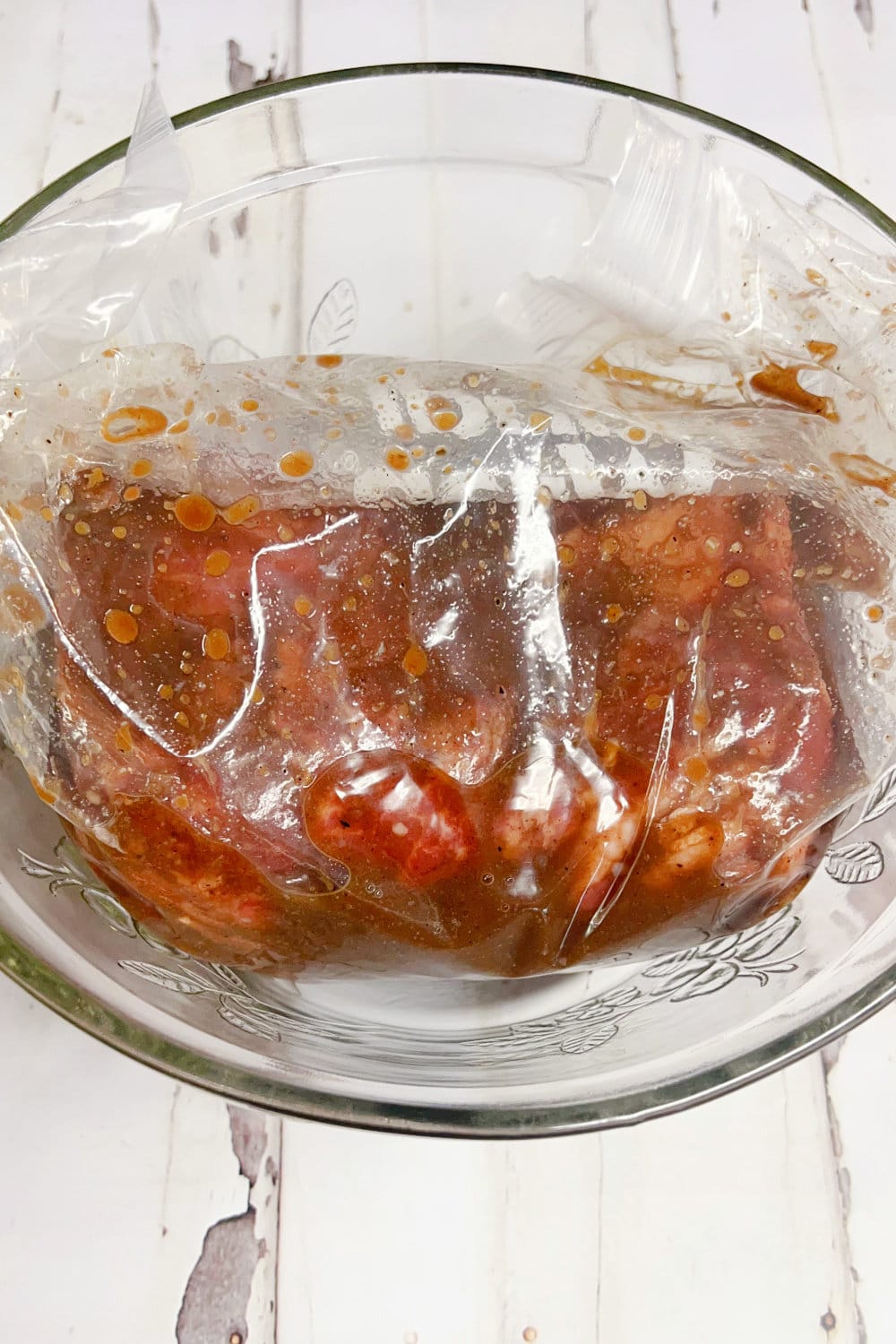 BEST WAY TO MARINATE BEEF TENDERLOIN IS IN A GALLON BAG
I prefer the gallon bag method of marinating beef tenderloin since it's easy to periodically pick up the bag and give the meat a quick marinade massage.
This keeps your marinade well combined throughout the process and helps move it around into all the "nooks and crannies" of the tenderloin.
MARINATING IN A VACUUM SEALER
If you're always in a rush like I am, you may want to consider a marinating vacuum sealer that marinates under pressure. I have found that this tool works very well.
One minute under pressure is about the same as one hour of regular marinating time.
The only drawback to this tool is that larger cuts of meat and the marinade typically won't fit inside.
However, the vacuum sealer works wonders for chicken thighs or breasts, pork tenderloins, or small steaks.
Should I Marinate and add a rub to my beef tenderloin?
I do not suggest marinating and adding a rub to beef tenderloin before cooking. Choose one method for each beef tenderloin or beef cut you make.
Both methods add a lot of flavor and, when used in combination, will overpower your beef flavors.
HOW LONG SHOULD BEEF TENDERLOIN MARINATE?
Because a beef tenderloin is a large piece of beef, I like to marinate it for at least 12 hours, but no more than 18 hours.
CAN YOU MARINATE BEEF TENDERLOIN OVERNIGHT?
Yep! This works great. Why not let the marinade do all the work while you are sleeping? The next day, grill or roast as needed.
CAN YOU OVERMARINATE BEEF TENDERLOIN?
Yes. Over-marinating beef tenderloin can turn your investment into a mushy, ruined mess. As a general rule, marinating past 24 hours is a bad idea.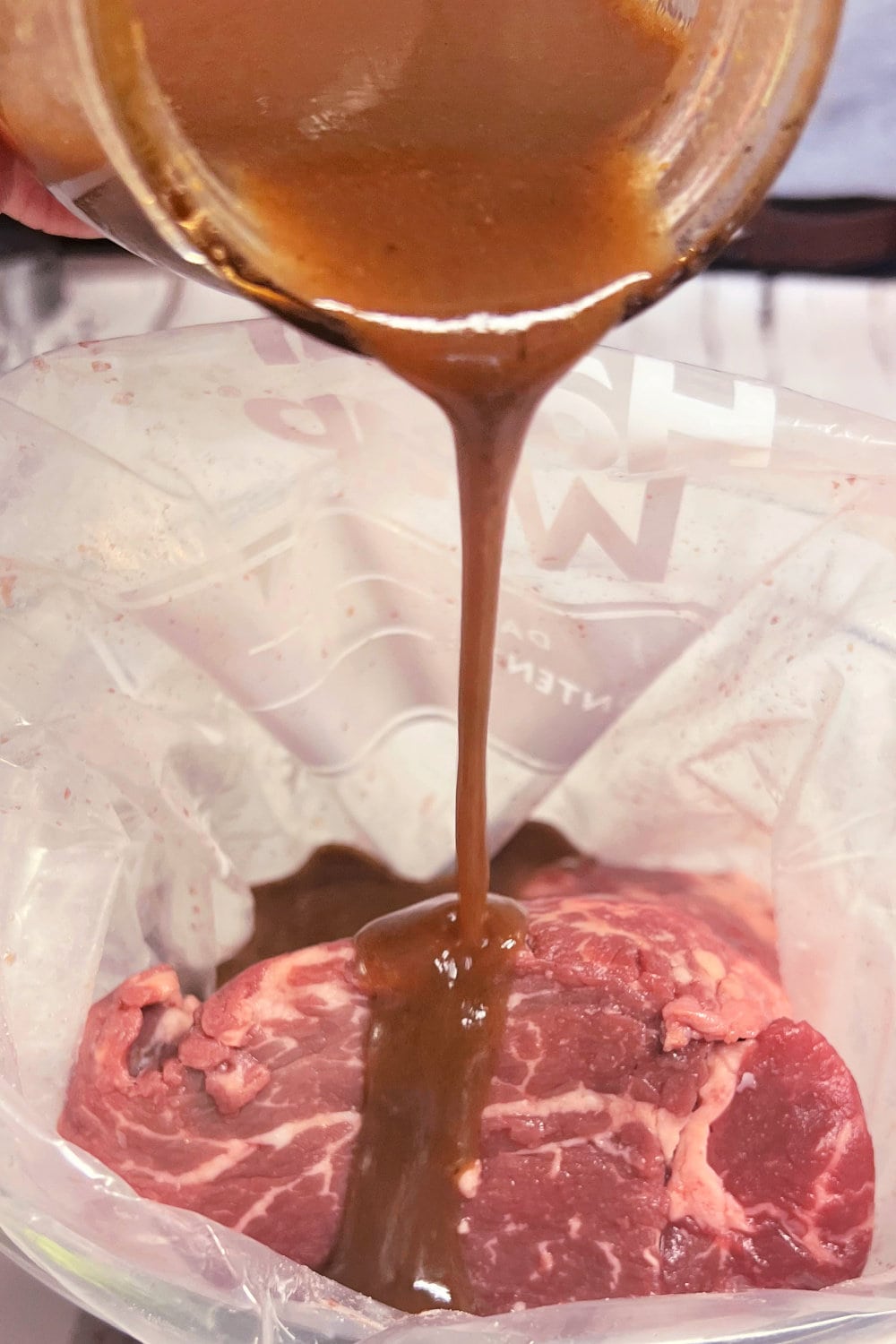 THE 5 BASIC COMPONENTS OF BEEF TENDERLOIN MARINADE: ACIDS, FAT, SALT, FLAVOR AGENTS, TIME
Technically, any combination of ingredients can be called a marinade.
Still, since the true goal is flavor and tenderness, it's important to give the marinade ingredients some thought before randomly tossing them together.
Acids
Examples of acids for marinades are citrus juices, wine, vinegars, buttermilk, and yogurt. Having an acidic component in a marinade is essential since acids help break down proteins allowing flavors in the marinade to penetrate the cell structures of the food more easily.
Fat
Technically, fat does not have to be added to a marinade, but it certainly adds moisture, carries flavor, and works harmoniously with the acids. I prefer marinades that are 2:1 – two parts fat to one part acid. My favorite fats? Olive oil and avocado oil.
Salt
To add salt or to not add salt….such a controversy! So I base it on this: TIME.
If you've got a SHORT marinating window, say under an hour, add some salt. And if you've got a LONG marinating window, say 18-24 hours, add some salt.
Anything in between, no salt added.
Here's why there's no in-between: Sodium draws out precious moisture in foods. A short marinating window only allows the salt to add flavor and doesn't affect moisture.
A long marinating window turns the salt into a brine which draws the moisture out. The good new is there's still time for the salt to reabsorb into the meat.
For marinating times in between, I advise salting the meat just before grilling or roasting.
Flavoring Agents
Choose one or two prominent flavors as the flavor profile of your marinade. Remember that those flavors need to be bold and straightforward since you are choosing just one or two.
The best way to help them do their job is to antagonize them a little – bruise the fresh herbs with a rolling pin, toast the spices with heat in a skillet, and smash the aromatics such as garlic and onions. This gets them "talking!"
Time
Marinades and time go hand in hand. When marinating, time matters! The size of what you are marinating helps determine the marinating time needed.
Large pieces of meat, such as beef tenderloin, typically need 8-12 hours whereas boneless, skinless chicken thighs or seafood can fully marinate in 30 minutes or less.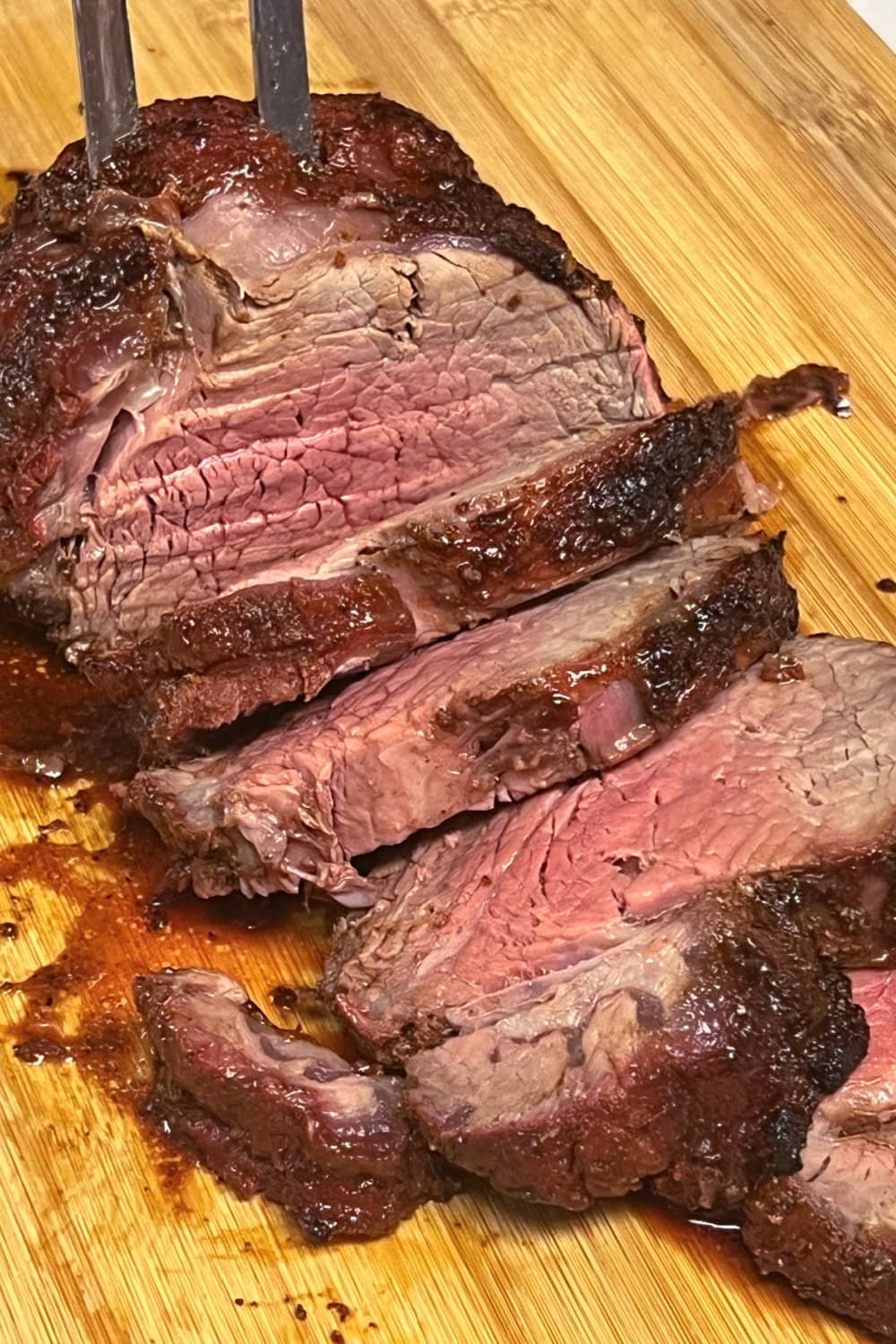 MARINATING BEEF TENDERLOIN SAFELY
Always keep in mind that marinades involve raw meat and bacteria. That said, it is not safe to use a marinade to baste fully cooked meat or as a sauce for fully cooked meat.
Used marinades should always be discarded.
To make a sauce to serve alongside your beef from the marinade, bring the marinade to a boil and then simmer for 3-4 minutes.
Reduce the heat and let the marinade cook until reduced and thickened into a sauce.
The other option is to reserve a portion of the fresh marinade before adding the meat. This can be used for basting cooked foods.
WHAT CAN YOU SERVE WITH MARINATED BEEF TENDERLOIN?
Potatoes of any type are classic side dishes for beef tenderloin. Our Creamy Mashed Potatoes Supreme compliment beef well, as do Cheese and Bacon Skillet Potatoes. If you'd like a side dish with vibrant colors, I really like Crispy Bacon and Sweet Potato Hash with beef tenderloin.
MORE FAVORITE RECIPES TO ENJOY
BOTTOM ROUND BEEF ROAST – Here's the roast that's likely the best dinnertime value in the entire meat case! Bottom Round Beef Roast is an economical cut of beef that simmers low and slow until it's fall-apart tender and juicy.
INSTANT POT EYE OF ROUND ROAST – This recipe shares all the cooking secrets you need to make eye of round roast beef that's tender, juicy, medium-rare and gorgeous.
HOMEMADE BOTTOM ROUND ROAST JERKY – This jerky has just the right flavor combination of savory, smoky, and salty-sweetness…with a bit of kick added, if you prefer.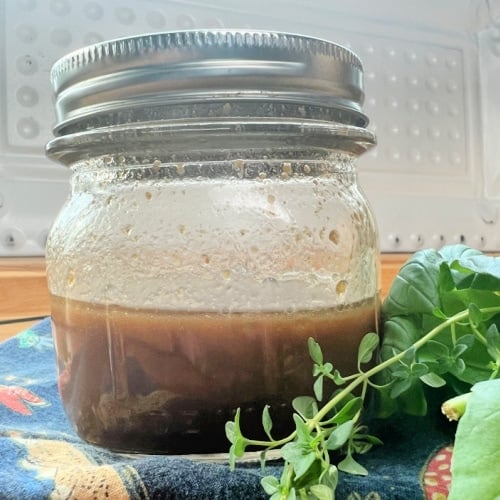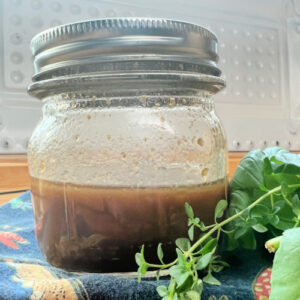 Easy Beef Tenderloin Marinade
Here's the best homemade Beef Tenderloin Marinade recipe to add flavor, tenderness, and caramelization to any beef tenderloin or beef filet recipe.
Print
Pin
Rate
Ingredients
2/3

cup

good olive oil

2

cloves

garlic

crushed

1

Tbs.

dark brown sugar

1/4

cup

Worcestershire sauce

1/4

cup

soy sauce

1/4

cup

balsamic vinegar

2

Tbs.

spicy brown mustard

2

Tbs.

fresh rosemary chopped

may substitute 2 tsp. dried rosemary leaves, crushed

1

tsp.

black pepper
Instructions
In a bowl, combine all the ingredients. Add the beef tenderloin to a gallon freezer bag; pour the prepared marinade over the top into the bag; seal tightly.

Place the bag of beef tenderloin with marinade into a large mixing bowl and into the fridge. Let the beef tenderloin marinate overnight or 10-12 hours.

When you are ready to prepare the beef tenderloin, remove it from the marinade and pat the exterior of the meat dry with paper towels.

Cook the tenderloin as desired, either on the grill or roasted in the oven.
Notes
Marinade must be discarded unless you prefer to simmer it in a saucepan until reduced down into a sauce.
Nutrition
Calories:
183
kcal
|
Carbohydrates:
4
g
|
Protein:
1
g
|
Fat:
18
g
|
Saturated Fat:
3
g
|
Polyunsaturated Fat:
2
g
|
Monounsaturated Fat:
13
g
|
Sodium:
561
mg
|
Potassium:
113
mg
|
Fiber:
0.5
g
|
Sugar:
2
g
|
Vitamin A:
28
IU
|
Vitamin C:
1
mg
|
Calcium:
21
mg
|
Iron:
1
mg