Looking for a jiffy casserole that can feed a crowd? Here it is! This Tasty Tex Mex Chicken Cornbread Casserole is comfort food at it's finest – classic, easy, and hearty.
Sporting a cornbread topping (kind of like cornbread stuffing) along with Tex Mex seasoning to give it a kick, this chicken casserole can be baked in a 9 x 13 pan or a large cast iron skillet.
Tasty Tex Mex Chicken Cornbread Casserole Recipe

Howdy! Chef Alli Here. Let's Get You Cookin'….Shall We?? 🙂
I just made this Tasty Tex Mex Chicken Cornbread Casserole once AGAIN for my family – we go crazy for it, especially when it's garnished with our favorite toppings such as shredded cheese, green chilies, sour cream, salsa and so on.
This casserole is great made in my 12″ cast iron skillet to serve it as a rustic, country-style weeknight meal. I appreciate how cast iron can transfer straight from the oven to the dinner table and also how the cast iron skillet helps keep this casserole warm throughout the meal.
What Ingredients Will I Need for Making This Jiffy Cornbread Stuffing Casserole Made With Chicken?
2 boxes Jiffy Corn Muffin Mix
It's good keep a couple of Jiffy Corn Muffin Mixes on hand in the pantry for recipes like this one with a cornbread topping as well as just for making corn muffins as a side dish for soups – especially this Tex Mex Corn Chowder and for Instant Pot Ham and Beans!
Sweet corn, Granulated Sugar, Green Chilies, Tex Mex Seasoning, Milk
These are the ingredients you will add to the corn muffin mix to make the cornbread topping for this shredded chicken and cornbread casserole. Add the milk as needed to make the cornbread mixture nice and thick.
You'll need about 3 cups of cooked shredded chicken – I cooked 3 chicken breasts for this recipe and it worked just fine.
I try to keep a couple bags of frozen mixed veggies in my freezer, especially since I make this recipe a lot as well as traditional chicken pot pie.
Unsalted Butter, Dehydrated Onion Flakes, Chipotle Sauce or Minced Chipotles in Adobo, All-Purpose Flour, Milk, Chicken Broth, Kosher Salt and Freshly Ground Black Pepper, to taste
These ingredients are what you will cook in a skillet to make the white sauce for this recipe, very much like what you'd make for a chicken pot pie. A white sauce is just about like making gravy – you want it to be creamy and lump-free.
What Tools Will I Find Helpful for Making This Tasty Tex Mex Cornbread Casserole?
12″ cast iron skillet – There's nothing better for cooking than cast iron. It's economical, holds heat very nicely, and is super versatile since it can go from stove top to oven to grill or smoker and back again!
Flat silicone whisk – This tool is a must-have for making ultra-smooth gravies and white sauces. Much unlike a balloon whisk (used for mixing in bowls) a flat whisk allows you to get right up to the very edge of your skillet and is great for smoothing out any lumps that might happen to find themselves into your gravy!
9 x 13 baking dish/casserole dish – I prefer glass or ceramic dishes or metal pans, but use what you have on hand. I like these 9 x 13 dishes best for baking.
Batter bowl – Super hand for making pancakes and a whole lot of other things in the kitchen!

Easy Recipe Tips for Making Tasty Tex Mex Chicken Cornbread Casserole
If I don't feel like cooking chicken for this recipe, can I use the meat from a rotisserie chicken?
Totally and it works great. I usually use all the meat pulled from the rotisserie chicken for this recipe, but if you'd like to just use the breast meat, that works fine, as well.
Sometimes I'll purchase two rotisserie chickens at the same time and pulled the meat off both of them while I'm at it. Then, I freezer the meat for a quick chicken meal later on – super handy.
I don't have chicken breasts on hand for making this recipe, but I do have chicken thighs in my freezer. Can use substitute chicken thighs instead?
Absolutely. Sometimes I purposefully use chicken thighs in this recipe and nobody even notices at my house. I love chicken thighs because they are so much cheaper than chicken breasts at the grocer and I think the dark meat has tons more flavor!
Is it okay to cook my chicken breasts in the Instant Pot for this recipe, or do they need to be cook in the oven?
Any way you want to make the cooked chicken is just fine, as long as you cook it until it's a safe internal temperature and fully cooked (165 degrees F. at the center) and also fork-tender.
You can cook the chicken in broth in a covered casserole dish in the oven (I use 325 degrees F. until the chicken is fully cooked, 25-30 minutes or so), in broth in a covered skillet on your stove top until fully cooked, or if you use the Instant Pot, in broth for 6-8 minutes (depending on how many breasts you have in the Instant Pot).
I usually use my Instant Pot for this since it's so fast. Be sure to use a natural release when cooking any meats in the Instant Pot (including chicken) so that the protein fibers of the meat can rest a bit before you test it to be sure it's fork-tender. If you rush the meat and do a quick release instead, this can make the chicken breasts rather tough, chewy, and rubbery. (Ooops!)
Do I have to use certain mixed vegetables in this cornbread casserole?
Nope. Sometimes I just make my own blend by simply using what I have on hand in my freezer – green beans, corn, carrots, even peas! All total, you'll need about 3-4 cups, but you can use more or less, as desired.
I don't have a 9 x 13 pan, but I do have an 8 x 12 casserole dish. Will this size work ok?
It sure will and I've used that size baking dish many times for this recipe. Just keep in mind that because it's smaller in size, the casserole will end up a lot thicker in depth and because the cornbread topping is also now thicker, you'll want to cook the casserole a few extra minutes so the cornbread topping is fully cooked throughout.
What is a chipotle, exactly?
So a chipotle is a smoked jalapeno pepper. I don't have time to be smokin' any jalapenos, do you? I didn't think so.
Thankfully for both of us, there's such a thing as canned chipotles in adobo sauce. You'll find these in the Hispanic section of your local grocer and I always keep a couple cans of these in my pantry so I can pull them out and throw those suckers into my food processer and blend them until smooth.
Then, I spoon the chipotle/adobo puree into a mason jar and store it in my fridge. You'll use it just like any other condiment for all kinds of recipes! It will add not only spiciness to your recipe, but also a lot of smoky goodness, as well.
I've never made a white sauce before and it seems intimidating to me. Do you have any tips that can help me?
There are two big things to keep in mind when making a white sauce or gravy. First, be sure that when you add the flour to the melted butter (or any hot fat, such as oil or bacon drippings in the skillet) be sure to let that flour cook for a bit (say 1-2 minutes) in the butter so the flour can brown, making what is known as the "roux". This is a very important step, ensuring that your gravy doesn't taste "pasty" – the flour needs to cook!
Secondly, when you want to add the liquid to finish the white sauce or gravy, first remove it from the heat to a cooler part of the stove top. Now, whisk in the liquids, a little at time. Remove the pan from the heat, helps you be able to whisk in the liquids much more easily since the heat isn't speeding up the cooking of the white sauce/gravy making it impossible to stay ahead of lumpy gravy. I can't remember who shared this tip with me, but I do it every single time and it really makes a difference!
Why does the last step of this recipe instruct to let the casserole rest 10 minutes before serving?
If you serve this casserole straight from the oven, there's not enough time for the white sauce to thicken up and the casserole will seem rather runny on the plates when you serve it.
I discovered that letting the casserole rest a bit makes it much better, both in flavor and in consistency.

Other Casserole Recipes to Enjoy –
Printable Tasty Tex Mex Chicken Cornbread Casserole Recipe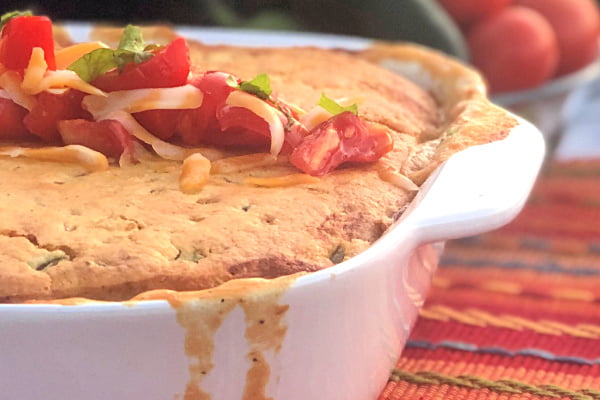 Tasty Tex Mex Chicken Cornbread Casserole
Looking for a jiffy casserole that can feed a crowd? Here it is! This Tex Mex Chicken Cornbread Casserole is comfort food at it's finest - classic, easy, and hearty....all in a 9 x 13 pan. My family digs this casserole for an easy weeknight meal.  #TexMex #chicken #potpie #casserole #easy #jiffy #comfortfood #hearty 
Print
Pin
Rate
Ingredients
3

cups

cooked chopped chicken (I used 3 large boneless, skinless chicken breasts cooked until tender)

3-4

cups

frozen mixed vegetables, thawed slightly

1/2

cup

unsalted butter

1

tsp.

dried onion flakes

1

tsp.

chipotle sauce or minced chipotles

1/3

cup

all-purpose flour

2

cups

milk

1-2

cups

chicken broth

kosher salt and freshly ground black pepper, to taste

2

boxes

Jiffy corn muffin mix, 8.5 oz. each

1

cup

frozen sweet corn, thawed (may substitute drained canned corn, if preferred)

1

Tbs.

granulated sugar

4

oz.

can diced green chilies

1-2

tsp.

of your favorite Tex Mex seasoning blend

milk, to stir into the cornbread mixture just to make it a nice, very thick consistency

sour cream, salsa fresca, cilantro, shredded cheese, as desired for toppings/garnishments

optional
Instructions
Preheat the oven to 350 degrees F.

In a large skillet over medium high heat, melt the butter, adding the onion flakes. Whisk the flour into the butter, allowing flour to cook with the butter for 1-2 minutes, until it's rather tan in color. Remove the skillet from the heat, then whisk in the chipotle sauce, and 2 cups of milk. Add the broth, a little at a time until the sauce is smooth and nicely thickened, whisking constantly. (Keep in the mind that this sauce will thicken a bit more as it cools.)

Meanwhile, place the vegetables and chopped, cooked chicken into a greased 9 x 13 baking dish. Pour the prepared sauce from the skillet over the vegetables and chicken.

In a batter bowl, place both of the cornbread mixes along with the corn, sugar, green chilies, and Tex Mex seasoning; add just enough milk, a little at time, to make the cornbread batter a nice, thick consistency. Pour the prepared batter over all the ingredients in the 9 x 13 pan.

Bake the casserole, uncovered, on the center rack of the oven for 35-40 minutes or until the cornbread topping is cooked throughout and golden brown on top; a knife just inserted into the center of the cornbread topping should come out clean. (Don't insert the knife past the cornbread topping or you will get down into the creamy part of the casserole and this will definitely stick to your knife, making you think the cornbread topping isn't fully cooked/done.)

Let the casserole rest for 10 minutes before serving; garnish as desired.
Nutrition
Calories:
460
kcal
|
Carbohydrates:
52
g
|
Protein:
18
g
|
Fat:
20
g
|
Saturated Fat:
9
g
|
Cholesterol:
62
mg
|
Sodium:
643
mg
|
Potassium:
396
mg
|
Fiber:
6
g
|
Sugar:
15
g
|
Vitamin A:
3319
IU
|
Vitamin C:
10
mg
|
Calcium:
107
mg
|
Iron:
3
mg
Please feel free to leave us a comment – we love hearing from our readers and followers! If you don't hear back from us here, just know we may have somehow missed your comment or question. Do reach out to us by email: [email protected]. We will get right back to you.
Let's Get You Cookin',
Chef Alli
Please Note: We do use referral links for products and services that Chef Alli loves and recommends.