My guys love this one-pan Tex Mex Beef and Rice Casserole with Chipotle Crema meal! I love having another recipe that turns ground beef into a tasty masterpiece that's easy, flavorful, and fast.
Tex Mex Beef and Rice Casserole with Chipotle Crema Recipe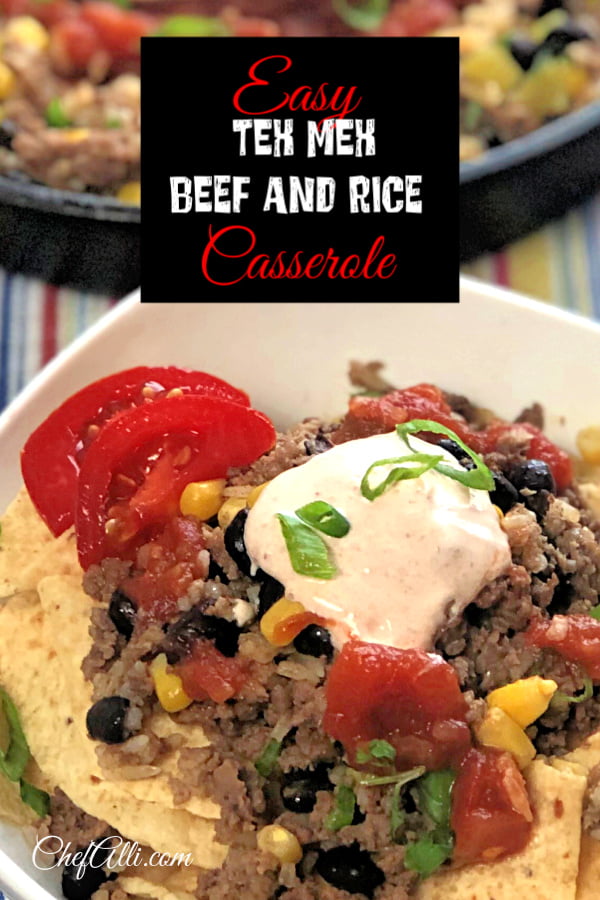 Howdy! Chef Alli Here. Let's Get You Cookin'…..Shall We?? 🙂
We recently fell in love with the Chunky Chicken Burrito Skillet Meal. That recipe got me to thinking about how I should create a dish that was similar, but one that used ground beef instead of chicken. Well, here it is….drum roll, please!
My family seems to love any and all Tex Mex flavors, and we've always got tons of ground beef in the freezer to use up since we raise cattle for a living.
This cheesy beef and rice casserole is an easy dinner recipe that includes lean ground beef, black beans, rice, spices, tomatoes, green chilies and cheese, topped with a dreamy Chipotle Crema, all piled into one pan.
I'm thankful to have another recipe that allows me to use ground beef for more than just meatloaf and tacos….Hallelujah!
Let's Talk About the Ingredients You'll Need for Making Mexican Beef and Rice Skillet
Our gound beef is super lean and I like that. Always make sure you start your ground beef off in a preheated skillet. When the ground beef hits that skillet, you want to hear SIZZLE! This will ensure that your beef gets good browning and that's what leads to lot of flavor.
Taco seasoning and dehydrated onion flakes
Sometimes I make my own by combining equal parts of chili powder, cumin, granulated onion, and granulated garlic – easy peasy! Use what you have on hand.

My original recipe called for a diced onion, but to make this an easier and faster meal to make, I opted for dehydrated onion flakes since you can just toss those right in from the cabinet and keep moving!
Chicken broth and Jasmine or Basmati Rice
If you don't have chicken broth on hand, for creating this recipe, you could certainly just use water. I always opt for chicken broth (or vegetable broth) when cooking vegetables, rice or pasta since it adds more flavor.

Also, this recipe calls for Jasmine or Basmati rice because I've fallen in love with both of these rices. They cook very quickly and always turn out with such a nice texture, much unlike plain long grain white rice. (Basmati or Jasmine rice cooks in just 3 minutes in my Instant Pot, too, when I want to have plain rice as part of a meal!)
Black beans, diced tomatoes, green chilies, chipotle peppers, and sweet corn
Here's were your taco rice casserole gets really pretty! These ingredients provide lots of good flavor, but also a lot of good color and contrast to this skillet meal – it looks like a Mexican Fiesta!
Easy Recipe Tips for Making Mexican Beef and Rice Casserole
What is a chipotle, exactly?
So a chipotle is a smoked jalapeno pepper. Now, I don't have time to be smokin' any jalapenos, do you? I didn't think so. Thankfully for both of us, there's such a thing as canned chipotles in adobo sauce.

You'll find these in the Hispanic section of your local grocer and I always keep a couple cans of these in my pantry so I can pull them out and throw those suckers into my food processer and blend them until smooth. Then, I spoon the chipotle/adobo puree into a mason jar and store it in my fridge.

You'll use it just like any other condiment for all kinds of recipes! It will add not only spiciness to your recipe, but also a lot of smoky goodness, as well.
What's so great about cooking in a cast iron skillet?
I love cast iron, in spite of the fact that it's super heavy. But, that heavy cast iron is exactly what makes it a superb cooking source! Cast iron holds the heat well and gives superior browning to anything your cooking – ground beef, steaks, salmon, whatever.

I also like to serve from a cast iron skillet. Just like with this recipe, it's an all-in-one skillet meal and when it's time to serve dinner, I can just place the entire skillet into the center of my table and tell the guys to dig in!
What size of cast iron skillet is ideal?
I prefer a 12″ cast iron skillet that's a bit on the deep side. This gives you ample space for stirring whatever you're cooking without flinging it all over your stove top as you cook. I use my 10″ cast iron skillet a lot for side dish recipes. And, if you ever want to make fried chicken, you can fit an entire chicken into a 12″ cast iron skillet easily.
What if I don't have a cast iron skillet? Can I use something else to bake this casserole in?
Great question, and yes you sure can. I'd opt for a 9 x 13 casserole dish for this recipe, or any deep baking dish of good size. This recipe makes a lot!
Does this recipe reheat well?
Sure does, and we love having the leftovers. When you reheat this taco rice casserole, you may need to add some chicken broth to make it nice and moist once more since the rice has a way of soaking up much of the moisture somehow.
If I don't have Basmati or Jasmine rice on hand, can I substitute regular long grain white or brown rice?
Yep. Just know that you'll likely have to cook this skillet meal a little longer to get the rice nice and tender, plus you may have to incorporate more chicken broth to keep everything moist – long grain rice of any kind really soaks up the broth!

Other Recipes to Enjoy –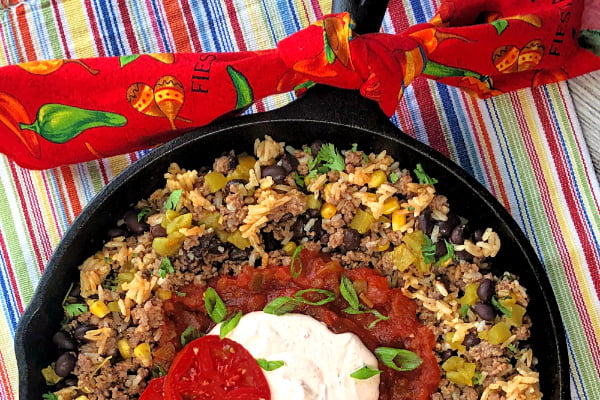 Tex Mex Beef and Rice Casserole
My guys love this one-pan Tex Mex Beef and Rice Casserole meal! I love having another recipe that turns ground beef into a tastmasterpiece that's easy, flavorful, and fast. I made this in my cast iron skillet, but it also works great baked in a casserole dish. #TexMex #GroundBeef #EatBeef #BeefAndRice #Easy #Fast #SkilletMeal #OnePanMeal


Print
Pin
Rate
Ingredients
2

lbs.

lean ground beef

1

Tbs.

vegetable oil

3

Tbs.

taco seasoning

1

tsp.

kosher salt

1

Tbs.

dehydrated onion flakes

1 1/2

cups

chicken broth

1

heaping cup jasmine or basmati rice

15

oz.

black beans, drained and rinsed

2 - 14.5

ounce

cans fire roasted diced tomatoes

2 - 4

oz.

cans green chiles

1-2

tsp.

minced chipotle peppers, or chipotle sauce, depending on how spicy you prefer!

2

cups

frozen sweet corn, thawed

2

cups

colby jack cheese, shredded

sliced scallions and chopped cilantro, as garnishes
Chipotle Crema
1

cup

sour cream

1-2

tsp.

minced chipotles in adobo
Instructions
In a large cast iron skillet, over medium high heat, heat the vegetable oil; when the oil is nicely hot, add the ground beef, crumbling it as it cooks until no pink remains. (The safe internal temperature for ground beef is 160-165 degrees F.)

Add the taco seasoning, kosher salt, and dehydrated onion, continuing to cook for an additional 1-2 minutes.

Add the chicken stock, rice, black beans, diced tomatoes with juice, green chiles, and minced chipotles, stirring to combine.

Cover and allow to cook for 15-20 minutes, stirring half way through to prevent the rice from sticking to the bottom of the skillet.

Stir in the frozen corn, cook for an additional 2 minutes, then top with the colby jack cheese.

Serve at once with optional garnishes and a good dollop of Chipotle Crema.
Nutrition
Calories:
467
kcal
|
Carbohydrates:
24
g
|
Protein:
38
g
|
Fat:
25
g
|
Saturated Fat:
14
g
|
Cholesterol:
117
mg
|
Sodium:
1168
mg
|
Potassium:
792
mg
|
Fiber:
6
g
|
Sugar:
5
g
|
Vitamin A:
1019
IU
|
Vitamin C:
16
mg
|
Calcium:
316
mg
|
Iron:
5
mg
We love hearing from our readers and followers, so leave us a comment if you'd like. And, if you don't hear back from us shortly, know that we may not have seen your comment. Feel free to reach out to us by email: [email protected].
Let's Get You Cookin',
Chef Alli
Please Note: We do use referral and affiliate links here for products and services that Chef Alli loves and recommends. I may receive a small compensation when you use these links. This really helps me keep my recipe blog moving forward. Thank you so much!