Rustic Tomato and Cheese Pizza Pie
You simply have not lived until you've experienced hot and bubbly Rustic Tomato Pizza Pie! A casual, free-form biscuit-crust pizza that requires lots of homegrown tomatoes, goat cheese, and fresh basil this dish is unlike any other pizza.

Please Note: We do use referral and affiliate links here for products and services that Chef Alli loves and recommends.
Howdy! Chef Alli Here. Let's Get You Cookin'….Shall We? ?
Made with an easy-to-make biscuit crust, Rustic Tomato Pizza Pie is a free-form pie that I love to make because it's so casual in nature. It's most delicious when it's eaten directly from the oven, but does reheat well in the oven or air fryer.
How to Make Rustic Cheese and Basil Pizza in 4 Easy Steps –

**Print the full recipe from the RECIPE CARD at the bottom of this post

Make and roll out the biscuit dough on your counter top; add the sliced tomatoes and goat cheese topping.
Fold the dough up and over making your "pizza pie"
Bake in the oven until golden brown and bubbly.
Let the pizza rest for 10 minutes then dig in.
So. What Ingredients Will You Need to Make Rustic Tomato and Cheese Pizza Pie?
Please don't even bother to make this savory pie with store-purchased tomatoes. Your work will be in vain and I know from personal experience! This is a pie you'll want to make with homegrown tomatoes only, doing so until every last homegrown tomato is gone and you're sick of Tomato Pizza Pie. After all, you won't be enjoying another one until NEXT summer.
Be sure to find a goat cheese that's nice and mild, not bitter or overpowering. I frequently stock up on goat cheese at Aldi. They have a wonderful 4 oz. goat cheese log that's got a wonderful, mild flavor and is only $1.99. Total bargain.
I prefer Hellman's Mayonnaise because that's what my Mom and both of my Grandmother's always used. This is another ingredient that adds some tangy-ness to the pizza filling.
Using fresh basil in this pie is almost a MUST. I love to grow basil in my herb garden every summer and it's is super prolific so I've always got tons on hand for this tomato pie. In a pinch, you can use dried basil, but it's not nearly as flavorful, so be warned.
Freshly Ground Black Pepper
Pepper is a spice, after all, so always grind it fresh using your favorite pepper grinder.
Flour, baking powder, sugar, baking soda, salt, butter, buttermilk
These are the ingredients that comprise the biscuit dough for making the crust for the tomato pie. I love how tangy this biscuit dough is! The buttermilk is what lends that flavor and I think it really compliments the tomatoes well. This dough will come together quickly and easily and will be slightly sticky in texture.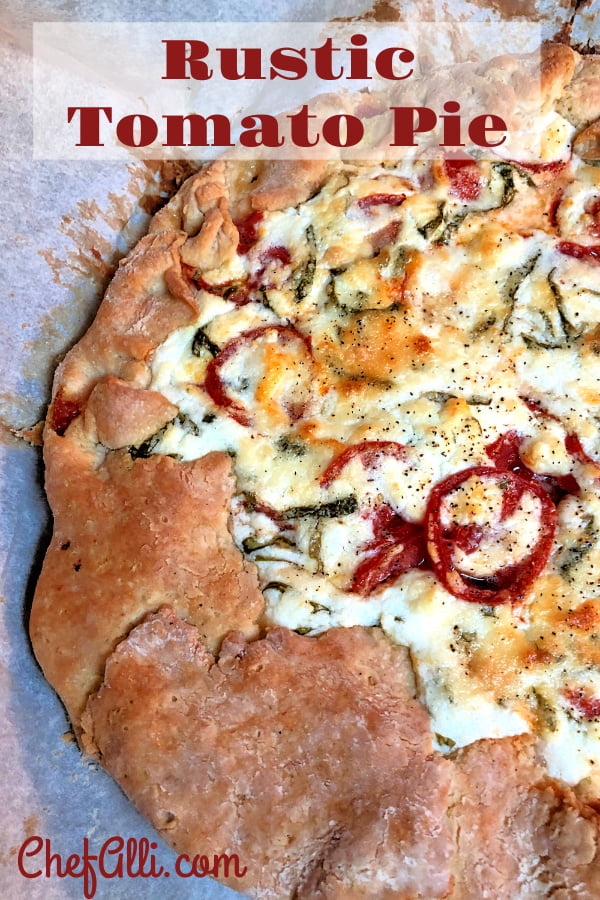 Recipe Tips for Making Cheese and Tomato Pizza
Why does this recipe call for a flour/cornmeal mixture for sprinkling beneath the dough and then on top of it?
I like the combination of flour and cornmeal for this pie. It works great to keep the dough from sticking to the parchment paper as you roll it out and it is also an important layer over the top of the dough, beneath the layer of tomatoes, too.
This layer of the flour/cornmeal mixture beneath the tomatoes really helps absorb any juices that the tomatoes happen to release, keeping the bottom crust from getting soggy. Don't skip this step!
If I don't have buttermilk for making the biscuit dough, is there something else I can substitute?
Sure thing. Add 1 tablespoon cider vinegar to 3/4 cup milk and let it rest for 10 minutes. The vinegar will curdle the milk, giving it a similar flavor to the buttermilk. This works great. I don't always have buttermilk on hand, either!
My homegrown tomatoes are always so juicy. Will that make the crust soggy, and is there a technique I use ahead of time to keep them from releasing to much juice?
I've had this problem in the past, too. I slice my tomatoes and then lay them on paper towel-lined platters, sprinkling them with a bit of kosher salt. The salt pulls the moisture from the tomato slices which then is absorbed into the paper towels.
The other option is slicing the top of the tomato off until you can see pockets of seeds down inside the tomato; turn the tomato upside down over the garbage disposal and gently squeeze letting the seeds and juice drip out.
Can I use my food processor to cut the butter into the flour mixture for making the biscuits instead of using a pastry blender by hand?
Yes, you can and here's how I do it: Place the flour, baking powder, sugar, baking soda, and salt into the food processor bowl; lock the lid into place and give the dry ingredients a quick process to combine them. Cut the chilled butter into chunks, then drop the pieces into the food processor bowl with the dry ingredients.
Using the pulse button on your food processor, pulse the butter into the dry ingredients until the mixture looks like small peas. Dump this mixture into a large mixing bowl, then add the buttermilk and mix just until blended. Don't over mix or your crust will be tough and chewy.
Why will the crust get tough and chewy if you over mix the biscuit dough?
Over mixing the dough causes it to release the gluten proteins. When this happens it will give the baked product (the crust) a tough chewy texture instead of the tender crust we prefer.
Combine the buttermilk with the dry ingredients just until the dough comes together. It may appear as though it needs to be mixed further, but resist the urge!

Other Great Summer Recipes to Enjoy –
Printable Rustic Tomato and Basil Cheese Pizza Recipe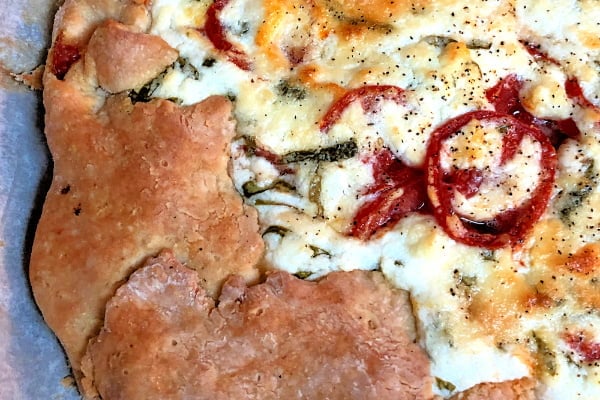 Rustic Tomato Pizza Pie
You have not lived until you've experienced Rustic Tomato Pie, and I'm not even kidding! One of our all-time favorite summer treats when homegrown tomatoes are in abundance, this tomato pie is like eating a heavenly cheese and tomato pizza; the combination of sweet tomatoes with the fresh basil and the goat cheese topping is completely mouth-watering.
#Tomatoes #Basil #GoatCheese #Summer
Print
Pin
Rate
Ingredients
1/4

cup

all-purpose flour

1/4

cup

cornmeal

1 1/2 - 2

lbs

nicely ripened homegrown tomatoes, sliced 1/4" thick, drained a bit (approx. 5-6 large tomatoes)

4

oz.

creamy goat cheese, softened

1

cup

cottage cheese

1/2

cup

Hellman's mayonnaise

1/2

cup

grated Parmesan

1/4

cup

chopped fresh basil, may substitute 1/2 tsp. dried basil leaves

Freshly ground pepper, to taste
Biscuit Dough
1 3/4

cups

all-purpose flour

2

tsp.

baking powder

1

tsp.

granulated sugar

1/2

tsp.

baking soda

3/4

tsp.

kosher salt

6

Tbs.

cold unsalted butter, cut into 1/2-inch pieces

3/4

cup

buttermilk (I usually just substitute 3/4 cup milk that has been combined with 1 Tbs. cider vinegar)
Instructions
Make the Biscuit Dough
Preheat the oven to 425 degrees F.

In a small bowl, combine the flour and the cornmeal together; reserve.

In a large mixing bowl, combine flour, baking powder, sugar, baking soda, and salt. Using a pastry blender or a knife and fork, cut the butter into the flour mixture until the mixture resembles coarse meal in texture.

Stir in the buttermilk, just until the flour mixture is moistened, taking care not to over mix. (The dough should just come together and should be rather sticky.) Knead the dough 5-6 times, then let it rest for 5 minutes.

Sprinkle a large sheet of parchment paper with half of the flour/cornmeal mixture. Place the prepared biscuit dough onto the prepared sheet of parchment paper, patting the dough into a 5-inch disc.

Using a floured rolling pin, roll the biscuit dough into a very large circle (approx. 16-18" in size)until it's about 1/4-inch in thickness. Add a bit of the cornmeal/flour mixture beneath the edges of the dough as needed to keep it from sticking to the parchment paper as you roll it out.
Assemble the Pizza Pie
Slide the parchment sheet holding the prepared dough onto a large, rimmed baking sheet. Sprinkle the dough with the remaining half of the flour/cornmeal mixture, leaving a 1-inch border. Arrange the sliced tomatoes over the top of the flour/cornmeal mixture, slightly overlapping the tomatoes as you go.

Meanwhile, combine the goat cheese, mayo, cottage cheese, Parmesan, and basil  in a bowl. Dollop the prepared goat cheese mixture in generous spoonfuls over the sliced tomatoes, then smooth the dollops out into an even layer.

Fold the dough over the edge of the tomatoes, pleating the dough where needed to make folds, working your way around the edge. Season the tomato pie with freshly ground black pepper.

Bake the tomato pie, uncovered, on the lower oven rack until the bottom crust is a deep golden brown, approx. 8-10 minutes; move the pizza to the middle oven rack, baking an additional 10-15 minutes until the top crust is golden brown and the filling is hot and bubbly all throughout.

Let the tomato pie cool on a wire rack for 10 minutes before slicing into pie-shaped wedges to serve.
Nutrition
Calories:
384
kcal
|
Carbohydrates:
40
g
|
Protein:
14
g
|
Fat:
19
g
|
Saturated Fat:
10
g
|
Polyunsaturated Fat:
3
g
|
Monounsaturated Fat:
5
g
|
Trans Fat:
0.4
g
|
Cholesterol:
44
mg
|
Sodium:
790
mg
|
Potassium:
602
mg
|
Fiber:
4
g
|
Sugar:
8
g
|
Vitamin A:
2239
IU
|
Vitamin C:
27
mg
|
Calcium:
225
mg
|
Iron:
3
mg
Thanks for visiting! Please return soon for more recipes your family will enjoy.
We love hearing from our readers and followers, so leave us a comment if you'd like. And, if you don't hear back from us shortly, know that we may not have seen your comment. Feel free to reach out to us by email: [email protected].
Let's Get You Cookin',
Chef Alli