These Tomato Crostini combine the crispy/chewy texture of the bread with the creamy feta spread and the luscious vine-ripened tomatoes with fresh basil.
Tomato Crostini Recipe


Please Note: We do use referral and affiliate links here for products and services that Chef Alli loves and recommends.
Howdy! Chef Alli Here. Let's Get You Cookin'…Shall We?? 🙂
So these Tomato Crostini simply taste like SUMMER. One of our top appetizer favorites during hot weather when you just don't feel like eating a whole lot, sometimes we even enjoy these little treats as a light supper. Even if we don't grow anything else in the garden, we ALWAYS have homegrown tomatoes and fresh basil, along with some banana peppers and a few Spring fresh greens, such as Arugula and baby spinach. Those are all a MUST. 🙂
And, whenever I make these for guests, they rave and ask for the recipe – a true sign of a "keeper" recipe, right?? Since I can make all the components of this recipe ahead of time, the assembly is the quick and easy part when it's time to serve. And, these crostini look absolutely gorgeous on a simple white platter with a bit of the fresh basil scattered around the edges here and there. So simple, yet so elegant! (Not to mention yummy.)
What Ingredients Will You Need for Making Really Delicious Tomato Crostini?
Use a good Feta cheese and full-fat cream cheese so that your Feta spread is really nice and creamy.
I like an olive oil that's mild and buttery in flavor, not anything too strong that will overpower the wonderful tomato flavor of this recipe.
Lemon juice and lemon zest
These ingredients impart the brightness to the Feta spread – don't skip the lemon zest, either! Use a Microplane citrus zester to make easy work of zesting – it's so easy and this is such an important ingredient.
Garlic cloves and red wine vinegar
Combining these ingredients really lets their flavors meld before adding them to the tomatoes – very flavorful, even a bit of pungent!
Homegrown tomatoes and fresh basil
These two ingredients are the real secret for this appetizer, and what takes them right over the top! You can use any type of homegrown tomato that you prefer as long as they are flavorful and nicely ripened. Using fresh basil really heightens the flavors of the tomatoes since with every slice of the basil, you are releasing more fragrance oils for this dish.
I often make my favorite no-knead bread for making the bread base of this recipe – Peasant Bread. This bread is chewy with a crisp exterior and comes together super quickly. We love it plain, too, slathered with softened butter and nice sprinkle of kosher salt. #TotallyAddictive
Pine nuts are totally optional for Tomato Crostini. They are a soft, buttery little nut, but rather expensive, too. I usually don't garnish with them, to tell the truth, since I think the crusty bread gives plenty of nice texture to the creamy Feta spread and the tomato topping.
Easy and Helpful Recipe Tips for Making Summer Tomato Crostini
Is it a good idea to make Tomato Crostini ahead of time?
Actually, no. BUT, you can make each of the three components of this recipe ahead of time, assembling the crostini at the last minute just before serving. Otherwise, the baguette slices tend to get too soggy from the Feta spread and the juices from the tomatoes.
What's the best way to toast baguette slices in the oven, especially so that I don't get them too crispy?
Preheat the oven to 425 degrees F. Place the baguette slices onto a parchment paper-lined baking sheet; brush each one with olive oil using a silicone basting brush. Bake, uncovered, on the center oven rack for 6-8 minutes, turning half way through the baking time. The baguette slices should just be very lightly golden brown in color. Keep in mind that the bread will get more crisp in texture as it cools, too.
How do you seed a tomato and why is that step called for in this recipe?
Removing the tomato seeds helps keep the moisture content down in your tomato topping. Too many seeds and lots of juice can lead to soggy bread which is only good if you're making a bread salad and you WANT the croutons to soften a bit.
To seed a tomato, there are two good ways of doing so: One way (and this is actually the fastest way of the two) is to slice off the top of the tomato until you can see down into the cavity where the seeds are located. Invert the tomato over the sink or a bowl and gently squeeze to push the seeds and juice out of the tomato, then slice as usual. The other way of seeding larger tomatoes that I often use is to cut the tomato half, then use a small spoon to lift the seeds out of each cavity of the tomato, then proceed as usual.
What if I don't have red wine vinegar on hand for this recipe? Is there another vinegar that I can substitute?
So glad you asked this question! Once, I didn't have red wine vinegar on hand when I wanted to make this recipe. So, I substitute 1 tablespoon of a very mild balsamic vinegar for the red wine vinegar and it worked just fine. You could also substitute a white wine vinegar, a sherry vinegar, or even rice wine vinegar.
Yep. I've used an electric mixer before and it worked fine though I don't think the Feta/cream cheese spread was quite as creamy. Be sure both your Feta and cream cheese are nicely softened at room temperature when you begin to blend them together so that they will incorporate more easily with the mixer.
How should I zest the lemon?
Using your favorite Microplane citrus zester, just remove the bright part of the zest, running the zester over the top to remove it from the lemon. Be sure you don't get down into the white part of the lemon, beneath the bright, outer part as this is the pith of the lemon and is very bitter in flavor.
What's so great about lemon zest, anyway? Isn't the fresh lemon juice enough?
Actually, if I had to choose between lemon juice and lemon zest for a recipe, I'd almost always opt for the lemon zest because it's much more powerful and adds TONS of flavor. Plus, it adds zero calories or fat to your ingredients!
More Favorite Recipes to Enjoy –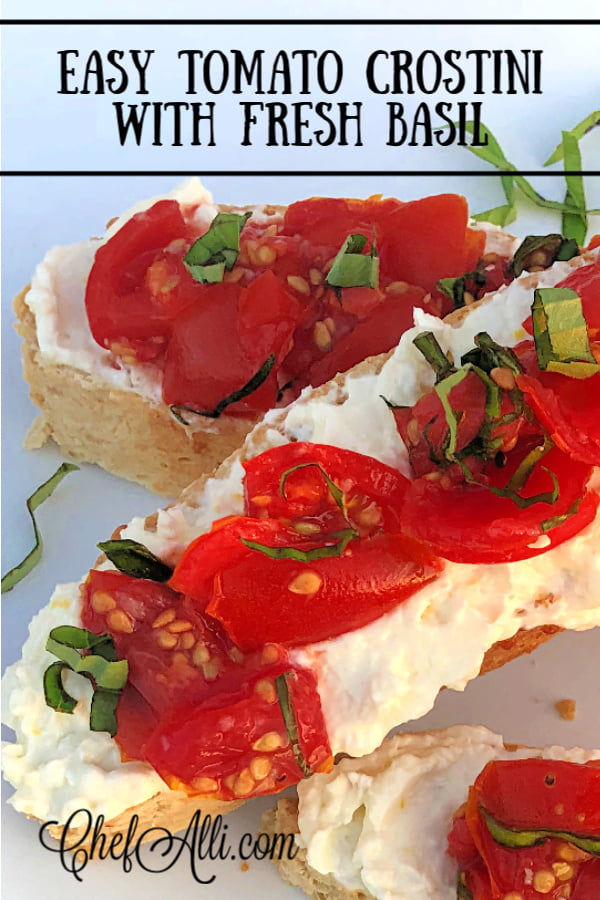 Printable Tomato Crostini Recipe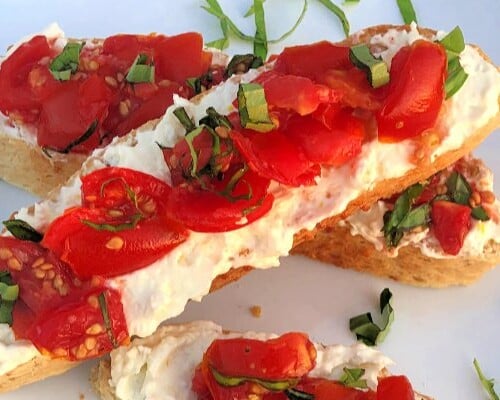 Tomato Crostini 
Who knows how many times we've made this easy appetizer when there's tons of homegrown tomatoes coming in from the garden! These Tomato Crostini combine the crispy/chewy texture of the bread with the creamy feta spread and the luscious vine-ripened tomatoes with fresh basil.  #HomegrownTomatoes #Tomatoes #Basil #Appetizer #Feta
Print
Pin
Rate
Ingredients
4-6

oz.

Feta cheese crumbles

2-3

oz.

cream cheese, softened

2

Tbs.

good olive oil

2

Tbs.

freshly squeezed lemon juice

zest of 1/2 lemon

2

cloves

garlic, crushed

2

Tbs.

red wine vinegar

2

lbs.

vine-ripened homegrown tomatoes, sliced into 1/2" pieces, seeded and drained

kosher salt and freshly ground black pepper, to taste

fresh basil, julienne (thinly sliced)

2

dozen

thick baguette slices, sliced diagonally, toasted lightly in the oven

1

Tbs.

pine nuts, optional, for garnishing
Instructions
To Make the Whipped Feta Spread
Into the bowl of a food processor, place the Feta cheese crumbles and cream cheese. Using the pulse button, pulse the food processor to process these two ingredients into a smooth spread. Add the olive oil, lemon juice and lemon zest and process once more to combine.
To Make the Tomato Topping
Combine the garlic and red wine vinegar in a medium bowl; let rest for 10 minutes; add the tomatoes and toss gently to combine; season to taste with kosher salt and pepper; fold in half of the basil.
To Assemble the Crostini
Spread each toasted baguette slice with the desired amount of the prepared Feta spread; using a slotted spoon place the prepared tomato topping over the spread, then garnish with additional sliced basil. Serve at once!
Nutrition
Calories:
42
kcal
|
Carbohydrates:
2
g
|
Protein:
1
g
|
Fat:
3
g
|
Saturated Fat:
1
g
|
Cholesterol:
7
mg
|
Sodium:
63
mg
|
Potassium:
98
mg
|
Fiber:
1
g
|
Sugar:
1
g
|
Vitamin A:
367
IU
|
Vitamin C:
6
mg
|
Calcium:
30
mg
|
Iron:
1
mg
We love hearing from our readers and followers, so leave us a comment if you'd like. And, if you don't hear back from us shortly, know that we may not have seen your comment. Feel free to reach out to us by email: [email protected].
Let's Get You Cookin',
Chef Alli