With just a few simple ingredients and about 25 minutes, you can have a big warm bowl of steel cut oatmeal that satisfies the soul.  As you get ready for your day, Instant Pot Steel Cut Oats can be cooking in your electric pressure cooker – so handy!
Instant Pot Steel Cut Oats Recipe
Howdy! Chef Alli Here. Let's Get You Cookin'…. Shall We?? 🙂
Let me just begin by telling you I'm not a fan of Instant or regular oatmeal. I've really, really tried to like it over the years. It's never been a flavor thing, but rather the TEXTURE that turned me off. Thankfully, I decided to give steel-cut oats a try recently, and guess what??! I'm a total convert….possibly even a steel-cut oatmeal freak!
Here's what to love about steel-cut oats made in your Instant Pot
The nutty, yet creamy, texture. It cannot be explained – you have to experience it for yourself.
It's so convenient to cook steel-cut oats in large batches in an electric pressure cooker!  A batch (or even a double batch) only takes 10 minutes under high pressure to cook, followed by a 10 minute natural-release rest before you remove the lid.
Leftover cooked steel-cut oatmeal stores beautifully in the fridge, reheating like a charm in the microwave whenever you need a speedy snack or light meal.
Step-By-Step Guide to Perfectly Textured Steel Cut Oats in Your Instant Pot!
Here's my step-by-step guide to making perfectly cooked and textured steel cut oats in your Electric Pressure Cooker
: 
When the Oats and Water are all nestled in your pot, put the lid on and set it for 10 minutes! Once it comes up to pressure, that ten minutes will start counting down. After the ten minutes is up, these oats will want a THREE MINUTE REST during the natural release, so don't get anxious.
 Printable Instant Pot Steel Cut Oats Recipe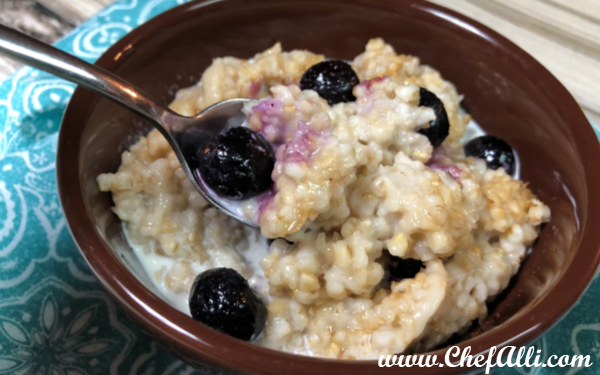 Instant Pot Steel Cut Oats
Not an oatmeal fan due to the texture? Me too....until I gave steel-cut oats a try. Now I'm totally an oatmeal convert! I also appreciate how quickly I can make them in my Instant Pot.
Print
Pin
Rate
Ingredients
1

cup

regular steel-cut oats (not instant steel-cut oats)

1

Tbs.

unsalted butter

1

cinnamon stick

3 1/2

cups

water

1

generous pinch of kosher salt

1

tsp.

pure vanilla extract
Instructions
Using the sauté setting on the Instant Pot, add the oats, butter, and cinnamon stick, stirring and cooking for 2-3 minutes until the oats give off a nice, nutty aroma; stir in the water and salt.

Lock the Instant Pot lid into place. Using the manual button, choose the high pressure setting for 10 minutes, bringing the Instant Pot to full pressure. When the timer sounds, completely unplug the Instant Pot, then use a natural pressure release for 10 minutes. If any pressure remains in the Instant Pot, preform a quick release.

Unlock and remove the Instant Pot lid; remove the cinnamon stick, then stir the oatmeal to incorporate any liquid that may be sitting on top. When the oatmeal has cooled just a bit, stir in the vanilla extract; taste the oatmeal and adjust the seasonings as needed.

Serve oatmeal at once, as desired, with your favorite toppings, or transfer the oatmeal to a storage container. When the oatmeal has cooled, cover and refrigerate for up to one week.

To reheat the cooked oatmeal, transfer the desired amount to a serving bowl and stir in 1-2 Tbs. milk, then microwave on high for 30-60 seconds, stirring half way through.
Nutrition
Sodium:
11
mg
|
Calcium:
35
mg
|
Vitamin A:
87
IU
|
Sugar:
1
g
|
Fiber:
5
g
|
Cholesterol:
8
mg
|
Calories:
185
kcal
|
Saturated Fat:
2
g
|
Fat:
6
g
|
Protein:
6
g
|
Carbohydrates:
27
g
|
Iron:
2
mg
We love hearing from our readers and followers, so leave us a comment if you'd like.  If you don't hear back from us shortly, know that we may not have seen your comment.  Feel free to reach out to us by email:  [email protected]
Let's Get You Cookin',
Chef Alli
Please Note: We do use referral and affiliate links here for products and services that Chef Alli loves and recommends. If you click on a link and make a purchase, I may receive a small commission at no extra cost to you. For more information, please read my disclaimer here.