Are you ready for a bone-in ham made in your Instant Pot? You are just 12 minutes away from a juicy Instant Pot Holiday Ham for your dinner table. And all you need is a spiral-cut ham and 3 ingredients.
Instant Pot Holiday Ham Recipe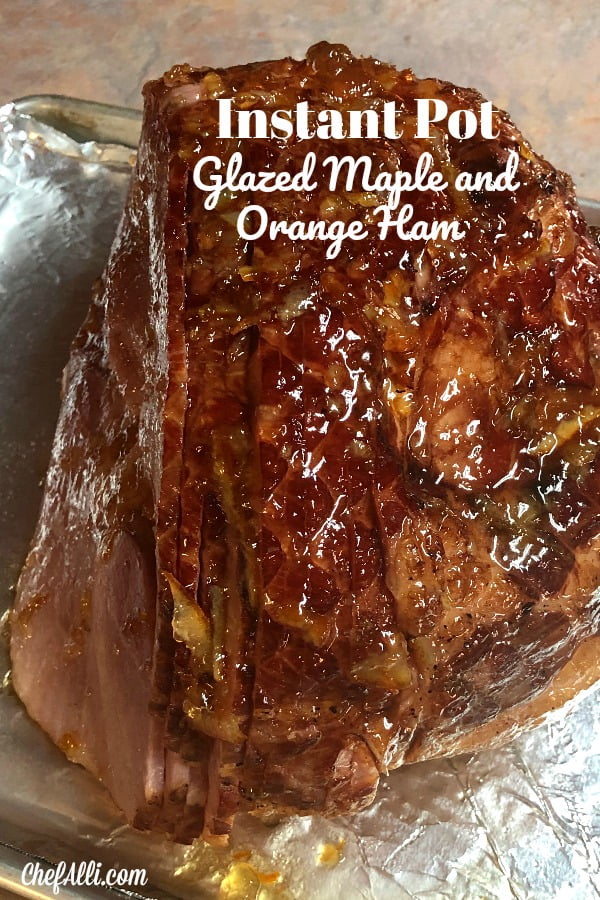 Please Note: We do use referral links for products and services that Chef Alli loves and recommends.
Howdy! Chef Alli here. Let's Get You Cookin'…… Shall We? 🙂
You'll never believe how easy it is to get succulent and tender ham using your Instant Pot (or any brand of electric pressure cooker).
And, as anybody who's ever made a holiday dinner for a group of people knows, it's super nice to cook your ham in the Instant Pot so you can have your oven space free for cooking all the side dishes.
Whether it's just for a small family dinner or a huge holiday gathering, Instant Pot Maple-Glazed Ham is now one of my favorite go-to methods for getting a beautiful ham on the dinner table.
Bring Out your BIGGEST Instant Pot!
You will need to invest in an 8-Quart Instant Pot in order to make this ham recipe, which calls for a half ham, weighing 7-8 lbs.
However, I will tell you that before I had my 8-quart Instant Pot and I wanted to cook a ham, I just cut the ham into chunks and cooked them right in my 6-Quart Instant Pot – it worked fine, even though the presentation was a little lacking, if you know what I mean.
You may find that you really enjoy cooking big ole hams in your Instant Pot like we do. If so, you may want to purchase an Elite Platinum 10-quart electric pressure cooker– it's ginormous, but boy does it get the job done for HAM….and pork butts…..and chuck roasts. 🙂
Easy Recipe Tips for Making Instant Pot Holiday Ham
What if my ham is a little on the larger size and doesn't want to fit into my Instant Pot? Should I just shove it down in there?
Actually, NO. In order for your Instant Pot to work properly, there has to be room for the liquid in the bottom of the pot to circulate, creating the steam that makes your pot pressurize.
So if the ham is "shoved" into the pot and it's a tight squeeze, the water can't circulate like it needs to. Instead, cut your ham in half or into thirds and place them into the Instant Pot to cook that way – it's okay if they are stacked on top of one another, btw.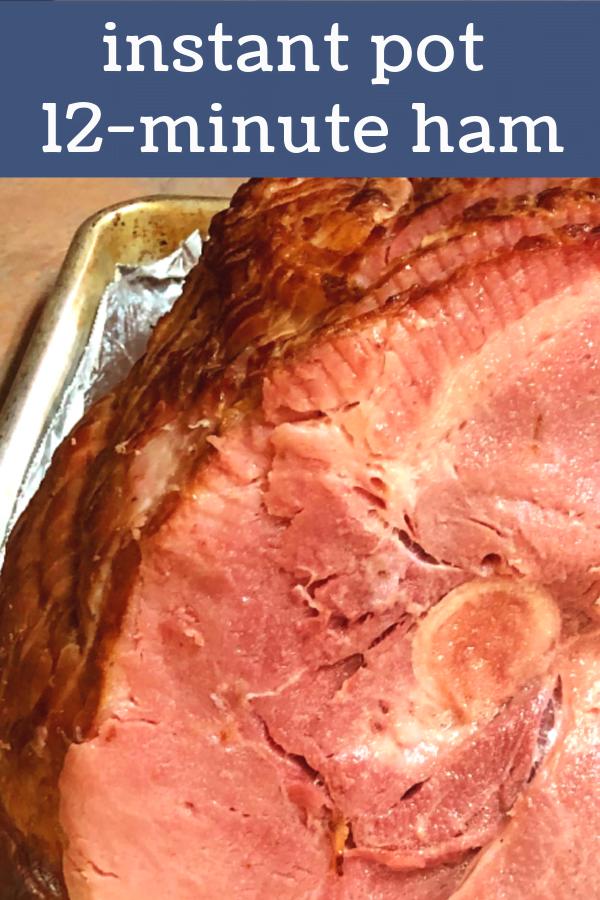 Why do I need a foil sling to lower my ham into the Instant Pot?
Well, the sling is not so much for putting the ham INTO the pot, but more for taking it OUT of the pot once it's cooked. Once your ham has finished cooking (and is therefore super HOT), lifting it out of the pot is really easy if you use a sling. All you have to do is grab the ends, lift it up and out, then place it onto a cutting board or baking sheet.
Can I substitute another jam or jelly in the place of orange marmalade in this recipe?
Sure thing. I often substitute apricot jam in place of the orange marmalade. In a pinch, apple jelly works, too.
What will my ham look like when I lift it up out of the Instant Pot?
Because there's lots of pressure and moist heat involved when we cook with an Instant Pot, sometimes meat come out of the pot looking a bit disheveled. Don't be dismayed!
Once you slather this ham with the glaze and then pop it into the oven for just a few minutes to caramelize, the exterior will look beautiful.
What can I serve with Instant Pot Ham?
We love a good creamy potato dish alongside ham. Creamy Mashed Potatoes Supreme with French Fried Onions is yummy. Or, if you're a fan of sweet potatoes, be sure to check out my recipes for Baked Sweet Potato Balls with Crunchy Cornflakes and Sweet Potato Crumble.
If you're needing some vegetable side dishes, give Crispy Bacon and Sweet Potato Hash and Cajun Sweet Corn Medley a try.
More Favorite Recipes to Enjoy –



Printable Instant Pot Holiday Ham Recipe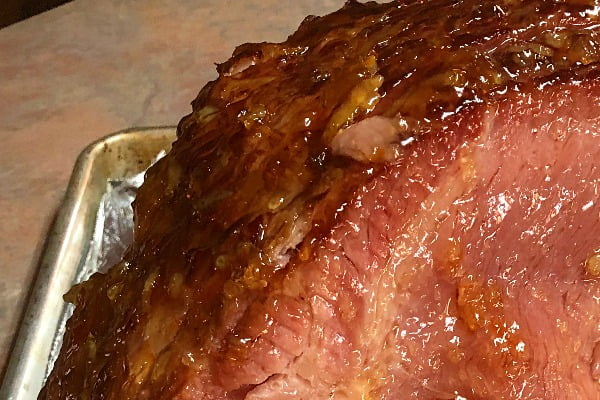 Instant Pot Holiday Ham
Are you ready for a bone-in ham made in your Instant Pot? You are just 12 minutes away from a juicy Instant Pot Holiday Ham for your dinner table. And all you need is a spiral-cut ham and 2 ingredients.
Print
Pin
Rate
Ingredients
8

lbs.

half ham, fully cooked, 7-8 lbs., exterior skin scored with a knife in a criss-cross pattern

1

cup

orange juice or water

12

oz.

jar orange marmalade

8

oz.

pure maple syrup
Instructions
Warm marmalade and syrup in a small saucepan over low heat; keep warm.

Remove all packaging material from the ham, discarding the included glaze packet. Place the ham, cut-side down (the flat side), onto the center of a wide foil sling. (Make the sling by taking a long sheet of heavy-duty foil, folding it lengthwise into thirds.) 

Place a trivet in the bottom of an 8-quart Instant Pot; add 1 cup orange juice (or water) to the Instant Pot.

Using the foil sling, lower the ham down onto the Instant pot, placing it onto the trivet.  Lock the Instant Pot lid into place; using the manual button, choose the high pressure setting for 12 minutes, bring the Instant Pot up to full pressure.

When the timer sounds, use a natural pressure release for 5 minutes, then a quick release to remove any remaining pressure from the Instant Pot.

Preheat the oven to 375 degrees F. Using the foil sling, lift the ham from the Instant pot, placing it on its side into a large roasting pan or onto a rimmed baking sheet. 

Slather the prepared marmalade mixture all over the ham, letting it slip into all the nooks and crannies where the exterior skin of the ham is scored.

Place the slathered ham, uncovered, into the oven; bake 15-20 minutes or until ham is caramelized and bubbly all over.

Serve the ham with additional sauce, if desired.
Notes
**Please note:  the cooking time stated for this recipe does not include the time required to bring the Instant Pot up to pressure since this can vary. This recipe was made using a 6-quart Instant Pot. 
Nutrition
Calories:
581
kcal
|
Carbohydrates:
34
g
|
Protein:
57
g
|
Fat:
23
g
|
Saturated Fat:
5
g
|
Cholesterol:
221
mg
|
Sodium:
3510
mg
|
Potassium:
944
mg
|
Fiber:
1
g
|
Sugar:
30
g
|
Vitamin A:
59
IU
|
Vitamin C:
82
mg
|
Calcium:
52
mg
|
Iron:
3
mg
Thanks for visiting! I hope you return soon for more yummy recipes for your family.
We love hearing from our readers and followers, so leave us a comment if you'd like. If you don't hear back from us shortly, know that we may not have seen your comment. Feel free to reach out to us by email: [email protected].
Let's Get You Cookin',
Chef Alli