Pork rib recipes! I'm always searching for easy rib recipes to keep my family happy – we are rib fanatics! Country Style Asian BBQ Ribs are boneless ribs in the oven….tender, juicy, and made in just 4 simple steps.
Country Style Asian BBQ Ribs Recipe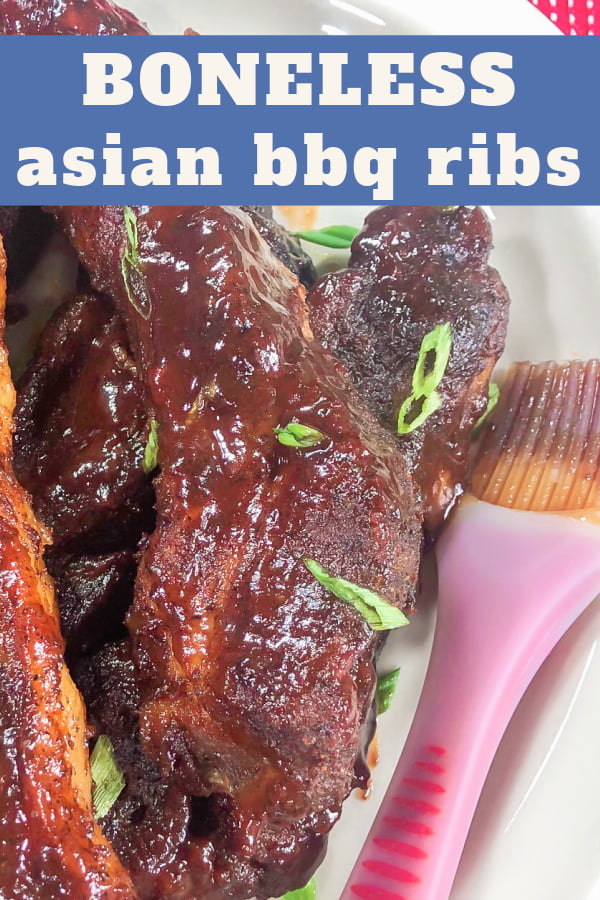 Howdy! Chef Alli Here. Let's Get You Cookin' ….Shall We? 🙂
This is hands-down the best-ever Asian country-style pork ribs recipe, folks! Search no further.
These boneless pork ribs are baked in the oven until they reach melt-in-your-mouth, slap-yo-mamma perfection…..sticky, sweet, tangy, crispy, and spicy. The Asian spices make these pork ribs very flavorful and unique.
If you love ribs and BBQ like my family does, you may want to make my 3-Ingredient Country Style Sticky Ribs recipe, too.
Or, if you own an Instant Pot, be sure to try out Easy Instant Pot Honey-BBQ Wings – they are incredibly tender in just minutes.
Maybe you're a fan of baby back ribs? Check out How to Make Instant Pot Baby Back Ribs. All they need is about 30 minutes cooking time in an Instant Pot – pretty awesome.
What to Love About This Recipe –
Just 4 easy steps and dinner's done!
These ribs are fallin' apart fork-tender every. single. time.
Country-style ribs are super budget friendly.
What Ingredients Do You Need to Make Asian Sticky Ribs?
Boneless country-style pork ribs
Dark brown sugar
Soy sauce
Sesame oil
Olive oil
Rice vinegar
Garlic powder
Ginger
What Tools Are Helpful for Making BBQ Pork Ribs?
How to Make Asian Country Style Boneless Pork Ribs in 4 Simple Steps
Make the marinade; add the ribs and marinate for at least 8 hours.
Remove the ribs from the marinade and bake, covered, at 300 degrees F. for 1 1/2 hours or until the ribs are getting close to fork-tender.
Meanwhile, simmer the reserved marinade to allow it to thicken and become a sauce.
Brush the baked ribs with the prepared sauce; continue to cook until the ribs are nicely sticky, caramelized and very fork-tender, approx. 3-45 minutes longer.
Common Questions Asked About This Asian Sticky Rib Recipe
What's so great about country-style ribs?
They are super meaty, have tons of marbling, and they are very economical. Each rib is going to provide a boneless hunk of meat to serve up that's nicely tender, juicy, and wonderful, all without breaking the bank!
When I'm looking for country-style ribs at the grocery store, what will they look like?
I'm so glad you asked this question! Below is a photo of the package of country-style ribs that I purchased for making this recipe. They are large strips of meat. The term country-style usually means there no-bones.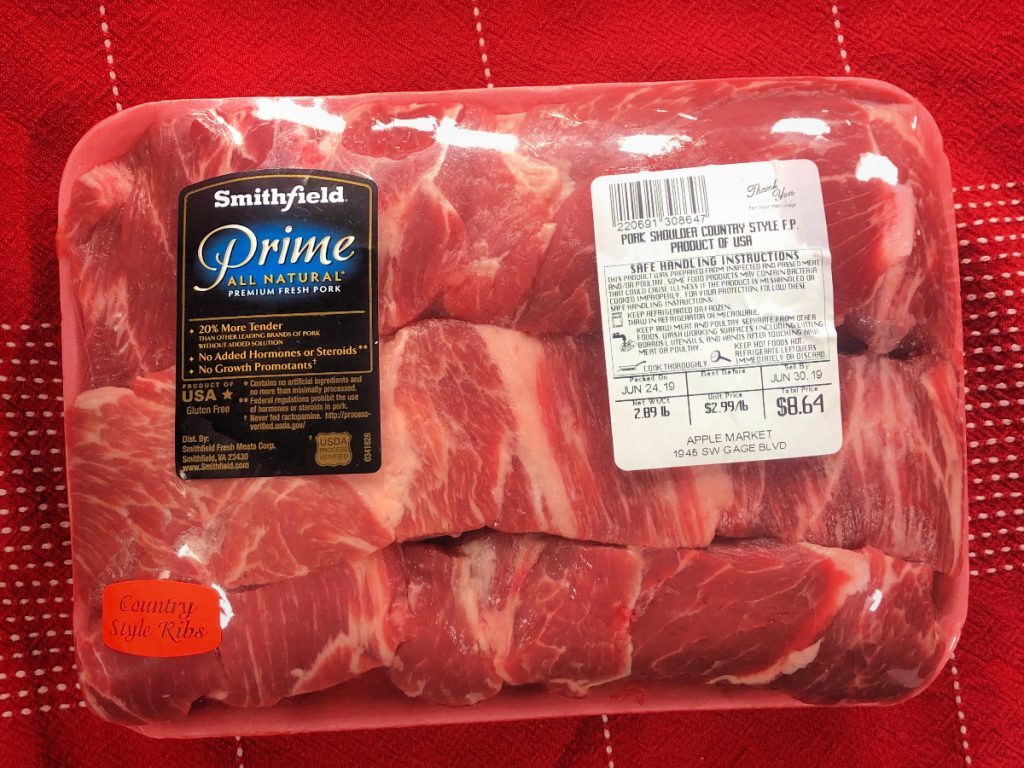 Are country-style ribs a versatile cut of meat?
Very much so. If you leave the ribs in big strips and cook them low and slow until fork-tender and fallin' apart, you'll have some delicious meals ahead.

Because country-style pork ribs have a lot of marbling (fat) they lend themselves very well to all kinds of cooking methods. Country-style pork ribs also make great kabobs!
Are all country style ribs boneless?
Nearly all country style ribs are boneless ribs, but check the labeling to be sure. If there is a bone involved, it's typically not very big and will add more flavor to the ribs. Once the ribs are fork-tender, the meat will fall right off the bone!
Will there be a lot of fat on the baking sheet after I cook the ribs?
Yes, as a matter of fact there will be….no doubt about it. All that good marbling of the meat is rendered into fat when you bake the ribs low and slow. Don't freak out!

Use your tongs to remove the fork-tender country-style ribs from the fats they are sitting in and place them onto a clean foil-lined baking sheet because this is where another part of the MAGIC is going to happen – the STICKY RIBS get REAL.

Slather the ribs with your sauce, then return the ribs to the oven, uncovered, at the same low temperature, letting them cook another 30 minutes or so. You're about to experience TRUE HEAVEN.
Why is using heavy-duty aluminum foil a good idea when making country-style ribs?
EASY CLEAN UP. Because there's a lot of fat that's rendered when you bake country-style pork ribs, you can end up with some pretty big pools of grease and that can be super messy.

I like to pour that rendered fat (the grease) into a big jar that I keep for my dogs and then I add a small amount at a time to their dry dog food. They go crazy for it!

Once you've discarded the fat from the foil-covered baking sheets, you can easily crumple the foil up and toss it away, leaving a fairly clean baking sheet that requires little clean up.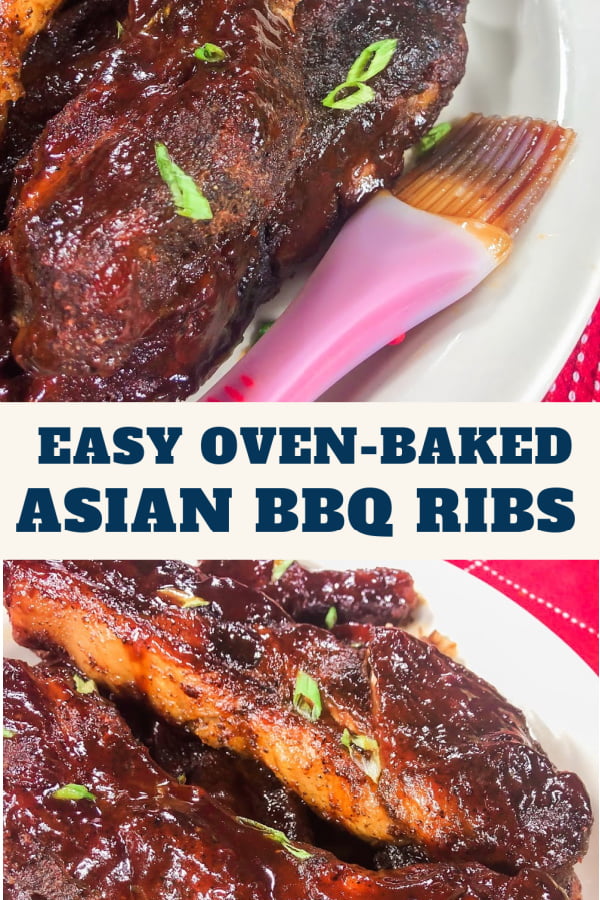 Should I be concerned that the ribs look rather ugly and dried out after the first go-round of cooking?
The ribs will definitely look pretty ugly after you've baked them covered with the foil, that's for sure. This is because you haven't added any sauce yet. Don't worry….keep going!
How do I know when the ribs are tender, fully done and safe to eat? What does fork-tender mean?
The safe internal temperature for cooked pork is 145 degrees F. at the center of the pork, followed by covering with foil and a 3 minute rest. (The former safe temperature was 160 degrees internally, but the USDA has changed this cooking rule.)

When pork ribs are fallin' apart tender (which is what we want), the internal temperature will actually need to be closer to 180-185 degrees to get the tenderness we desire.

As you are baking the ribs, begin checking them for tenderness after about an hour using a fork. Depending on the size of your ribs, it will take anywhere from 1 1/2 – 2 hours (probably closer to 2 hours) before the ribs get really fork-tender.

Fork-tender means that when you stick the fork into the meat and give a gentle twist, the meat begins to fall-apart, is obviously tender. This is exactly what you want!

If the meat doesn't fall apart, or if you have trouble inserting the fork into the meat at all, this is a big indication that the ribs need to cook longer at the low temperature, still covered with the foil.
What is the best way to serve boneless BBQ Pork Ribs?
You can serve the ribs whole along with a side dish or two, OR, shred the pork rib meat and serve with sauce over warm rice. This is a fun way of serving the pork ribs that's a bit unique.
Which side dishes go well with Asian BBQ Pork Ribs?
How to Make Asian BBQ Pork Ribs Special When Serving Them
You will see in the ingredient list that chopped scallions and sesame seeds are optional as garnishments. Adding just a sprinkle of each of these is super easy and quick to do (you could even substitute a bit of chopped parsley in place of the scallions) and the color really makes the presentation beautiful for your guests.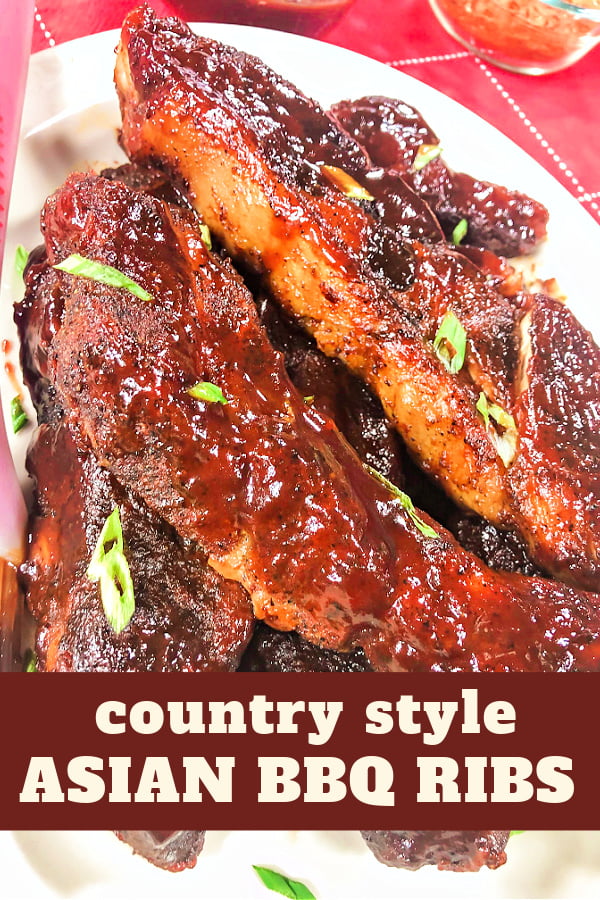 More Favorite Recipes to Enjoy –
Printable Country Style Asian BBQ Ribs Recipe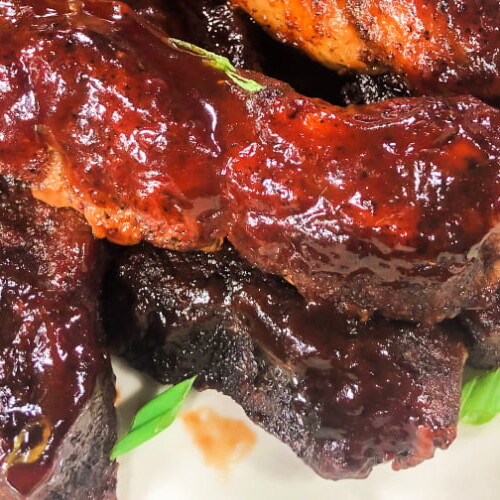 Country Style Asian BBQ Ribs
Pork rib recipes! I'm always searching for easy rib recipes to keep my family happy – we are rib fanatics! Country Style Asian BBQ Ribs are boneless ribs in the oven….tender, juicy, and made in just 4 simple steps.
Print
Pin
Rate
Ingredients
3-4

lbs

boneless country style pork ribs
Marinade
1/3

cup

dark brown sugar

1/2

cup

soy sauce, may use low sodium soy sauce

1/2

cup

rice vinegar

1/2

cup

ketchup

2

Tbs.

lemon juice

1

tsp.

garlic powder or granulated garlic

1/4

tsp.

ground ginger

1

Tbs.

sriracha, optional but delicious

1

tsp.

kosher salt
Garnishments
sliced scallions, as garnish

sesame seeds, as garnish
Instructions
In a large mixing bowl, combine the marinade ingredients; pour the prepared marinade into a heavy-duty gallon bag that has been placed into a large bowl. Add the pork ribs to the marinade and seal well; let the ribs marinate in the fridge for at least 8 hours.

Preheat the oven to 300 degrees F. Wrap two large rimmed baking sheets with heavy-duty foil.

Remove the ribs from the marinade, patting each one dry; place the ribs onto one of the foil-lined baking sheets; cover with foil. **Reserve the marinade for use as a sauce later!

Bake the ribs, covered, for 1 1/2 hours, or just until they are starting to become fork-tender.

Meanwhile, while the ribs bake, place the reserved marinade into a sauce pan over medium heat; bring to a boil, simmering the marinade until reduced, about 4-5 minutes. When the sauce is nicely reduced and thickened, remove it from the heat.

When the ribs are just about fork-tender, remove them from the oven. Transfer the ribs from the baking sheet (it will likely be full of grease after cooking the ribs) to the second foil-lined baking sheet.

Slather the ribs with the sauce; continue to bake, uncovered this time, for an additional 30-45 minutes or until the ribs are very fork-tender, bubbly, and caramelized. Garnish with scallions and sesame seeds, if using. Serve the ribs with warm sauce on the side, if desired.
Nutrition
Calories:
366
kcal
|
Carbohydrates:
19
g
|
Protein:
31
g
|
Fat:
18
g
|
Saturated Fat:
4
g
|
Trans Fat:
1
g
|
Cholesterol:
109
mg
|
Sodium:
1734
mg
|
Potassium:
610
mg
|
Fiber:
1
g
|
Sugar:
17
g
|
Vitamin A:
118
IU
|
Vitamin C:
4
mg
|
Calcium:
52
mg
|
Iron:
2
mg
Thanks for visiting! I hope you return soon for more yummy recipes for your family.
We love hearing from our readers and followers, so leave us a comment if you'd like. If you don't hear back from us shortly, know that we may not have seen your comment. Feel free to reach out to us by email: [email protected]
Let's Get You Cookin',
Chef Alli
Please Note: We do use referral and affiliate links here for products and services that are recommended.