What could be better than baked apples that are overflowing with a creamy cheesecake filling? These Cheesecake-Stuffed Baked Apples will fill your entire home with a cozy, spicy aroma as the apples bake.


Notice: We do use referral and affiliate links here for products and services that Chef Alli loves and recommends.
Howdy! Chef Alli Here. Let's Get You Cookin'!
Are you looking for a way to use up some Fall apples? I've got you covered with this Cheese-Cake Stuffed Baked Apples recipe. Once the apples are scooped out, you'll load them up with a buttery crumble, top with cheesecake filling then bake until the apples are tender. Ta-dah!
To serve this baked apples cut the apples in half so your guests can see the yummy filling inside, then drizzle with the caramel topping – so pretty. Cutting the apples in half also makes them easier to eat.
What Ingredients Are Needed to Make Cheese-Cake Stuffed Baked Apples?
I like to use Granny Smith apples because I enjoy a tart apple. If that's not the case for your palate, use apples that are a bit sweeter, such as Gala, Fuji, or Golden Delicious.
Cream Cheese, eggs, flour, sugar, vanilla
These ingredients make up the cheesecake filling. The eggs and flour act as a binder to keep the cheesecake filling inside the apples as they bake, while the sugar provides the perfect amount of sweetness; the vanilla enhances all the flavors.
Crushed graham crackers (or crushed peppernut cookies from Prairy Market in Newton, Kansas as I'm using in this recipe) and butter
come together to make the crumble that's inside the baked apples (beneath the cheesecake filling) and the crumble also makes a nice topping on the apples for when they are served.
Melted butter is combined with cinnamon and nutmeg, then brushed inside the apples once they are cored, before you add the crumble and the cheesecake filling.
Warm the caramel topping (I use caramel ice cream topping that comes in a jar) in the microwave a bit so that it drizzles over the baked apples a little easier when you are ready to serve them.
Easy and Helpful Recipe Tips for Making Baked Apples with Cheese-Cake Filling
What is the best way to soften cream cheese?
I either let my cream cheese rest at room temperature on the counter for a bit or I use my microwave at 30% power to soften my cream cheese, working in 30-second increments. Always unwrap your cream cheese when you're letting it rest at room temperature since the wrapping will hinder the process by keeping the cream cheese chilled longer.
What are peppernut cookies?
Also known as Pfeffernuse, pepper nuts are a traditional tiny spice cookie that originated in European culture as a holiday treat. Many people bake these little spice cookies every Christmas to give as gifts. Traditional pepper nuts are typically flavored with molasses, anise (the prominent flavor of black licorice), pepper and seasonal spices. If you don't like the flavor of anise, which is a very distinctive flavor, feel free to use crushed graham crackers instead for the crumble filling.
Can I use any type of apple for making baked apples?
Actually, yes. This recipe calls for Granny Smith apples simply because I prefer the tartness. Jonathon apples also make a good baked apple. Or, if you prefer a sweeter apple, use Gala, Fuji, or Golden Delicious.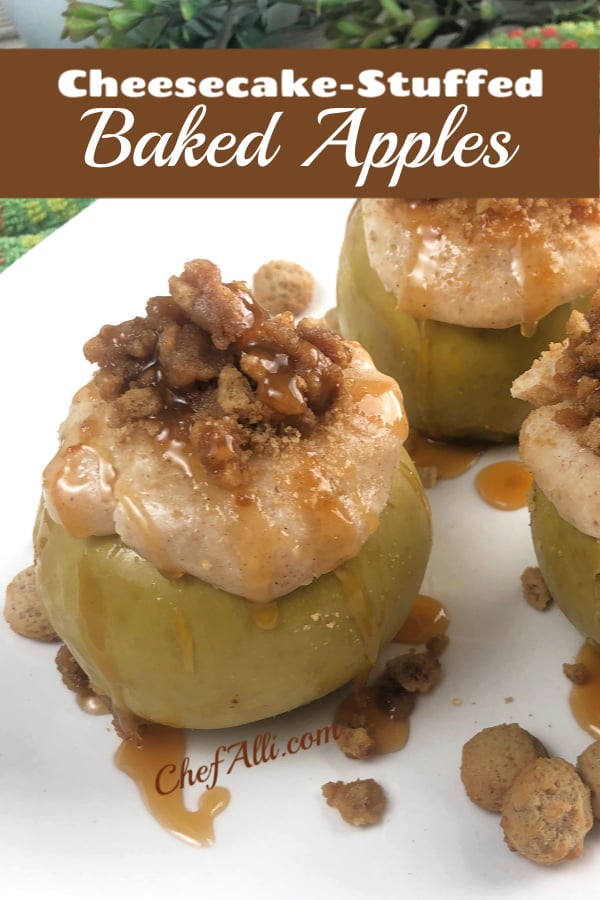 –
Other Recipe Favorites to Enjoy –
Printable Directions for Making Cheesecake-Stuffed Baked Apples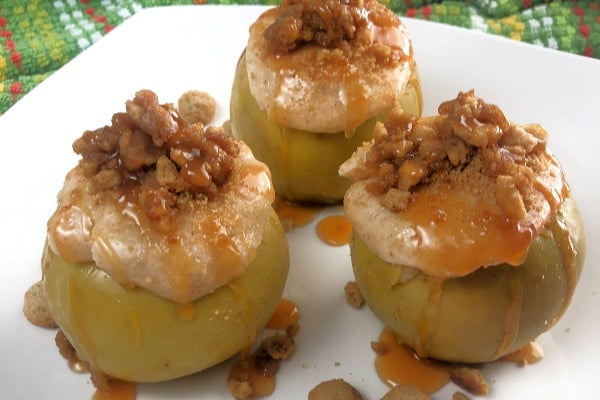 Cheesecake-Stuffed Baked Apples
What could be better than baked apples that are overflowing with a creamy cheesecake filling? These Cheesecake-Stuffed Baked Apples will fill your entire home with a cozy, spicy aroma as the apples bake. 
Print
Pin
Rate
Ingredients
1

lb.

full-fat cream cheese, room temperature

2

large eggs, room temperature

8

large Granny Smith apples, or your favorite tart apple

1/4

cup

unsalted butter, divided use

3/4

tsp.

ground cinnamon, divided use

1/4

tsp.

ground nutmeg

1/8

tsp.

ground nutmeg

3/4

cup

crushed peppernut cookies, such as Prairy Traditional Pfeffernuse Cookies

3/4

cup

granulated sugar

1

tsp.

vanilla extract

Caramel sauce, for drizzling to serve
Instructions
In a large mixing bowl, place the cream cheese; crack 2 large eggs in with the cream cheese, letting both ingredients sit at room temperature until the cream cheese is softened, about 1 hour.

Preheat the oven to 350 degrees F.

Cut 1/4 inch off the top of the apples. Use a melon baller to hollow out the inside of eaach apple, leaving 1/2 inch of flesh around the bottom and edges.

In a small mixing bowl, melt 4 tablespoons of the unsalted butter. Transfer 2 tablespoons of the melted butter to a separate bowl, then add 1/4 teaspoon of the ground cinnamon and 1/8 teaspoon of the ground nutmeg, stirring to combine. Generously brush the inside flesh of each apple with this mixture. Transfer the apples to a parchment-lined baking sheet.

Add 3/4 cup of the peppernut crumbs to the remaining 2 tablespoons of melted butter, stirring until combined. Sprinkle a heaping teaspoon of the prepared peppernut mixture into each apple; set aside the remaining mixture.

Add the granulated sugar, vanilla extract, and the remaining 1/2 teaspoon ground cinnamon along with the remaining 1/4 teaspoon ground nutmeg to the cream cheese and eggs in the mixing bowl, beating together until smooth. Carefully spoon the prepared filling into each apple until filled to 1/2-inch from the top.

Bake the apples on the center rack of the oven, uncovered, until the apples are softened and the filling is golden brown on top, 30 to 35 minutes. Let cool completely before serving.

When ready to serve, sprinkle with the reserved peppernut mixture over the cheesecake filling in each apple, then drizzle with warm caramel sauce.
Nutrition
Calories:
468
kcal
|
Carbohydrates:
53
g
|
Protein:
6
g
|
Fat:
27
g
|
Saturated Fat:
15
g
|
Cholesterol:
119
mg
|
Sodium:
256
mg
|
Potassium:
303
mg
|
Fiber:
5
g
|
Sugar:
42
g
|
Vitamin A:
1096
IU
|
Vitamin C:
8
mg
|
Calcium:
86
mg
|
Iron:
1
mg
We love hearing from our readers and followers, so leave us a comment if you'd like. And, if you don't hear back from us shortly, know that we may not have seen your comment. Feel free to reach out to us by email: [email protected].
Let's Get You Cookin',
Chef Alli

This is a sponsored recipe post, paid for by From the Land of Kansas, the state trademark program that promotes and celebrates agricultural experiences and products that are grown, raised or produced in Kansas. Visit their website for more information! Our featured guest and member business for this televised segment on Good Morning KAKEland is Aaron Gaeddert of Prairy Market, Newton, KS. All opinions expressed are very much my own.