Celebrate St. Patty's Day with Instant Pot Tender Corned Beef. Juicy, flavorful, and made right in your electric pressure cooker in minutes, your family will really enjoy this traditional St. Patrick's Day meal.
Instant Pot Tender Corned Beef Recipe

HOWDY! CHEF ALLI HERE. LET'S GET YOU COOKIN'…. SHALL WE?? 🙂
In my opinion, corned beef is a lot like gooseberry pie – it often gets a bad wrap, simply because if you ever have a bite of sour gooseberry pie or corned beef that's tough and chewy, not only do you never forget it, you also never (ever) want to eat it again!
I didn't grow up eating corned beef and I was well into adulthood before I ever had an opportunity to try it. I was immediately hooked, though I wasn't a huge fan of the boiled cabbage part.
In this recipe, I've added just a bit of cabbage and bacon to make my Irish Potatoes (also called Colcannon) for this meal, plus a very tasty apricot glaze for the sliced corned beef. We love the combination of creamy potatoes with the tender brisket and apricot glaze – such wonderful flavors and textures to experience.
What IS Corned Beef……exactly? Is it Brisket? And what does CORNED mean?
Yes, corned beef is brisket. It was definitely not created to be served as a BOILED dinner and that's where corned beef can become a very bad eating experience. Corned beef deserves to be served and respected as the beautiful cut that it is….BRISKET.
And, because brisket is taken from the cow's front breast section, it gets a lot of use (also making it very flavorful) and is therefore pretty lean. This is why boiling corned beef is a very bad idea…..boiled brisket is never a going to yield the nice, tender corned beef we long for.
It's called "Corned" Beef because corned beef brisket comes packed in a brine solution that is made with salt, and back in the day, all salt was in the form of a small kernel, also known as a "corn".
How to Cook Corned Beef to Make it Tender and Delicious
Go Low and Slow: If it's not cooked properly, brisket can be a very tough cut of meat. To get the best results, you will need to cook it at a fairly low and slow temperature if you are using a slow cooker or the oven.In the slow cooker, that would be on the LOW setting for several hours, and in the oven that would be at 325 degrees F. at about an hour per pound, or until very fork tender. A good rule of thumb for cooking corned beef in the Instant Pot is to allow 15-20 minutes of pressure time for each pound of corned beef.
Rest, Rest, Rest!: As with most meats, allow it to rest for a several minutes after it's cooked and before slicing. When you are cooking your corned beef brisket in the Instant Pot (or any electric pressure cooker), one of the most important steps is using a full Natural Release following the cooking time.This is where your corned beef is still going to continue to cook a little bit, but mainly the corned beef brisket has a chance to relax and rest at this point, allowing all the protein fibers to mellow out and be super tender when you slice it. Please don't skip this step – it's SO, SO IMPORTANT!!
Slice It Right: Brisket has long fibrous strands so it is very important to cut ACROSS the grain of these muscle fibers to shorten them. If you cut WITH the grain, or ALONG the grain, you could end up with pieces of corned beef brisket that are like chewing on a shoe. Such a travesty!
Easy Recipe Tips for Making Tender and Flavorful Instant Pot Corned Beef
Which Corned Beef Should I Buy? You have 3 options: a corned beef flat, a corned beef point, or a whole corned beef….which is both the flat AND the point all in one. (And, yes, all of these are corned beef BRISKET.) I always recommend choosing the corned beef FLAT.The flat is a little less fatty and it slices very nicely. If you are planning to shred your corned beef after it's cooked, then you'll want to purchase a point of corned beef. For whatever reason, possibly the higher fat content, a point of corned beef seems to shred a lot more easily than a flat of corned beef.

Look for corned beef that is deep red in color with a nice marbling of fat on the exterior and within the muscle.

Should I Rinse the Corned Beef when I Remove it from the Brine in the Package? Yep. The corned beef has been resting in that brine for some time, gathering up all the salt and flavor that it needs as it sits in that packaging. Go ahead and rinse the corned beef really well after you remove it from the brine before you cook it.
What is that Little Packet of Spices in with the Corned Beef For? Add that packet of spices to the liquid that you'll be cooking your corned beef in. Those spices are typically mustard seeds and crushed bay leaves.
My Corned Beef seemed to "shrink" a lot Once it was Cooked. Did I do Something Wrong? You didn't do anything wrong. Sometimes this happens when you cook corned beef and this is why it's really important to invest in a good quality corned beef. Because I only make corned beef brisket a couple times a year, I usually always spend a little extra cash on the one I know is the better brand and costs a little more- it's worth it!
How can I use Leftover Cooked Corned Beef? Only in at least 100 ways! I love having leftover corned beef to make Grilled Reuben Sandwiches, Corned Beef Fritters, Corned Beef Hash and Corned Beef (Reuben) Egg Rolls….so many delicious recipes, so little time.
Printable Instant Pot Tender Corned Beef Recipe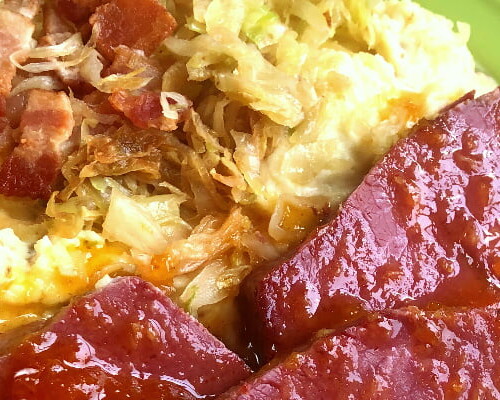 Tender Corned Beef with Irish Potatoes
Celebrate St. Patty's Day with Tender Corned Beef and Irish Potatoes – it's juicy, flavorful, and made right in your Instant Pot.  There's actually nothing easier than cooking a delicious corned beef brisket, so don't be fooled.


Print
Pin
Rate
Ingredients
3

lb.

corned beef brisket flat (there's more meat in the flat than in the point, so I always opt for a corned beef flat)

1

cup

water
Apricot Glaze
1

cup

apricot jam

1-2

Tbs.

bourbon

1-2

Tbs.

country mustard

1-2

tsp.

prepared horseradish
Irish Potatoes
6

large Yukon Gold potatoes, halved, unpeeeld

1/2

cup

chicken or vegetable broth

½

cup

sour cream

1

egg, beaten

1-2

tsp.

prepared horseradish

good splash of heavy cream

kosher salt and freshly ground black pepper, to taste

3-4

cups

finely shredded green cabbage

3-4

strips bacon, chopped
Instructions
Corned Beef
Removed the corned beef brisket from the packaging and rinse very well. Add 1 cup water to the Instant Pot, followed by the spice packet that comes with the corned beef; place the rinsed corned beef brisket into the pot.

Cover the Instant Pot, locking the lid into place, making sure the valve is set to the sealing position. Use the manual button to choose High Pressure for 60 minutes (15-20 minutes per pound of corned beef brisket), bringing the Instant Pot to full pressure.

When the timer sounds, use a nice, long natural release to let pressure in the Instant Pot come down naturally on it's own. This step is key for a tender and wonderful corned beef brisket, so please don't rush the process.

Remove the brisket from the Instant Pot to a container, letting it cool completely. Once the brisket is cooled, place it into the fridge to chill well. Reserve some of the cooking juices (1-2 cups) and chill these in the fridge, as well. Once the corned beef brisket is well chilled, it's time to slice it! Trim the fat from the top, bottom and sides, then slice the brisket ACROSS THE GRAIN into nice slabs, placing them into a baking dish; add a bit of the reserved cooking juices. When you are ready to eat the corned beef, just reheat it in the oven at 300 degrees F., covered, for a 10-15 minutes or until hot throughout.

**Please Note: You CAN slice the corned beef directly after it comes out of the Instant Pot (or oven), but warm corned beef has a great tendency to fall apart, FYI.
Apricot Glaze
In a small sauce pan over low heat, combine the jam, bourbon, mustard and horseradish until smooth. Cook until warm throughout, then reserve.
Irish Potatoes
Place the broth and potatoes into the Instant Pot. Cover the Instant Pot, locking the lid into place, making sure the valve is set to the sealing position. Use the manual button to choose High Pressure for 7 minutes, bringing the Instant Pot to full pressure. When the timer sounds, perform a quick release to immediately remove all pressure from the Instant Pot.

Meanwhile, in a medium skillet over medium high heat, cook the chopped bacon until browned and crispy; remove to a paper towel-lined plate and reserve. In the bacon drippings in the skillet, cook the cabbage over medium to medium-high heat until softened and golden brown.

Drain the potatoes very well, then use your favorite potato masher (or an electric mixer) to cream the potatoes. Add the sour cream, beaten egg, horseradish, and a splash of cream to the mashed potatoes, combining well, adding more cream as needed to get the potatoes to a nice, creamy consistency. Season to taste with salt and pepper.

To serve, place the potatoes onto each plate, top with the cooked cabbage and bacon; add the slices of corned beef; drizzle with the prepared apricot glaze. Enjoy at once!
Nutrition
Calories:
590
kcal
|
Carbohydrates:
44
g
|
Protein:
30
g
|
Fat:
32
g
|
Saturated Fat:
11
g
|
Cholesterol:
125
mg
|
Sodium:
2255
mg
|
Potassium:
1154
mg
|
Fiber:
4
g
|
Sugar:
16
g
|
Vitamin A:
237
IU
|
Vitamin C:
84
mg
|
Calcium:
63
mg
|
Iron:
4
mg
We love hearing from our readers and followers, so leave us a comment if you'd like. If you don't hear back from us shortly, know that we may not have seen your comment. Feel free to reach out to us by email: [email protected].
LET'S GET YOU COOKIN',
CHEF ALLI
Please Note: We do use referral and affiliate links here for products and services that Chef Alli loves and recommends. We may receive a small compensation when you use these links. This really helps me keep my recipe blog moving forward. Thank you so much!