Stuffing crossed with biscuits?? Yes, please! And talk about an easy and delicious holiday side dish that also looks impressive. Baked Pull-Apart Stuffing Ring is Thanksgiving dressing that's loaded with pork sausage, biscuits and herbs.

Baked Pull-Apart Stuffing Ring Recipe
Howdy! Chef Alli Here. Let's Get You Cookin'….Shall We?? 🙂

What to love about this easy stuffing recipe –
It's not your Mamma's stuffing.
A fun new twist on an old-fashioned favorite.
Super easy to make from common on-hand ingredients.
Here's what you'll learn from this recipe
How to use a bundt pan to make a stuffing ring
How to bake stuffing so it's not overcooked and dry
How you can easily invert the stuffing ring onto a serving platter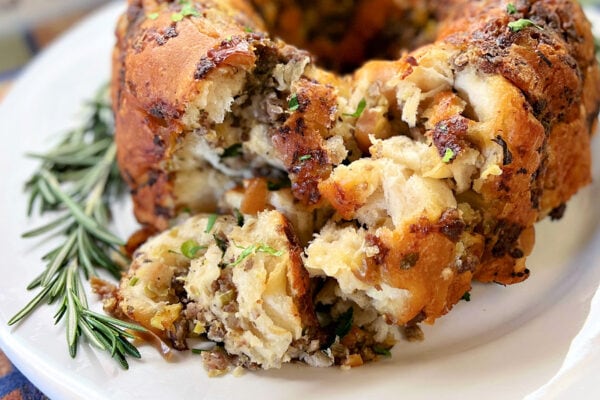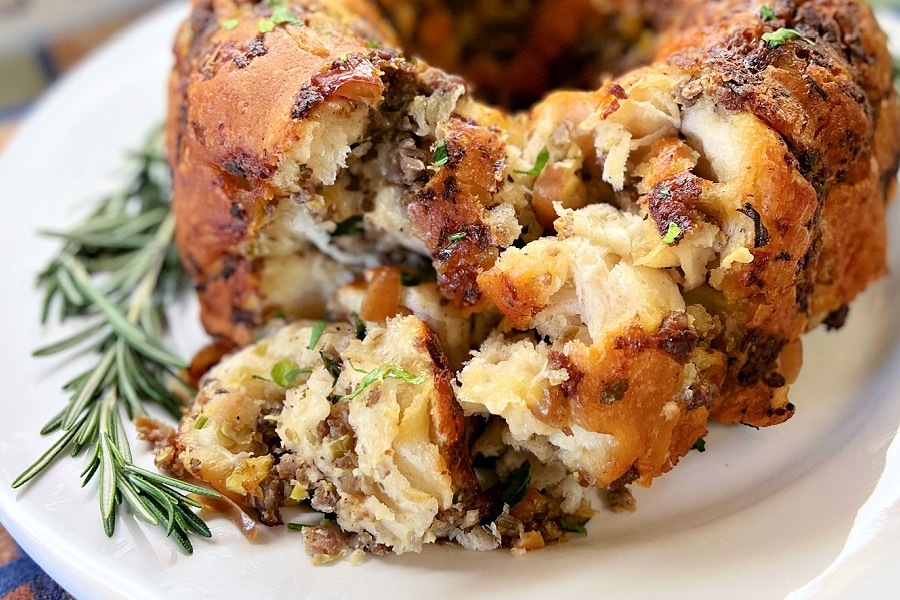 These are the ingredients you need to make pull-apart stuffing –
Canned biscuits
Pork sausage (any type of sausage works fine, such as turkey sausage, etc)
Butter
Celery
Onion
Poultry seasoning
Fresh rosemary
Apples, optional
Golden raisins, optional
Egg
How to make a Baked Pull-Apart Stuffing Ring in 6 easy steps –
**Full, printable recipe card below – just scroll on down within this post to find it!
Preheat the oven to 325 degrees F.
2. In a skillet, cook the sausage; add the onions, celery, poultry seasoning, rosemary, and pepper, cooking until the sausage is cooked throughout and the vegetables have softened. Add the apples and golden raisins; cook 1 minute longer.
3. Transfer the sausage mixture to a large mixing bowl and let cool for 15 minutes; stir in the beaten egg. Cut each biscuit into 6 pieces, adding the pieces to the sausage mixture; toss to combine.

4. Spoon the biscuit/sausage mixture into a greased Bundt pan, pressing it lightly down into the pan.
Bake the stuffing ring for 35-40 minutes, or until golden brown and 165 degrees F. at the center.
5. Let the stuffing ring rest for 10 minutes, then invert onto a serving platter.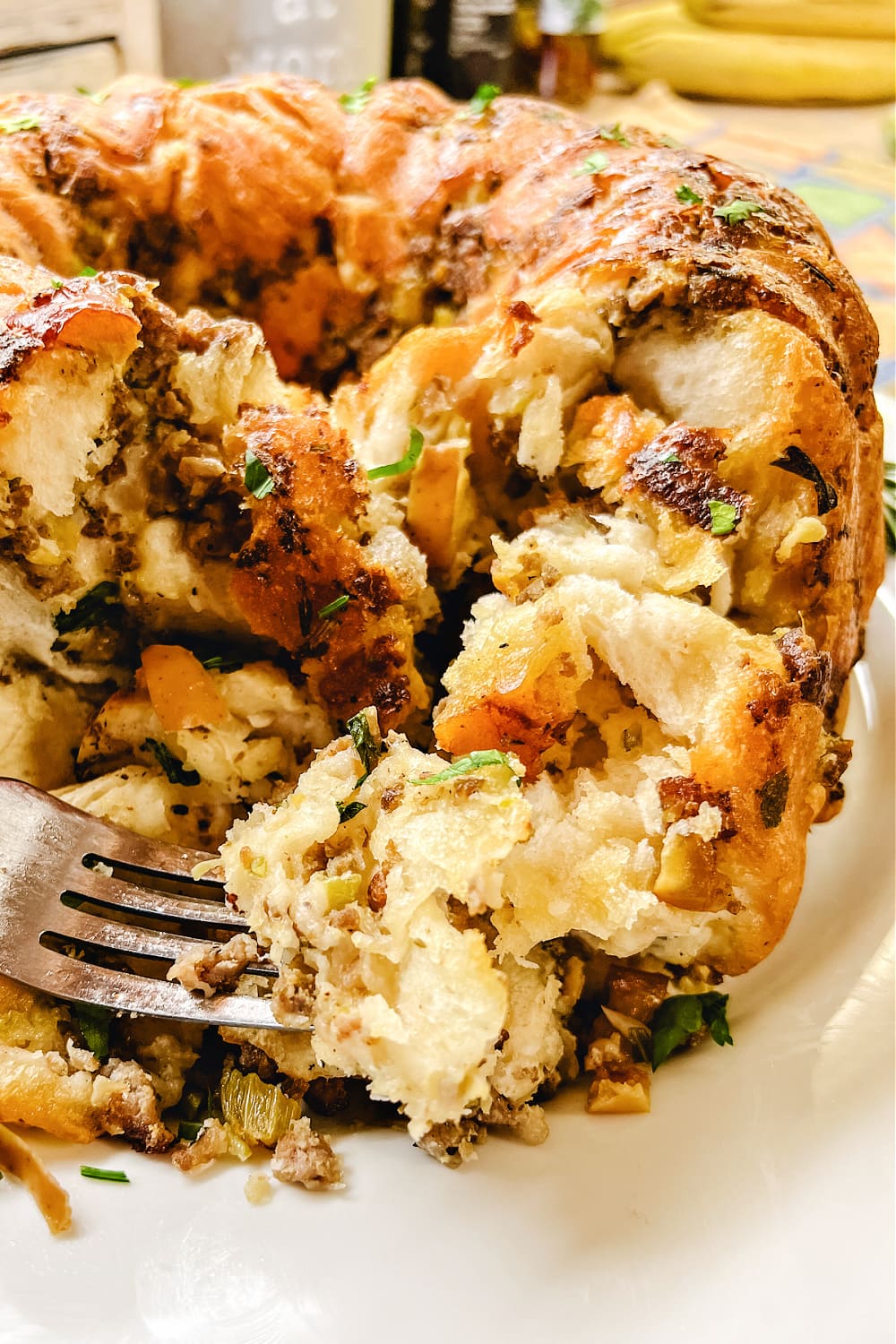 Answers to Common Questions Asked About This Recipe
What if I don't have a bundt pan?
You can use any pan that allows has an opening in the center, such as a tube pan or an angel food cake pan. The opening in the center of the pan is what creates the stuffing ring and also helps the center of the stuffing to cook much faster, too.
And truthfully, you could even make this stuffing in a 9×13 pan, now that I think on it. You just wouldn't cook it quite as long since it would be in a flat layer, not stacked up as in a Bundt pan.
Can I make this stuffing ring without the sausage?
You sure can and it's delicious! I've even used minced ham in place of the sausage, too.
How do you tell when the stuffing ring is fully cooked so it's not dried out?
Great question! You can test it with an instant-read meat thermometer – it's sooo easy and you never have to wonder.
Just insert the thermometer into an area of the stuffing ring that is near the center, then wait until the temperature dial stops moving – this is the internal temperature of the bread.

Using an instant-read thermometer is the very best way to make sure you don't overcook the stuffing ring. Overcooking is exactly what makes stuffing dry!
Are instant-read thermometers expensive?
Not at all! A very basic instant-read thermometer runs around $5 and you will use it often because it is so handy.
Are there other food items I can use an instant-read thermometer for?
Yes! Besides using an instant-read thermometer for temping meats (which keeps us from overcooking them to death) it's a great tool for testing casseroles.

Because it's often hard to tell when a casserole is hot at the center (it should be 165 degrees F. to be hot and a safe temp) an instant-read thermometer can really come to the rescue.
Which other tools are helpful for making this recipe?
A good skillet for browning the sausage and cooking the vegetables is a must – I prefer the Lodge 12″ cast iron skillet. Cast iron lasts forever, cooks evenly, and provides superior browning, too.
Kitchen shears for cutting the biscuits into chunks. (And here's a great article you need a pair of kitchen shears for other ingredient prep!)
More Side Dish Recipes to Enjoy –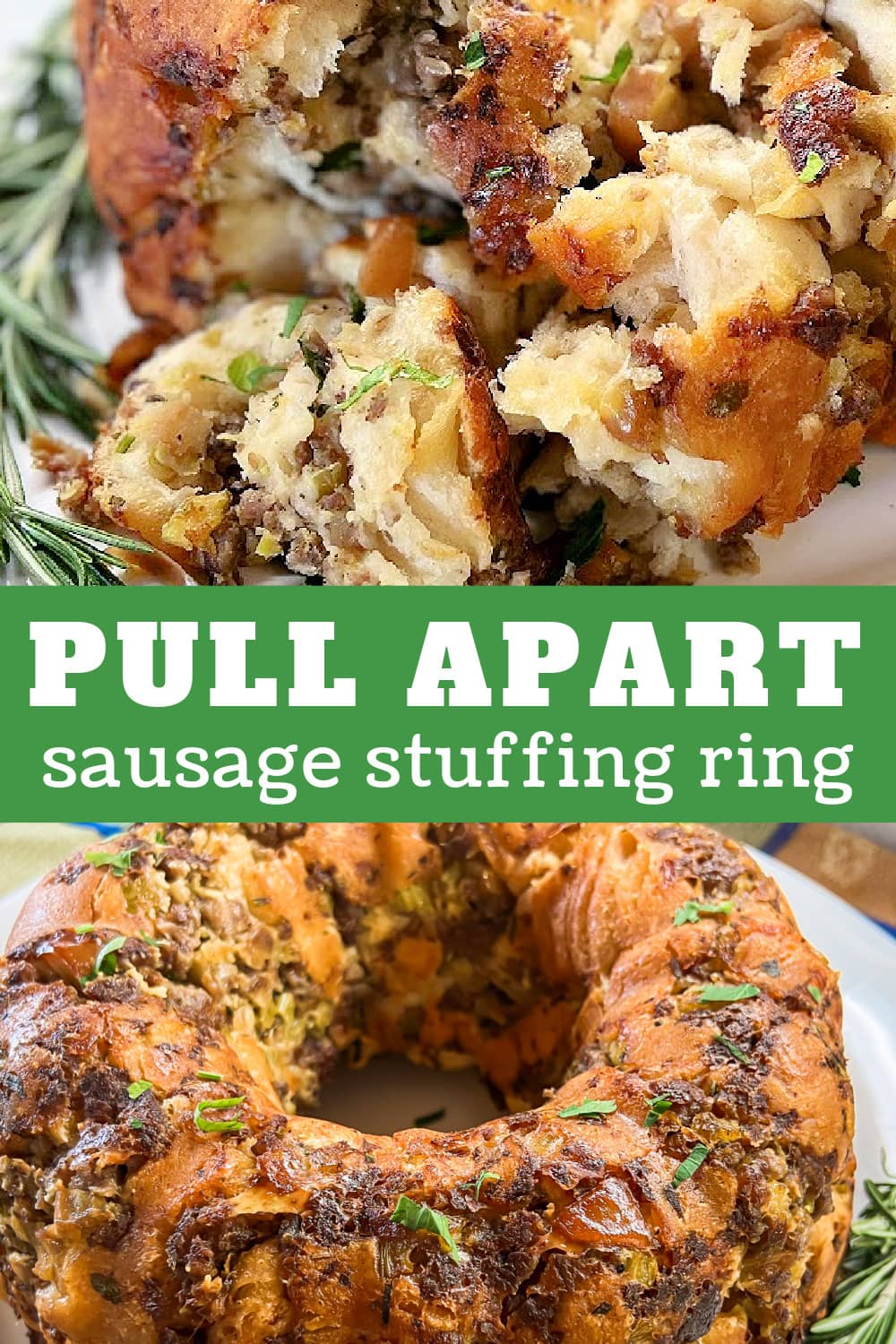 Printable Baked Pull-Apart Stuffing Ring Recipe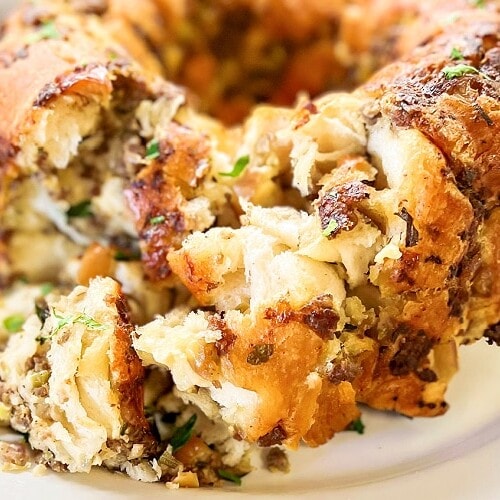 Ingredients
2

cans biscuits, 16 oz. each, cut into quarters

1

lb.

ground sausage

1/4

cup

butter

3

ribs celery

diced

1

yellow onion

diced

1

tsp.

poultry seasoning

3

Tbs.

chopped fresh rosemary

may substitute 2 tsp. dried rosemary, if desired

1/2

tsp.

black pepper

3

apples

chopped, peeled or unpeeled , optional

1/4

cup

golden raisins

optional

1

egg

beaten

fresh parsley

chopped, as garnish, if desired
Instructions
Preheat oven to 325°F.

Grease a 10-inch fluted Bundt pan well, using softened butter or non-stick spray; set pan aside.

In a large skillet over medium heat, cook the sausage, crumbling as it cooks, until no pink remains; don't drain any fats from the cooked meat. Add the butter, letting it melt.

Stir in the onion, celery, poultry seasoning, rosemary, and pepper, cooking until the vegetables have softened slightly, approx. 6-8 minutes. Stir in the apples and golden raisins; cook 1 minute longer.

Transfer the sausage mixture to a large bowl; let the mixture cool for 15 minutes or just until it is only slightly warm. Once cooled, stir in the egg, combining well.

Add the quartered biscuit pieces to the sausage mixture in the bowl; use two large spoons to gently toss, coating evenly. Spoon the prepared biscuit mixture into the reserved Bundt pan; press mixture down slightly.

Bake the sausage ring, uncovered, on the center oven rack, for 35-40 minutes or until golden brown and an instant-read thermometer at the center of the stuffing ring registers 165 degrees F.

Transfer the stuffing ring to a wire cooling rack; let rest for 10 minutes.

Run a knife around the edge of the Bundt pan, then place a large serving platter top-side-down over the top of the stuffing ring.

Invert both the stuffing ring and the platter together at the same time so that the stuffing ring can gently drop out of the Bundt pan and onto the platter; lift the Bundt pan from the stuffing ring. Garnish with chopped parsley, if desired.

**Stuffing ring can be prepared and chilled in the bundt pan for up to 4 hours ahead; bake as directed adding 5-10 minutes to the baking time.
Nutrition
Calories:
314
kcal
|
Carbohydrates:
18
g
|
Protein:
10
g
|
Fat:
23
g
|
Saturated Fat:
9
g
|
Polyunsaturated Fat:
3
g
|
Monounsaturated Fat:
9
g
|
Trans Fat:
1
g
|
Cholesterol:
77
mg
|
Sodium:
436
mg
|
Potassium:
309
mg
|
Fiber:
2
g
|
Sugar:
11
g
|
Vitamin A:
333
IU
|
Vitamin C:
5
mg
|
Calcium:
33
mg
|
Iron:
1
mg
We love hearing from our readers and followers, so leave us a comment if you'd like. If you don't hear back from us shortly, know that we may not have seen your comment. Feel free to reach out to us by email: [email protected].
Let's Get You Cookin',
Chef Alli
Please Note: We do use referral and affiliate links here for products and services that Chef Alli loves and recommends. If you click on a link and make a purchase, I may receive a small commission at no extra cost to you. For more information, please read my disclaimer here.