My family really enjoyed this traditional St. Patrick's Day dish. Instant Pot Sausage Bangers and Mashed Potatoes with Onion Gravy can be made in your Instant Pot in just a few minutes. Mash the potatoes, then serve them topped with sausages and onion gravy…to-die-for!
Instant Pot Sausage Bangers and Mashed Potatoes with Onion Gravy Recipe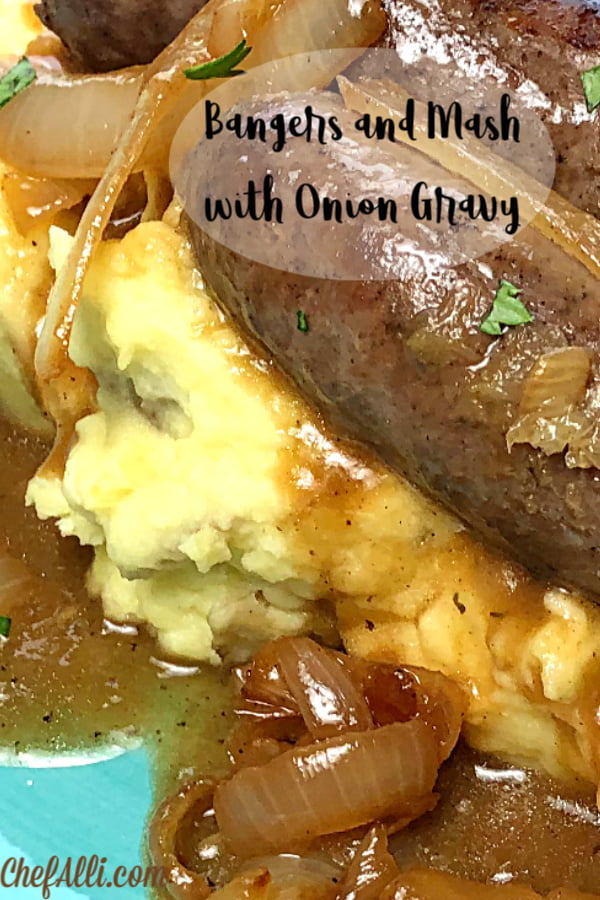 Please Note: We do use referral links for products and services that Chef Alli loves!
Howdy! Chef Alli Here. Let's Get You Cookin'…..Shall We?? 🙂
I love me some good Instant Pot meals! Not only does this save me TONS of time, I also love how once my IP is sealed off and pressurized, I can take off to another part of the house or outside to do whatever my heart desires – such a score!
Bangers and Mash…..What is THAT?
Bangers and Mash is a popular Irish recipe has become wildly favored in Ireland as well as the U.S. Made of cooked sausages (bangers) and mashed potatoes (mash), it is most often served smothered with a delicious onion gravy.
It is believed that the term "Bangers and Mash" originated during the time of World War I when there was a huge meat shortage. Due to the shortage, sausages were often pumped full of all kinds of fillers, which in turn would make them explode during the cooking process, causing a loud "bang" as they hit the side of the pot. And, mash is simply slang for mashed potatoes.
Easy Recipe Tips for Making Bangers and Mash
Do Sausages still Explode when You Cook Them? Not usually. Now that there's not a shortage of beef in this country, sausages are made with beef or pork, not fillers. Yay!
What Type of Sausages Should I use when I Make Bangers and Mash? The sky is the limit, actually. There are tons of different varieties of sausages and everyone seems to have their own preference. The important thing for this recipe is that you use a RAW sausage, not pre-cooked sausage, such as smoked sausage or kielbasa sausage. We typically prefer a beef sausage that's a bit sweet, or a spicy potato sausage.
Is Onion Gravy Easy to Make? Heck yes. In this recipe, you're basically using the drippings and liquids that remain in the pot after pressure cooking the sausages, thickened with a bit of cornstarch slurry – super easy and so delicious!
More Favorite Main Dish Recipes to Enjoy –
Printable Directions for Instant Pot Bangers and Mash with Onion Gravy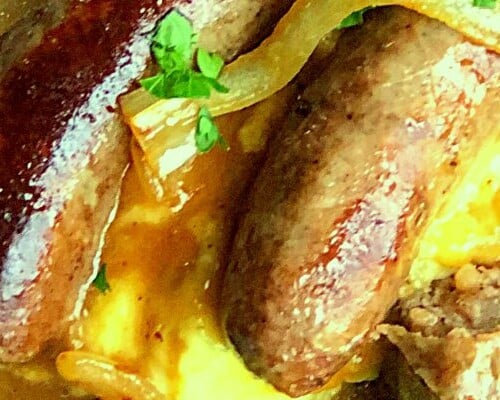 Instant Pot Sausage Bangers and Mashed Potatoes with Onion Gravy
My family really enjoyed this traditional St. Patrick's Day dish of cooked sausages (bangers) and mashed potatoes (mash) served with onion gravy and made in minutes right in our Instant Pot. #bangersandmash #instantpot #StPatricksDay
Print
Pin
Rate
Ingredients
2

lbs.

of your favorite uncooked sausages, we used Swedish potato sausages

Oil, for browning sausage

2

yellow onions, thinly sliced

1/2

cup

chicken broth

cornstarch slurry, to thicken (1 Tbs. cornstarch mixed with 2 Tbs. water until smooth)
Mashed Potatoes and Onion Gravy:
8

medium

Yukon Gold potatoes, unpeeled, quartered

1/2

cup

whipping cream

2-3

cloves

garlic, crushed

1

egg, beaten

1-2

tsp.

prepared horseradish

1

cup

sour cream

milk, as needed
Instructions
 Using the saute setting on the Instant Pot, brown off sausages in a bit of oil; remove sausages and reserve. Add the sliced onions to the sausage drippings; saute the onions for 1 minute, then add broth to to the pot to deglaze it, loosening all the particles that have stuck to the bottom of the pot.

Return the reserved sausages to the Instant Pot; add the lid, locking it into place. Use the manual setting to choose high pressure for 5 minutes, bringing the Instant Pot to full pressure. When the timer sounds, use a natural release for 5 minutes, then a quick release to remove any remaining pressure from the Instant Pot.

Meanwhile, make the mashed potatoes by boiling the potatoes in broth until fork-tender, 20-25 minutes (If using an Instant Pot to cook potatoes, cook on high pressure setting for 8 minutes with a quick release.). While the potatoes are cooking, simmer the cream and garlic in a small saucepan over medium heat for 2-3 minutes; keep warm.

Mash the cooked potatoes, then add warmed cream and garlic, along with the egg, horseradish and sour cream, adding milk as needed to make the potatoes creamy and fluffy.

Remove the cooked sausages from the Instant Pot; then add a bit of slurry to liquids remaining in the pot using the saute setting. Whisk the gravy to prevent lumps, stirring until the onion gravy is nicely thickened.

Serve the Bangers and Mash in bowls, topped with warm onion gravy.
Notes
**Please note:  the cooking time stated for this recipe does not include the time required to bring the Instant Pot up to pressure since this can vary. This recipe was made using a 6-quart Instant Pot. 
Looking for other delicious Instant Pot recipes your family will enjoy? Here you go:
If you're new to Instant Pot cooking, you may find our Instant Pot Free Printables helpful, and also our Instant Pot Guide for Beginners. Print these off and secure them to the inside of a cupboard door for quick reference when you're needing help with what's cookin' in your Instant Pot!
We love hearing from our readers and followers, so leave us a comment if you'd like. And, if you don't hear back from us shortly, know that we may not have seen your comment. Feel free to reach out to us by email: [email protected]
Let's Get You Cookin',
Chef Alli