What screams comfort food louder than a good, classic meatloaf? With a tangy glaze, these moist and tender Tomato-Glazed Meatloaf Bundles are sure to become a family favorite! Serve them on a bed of whipped mashed potatoes.
Tomato-Glazed Meatloaf Bundles Recipe



Please Note: We do use referral and affiliate links here for products and services that Chef Alli loves and recommends.
Howdy! Chef Alli Here. Let's Get You Cookin'….Shall We??  🙂
The older I get, the more I crave meatloaf! I can remember how much my Mom loved meatloaf, especially the next day when she could take a slice or two and grill them to make meatloaf sandwiches.  I wasn't crazy about it then, but over the years, I've come to appreciate a good meatloaf sandwich, just like she used to.
I don't know about your, but I like my meatloaf to be really tender and light in texture, with lots of tangy, tomato glaze on top.  And, I like to get a bite of that glaze along with each and every bite of meatloaf…..so very essential for a superior meatloaf eating experience!
One of the best things about having meatloaf for dinner is how no-fuss it is.  It's simple and straightforward to prepare, easy to bake, and if made correctly, doesn't have to be the boring entree it's often been labeled.
What Ingredients Will You Need for Making Tomato-Glazed Meatloaf Bundles? 
Vegetable oil, tomato paste, cider vinegar, honey, Worcestershire sauce, spicy brown mustard, kosher salt
These are all the ingredients that comprise the tangy tomato sauce that will top your meatloaf bundles.  You could substitute canola oil or olive oil for the vegetable oil, and red wine vinegar for the cider vinegar, if need be.  (I really prefer using the cider vinegar for really nice tangy-ness!)
If you don't have honey on hand, you can substitute agave nectar, or even a bit of dark brown sugar works, too.
Because fat adds flavor, and I always want my meatloaf to nice and juicy, I like to use ground chuck (70-77% lean) when making meatloaf. I also like how ground chuck holds a nice shape during the cooking process, staying just slightly firm.
If you prefer, you can place your meatloaf bundles onto a rack so that while they bake, the fats drip down into the pan, away from the meatloaf bundles.
Using sandwich bread to make the breadcrumbs is what really helps to ensure that your meatloaf has a soft texture – this step is TOTALLY worth it.
Onion, garlic, celery, carrots, salt and pepper
These are the aromatics of the meatloaf, providing a nice foundation of flavor! The salt will cause the vegetables to release their moisture as they cook, causing them to sweat.
Large eggs, tomato paste, spicy brown mustard, smoked paprika, Worcestershire sauce, Italian parsley, and milk
These are the remaining ingredients that will complete the meatloaf mixture along with the ground beef, bread crumbs, and cooked vegetables – all are pretty standard for meatloaf.
The Italian parsley is going to add a peppery flavor and milk helps keep the meatloaf moist in texture.
Use your favorite recipe, or use mine! Either way, your meatloaf bundles are  especially delicious served on a bed of creamy, whipped mashed potatoes.
Could there be any better way to heighten a comfort food experience?? I think not.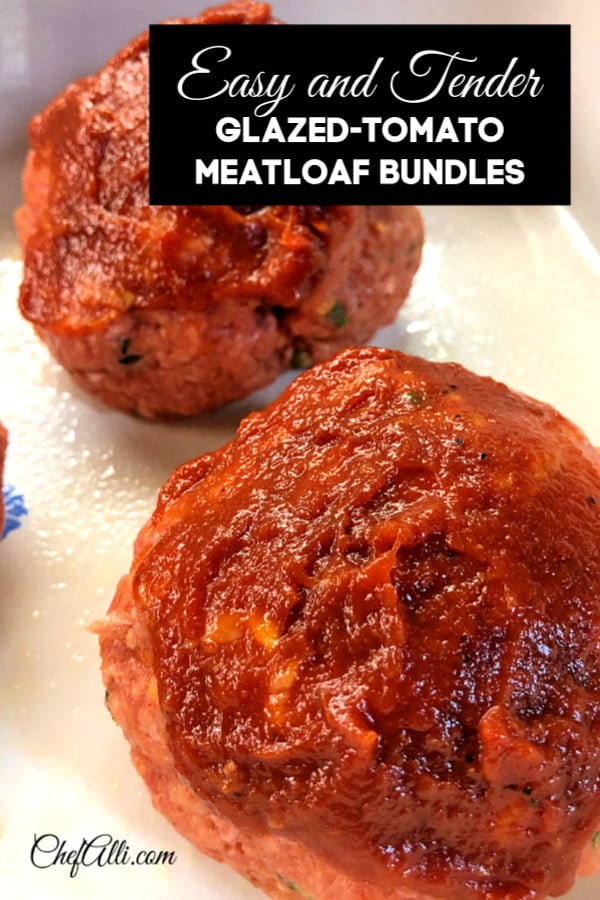 Easy Recipe Tips for Making Tomato-Glazed Meatloaf Bundles
What would you say is the most important thing to remember when you're making meatloaf?
There are two things, actually.  Make certain not to overwork your ground beef when adding the other ingredients, and be sure not to overcook the meatloaf, either.
This is why you want to be sure to use an instant-read meat thermometer when cooking meatloaf, especially these smaller bundles, since they will cook much faster.  Insert the instant-read meat thermometer into the very center of a bundle to check the internal temperature.
The ideal finished internal temperature should be 160-165 degrees F.  Also, keep in mind that the meatloaf bundles will continue to cook from residual heat once they are removed from the oven, continuing to raise in temperature a bit, especially if they are covered with foil to hold in some of the heat.
If you cook the meatloaf bundles to an internal temperature of 160 degrees F.. they will raise in temperature to 165 degrees F., a perfect finished temperature for nice, juicy and tender meatloaf bundles!
What's so special about soft breadcrumbs in this meatloaf recipe? Can I substitute regular bread crumbs instead of making them in the food processor? That seems labor intensive.
This is a very good question – thanks for asking! Making your bread crumbs in the food processor is precisely what makes a very tender and absolutely wonderful meatloaf.  If you opt to use regular  (dry) bread crumbs, I'd decrease the amount from 1 cup to 1/2 cup since dry breadcrumbs are much more dense in texture.
Why are the vegetables cooked before being added to the meatloaf mixture?
Again, this ensures that the texture of your meatloaf is tender and moist.  This also helps to disguise the vegetables, as well, in case you have picky eaters like I do! Because the vegetables are minced finely in the food processor and then cooked until tender, they are almost impossible to detect within the meatloaf mixture once baked…..except in flavor!
How do I make a good meatloaf sandwich?
Meatloaf sandwiches for the win!!  Find your cast iron griddle or a large, shallow, heavy-duty skillet; preheat over medium high heat.  When the cooking surface is nicely hot, add a couple slices of meatloaf, grilling them on each side until nicely browned and hot throughout.
For each sandwich, butter two slices of bread, then add the grilled meatloaf slice, along with your preferred condiments, such as mayonnaise, ketchup, bbq sauce, or extra meatloaf sauce, if you made more.  Grill the meatloaf sandwich until the bread is toasted nicely on each side.  Serve at once!
What else can I serve with Tomato-Glazed Meatloaf Bundles besides mashed potatoes?
My family loves green beans served with meatloaf, especially if the mashed potatoes are included  If you're not serving the meatloaf with mashed potatoes, we are also partial to mac and cheese, risotto, or even a creamy orzo pasta side dish. Grilled asparagus is also good with meatloaf!
Can I turn this meatloaf mixture into meatballs if I'd like?
Certainly! We love to make meatballs in the oven, but you could certainly even cook them in a skillet, if you prefer.  If you're going to cook your meatballs in the oven, always brown them off in a bit of oil on your stove top first, then finish them in the oven.
The browning is what makes the meatballs extra delish! You'll want to cook your meatballs to the same finished internal temperature as the meatloaf bundles:  160-165 degrees F.

More Favorite Recipes to Enjoy –
Printable Tomato-Glazed Meatloaf Bundles Recipe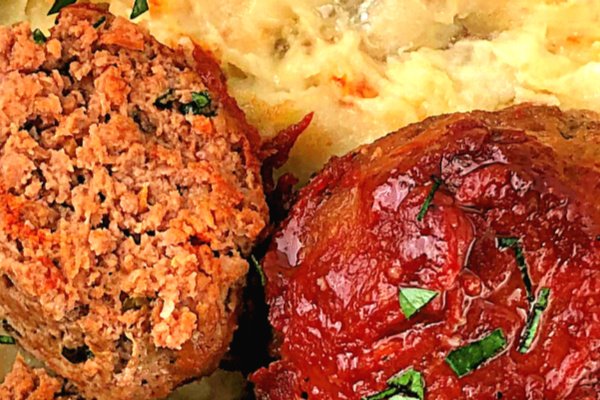 Tomato-Glazed Meatloaf Bundles
What screams comfort food louder than a good, classic meatloaf? With a tangy glaze, these moist and tender Tomato-Glazed Meatloaf Bundles are sure to become a family favorite! Serve them on a bed of whipped mashed potatoes. #groundbeef #easy #family
Print
Pin
Rate
Servings:
12
meatloaf bundles
Ingredients
Glaze
1

Tbs.

vegetable oil

1/4

cup

tomato paste

2

Tbs.

cider vinegar

1

Tbs.

honey or agave nectar

2

tsp.

Worcestershire sauce

1

Tbs.

spicy brown mustard

1/2

tsp.

kosher salt
Meatloaf
2

slices

sandwich bread, cut in half (this will make about 1 cup of breadcrumbs)

1/2

medium onion, sliced

1

garlic clove, peeled

1

medium stalk celery

1

medium carrot

1

teaspoon

kosher salt

freshly ground black pepper, to taste

2

lbs.

ground beef

2

large eggs

1

Tbs.

tomato paste

1

tsp.

spicy brown mustard

1

tsp.

smoked paprika

2

Tbs.

Worcestershire sauce

1/4

cup

chopped Italian parsley

1/2

cup

milk

1

batch of your favorite mashed potatoes
Instructions
Make the glaze: Combine all the glaze ingredients in a small saucepan, and simmer, whisking constantly, for 2 minutes until the glaze is smooth and shiny; reserve.

Preheat the oven to 350 degrees F.

To make the meatloaves, lightly coat a large rimmed baking sheet or two 9×13-inch baking dishes with nonstick spray.

Place the bread into a food processor, pulsing to make the breadcrumbs; place into in a large mixing bowl.

Add the onion, garlic, celery, and carrot to the food processor, pulsing until the veggies are finely chopped.

Heat a large skillet or sauté pan over medium heat. When the skillet is hot, add a good swish of olive oil. When the oil is hot, add the finely chopped vegetables. Season the veggies with salt and pepper; cook, stirring frequently, until they are softened and beginning to caramelize, 8-10 minutes.

Add the cooked vegetables to the large bowl with the breadcrumbs, stirring in the remaining ingredients. Gently combine the ingredients together with your hands until they are evenly blended, taking care not to overwork.

Parcel the meatloaf mixture into 12 bundles, placing them onto the prepared rimmed baking sheet. Divide the prepared tomato glaze between the 12 meatloaf bundles.

Bake the meatloaf bundles until cooked throughout, 20 to 25 minutes, or until an instant-read thermometer inserted into the center of a cooked meatball registers 160-165 degrees F.

Serve the warm meatballs over a bed of mashed potatoes.

*If desired, double the sauce and serve it alongside the meatloaf bundles
Nutrition
Calories:
262
kcal
|
Carbohydrates:
10
g
|
Protein:
15
g
|
Fat:
18
g
|
Saturated Fat:
7
g
|
Cholesterol:
82
mg
|
Sodium:
474
mg
|
Potassium:
429
mg
|
Fiber:
1
g
|
Sugar:
4
g
|
Vitamin A:
1316
IU
|
Vitamin C:
7
mg
|
Calcium:
53
mg
|
Iron:
2
mg
We love hearing from our readers and followers, so leave us a comment if you'd like.  And, if you don't hear back from us shortly, know that we may not have seen your comment.  Feel free to reach out to us by email:  [email protected]
Let's Get You Cookin',
Chef Alli