So here's my all-time favorite zucchini lasagna recipe. These Low-Carb Zucchini Lasagna Roll-Ups make a dreamy and rich low carb meal. You'll definitely want to include this low carb dinner recipe in your repertoire.
Lasagna roll ups are well received in my household and sometimes my sons even refer to them simply as lasagna rolls. I personally don't care what they call them, as long as they eat them!
Zucchini Lasagna Rolls-Ups Recipe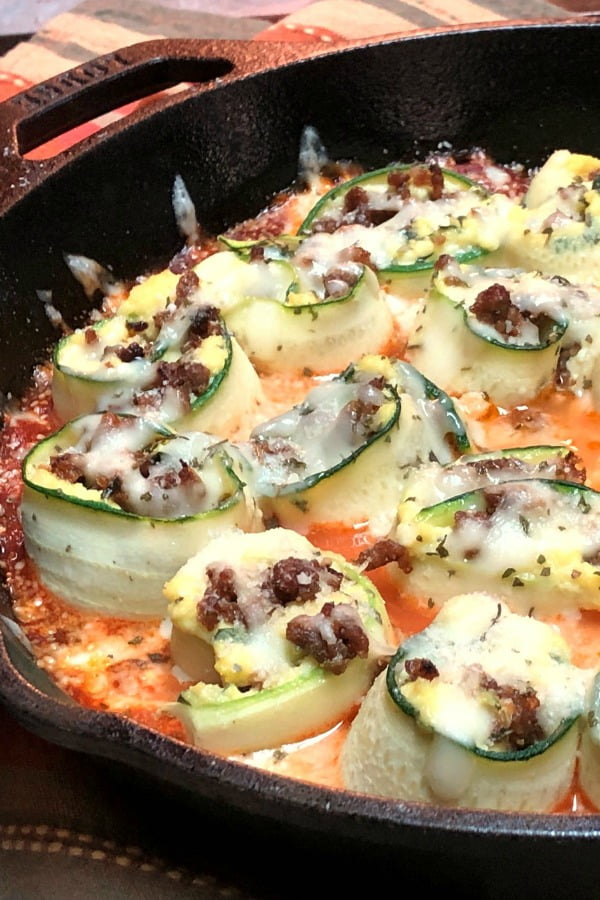 Howdy! Chef Alli Here. Let's Get You Cookin'….Shall We?? 🙂
It is surprising how much this meal tastes just like lasagna. I shared these zucchini roll-ups with my neighbors and they raved about them! We all loved the yummy texture and how all the flavors compliment each other. Plus, it's a nice and hearty skillet dinner.
I cook a lot in my cast iron skillets, and for good reason. Cast iron is tough so it can handle high heat, cooks evenly, and holds heat well. Plus, since it can go from stove top to oven to grill and back again, it's super versatile.
Some of our favorite skillet meals include Creamy Tortellini Pasta Skillet, Fiesta Ground Beef and Noodle Skillet, and Chunky Chicken Burrito Skillet Meal. Oh! And if you're wanting a really hearty breakfast, try out this Low-Carb Sausage and Cauliflower Breakfast Skillet.
3 good reasons to love this recipe –
It's Low-Carb-Luscious.
You're gonna be surprised. If you didn't know ahead of time, you'd never guess that the zucchini noodles aren't pasta.
Great skillet meal!
What ingredients do you need to make Low Carb Zucchini Lasagna Rolls Ups?
Small zucchini, no larger than a standard-sized flashlight!
Ground Italian sausage
Ricotta cheese
Grated Parmesan
Egg
Fresh basil leaves
Garlic
Marinara sauce
Mozzarella cheese
How to Make Skillet-Baked Zucchini Lasagna Roll-Ups in 5 Easy Steps
Place the zucchini strips onto paper towels, sprinkling them with salt; let rest for 15 minutes, then pat dry. Meanwhile, cook the Italian sausage until nicely browned, crumbling the sausage as it cooks; drain fats.
Make the filling by combining the ricotta, Parmesan, half of the mozzarella, egg, basil, and garlic; season to taste with salt and pepper. Spread 1 cup of marinara over the bottom of the skillet; reserve.
Divide the prepared filling between the zucchini strips, spreading the filling over each one; roll the zucchini strips up, placing them into the marinara in the skillet.
Top the lasagna roll-ups with the remaining marinara sauce; sprinkle with the remaining mozzarella.
Bake in a preheated 400 degree oven for 25-30 minutes, or until the roll-ups are heated throughout and sauce is bubbly. Let roll-ups rest for 5-10 minutes before serving.
Helpful Cooking Tips for Making Lasagna Roll Ups
A 12-inch Lodge cast iron skillet is the perfect cooking vessel for lasagna rolls.
If you have leftover ricotta filling, you can place "dollops" of the filling around the lasagna roll ups in the skillet and bake as directed.
Make sure the zucchini that you use for the roll ups are no longer than 6-7 inches and approx. 2 inches in diameter – no larger than a standard-sized flashlight.
Zucchini that are larger than this may be easier to work with, but the flavor can be bitter with large seeds and a higher water content. Small zucchini have a mild flavor with a much more delicate texture and less water content.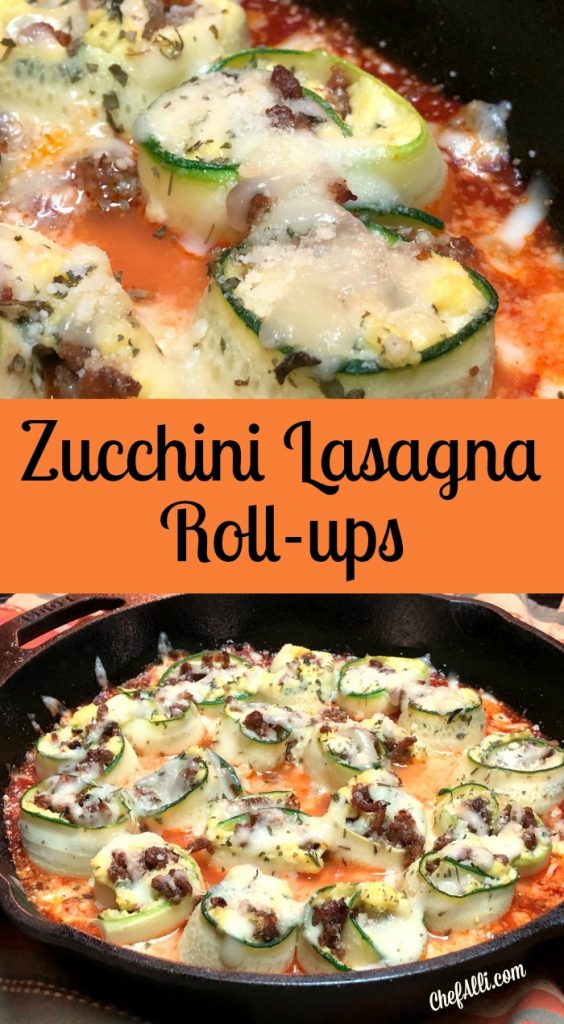 More Zucchini Recipes to Enjoy –
More Low-Carb Recipes to Love –
Printable Low-Carb Zucchini Lasagna Roll-Ups Recipe –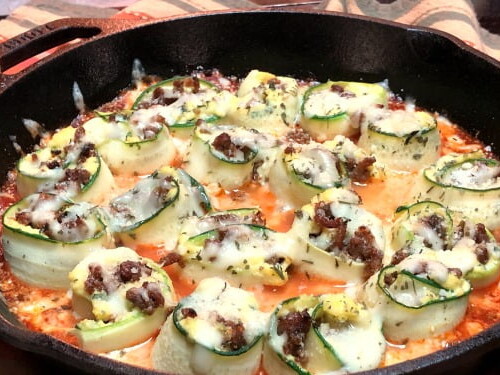 Low-Carb Zucchini Lasagna Roll-Ups
Are you craving the perfect blend of vegetables, meat, and sauce?  These Low-Carb Zucchini Lasagna Roll-Ups make a luscious low-carb one-skillet meal.  I was totally shocked by how delicious this meal is!  The texture is identical to lasagna and you don't miss the pasta at all.
Print
Pin
Rate
Ingredients
3-4

zucchini, no larger than a standard-sized flashlight (no longer than 6-7 inches in length and 2 inches in diameter)

1/2

lb.

ground Italian sausage

1

cup

ricotta cheese

1/3

cup

freshly grated Parmesan

1

large egg

1/4

cup

fresh basil leaves, chopped

2

cloves

garlic, minced

1

cup

shredded mozzarella, divided use

2

cups

marinara sauce, divided use (I used Bertoli Vineyard Marinara)
Instructions
Line your counter top with a double thickness of paper towels; place zucchini slices flat in a single layer onto the paper towels; sprinkle both sides of zucchini slices with a light sprinkle of salt; let rest 15 minutes, then pat zucchini dry.

ends trimmed and sliced lengthwise into 24 ⅛-inch-thick strips (a peeler works great for this)

Meanwhile, cook Italian sausage in a large skillet over medium heat until nicely browned, crumbling the sausage as it cooks; drain all excess fat.

In a medium bowl, make the roll-up filling by combining ricotta, Parmesan, egg, basil and garlic; season with salt and pepper, to taste.

Add 1 cup marinara sauce to a large cast iron skillet; spread out over the entire bottom of skillet; set aside.

Roll up zucchini and place into the marinara, spiral-side up. Repeat with remaining zucchini slices and filling. (If there is any remaining filling and sausage left over, I typically place it in little bundles in the marinara sauce around the outer edge of the skillet, if there is room.)

Top lasagna roll-ups with remaining 1/2 cup marinara sauce; sprinkle remaining mozzarella over all.

Place skillet into a preheated 400 degree F. oven and bake, uncovered, for approx. 20-25 minutes, or until lasagna roll-ups are heated throughout and sauce is bubbly. Let the roll-ups rest for 5 minutes before serving. 
Nutrition
Calories:
345
kcal
|
Carbohydrates:
10
g
|
Protein:
22
g
|
Fat:
25
g
|
Saturated Fat:
12
g
|
Cholesterol:
95
mg
|
Sodium:
822
mg
|
Potassium:
745
mg
|
Fiber:
2
g
|
Sugar:
7
g
|
Vitamin A:
1065
IU
|
Vitamin C:
35
mg
|
Calcium:
366
mg
|
Iron:
2
mg
Thanks for visiting! I hope you return soon for more yummy recipes for your family.
We love hearing from our readers and followers, so leave us a comment if you'd like. If you don't hear back from us shortly, know that we may not have seen your comment. Feel free to reach out to us by email: [email protected].
Let's Get You Cookin',
Chef Alli
Please Note: We do use referral and affiliate links here for products and services that Chef Alli loves and recommends. I may receive a small compensation when you use these links. This really helps me keep my recipe blog moving forward. Thank you so much!