Are you a chocolate lover? Then you need to know about these Ridiculous Chocolate Brownies. Dark, rich, and dense…these brownies should be considered one of the seven wonders of the world! This recipe makes a giant pan of brownies and get ready for a serious sugar rush – these are completely luscious.
Ridiculous Chocolate Brownies with Miss Sue's Creamy Chocolate Frosting Recipe


Please Note: We do use referral and affiliate links here for products and services that Chef Alli loves and recommends.
Howdy! Chef Alli Here. Let's Get You Cookin'…..Shall We?? 🙂
This recipe makes a giant pan of brownies and was adapted from Ina Garten's Outrageous Brownie Recipe. Someone told me about it and I just HAD to try it. And, then, of course, I had to put my own personal spin on it a bit. As I always say, a recipe is just a GUIDE, nothing is set in stone and every recipe is made to be tweaked based on the personal preferences of you and your family's likes and dislikes, plus the ingredients available in your neck of the woods.
I don't think I've ever made a pan of brownies that called for an entire pound of butter AND 33 ounces of chocolate…holy cow, that's over 2 POUNDS of CHOCOLATE! No wonder these Ridiculous Chocolate Brownies are the total bomb.
And, as if that wasn't enough, Miss Sue's Creamy Chocolate Frosting was the "icing on the cake" so to speak. I actually did a taste test to see which I preferred, the unfrosted brownie, as is, or the frosted brownie. The frosted brownie won, hands down. Between the creamy frosting, the rich chocolate, and then the added crunch of the pecans and walnuts (I used half pecans and half walnuts since I didn't have 3 full cups of either one that day), these brownies are definitely an extra-ordinary eating experience that I sure hope you'll investigate.
How About if We Chat About the Ingredients You'll Need to Make a Big, Fat Pan of these Rich Chocolate Brownies?
A good place to begin, don't you think? I used semi sweet chocolate chips and I prefer the Ghiradelli brand. For the bar of unsweetened chocolate, I used the Baker's brand. I think the most important thing to remember when melting the chocolate is not to SCORCH it. Otherwise, you'll have a big pan of brownies that has a flavor that's reminiscent of something BURNED and you'll regret it. Using short blasts of heat in the microwave is the ticket, making sure to stir the chocolate in between each interval. Or, you can always place the bowl of chocolate over a sauce pan of simmering water, creating a water bath to melt the chocolate. This way of melting chocolate is pretty fool proof when it comes to scorching since the hot water is providing the heat – the chocolate is kind of "steamed" until it melts. Just make sure the bottom of the bowl isn't touching the simmer water – you want to have a gap between the two a bit.
I always use unsalted butter for baking and cooking since I like to add my own salt, always going by taste as far as how much salt I add. I like to purchase butter when it's on sale (usually around the holidays) and stock my freezer for the year. I can usually find it on sale for $1.99 per pound and it sure feel like a jackpot!
Espresso Instant Coffee Crystals
This ingredient is important in this recipe since coffee definitely enhances the flavors of chocolate, which makes it a great addition to any recipe where you want the chocolate flavors to shine through. When paired together chocolate and coffee create delicious combinations.
Sweetness! Sugar adds sweetness, plain and simple.
Like coffee, vanilla makes chocolate taste richer, and it gives a nice base note of flavor to all baked goods. If you prefer, you can always use other extracts and oil to add flavor to your favorite baked goods.
All-purpose flour, baking powder, kosher salt
Here's where the brownies get their rise. All-purpose flour makes a more dense brownie, but if you prefer a more cake-y or fluffy brownie, you can substitute cake flour, instead. I love using kosher salt in all my cooking, including baking. It's got a pure, salty flavor that's much less intense than iodized table salt; I also like how easy the fat crystals are to pick up with my fingertips.
Nuts add crunch and texture to these brownies and I love the combination though my sons and husband do not. What to do? I spread half of the brownie batter into the prepared baking sheet, add nuts to the remaining half in my bowl, then spread this brownie batter next to the first half. You can get away with this beautifully if it's just a dislike for the nuts, NOT a nut allergy.


Easy Recipe Tips for Making Rich, Dense Chocolate Brownies
Why does this recipe specify not to beat the eggs?
Beating the eggs can introduce too much air into the batter, causing the brownies to be more cake-like and less dense.
Can I make two smaller pans of brownies instead of one big pan?
You sure can, just don't bake them at the same time. For the best pan of brownies, bake them one sheet pan at a time on the middle rack of the oven so they can cook through evenly.
How should I store these brownies after I've baked them?
Let the brownies cool thoroughly, then cut them into serving sizes. Store the brownies in an airtight container on the counter for up to three days, or in refrigeration for up to five days. To keep the frosted brownies from sticking together, place sheets of wax paper or parchment paper between the layers of brownies.
Do these brownies freeze well?
They certainly do and that's the beauty of making a giant pan of them! Freezer them in an air tight container with the wax paper or parchment paper between the layers – they will freezer very nicely for up to 6 months and I've personally tested this myself!
Are their any tips that makes cutting/slicing the brownies easier?
Great question. It's easier to cut the brownies if you first place the pan of them into the freezer for 15-20 minutes. Next, dip a sharp knife into a glass of hot water, wipe it dry, then slice. This helps the brownies stay in tact better as you slice them into squares. Also, if you line the baking sheet with parchment paper before pouring the brownie batter into the pan to bake, this also helps the brownies release themselves more readily when you're lifting them from the pan after they've baked and cooled.
Why does the recipe instruct to rap the pan of brownies on the oven rack after baking them for 20 minutes? This seems odd.
I know, right? This allows the air between the brownies to escape, causing the brownies to fall (instead of letting them raise and be more puffy and light) making them more dense and fudge-y.
Does the temperature of the ingredients as you're making the brownies make any difference in the texture of the brownies?
If your ingredients are too cold (and this is the case for nearly all baked goods, actually), say eggs taken straight from refrigeration or ice cold water from the tap, this can sometimes "shock" the other ingredients, affecting density and texture of the brownies.
Does it matter what type of baking pan I use for baking these brownies?
I prefer a light-colored baking pan since they seem to conduct the oven heat a little more evenly. You will want to reduce the oven temperature by 25 degrees if you are using a glass pan or dark-colored pans to keep the brownies from over baking. Over baking the brownies can cause the brownies to be more cake-like instead of dense and fudge-y.
What tools do I need to make and bake these brownies?
Mixing bowls are handy, a rimmed baking sheet, a silicone spatula or two, and an electric mixer (for the frosting) are all helpful tools.
Is there anything I can do with over-baked brownies?
Sure. They are delicious crumbled over ice cream, for making ice cream cake, and also for layering into pudding trifles. If you have too many to use all at once, place the remainder into a freezer bag and store in the freezer until you're ready to use them.

Other Dessert Recipes to Enjoy –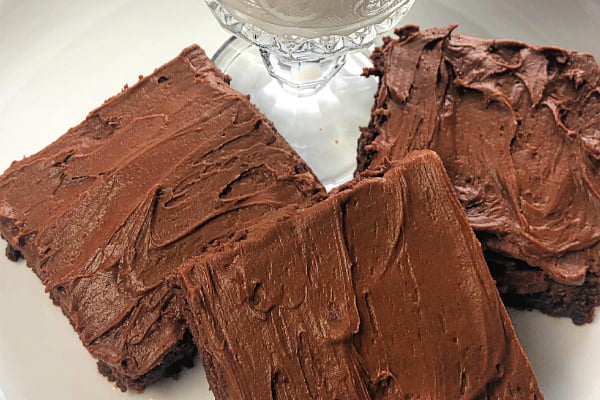 Ridiculous Chocolate Brownies with Miss Sue's Outrageous Chocolate Frosting
Are you a chocolate lover? Then you need to know about these Ridiculous Chocolate Brownies? Dark, rich, and dense…these brownies should be considered one of the seven wonders of the world! 
Print
Pin
Rate
Ingredients
1

lb.

unsalted butter

1

lb.

plus 13 oz. semi-sweet chocolate chips, divided use, I used Ghiradelli brand

4

oz.

unsweetened chocolate, I used a bar of Baker's Unsweetened Chocolate, broken into pieces

6

large eggs, room temperature

1 - 2

Tbs.

espresso instant coffee crystals, I love the Medaglia D'Oro brand, found at most grocers in the ethnic aisle

2

Tbs.

pure vanilla extract

2 1/4

cups

granulated sugar

1 1/4

cups

all-purpose flour

1

Tbs.

baking powder

1

tsp.

kosher salt

2-3

cups

roughly chopped toasted walnuts or pecans
Miss Sue's Creamy Chocolate Frosting
1/2

cup

softened unsalted butter

1

egg

1/2

tsp.

kosher salt

1/3

whipping cream or strong coffee, or a combination of both, as desired, I like half cream and half coffee

1

tsp.

pure vanilla extract

1/2

cup

cocoa powder, I like Hershey's Cocoa Powder (sometimes I use Hershey's Dark Chocolate Powder)

4

cups

powdered sugar
Instructions
Preheat oven to 350 degrees F.

Spray a rimmed 1" deep, 12" x 17" baking sheet well with nonstick spray.

In a large, glass mixing bowl, place the pound of butter, 1 pound of the semi-sweet chocolate chips, and the unsweetened chocolate bar pieces. Microwave on high power in 30 second increments, stirring in between each one, until the mixture is smooth and glossy; cool slightly.

In a separate large mixing bowl, combine (but do not beat!) the eggs, coffee crystals, vanilla, and sugar; stir this mixture into the melted chocolate mixture and allow this to cool to room temperature.

Meanwhile, stir together just 1 cup of the flour with the baking powder and salt; stir this into the cooled chocolate mixture.

In another bowl, toss the remaining 1/4 cup flour with the remaining 12 oz. of chocolate chips and all of the nuts; gently fold this into the prepared chocolate brownie batter.

Pour the prepared brownie batter into the greased baking sheet. Bake, uncovered, on the center rack of the oven for for 20 minutes.

Remove the brownies from the oven, then rap the baking sheet against the oven rack to force the air to escape from in between the pan and the brownie dough.

Return the brownies to the oven and continue to bake for an additional 15 minutes, or until a toothpick comes out clean when inserted into the center of the brownies. Do not over bake!

Let the brownies cool completely then frost with Miss Sue's Luscious Chocolate Frosting (recipe below); cut into squares and serve.
Sue's Creamy Chocolate Frosting
In a large mixing bowl, using an electric mixer, beat the butter with the egg, salt, cream/coffee mixture, and vanilla. (Mixture will be a bit lumpy at this point.)

In a separate mixing bowl, combine the cocoa powder with the powdered sugar, then add this mixture to the butter mixture, beating until smooth. (Add more liquid or powdered sugar, as desired, to make the frosting the desired consistency you prefer.)
Notes
This recipe makes a large batch of frosting and can be refrigerated for later use. Once the frosting has chilled be sure to let it come to room temperature and softened before trying to use it. 
www.ChefAlli.com
Nutrition
Calories:
566
kcal
|
Carbohydrates:
58
g
|
Protein:
5
g
|
Fat:
37
g
|
Saturated Fat:
19
g
|
Cholesterol:
100
mg
|
Sodium:
197
mg
|
Potassium:
242
mg
|
Fiber:
4
g
|
Sugar:
46
g
|
Vitamin A:
674
IU
|
Vitamin C:
1
mg
|
Calcium:
68
mg
|
Iron:
3
mg
We love hearing from our readers and followers, so leave us a comment if you'd like. And, if you don't hear back from us shortly, know that we may not have seen your comment. Feel free to reach out to us by email: [email protected].
Let's Get You Cookin',
Chef Alli